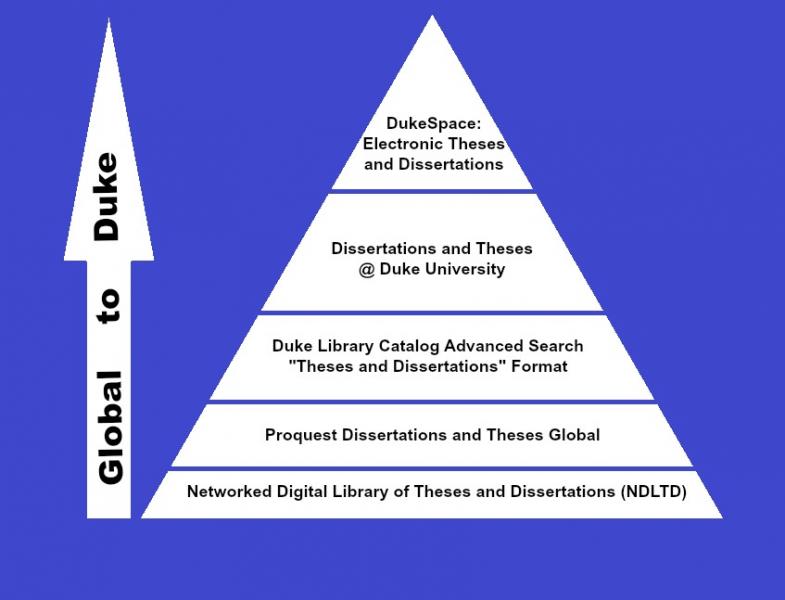 DukeSpace Theses and Dissertations
DukeSpace should be your first stop if you are looking for a recent publication by Duke University.  DukeSpace materials cover Duke University masters' theses and doctoral dissertations, as well as undergraduate honor theses.  From 2007 to present, there is full text available and DukeSpace is open access!  No login is necessary.
Dissertations and Theses @ Duke University
Available through Proquest, D&T@Duke covers dissertations available from 1996 to present and masters' theses from 2010 to present.  These date ranges have full text and partial previews.  Proquest databases are for use on campus or off-campus with a Duke NetID.  
Older records of print only dissertations and theses exist within Proquest and link to the Duke Catalog when you select the "get it @ Duke" button and "Have you checked the catalog for this book or journal in print?"  These may be located in either the Library Archives or Library Service Center and if so will need to be requested ahead of time for use.  
Duke Print Collection
The Duke Libraries have both Duke and non-Duke theses and dissertations available for searching in the catalog.  To search these records, use the advanced catalog search and select "Theses and Dissertations" as the format.  There are 18191, largely print, available at Duke through the library catalog.  158815 are available at all four TRLN libraries (Duke, UNC-CH, NC State, NCCU) and therefore easily requested through Duke's Interlibrary Loan service.
Proquest Dissertations and Theses Global
Also available through Proquest, Proquest D&T Global covers dissertations and masters' theses from 1997 to present.  These date ranges have full text and partial previews.  Records from 1743 to 1996 are searchable but may not have full text available.  Also available for use on campus or off-campus with a Duke NetID.
Networked Digital Library of Theses and Dissertations (NDLTD)
NDLTD is an international organization that created a global digital library with 4.3 million records of global theses and dissertations from hundreds of universities around the world and partner organizations such as the American Library Association.  No login is necessary for the searchable depository.  The records include links to the full text, which may or may not work.