Lucy Waldrop, Associate University Archivist, Medical Center Archives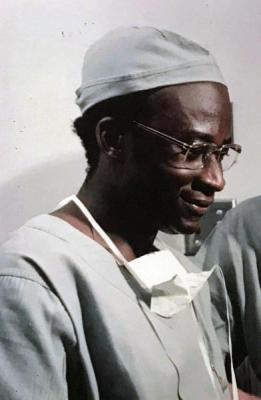 The Duke University Medical Center Archives is happy to announce that the collection of papers of Dr. Onyekwere E. Akwari (1942-2019), a Nigerian-American and the first African-American surgeon on the faculty at Duke University, has been processed and is open for research.
The collection documents the professional career and personal activities of Akwari and includes but is not limited to; correspondence; printed materials; datebooks, memorabilia, scrapbooks, certificates, and other personal papers; building plans; audiovisual materials; meeting minutes and agendas, photographs; newspaper clippings; publications; reprints; textiles; artifacts; and electronic records pertaining to Akwari's personal and professional interests and activities. Major subjects include the Society of Black American Surgeons (SBAS) and St. Titus Episcopal Church in Durham, NC.
In 1960, seventeen African countries emerged from colonial rule, and the African Scholarship Program of American University (ASPAU) awarded scholarships to enable highly qualified African secondary school graduates to obtain first degree training at United States institutions of higher learning. In 1962, shortly after Nigeria declared its independence from British rule, Akwari made the decision to leave his home country and travel to the US for university after receiving a scholarship through the ASPAU.
Akwari received his undergraduate degree from the University of Washington in 1966, where he served in student government. He received his medical degree in 1970 at the University of Southern California School of Medicine, where he served as class president in his freshman year and student body president in his senior year.
Akwari joined the general surgery training program at the Mayo Clinic in Rochester, Minnesota, where his general surgical clinical focus was complex abdominal surgeries, and his research focus was neural and hormonal regulation of gastrointestinal motility. During his surgical residency, he provided six of his siblings with assistance to immigrate to the United States to obtain their undergraduate educations.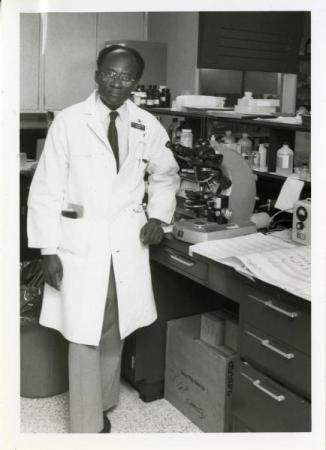 During a 6-month leave from the Mayo Clinic, Akwari implemented an Emergency Medicine Residency Program at the Martin Luther King/Drew Medical Center for the Southeast Health Region of Los Angeles County, California. Dr. David C. Sabiston, Jr., who was visiting Mayo Clinic as the 1977 Balfour Professor, was prompted by Akwari's research and clinical acumen to recruit him to the Duke University Medical Center as an Associate Professor of Surgery.  At the time, Duke only had two other African-American professors on faculty, and Akwari would be the second on the academic tenure track.
Akwari held an active surgical practice at Duke until he was struck with a chronic illness in 1995. Despite his illness, he remained a faculty member until his death in 2019. He served on Duke's Medical School Admissions Committee, Faculty Governance Academic Council, Athletic Council, and other Medical Center and University Committees. An advocate for expanding and celebrating diversity at the University, Akwari supported the introduction of women's and minority studies programs at Duke and hosted gatherings for fellow "first" African Americans at Duke.
Among Akwari's accomplishments was the formation of the Society of Black Academic Surgeons (SBAS). Along with three other African-American surgeons, he organized SBAS in 1989 to support the racial integration of academic surgical departments in the post-civil rights era.
Over the course of his career, Akwari published over 150 articles and book chapters and presented at 73 national and international meetings. He was a member of the American Surgical Association and Alpha Tau Boule' section of Sigma Pi Phi, a fellow of the American College of Surgeons and the Royal College of Surgeons of Canada, past head of the surgical section of the National Medical Association. He also served on committees of the American College of Surgeons and the Society for Surgery of the Alimentary Tract. His Duke awards include the University Scholar/Teacher of the Year Award, the Raymond Gavins Distinguished Faculty Award, and the Golden Apple Award for Excellence in Teaching Clinical Sciences. The inaugural Duke Classic of Duke Men's Basketball was dedicated to Akwari, posthumously.
Many of the materials contained in this collection relate to Akwari's community and family life in Abia State, Nigeria, including regalia, photographs of major events such as weddings and funerals, records of property held by his family, business requests, and funeral programs for friends and family members. Other materials record Akwari's immigration and life after moving to the United States. Among these materials are travel documents, correspondence, family papers, event programs and correspondence, photographs, and various records related to his membership at St. Titus Episcopal Church.
A significant portion of the collection also pertains directly to Akwari's medical and educational career. This includes publications, board materials, subject files, surgical slides, correspondence, assorted uniforms and university regalia, records for Duke Athletics, and images and recordings for university events. Also included are records connected to the foundation and maintenance of SBAS, such as photographs, event and workshop programs, meeting transcripts, correspondence, and video recordings.
This collection should be of note to researchers interested in studying the development of surgical medicine and diversity efforts at Duke University, as well as the larger history of African Americans in the United States medical field. This collection should also be of note to researchers interested in both studies of Nigeria and the African immigrant experience in the United States in the twentieth century.
To learn more about these materials, visit the Finding Aid  or contact the Medical Archives staff.