New Furniture and Renovated Spaces in the Library
Posted by Megan von Isenburg - Wednesday, June 7, 2017
New furniture and reconfigured spaces are now available on Level 2R next to the Library's Service Desk. With new zones for collaboration, individual work, and reflection, the space meets the increasing needs of Duke Health's students, faculty, and staff.
We invite you to come in and see our new spaces. As always, we welcome your feedback!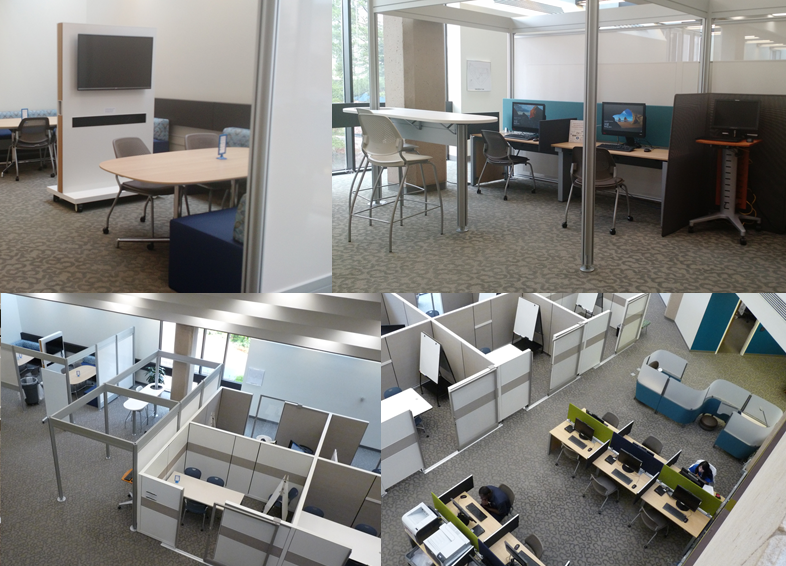 Collaboration Space: Whiteboards, tables, bench seating, and a rolling monitor allow groups to gather to meet, discuss projects, or study.
Data Stations: Two computers have been configured for data analysis and visualization. For a full list of available software, see our Data - From Start to Finish Guide on our Website.
Computer Lab: Three PIN stations and 7 library computers are available. The library computers can print in black and white and color. New tables provide ample space to spread out.
Individual Study: New chairs outside Conference Room 212C provide space for quiet reflection.
Carrels for Groups and Individuals: Eight cubicles are available first-come, first-served for any member of the Duke Health community.
Stand-up Desks: Adapters are available to enable you to stand up and work when using your own computer.
Team Room: Room 212E, located behind the Library Service Desk, offers writeable walls, a huge monitor, and flexible tables that seat up to 12 people. Available first-come, first-served.