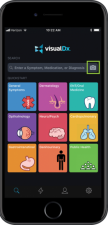 The Medical Center Library & Archives is pleased to announce a yearlong trial of visualDx, a clinical point-of-care tool, educational resource, and decision support system designed to enhance diagnostic accuracy, aid therapeutic decisions, and improve patient safety. The trial began in July 2022.
For those of you just meeting visualDx, this resource is:
Renowned for its depth of diverse clinical images – 14,000+ images of variations in skin color
A valuable diagnostic clinical tool that helps you build a differential diagnosis
Useful for searching by disease for therapy choices, tests, management
The visualDx trial resource has been added to the Library's Databases page as well as the Clinical Tools Guide. A mobile app is available once you have created a personal account. Use this link to register by clicking on "Create a Personal Account" (located below the graphical tiles). Once you have an account, you may download the mobile app from the App Store / Play, and sign in using your personal account username and password.
Have you tried out VisualDx? Please provide us with feedback by taking this short survey!

Please email us with any issues or feedback. Later in the year, we will issue a survey to assess your experience with this resource.