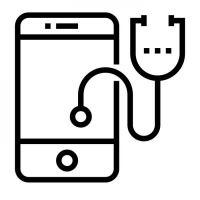 With nearly 2 million apps in the Apple App store alone, it can be tricky to figure out which apps are worth your time and/or money. Before you go hunting in the App or Play Store, don't forget about the health-related apps you can get through Duke. You can visit our Mobile Apps guide to get started or read on for some highlights!
Our most popular point-of-care apps include UpToDate and DynaMed, which feature an impressive variety of medical calculators and clinical evidence. Did you know that you can get CME/CE from both UpToDate and DynaMed? These will fulfill MOC CME requirements of some ABMS Member Boards including the ABIM.
Lexicomp and the Johns Hopkins ABX Guide are our popular resources for drug information, including interactions, comparisons, and identification. Take note, the Lexicomp app requires a subscription code (provided via Duke's institutional license) that changes yearly at the end of August. Make sure you go to Lexicomp, click on the Mobile App Access button, and follow their instructions to update your subscription code.
We are thrilled to announce our newest addition of VisualDx, through a yearlong trial (psst…we'll be asking for your feedback in a few months and would appreciate your feedback!). This resource is a clinical point-of-care tool, educational resource, and decision support system designed to enhance diagnostic accuracy, aid therapeutic decisions, and improve patient safety. Renowned for its depth of diverse clinical images – 14,000+ images of variations in skin color- VisualDx is a valuable diagnostic clinical tool that will help you build a differential diagnosis.
Finally, we offer two Lippincott apps, Procedures and Advisor. Lippincott Procedures offers step-by-step procedures in nursing, respiratory therapy & physical therapy including: equipment, preparation, implementation, special considerations, patient teaching, documentation, & images. Lippincott Advisor provides evidence-based content for nurses providing access to online references at the point of care including: clinical diagnosis and treatment information, care planning, quality/safety initiatives, and patient handouts.
These and other apps are available on our Mobile Apps guide. We invite you to try them out! Email us at medical-librarian@duke.edu with questions, comments, or to set up a consultation.