New Touchscreen Kiosks Are Here!
Posted by Beverly Murphy - Friday, December 22, 2017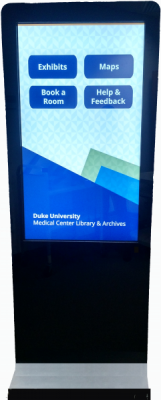 While we are always happy to help you at the Library Service Desk, we recognize that sometimes you need information in a rush, after hours, or maybe on another floor of the Library, far from our desk. Our new kiosks will help you connect with library services at our Entrance Level, Level 1, and Level 3.
What's on the kiosks?
Exhibits – Learn more about our special collections, historical medical instruments, and some of our artwork
Book a Room – See what study rooms are free and book a room directly from the kiosk
Maps – Our building can be confusing but hopefully our maps will help you get where you need to go, whether it's to the books, a conference room, or a quiet place to study.
Help & Feedback – Make an appointment to meet with a librarian or let us know how we are doing
We plan to add new features to the kiosks in the coming months to help make learning and collaborating at our Library even easier. If you have suggestions for kiosk enhancements, please let us know at medical-librarian@duke.edu.