Megan von Isenburg Named Associate Dean for Library Services
Posted by Beverly Murphy - Thursday, April 6, 2017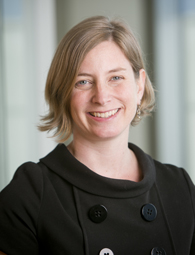 Megan von Isenburg has been appointed Associate Dean for Medical Center Library & Archives (MCL&A). She has dedicated 13 years of her career to our library, most recently as Associate Director for Research and Education and Liaison to Graduate Medical Education and Global Health. A strong advocate for both library services and improved patient care, Megan has developed and taught numerous classes, co-directed the nationally known Teaching and Leading Evidence-Based Medicine workshop held at Duke Health, and participated in numerous evidence-based practice initiatives. Megan has co-authored multiple systematic reviews, as well as research articles on reaching new user groups through innovative programs, including a scholarly writing boot camp and several technology initiatives.
As Associate Dean, Megan will serve on the School of Medicine (SOM) Comprehensive Administrative Group, SOM Curriculum Committee, Executive Committee of the Medical Staff, Clinical Research Unit (CRU) Advisory Council, and the DUHS Patient Education Governance Council. She will report to Edward Buckley, M.D., Vice Dean for Education, School of Medicine. "Megan brings a clear understanding and vision of the role medical libraries will play in the future. I am confident she will build on Pat's legacy and continue to keep our library vibrant and relevant in the years to come," said Buckley.
"It is truly a privilege to lead the amazing staff, valuable services, and important collections of the Duke Medical Center Library and Archives," said Megan about her new role. "I look forward to working across Duke Health to continue to expand and evolve the role of our Library in connecting clinicians, researchers, students and staff with the information needed to advance health together."
Pat Thibodeau, former Associate Dean of the Library, said that Megan "has identified numerous opportunities over the years to strengthen our services and repeatedly demonstrated MCL&A's value to Duke Health. Given that she has been involved in several rounds of strategic planning, has strong collaborative relationships throughout Duke Health, and is already involved in many key initiatives, I know that she will provide excellent leadership for MCL&A."
Megan holds a Master of Science in Library Science degree from the University of North Carolina-Chapel Hill. She received a Bachelor of Arts degree with Distinction in American Studies from the University of North Carolina-Chapel Hill. More recently, she earned a Graduate Certificate in e-Learning from North Carolina State University and is currently participating in the Foundation for Advancement of International Medical Education and Research (FAIMER)-Keele Master's Program in Health Professions Education.
Megan began her new position on April 1st. She can be reached at 919.660.1148 or megan.vonisenburg@duke.edu.