Duke students, faculty and staff and most affiliates with a Duke NetID have off-campus access to many online resources, such as databases and e-journals. Patrons can use the following methods for access.
Access via the Library Website
Begin your search at the Medical Center Library & Archives Website. Starting from the Library Website ensures you are on the best path to connect to online resources already available to you through the library. Before accessing a licensed online resource, you will be prompted to log in using your Duke NetID. Please Note: A small subset of Duke's online resources are restricted by license agreements and cannot be accessed from off-campus. Please Ask a Librarian if you want more information.
Access via the Duke Health VPN
Use https://vpn.duhs.duke.edu/, the Duke Medicine Web-based VPN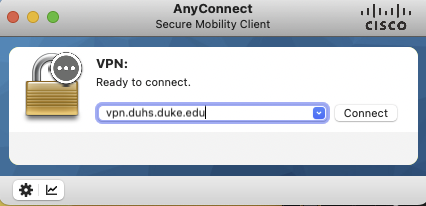 Tools & Plugins
The following Tools & Plugins may simplify access to articles, depending on your workflows. We encourage you to explore them!
Google Scholar

Google Scholar is a search engine that allows users to look for scholarly materials on a topic. Instead of searching the entire Web like Google does, Google Scholar searches the scholarly literature provided by numerous academic publishers, professional societies, universities and scholarly organizations. Search results include citations from peer-reviewed journals, theses, papers, books and technical reports. For the most part, Google Scholar provides citation-only results. The full-text of an article or book can be accessed by using the Get it @ Duke link.
If you are using Google Scholar from off campus, you will need to set your "Scholar Preferences" to Duke University Libraries.
To learn more, access Using Google Scholar (from Duke University Libraries)

Libkey Nomad

Nomad is a browser plugin for Firefox, Google Chrome, Brave, Edge, and Vivaldi that can help you find journal articles quickly and easily. Nomad connects your Duke Libraries access to articles found while browsing in Wikipedia, PubMed, or directly on publishers' Websites. Once you install the plugin, it will scan the sites you read online for journal article identifiers. When it sees an article that is available through Duke, it provides easy PDF or link access with a consistent, easy-to-find button. Links bring you to a fully accessible article page – no further login required. PDFs can be downloaded directly to your computer.
Learn more: Find Article PDFs Faster with This Browser Plugin (from Duke University Libraries)

 

Unpaywall

Unpaywall is a service that maintains a database of links to full-text articles from open-access sources all over the world. The content is harvested from legal sources including repositories run by universities, governments, and scholarly societies, as well as open content hosted by publishers themselves. Please note that Unpaywall will not work for newspaper articles. 
FAQs