Staff and books are available Monday - Friday: 8am to 5pm. Library study and workspaces are available to Duke Health and Duke University ID Badge holders Monday - Thursday: 7am - 10pm; Friday: 7am - 5pm; and weekends 10am - 10pm. The Library is accessible to the General Public Monday - Friday: 7am - 5pm.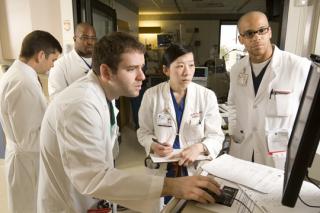 Our goal is to provide direct and easy access to our resources and facilities. You will find a variety of equipment and resources within our facility, but you can also access many services, journals, books and other resources through other sections of our Website.
Whom We Serve
The Medical Center Library & Archives primarily serves Duke University and Duke Health faculty, staff and students. We do serve other special groups within the Triangle area, but not all resources or services may be available to those groups. Check below to find out which services are available to you.