Computer Classroom (Level 1, Room 104D)
The Computer Classroom  is available for reservation by Duke-affiliated faculty, staff, and students.
View the current Classroom Schedule to check for availability.
Equipment: 15 workstations, 1 Instructor station, a mounted projector
Reservation Policy
The Classroom can be reserved Monday-Friday from 8a-5p and must be booked at least 24 hours in advance. If you need to use the Classroom at other times, please contact DeShane Watson.
When the room is not scheduled for a class, it is available for general use from 8a-5p, Monday-Friday. The schedule is subject to last minute changes.
For security purposes, please take personal belongings with you when you leave the room. Please check the Library's Service Desk on Level 2R for any items that may have been turned in to lost and found. If you need a place to keep personal belongings, consider requesting a locker.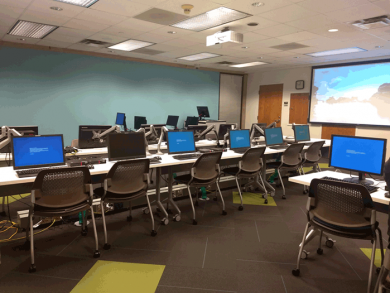 Note: From August 1st through mid-September, the Classroom may be booked no more than 2 weeks in advance of the proposed event. At other times, events may be scheduled up to 6 months in advance, but reservations are guaranteed only for the 3 months prior to the event. Events scheduled more than 3 months in advance may be subject to change.