Celebrate Diversity Month is a time to recognize, celebrate, and appreciate the beauty in our differences
and similarities in order to gain a deeper understanding of each other.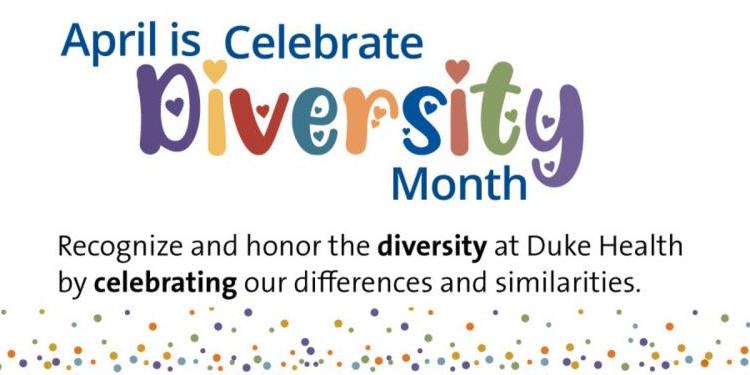 Journal Changes for 2022
Megan von Isenburg, Associate Dean for Library Services & Archives
Anu Moorthy, Associate Director, Content & Discovery
There are several changes to Duke's journal subscriptions for 2022. Library staff across Duke have been working together to renegotiate large "Big Deal" packages with publishers Elsevier, Springer, and Wiley that were up for regular renewal, with an eye toward containing excessive annual increases for journal prices. When reviewing specific journal titles, we examined several variables, including usage data, journal price, article cost-per-use, journal Impact Factor, and the number of articles by Duke researchers in the journal.
While these cancellations will mean that the journals will no longer be available for immediate access at Duke, journal articles not available through university subscriptions can be requested through our Interlibrary Loan/Document Delivery Service at no cost to Duke patrons. Average turnaround time for Interlibrary Loan requests is 2 business days.
Cancellations
The following journal titles will no longer be available for current access; however, access to previous years will continue.
Anatomical Record
Artificial Organs
Biochemical Pharmacology
Birth Defects Research
Genetic Epidemiology
Journal of Cellular Physiology
Journal of Comparative Neurology
Leukemia and Lymphoma
Prenatal Diagnosis
Toxicology and Applied Pharmacology
Pharmacology Biochemistry and Behavior
In addition to the journals above, the libraries will no longer have access to the two large packages of journal titles listed below. Many of the journals previously accessible through these packages will be available through other packages, but some will no longer be available.
Elsevier Freedom Collection
Access will cease, except for those specific journal titles noted in "Additions" below.
Wiley Full Text 2017 Collection
Access for prior years up to 2017 will continue.
New Platforms Based on Cancellations
Some titles will switch platforms. The following journal titles will now be available through ClinicalKey rather than ScienceDirect.
Transplantation and Cellular Therapy 
Oral Surgery, Oral Medicine, Oral Pathology and Oral Radiology
Psychiatry Research: Neuroimaging
Health Policy
Disease-A-Month
Psychiatry Research
Physiology & Behavior
Additions
Most of the titles below, which were previously in one of the two journal packages that are being canceled, are being added to our subscriptions because they meet our criteria for inclusion based on cost, usage, journal quality, and relevance.
Acta Ophthalmologica
Australian Occupational Therapy Journal
Clinical Genetics
Clinical Simulation in Nursing
Diabetes Obesity & Metabolism
Epilepsia
European Journal of Cancer Care
Experimental Dermatology
European Journal of Neurology
European Journal of Pain
European Urology Oncology
EXPLORE
Geriatrics & Gerontology International 
International Journal of Gynecology & Obstetrics
International Journal of Mental Health Nursing
International Nursing Review
The Journal for Nurse Practitioners
Journal of Clinical Nursing
Journal of Nursing Management
Journal of Occupational Science
Journal of Professional Nursing
Journal of Radiology Nursing
Journal of Sleep Research
Journal of Surgical Oncology
Journal of Thrombosis and Haemostasis
Nature Cancer
NEJM Evidence
NeuroToxicology
Nurse Education in Practice
Nurse Education Today
Nurse Leader
OTJR: Occupation, Participation, and Health
Pain Management Nursing
Pediatric Diabetes
Pediatric Obesity
Scandinavian Journal of Medicine & Science In Sports
Teaching and Learning in Nursing
Transplant Infectious Disease
If you have any questions about a specific journal, please reach out to us at mclibrary-collections@duke.edu.
To read more about the scholarly publishing landscape, including open access and other transformational pricing models, please see the Scholarly Communications section on our Website.
Transformative Agreement with Cambridge University Press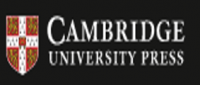 Lesley Skalla, Research & Education
Authors who want to publish an article in an open access journal or publish in a standard subscription journal as an open access article, typically need to pay an "article processing charge" (APC) in order to cover the cost of publishing by the publisher. Duke University Libraries, including the Medical Center Library & Archives, now have a "Read and Publish" agreement, also known as a "transformative agreement," with Cambridge University Press(CUP) so Duke researchers can publish articles open access at no cost in specific journals covered by this agreement. In addition, users will have access to CUP's journal content. To find out what CUP journals fall under this agreement, use CUP's checker tool and enter Duke University School of Medicine.
To be eligible, your article must:
Highlights of the Process
Submit your research using your institutional affiliation (ideally using ORCID). Please note that eligibility is based on the corresponding author's affiliation.
Upon acceptance, choose the Gold Open Access option in your author publishing agreement form and select a creative commons license.
Transformative agreements work to shift the publishing model from one that is based on library subscriptions requiring payment to read articcles (but publishing is free) -  to one that allows everyone to read for free but the cost of publishing is covered. Open access publishing allows the authors' work to be more visible with potential for increased viewership, reach, and possibly even greater citations. An added benefit is that authors retain their copyright allowing them to freely share and adapt their articles.
Please note that Duke also has an agreement with BMJ to cover the costs of article processing charges for BMJ Case Reports and BMJ Open Quality. Please refer to our Where to Publish Web page for details.
For additional details, see How to Publish Open Access Under this Agreement. If you have any questions about the agreement or the process of open access publishing, please Ask a Librarian.
Archives Oral Histories - Department of Medicine
Lucy Waldrop, Assistant Director for Medical Center Archives
In the August 2021 issue of our newsletter, we featured "Archives Oral Histories" which outlined what an oral history is and the types of oral histories held at the Medical Center Archives. In the October issue, the second offering of this multipart series highlighted the newly redesigned and updated online exhibit of "Women in Duke Health," a unique historical perspective from women in multiple fields at Duke, many who were pioneers or "firsts" in some way in their disciplines. In the December issue, we featired the David C. Sabiston Oral History Project, initiated by the Department of Surgery as a way to collect memories from people who knew him in order to write a definitive biography. In this issue, we highlight the Department of Medicine Oral History Project started in 2020.
Duke University Hospital, Duke University School of Medicine (DUSOM), and DUSOM's Department of Medicine were all established in 1930. The Department of Medicine is the largest of 23 departments in the DUSOM and is comprised of 12 divisions spanning the specialties of Internal Medicine. Each division includes faculty physicians and investigators, as well as house staff and laboratory trainees, who help to deepen the understanding of their specialty. Currently, the department has more than 600 faculty members including national leaders in their specialties, principal investigators in large national networks, and leaders in campus institutes and centers that facilitate team science. The collaborative nature of the department drives their clinical leadership, research success, and innovations in medical education. Since its inception, the Department of Medicine has forged vital partnerships to advance research, patient care, and medical education at Duke University. Connect to the Department of Medicine's Website to learn more about their history.
DUSOM Previous and Current Chairs
Harold L. Amoss
1930-1933
Pascal J. Goldschmidt
2003-2006
Frederick M. Hanes
1933-1946
Harvey J. Cohen (Interim)
2003-2006
Eugene A. Stead, Jr.
1947-1967
Harvey J. Cohen
2007-2010
James Wyngaarden
1967-1982
Mary E. Klotman
2010-2017
David T. Durack (Acting)
1982-1983
Joseph G. Rogers (Interim)
2017-2018
Joseph C. Greenfield
1983-1995
Kathleen Cooney
2018-present
Barton Haynes
1995-2003
The Department of Medicine Oral History Project currently contains 13 interviews
Nancy B. Allen
Rodger A. Liddle
John A. Bartlett
David L. Simel
Thomas M. Bashore
Kevin L. Thomas
Pamela S. Douglas
Nelson Jen An Chao
Joseph O. Moore
Ann J. Brown
Diana B. McNeill
Carla W. Brady
Marilyn J. Telen
Oral Histories - Select Interviewees and Dates


Nancy B. Allen
June 1, 2020

Rodger A. Liddle
February 24, 2021

Kevin L. Thomas
March 18, 2021

Carla W. Brady
March 30, 2021

If you are interested in learning more about the Department of Medicine Oral History Project or any of our Archives holdings, please contact the Archives staff.
Update: ZScaler and Use of Library Resources

ZScaler, an Internet and Web gateway security tool, is being implemented across Duke Health. Users have reported barriers to accessing Library resources when ZScaler is running on their Duke computers. For example, it may appear that Duke does not have access to a resource when we actually do.
DHTS has devised a strategy to allow access to Library resources while on campus. However, if you are having issues getting access, please submit a ticket with the subject "Zscaler" to DHTS at https://duke.service-now.com/sp.
Please continue to report access problems to us via our "Report an Access Issue" form. If you need additional assistance, please email us at mclibrary-collections@duke.edu.
Library Staff Support World Down Syndrome Day
Mindy Guzman, Program Assistant, Administration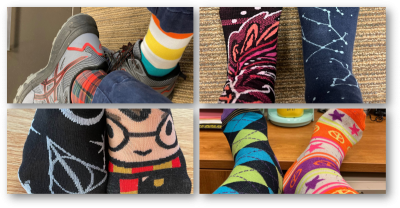 On Monday, March 21st, you may have thought that some of our Library staff were so tired from the beautiful weekend that they forgot to match their socks correctly. However, many of our team members were showing their support and raising awareness for World Down Syndrome Day, officially observed by the United Nations since 2012.
The date of 3/21 is symbolic because individuals with Down Syndrome have 3 copies of the 21st chromosome. The mis-matched socks are symbolic since our chromosomes are shaped like socks, and people with Down Syndrome have an extra or "spare" one. People all over the globe have taken part in the #LotsofSocks campaign by wearing mis-matched or spare socks on 3/21. Therefore, it has become tradition to show support and raise awareness on a day that the Down Syndrome community advocates for equal rights, well-being and inclusion.
We Offer a Variety of Free Online Classes
We offer a variety of online classes on research and searching topics every month. All classes are free and offered virtually, though registration through our Website is required. In addition to these classes, you can also request an online session for yourself or a group or schedule an appointment for a research consultation.
April

- June Classes   Register for one today!
April 13
10 – 11a
EndNote
April 18
10 – 11a
How to Write an Abstract
April 19
9 – 10a
Zotero
April 21
4 – 5p
Searching CINAHL Effectively
April 25
10:30 – 11a
ORCID in 30
April 27
4 – 5p
Searching with Scopus
April 29
12 - 1p
Advanced PubMed
May 4
10 – 11a
Searching CINAHL Effectively
May 6
12 - 1p
EndNote
May 9
10 – 11a
Advanced PubMed
May 10
4 – 5p
Searching PsycINFO
May 11
10 – 11a
Advanced PubMed
May 12
11a – 12p
Journal Selection for Authors
May 17
12 - 1p
Measuring and Maximizing Research Impact
May 18
12 - 12:30p
Demystifying Peer Review in 30
May 19
4 – 5p
Searching CINAHL Effectively
May 20
10 – 11a
Advanced PubMed
May 23
10 – 11a
How to Write an Abstract
May 25
9 – 10a
EndNnote
May 26
1 - 2p
Searching with Scopus
May 31
2 - 3p
Zotero
June 1
4 – 5p
EndNnote
June 7
2 - 3p
Searching CINAHL Effectively
June 8
10 – 11a
Advanced PubMed
June 9
10 – 11a
Advanced PubMed
June 10
2 - 3p
Building Your Researcher Profile
June 14
12 - 1p
Searching with Scopus
June 15
9 – 10a
How to Write an Abstract
June 21
11a – 12p
Advanced PubMed
June 22
2 - 2:30p
Demystifying Peer Review in 30
June 23
4 – 5p
Searching CINAHL Effectively
June 27
3 - 4p
Journal Selection for Authors
June 28
9 – 10a
EndNnote
New NIH Data Management and Sharing Policy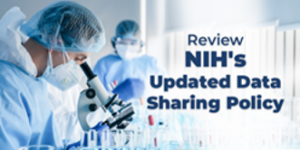 Lesley Skalla, Research & Education

In October of 2020, the National Institutes of Health (NIH) announced its new Data Management and Sharing (DMS) Policy. Beginning in January 2023, this policy will require that all NIH researchers prospectively plan for how their scientific data and accompanying metadata will be preserved and shared by submitting a Data Management and Sharing Plan in their grant applications. This new plan goes into effect on January 25, 2023 replacing the current Data Management and Sharing Policy from 2003. The new policy continues NIH's commitment to making sure that the results and outputs of NIH funded research are available to the public.  
What do you need to know about the new NIH DMS policy?
The new policy applies to any researcher funded in whole or in part by NIH whose research generates scientific data, whereas the current policy only applies to grants requesting more than $500,000 of direct costs in a single year. 
The policy requires investigators to submit an official Data Management and Sharing Plan as part of their request for funding. It does not require researchers to share data per se but expects them to maximize their data sharing. NIH strongly encourages the use of established repositories to the extent possible for preserving and sharing scientific data.
It allows investigators to request funding for personnel costs or other fees related to data management and sharing activities; however, the money must be spent during the grant's award period.
Grant reviewers will see the data management plan and can comment on the budget, but plans are not used to determine the grant's scientific merit. 
Researchers will need to think ahead when planning research projects to take data sharing into consideration. For example, those planning clinical studies will need to clearly communicate with prospective subjects via informed consent documentation about how their scientific data are expected to be used and shared.
The approved plan becomes a part of the terms and conditions of the grant. Compliance will be monitored at regular reporting intervals and may factor into future funding decisions.
Additional Sources of Information
As you look ahead to this new requirement, we can help develop efficient and supportive services before the policy takes effect. Please address any concerns and questions to lesley.skalla@duke.edu.  
Virtual Covid-19 Town Halls
Lucy Waldrop, Assistant Director for Medical Center Archives
In the early days of the COVID-19 pandemic, Duke Health assembled a COVID-19 Response Team (now named Duke Health Leadership). Along with Duke Health Nursing, they began to hold virtual town halls where they discussed Duke Health's and Duke Nursing's clinical response to the COVID-19 pandemic. Each town hall had a theme, panelists, and a Q&A session for participants. Some themes included: COVID-19 patient surge preparations, COVID-19 testing, nursing issues, PPE, COVID-19 patient care, clinical and operations updates, COVID-19 vaccine, return to school, Duke Health's voter registration and turnout initiative for the 2020 elections, and Moments to Movement (Duke Health's collective stand against systemic racism and injustice). These videos are available for viewing as a continuing series. 
Two years into the pandemic, these town halls still play an important role for Duke Health Leadership to get vital information out to the Duke community. Since the start of the pandemic, Duke University Medical Center Archives (DUMCA) has been actively collecting this content for our holdings in order to capture the day-to-day actions of the Duke University Health System during the COVID-19 pandemic.While the bulk of this content contains the previously mentioned videos, DUMCA has also collected more content from the Duke Health COVID-19 Website including the Document Library files; Duke Health marketing plans; other video messages pertaining to Duke Health's clinical response to the COVID-19 pandemic; and images taken by Shawn Rocco, photographer and multimedia producer for Duke Health Marketing & Communications as he traveled between Duke University, Duke Regional and Duke Raleigh hospitals to document the many ways employees prepare and care for patients with COVID-19.
For more information about this growing collection, contact the Medical Center Archives or consult the Office of Creative Services and Marketing Communications Records Finding Aid.
Employee Spotlight: Mindy Guzman
Victor Gordon, Associate Director for Administration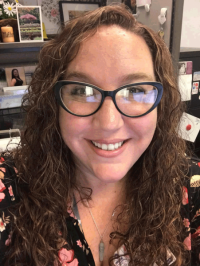 Mindy's Bio
Working at Duke University Medical Center Library & Archives since: January, 2022
Education: Currently enrolled in Alamance Community College, Graham, NC, pursuing Associate in Applied Science degree
Current position: Program Assistant, Administration
Q & A
1.    How would you describe where you grew up?
Though we were not Amish, I grew up on a "homesteader farm" in a Mennonite Amish farming community in Bedford County, Pennsylvania. My grandparents started the farm and we had cows, chickens, pigs, and Black Angus cattle. We bartered with nearby families for a lot. It was very self-sufficient but sheltered. 
2.    What did you do before coming to Duke?
Right after high school, I got an administrative job with a construction company that moved around the country building Walmart Distribution Centers. I helped workers get settled, managed the office, and did a lot of clerical support when the sites were breaking ground.
3.    How did you land at Duke?
I started working in the Espress Oasis coffee shop at Duke North in 1988, and after a short time, I eventually became the Operations Manager. After six years with Espress Oasis, I was lured away to be the Administrative Assistant for Dr. Jeffery H. Lawson. I had a two year old daughter at the time and thought it would be a good change. Surgery became my home for the next 18 years.
4.    Describe yourself in three words. Thoughtful, Dedicated, Loyal

5.    Who has influenced you most in how you approach your work?
Margie Dickerson, who was my mentor when I started my career and throughout my time in Surgery at Duke.  She taught me organization, routine, and time management skills that I pride myself in to this day. 
6.    What's a work-related accomplishment that you're really proud of?
I planned an international vascular meeting with over 500 attendees and 60 events from cadaver surgeries to galas.
7.    Is there anything about you that others might be surprised to know?
I've never had the hiccups.
8.    What's the weirdest food you've ever eaten?  
Doritos dipped in vanilla pudding to calm morning sickness.

9.    What's one thing you'd love to try?  Knitting 

10.  What is your favorite television show?
Reality TV – Housewives and Serial Killers are my go to! 
Staff News
Beverly Murphy, Assistant Director, Communications & Web Content and DUHS Hospital Nursing Liaison, was the speaker for the Health Science Library Association of New Jersey Annual Meeting & Program on March 25th. Her presentation was focused on "Diversity and Inclusion in Libraries."
Brandi Tuttle, Research & Education Librarian and Liaison to the Physician Assistant Program, presented a talk titled "Understanding & Combating Health Misinformation in an Infodemic" at the 2022 Southeast Collaborative Online Conference in March.
DeShane Watson, IT & Digital Initiatives Desktop Support Manager, was featured as Duke's Blue Devil of the Week on March 7th in Duke Today. Read all about how Deshane helps to keep the technology working in the Medical Center Library & Archives.
The following publications have been authored/co-authored by Medical Center Library & Archives Staff (highlighted in bold)
Ballengee, L. A., Rushton, S., Lewinski, A. A., Hwang, S., Zullig, L. L., Ricks, K., Ramos, K., Brahmajothi, M. V., Moore, T. S., Blalock, D. V., Cantrell, S., Kosinski, A. S., Gordon, A., Ear, B., Williams, J. W., Jr, Gierisch, J. M., & Goldstein, K. M. (2022). Effectiveness of Quality Improvement Coaching on Process Outcomes in Health Care Settings: A Systematic Review. Journal of General Internal Medicine, (Advance online publication).
Brown, K., El Husseini, N., Grimley, R., Ranta, A., Kass-Hout, T., Kaplan, S., & Kaufman, B. G. (2022). Alternative Payment Models and Associations With Stroke Outcomes, Spending, and Service Utilization: A Systematic Review. Stroke, 53(1), 268–278.
Park, C., Jones, M. M., Kaplan, S., Koller, F. L., Wilder, J. M., Boulware, L. E., & McElroy, L. M. (2022). A Scoping Review of Inequities in Access to Organ Transplant in the United States. International Journal for Equity in Health, 21(1), 22.
Kaplan, S. J. (2021). Library Workers Experiencing or Observing Sexual Harassment in University of California Libraries is Commonplace and Commonly Unreported. Evidence Based Library and Information Practice, 16(4), 144-146. 
Ko, M., Poh, P. F., Heng, K., Sultana, R., Murphy, B., Ng, R., & Lee, J. H. (2022). Assessment of Long-term Psychological Outcomes After Pediatric Intensive Care Unit Admission: A Systematic Review and Meta-analysis. JAMA Pediatrics, (Advance online publication).
Rymer, J. A., Narcisse, D., Cosiano, M., Tanaka, J., McDermott, M. M., Treat-Jacobson, D. J., Conte, M. S., Tuttle, B., Patel, M. R., & Smolderen, K. G. (2022). Patient-Reported Outcome Measures in Symptomatic, Non-Limb-Threatening Peripheral Artery Disease: A State-of-the-Art Review. Circulation. Cardiovascular Interventions, 15(1), e011320.
Improve Your Library Research Skills Online!
Publication Schedule & Staff
Duke University Medical Center Library & Archives News is published bimonthly.
Megan von Isenburg , Associate Dean
Beverly Murphy, Editor
            Editorial Board:
                        Victor Gordon
Mindy Guzman

                        Steph Hendren

Lucy Waldrop

Subscribe to our newsletter and be notified when a new issue is published!