The Medical Center Library & Archives extends warm wishes to all
                                       during this holiday season!
Holiday Hours - Library Services and Spaces

Expanded Weekend Hours 

Coming in January

Friday
December 17
8:00a – 5:30p
Saturday
December 18
 Closed
Sunday
December 19
 Closed
Monday
December 20
9:00a – 5:00p
Tuesday
December 21
9:00a – 5:00p
Wednesday
December 22
9:00a – 5:00p
Thursday
December 23
 Closed
Friday
December 24
 Closed
Saturday
December 25
 Closed
Sunday
December 26
 Closed
Monday
December 27
 Closed
Tuesday
December 28
9:00a – 5:00p
Wednesday
December 29
9:00a – 5:00p
Thursday
December 30
 Closed
Friday
December 31
 Closed
Saturday
January 1, 2022
 Closed
Sunday
January 2, 2022
 Closed
Changes Coming to the E-Journals Page in December

Effective December 16, all links to E-journals will take you to a search for E-Journals on all subjects and disciplines and not just those for the Medical Center Library & Archives. This is similar to searching for e-journals in the library catalog which includes resources for all the libraries across Duke. During this transition, we welcome your feedback, comments and questions at mclibrary-collections@duke.edu.
Your Scholarly Communications Questions Answered

Are you trying to find the best journal for your next research manuscript? Do you know how to find a journal's impact factor? Have you received an email invitation to publish or speak at a conference? Are you wondering what options you have for paying an article processing charge to make your article open access?
The answers to these and other common questions from our faculty, students, and staff about publishing and scholarly communications are now available on our Website via our Scholarly Communications section.
Linked from the main page under "Our Expertise" and located in the Training and Consulting section of our site, Scholarly Communications features extensive FAQs and links to resources and guidance to help you publish your work, measure your research impact, and engage in open science. We have also created a page on libraries and publishers to provide further information about how we decide what to license for our constituents.
Expanded Weekend Hours Coming in January
We heard you! Based on student feedback, we will be expanding hours for library study spaces.
| | |
| --- | --- |
| | New Hours Starting January 3, 2022 |
| Monday - Thursday |   8:00a – 10:00p |
| Friday |   8:00a –   5:00p |
| Saturday - Sunday | 10:00a – 10:00p |
Please note: Library services, access to print book collections, and staff are available Monday – Friday 8:00a - 5:00p. Evening and weekend hours are offered for access to study spaces, computing, and printing.
Citation Management Tools – Alternatives to EndNote
Steph Hendren, Research & Education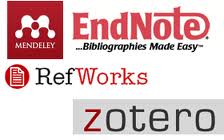 Many are familiar with EndNote as a helpful citation management tool that assists with collecting, saving, and citing papers. But sometimes EndNote can feel somewhat cumbersome to use. If you are on the market for a new citation manager, you might want to try out these other options.
Sciwheel, a Web-based tool, allows you to create and organize a library of citations, discover new literature, and conduct group citing and editing of manuscripts via Google Docs. The browser plugin makes it easy to gather references from around the Web.
Zotero is a freely available tool that offers desktop and Web versions and works well with both Windows and Mac. It is easy to use and makes collaborative projects relatively simple via Google Docs. If you run out of free storage, aadditional inexpensive storage space is available for purchase.
Mendeley is a free Web-based tool similar to Zotero, but it sets itself apart with a robust PDF annotating tool. Because Mendeley doesn't work within Google Docs, you would have to create a bibliography and copy it over to the document. Thus, Mendeley might be a great fit for those who use citation managers for personal projects but not for those participating in a lot of group work.
RefWorks is another Web-based tool that a lot of people know and love from their undergraduate programs. RefWorks features a lot of storage space for people who like to gather PDFs.
Leaving Duke soon? Zotero and Mendeley are both free and do not require a paid subscription. If you have downloaded EndNote, you will be able to keep that software, but you won't be eligible for version upgrades through Duke. Sciwheel and RefWorks are only available for free while at Duke.
More details about the different features in these citation managers can be found in our Reference Management Libguide.  If you have questions or would like to set up a consultation, Ask a Librarian!
We Offer a Variety of Free Online Classes
We offer a variety of online classes on research and searching topics every month. All classes are free and offered virtually, though registration through our Website is required. In addition to these classes, you can also request an online session for yourself or a group or schedule an appointment for a research consultation.
December 2021- February 2022 Classes

   Register for one today!
December 15
10 – 11a
Advanced PubMed
December 27
10 – 11a
How to Write an Abstract
January 5
10 – 11a
Advanced PubMed
January 6
12 - 1p
Endnote
January 11
9 - 9:30a
Demystifying Peer Review in 30
January 12
4 – 5p
Zotero
January 13
2 - 3p
Advanced PubMed
January 18
12 - 1p
How to Write an Abstract
January 19
12 - 1p
Zotero
January 20
4 – 5p
Searching CINAHL Effectively
January 21
1 - 2p
Measuring and Maximizing Research Impact
January 25
12 - 1p
Getting Started with Systematic Reviews
January 26
1 - 2p
Endnote
January 27
10 - 10:30a
Scopus in 30!
February 1
12 - 1p
Endnote
February 2
2 - 3p
Searching CINAHL Effectively
February 4
10 – 11a
Advanced PubMed
February 8
4 – 5p
Zotero
February 9
2 - 3p
Advanced PubMed
Employee Spotlight: Lesley Skalla
Barbara Dietsch, Electronic Resources & Acquisitions Manager, Content & Discovery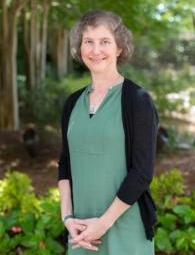 Lesley's Bio
Working at Duke University Medical Center Library & Archives since: September, 2021
Education: PhD, Animal Sciences, University of Illinois at Urbana-Champaign; MSLS, University of North Carolina at Chapel Hill
Current position: Research & Education Librarian, Liaison to Biomedical Research and Population Health
Q & A
1.    Describe your current position & what you find most interesting about it.
As the Biomedical Research and Population Health Liaison Librarian, I work with the research community and population health to provide instruction and resources on topics related to literature searching, the NIH Public Access Policy, data sharing, research impact, and publishing. I am also excited to serve as the IACUC librarian, and as such, I conduct searches for animal alternatives and take part in protocol reviews and facility inspections. Since I have spent the last nine years doing publications-related work outside of an academic library, I am interested in everything about this job! It is a really exciting opportunity to immerse myself in all aspects of biomedical scholarly communication.
2.    Describe yourself in three words. Caring, curious, diligent

3.    What has been your biggest professional challenge?
Making the career decision to leave my former job as a contractor for NIEHS to join the Duke Medical Center Library & Archives as a librarian!
4.    What do you think is the most interesting issue in libraries & archives today?
As the Liaison to Biomedical Research, I am interested in the research lifecycle model for library services. That is, how to target the services we provide as a library to meet the needs of our researchers during all stages of the research lifecycle. To me, how we support open access and data sharing are key topics.  

5.    Is there anything about you that others might be surprised to know?
I have been keeping backyard chickens for over 10 years.
6.    What do you do for fun?
My favorite things to do are yoga and getting outside to hike and nature journal. I love spending time out in nature.

7.    What are you most proud of?
I am most proud of raising my two children (ages 19 and 21) to be independent and kind young adults.  
8.    What do you hope to accomplish in 2021?
I hope settle into my position as R&E librarian in the Library and grow both professionally and personally in response to the challenge of my new job!  
9.   What is your favorite Website or blog?
I am a news junkie so I spend a lot of time on the New York Times Web page. I also love John Muir Laws' nature journaling Website because he freely shares really helpful drawing videos. 
New COVID-19 E-Books
Barbara Dietsch, Electronic Resources & Acquisitions Manager, Collection Services
Below are a few select titles from our collection about COVID-19. Most reviews are excerpted from Amazon.com.
EndNote 20 Integrates Retraction Watch
Samantha Kaplan, Research & Education

There's never been a better time to update to EndNote 20! The latest version has been integrated with the Retraction Watch database. This means users will be alerted if any of the publications in their library are retracted! An update to EndNote 20 will help to ensure you aren't citing retracted research.
Learn more about the latest update to EndNote on their Website. If you're not currently an EndNote user, you can download it from Duke's Office of Information Technology. If you're new to EndNote, sign up to take one of the Library's introductory classes!

For Zotero users, Retraction Watch has been integrated for several years.
Journal Impact Factor News
Margaret Graton, Research & Education Intern
Did you notice a jump in the Journal Citations Report Impact Factor for one of your favorite journals this year? If so, good catch!
J

ournal Impact Factor calculations depend on the calendar year of publication. For journals that still publish in print, Clarivate traditionally used the print publication date to determine the year of publication. However, in the past 20 years, various models of online publication (early view, advance access, accepted articles) have been introduced. Typically, these online articles are citable with a stable DOI, weeks to months before they appear in a print issue, but have not been counted in the Journal Impact Factor until their print publication date.
For 2021, Clarivate has changed the game. Early Access citations with a publication date of 2020 are included in the numerator of the Journal Impact Factor equation. Journals that have a backlog of articles online waiting on print publication will receive a Journal Impact Factor bump from this change. The playing field will level again by 2022. There are indications that this model may affect some journals disproportionately.
What does this mean for authors and researchers? While Journal Impact Factor is still a good metric, you may want to consider other metrics as well while the Journal Impact Factor data fluctuations work their way out of the system. You can view our Journal Metrics information on the Publication Metrics Guide.
Archives Oral Histories: David C. Sabiston
Lucy Waldrop, Assistant Director for Medical Center Archives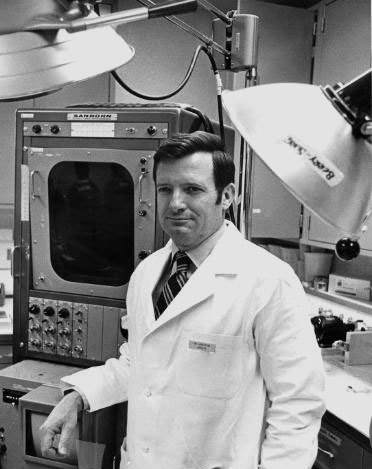 In the August 2021 issue of our newsletter, we featured "Archives Oral Histories" which outlined what an oral history is and the types of oral histories held at the Medical Center Archives. In the October issue, the second offering of this multipart series highlighted the newly redesigned and updated online exhibit of "Women in Duke Health," a unique historical perspective from women in multiple fields at Duke, many who were pioneers or "firsts" in some way in their disciplines. In this issue, we highlight the David C. Sabiston Oral History Project, initiated by the Department of Surgery as a way to collect memories from people who knew him in order to write a definitive biography.
Dr. David Coston Sabiston Jr., MD (1924-2009) came to Duke in 1964 as James B. Duke Professor of Medicine and Chairman of the Department of Surgery. These were positions he held until his retirement in 1994. During his 30 year career at Duke, he trained thousands of surgeons and created one of the most respected surgical residency programs in the world. His training programs have been emulated by medical schools around the world. During his tenure at Duke University, he was the principal investigator of a National Institutes of Health (NIH) Grant supporting an Academic Surgical Research Training Program, which supported the Duke Teaching Scholar in Academic Surgery program. While being financed from his first NIH grant, a Research Career Development Award, he became the principal investigator of a National Heart Institute grant that was funded continuously for 35 years.  
Prior to coming to Duke, Sabiston, a native of Jacksonville, NC, received his MD from Johns Hopkins School of Medicine in 1947. He completed his surgical residency under Dr. Alfred Blalock at Johns Hopkins Hospital, and following this, he spent two years as a Captain in the U.S. Army Marine Corps, posted at Walter Reed Medical Center doing cardiovascular research, where he became interested in physiology and pathophysiology of the coronary arteries. After his military service, Sabiston returned to Johns Hopkins as an assistant professor of surgery and an investigator in the Howard Hughes Medical Institute. Within ten years of joining the faculty at Johns Hopkins, he was promoted to professor of surgery.
The majority of Sabiston's research concerned the field of cardiothoracic surgery. He made significant contributions to the understanding of coronary artery blood flow, which led to innovative clinical therapies. He also conducted important studies on pulmonary embolisms and defined many of the mechanisms associated with thrombus formation and lysis and pulmonary injury. 
The Sabiston Oral History Project currently contains 38 interviews conducted with people who knew and worked with him both at Duke and outside of Duke. If you are interested in learning more about the project or any of our Archives holdings, please contact the Archives staff. 
A Year in Systematic Reviews: Stats from the Library Service
Steph Hendren, Research & Education
The Llibrary's Systematic Review (SR) Service is one of the ways librarians collaborate with faculty and researchers in order to make significant contributions to their respective fields. Over the past year, the Library has kept track of the number and types of comprehensive search requests in which the librarians have participated, including projects like systematic reviews and scoping reviews. Research & Education Librarian, Sami Kaplan, found some interesting statistics that shed light on the amazing work Duke faculty, researchers, and librarians put into these projects!  

Average number of articles to screen: 4071
This might sound like a lot of articles to screen, but the Library has a subscription to a software called Covidence that helped tremendously! This resource sped up the screening process, accurately tracked all decisions, and displayed them in a built-in PRISMA flowchart.   
Highest number of resources searched for a single project: 6
Methodology guidelines, such as the National Academies Press' Standards for Systematic Reviews, often require at least 2 or 3 databases to be searched for a systematic review. However, the research question or subject topic might fall across several resources and therefore require more places to be searched, which is what happened in our case. Librarians can assist with identifying and constructing complex and nuanced searches for each and every one of these databases to ensure everything relevant for a research question is captured.
Busiest month for new SRs: January
The start of the semester is busy for both students and researchers alike! January has, on average, the highest number of new project requests submitted to the Medical Library. Other months with above-average volume have included May, June, and July.  
If you are a researcher who is interested in starting a new SR to add to these statistics, the Library has a number of resources to help the process. To get started, contact the Library at medical-librarian@duke.edu with a completed Literature Search Planning Form.
Printing Expanded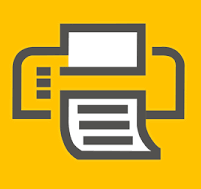 Duke OIT's ePrint service is now available for all Duke users from the Library's computers or from your own devices using the ePrint client software. For more on ePrint and print allocations for students and staff, see the OIT ePrint page.

Color printing is also available from Library computers for 15 cents per page. You must have a FLEX account to pay for color printing. For information on how to add money to your FLEX account, visit the DukeCard Website.
Staff News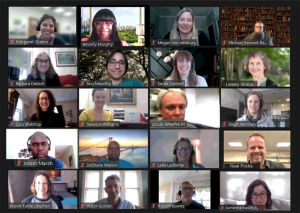 Library staff co-authored over 35 articles in 2021, more than 30 of which were evidence syntheses or meta-analyses. These articles build off the work of all Library staff, not only those who serve as co-authors for their methodological and literature search expertise. All of our Library staff play a role in making articles and databases available for this work, including licensing resources, maintaining networks, requesting articles from other libraries, and answering questions at the desk. Our systematic review service has grown dramatically in the past few years, and all of us are proud to play an essential role in this meaningful work.

Below are some of the articles that were co-authored this year that have not already been shared in any of the 2021 newsletter issues. Library staff are highlighted in bold. 
1. Akers KG, Aaronson EM, Amos K, Bartley K, Carroll AJ, Chambers T, Cyrus JW, Eldermire ERB, Linares B, Murphy B, Norton MJ, Pionke JJ, Reyes A. Striving for equity: An update from the journal of the medical library association. J Med Libr Assoc. 2021;109(3):359-361. doi10.5195/jmla.2021.1279

2. Albright BB, Monuszko KA, Kaplan SJ, Davidson BA, Moss HA, Huang AB, Melamed A, Wright JD, Havrilesky LJ, Previs RA. Primary cytoreductive surgery for advanced stage endometrial cancer: a systematic review and meta-analysis. Am J Obstet Gynecol. 2021;225(3):237.e231-237.e224. doi10.1016/j.ajog.2021.04.254

3. Braaten AD, Hanebuth C, McPherson H, Smallwood D, Kaplan S, Basirico D, Clewley D, Rethorn Z. Social determinants of health are associated with physical therapy use: A systematic review. Br J Sports Med. 2021. doi10.1136/bjsports-2020-103475
4. Check DK, Avecilla R AV, Mills C, Dinan MA, Kamal AH, Murphy B, Rezk S, Winn A, Oeffinger KC. Opioid  prescribing and use among cancer survivors: A mapping review of observational and intervention studies, J Pain Symptom Manage. 2021. doi:https://doi.org/10.1016/j.jpainsymman.2021.10.015

5. Check DK, Zullig LL, Davis MM, Davies L, Chambers D, Fleisher L, Kaplan SJ, Proctor E, Ramanadhan S, Schroeck FR, Stover AM, Koczwara B. Improvement Science and Implementation Science in Cancer Care: Identifying Areas of Synergy and Opportunities for Further Integration. J Gen Intern Med. 2021;36(1):186-195. doi10.1007/s11606-020-06138-w

6. Danilkowicz RM, Lachiewicz AM, Lorenzana DJ, Barton KD, Lachiewicz PF. Prosthetic Joint Infection After Dental Work: Is the Correct Prophylaxis Being Prescribed? A Systematic Review. Arthroplast Today. 2021;7:69-75. doi10.1016/j.artd.2020.11.007

7. Dioun S, Wu J, Chen L, Kaplan S, Huang Y, Melamed A, Gockley A, St Clair CM, Hou JY, Tergas AI, Khoury-Collado F, Machida H, Mikami M, Matsuo K, Hershman DL, Wright JD. Intraoperative Rupture of the Ovarian Capsule in Early-Stage Ovarian Cancer: A Meta-analysis. Obstet Gynecol. 2021;138(2):261-271. doi10.1097/AOG.0000000000004455

8. Ferlauto HR, Wickman JR, Lazarides AL, Hendren S, Visgauss JD, Brigman BE, Anakwenze OA, Klifto CS, Eward WC. Reverse total shoulder arthroplasty for oncologic reconstruction of the proximal humerus: a systematic review. J Shoulder Elbow Surg. 2021;30(11):e647-e658. doi10.1016/j.jse.2021.06.004
9. Hughes TL, Simmons KL, Tejwani R, Barton KD, Wiener JS, Todd Purves J, Routh JC. Sexual Function and Dysfunction in Individuals with Spina Bifida: A Systematic Review. Urology. 2021;156:308-319. doi10.1016/j.urology.2021.03.042

10. Klapper JA, Hicks AC, Ledbetter L, Poisson J, Hartwig MG, Hashmi N, Welsby I, Bottiger BA. Blood product transfusion and lung transplant outcomes: A systematic review. Clin Transplant. 2021;35(10). doi10.1111/ctr.14404

11. Kloer C, Parker A, Blasdel G, Kaplan S, Zhao L, Bluebond-Langner R. Sexual health after vaginoplasty: A systematic review. Andrology. 2021. doi10.1111/andr.13022

12. Lauseng DL, Alpi KM, Linares BM, Sullo E, von Isenburg M. Library involvement in health informatics education for health professions students and practitioners: A scoping review. J Med Libr Assoc. 2021;109(3):365-375. doi10.5195/jmla.2021.1081

13. Li R, von Isenburg M, Levenstein M, Neumann S, Wood J, Sim I. COVID-19 trials: declarations of data sharing intentions at trial registration and at publication. Trials. 2021;22(1). doi10.1186/s13063-021-05104-z

14. Lin C, Mullen J, Smith D, Kotarba M, Kaplan SJ, Tu P. Healthcare providers' vaccine perceptions, hesitancy, and recommendation to patients: A systematic review. Vaccines. 2021;9(7). doi10.3390/vaccines9070713
15. Misra AR, Oermann MH, Teague MS, Ledbetter LS. An evaluation of websites offering caregiver education for tracheostomy and home mechanical ventilation. J Pediatr Nurs. 2021;56:64-69. doi10.1016/j.pedn.2020.09.014

16. Patel AD, Bullock GS, Wrigley J, Paterno MV, Sell TC, Losciale JM. Does sex affect second ACL injury risk? A systematic review with meta-analysis. Br J Sports Med. 2021;55(15):873-882. doi10.1136/bjsports-2020-103408

17. Patel NJ, Dultz L, Ladhani HA, Cullinane DC, Klein E, McNickle AG, Bugaev N, Fraser DR, Kartiko S, Dodgion C, Pappas PA, Kim D, Cantrell S, Como JJ, Kasotakis G. Management of simple and retained hemothorax: A practice management guideline from the Eastern Association for the Surgery of Trauma: Hemothorax Management Guideline. Am J Surg. 2021;221(5):873-884. doi10.1016/j.amjsurg.2020.11.032

18. Singh A, Raynor EM, Lee JW, Smith SL, Heet H, Garrison D, Wrigley J, Kaylie DM, Riska KM. Vestibular Dysfunction and Gross Motor Milestone Acquisition in Children With Hearing Loss: A Systematic Review. Otolaryngol Head Neck Surg. 2021;165(4):493-506. doi10.1177/0194599820983726

19. Smith CM, Gilbert EB, Riordan PA, Helmke N, von Isenburg M, Kincaid BR, Shirey KG. COVID-19-associated psychosis: A systematic review of case reports. Gen Hosp Psychiatry. 2021;73:84-100. doi10.1016/j.genhosppsych.2021.10.003

20. Sullivan AE, Nanna MG, Wang TY, Bhatt DL, Angiolillo DJ, Mehran R, Banerjee S, Cantrell S, Jones WS, Rymer JA, Washam JB, Rao SV, Ohman EM. Bridging Antiplatelet Therapy After Percutaneous Coronary Intervention: JACC Review Topic of the Week. J Am Coll Cardiol. 2021;78(15):1550-1563. doi10.1016/j.jacc.2021.08.013

21. Tan HS, Taylor CR, Sharawi N, Sultana R, Barton KD, & Habib AS. (2021). Uterine exteriorization versus in situ repair in cesarean delivery: A systematic review and meta-analysis. Canadian Journal of Anesthesia, doi:10.1007/s12630-021-02142-8

22. Wibonele BK, Smith BD, Altonji S, Kaplan S, Cho J, Lee WT. Head and neck cancer research collaborations between the United States and low- and middle-income countries: 10-year publication analysis. Head Neck. 2021;43(8):2395-2404. doi10.1002/hed.26703
Welcome to our Library Interns!
 Archives Intern

Carter Hulinsky


 Research & Education Intern

Margaret Graton


Carter Hulinsky joined the Archives staff as an Intern in October, 2021. He received his BA from the University of Nebraska – Lincoln where he majored in Sociology and minored in History and Czech Language. He is currently working towards a Masters of Library and Information Science with a Concentration in Archives and Records Management at University of North Carolina-Chapel Hill. After graduating in 2023, he hopes to continue working in Archives, where he revels in the little known stories and details found in archival materials, as well as the opportunities to learn and reasons to explore. Carter developed an interest in archives in high school. During a building renovation project, he rescued some archival treasures from the dumpster which had been thrown out by the construction crew who cleared it trom the school's basement storage.

Since starting at the Medical Center Archives, Carter has immediately gotten to work on processing a collection of notebooks from a research laboratory on campus, where he is learning about rehousing, basic preservation tasks, and creating a finding aid to provide future users access to these materials. Carter sees this Internship as serving as a laboratory for hands on learning while in graduate school. Working at the Medical Center Archives will give him the opportunity to gain experience with a variety of formats, both digital and physical, not available in the classroom. When not busy with school or at work, Carter enjoys hiking on nearby trails, exploring public gardens, touring historic homes, and seeking out antique stores. He collects many things including Kewpies, glassware, and pottery.

Margaret Graton joined the Research & Education staff as an Intern in in August, 2021. She received her Masters in Comparative Literature from the University of Edinburgh, Edinburgh, Scotland, and is working on her Masters of Library and Information Science degree at the University of North Carolina, Greensboro. Prior to joining us, Margaret was a Senior Managing Editor for several journals under Oxford University Press and Wiley and thereby brings her unique perspective of a scientific journal editor to her work with our researchers.

Margaret became interested in librarianship after attending a conference in 2019 and says what she likes about library work is "... it's very practical/hands-on and that we're carrying on a tradition that spans centuries, even from the library of Alexandria." Working at the Medical Center Library & Archives will give her the opportunity to gain experience with the wide variety of work that takes place in academic medical libraries, as well as help her choose her professional path. Since starting at the Library, Margaret has been developing her expert searching skills and is participating in our systematic review service. You may also get the pleasure of interacting with her through our email or chat reference service or at the Library Service Desk. When Margaret is not at work or busy with school, she is a Tolkien scholar and loves Irish dancing, baking and cosplay.
ZScaler and Use of Library Resources

ZScaler, an Internet and Web gateway security tool, is being implemented across Duke Health. Early users reported barriers to accessing Library resources when ZScaler was running on their Duke computers.
We have devised a strategy that allows Library access, but you will need to use the Library Website to get that access. In order to be recognized as an authorized Duke user, you must access the Library Websites/systems and sign in.
If you are having issues getting access, please submit a ticket to DHTS at https://duke.service-now.com/sp
Improve Your Library Research Skills Online!
Publication Schedule & Staff
Duke University Medical Center Library & Archives News is published bimonthly.
Megan von Isenburg , Associate Dean
Beverly Murphy, Editor
            Editorial Board:
                        Barbara Dietsch

Victor Gordon

                        Steph Hendren

Lucy Waldrop

Subscribe to our newsletter and be notified when a new issue is published!