October is Breast Cancer Awareness Month!
Associate Dean Pat Thibodeau to Retire in Early 2017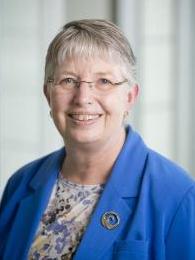 Pat Thibodeau has announced that she is retiring as Associate Dean of Library Services and Archives in early 2017 after almost 24 years of service within Duke Health. Thibodeau has overseen the Medical Center Library and Medical Center Archives since 2000, previously serving as Associate Director from 1993 to 2000.
The School of Medicine has engaged the services of the recruitment firm, Isaacson Miller, to identify qualified candidates and assist with the national search process. A search committee, including faculty and staff from across Duke Health, has been appointed to review and interview the candidates for the Associate Dean position.
More details will be released later in the year.
DynaMed Plus Available for Extended Trial
Megan von Isenburg, Associate Director, Research & Education

DynaMed Plus, an evidence-based point-of-care information resource, is now available for a one-year trial through July 2017. It's accessible through the Library's Clinical Tools, Databases page, and via mobile devices.
By offering bulleted topic overviews on diseases, drugs and other therapies, DynaMed Plus seeks to make the best available evidence easier to use at the point of care. These topics are formatted for quick look up and link back to the original studies for a deeper dive.
If you're ready to learn more, you can:
We are seeking information about how well DynaMed Plus answers your questions and integrates into your workflow. Please complete our survey to help us gather data on its usefulness. If you have any additional questions, please email us at medical-librarian@duke.edu.
Celebrating National Medical Librarians Month
The Duke Medical Center Library & Archives celebrates National Medical Librarians Month (NMLM) in October. NMLM was established by the Medical Library Association in 1997 to raise awareness of the important role of medical librarians. This year's theme, "Aim for Excellence ," provides an opportunity to highlight research showing that information from medical librarians can improve patients' experiences, the health of our communities, and the per-person cost of healthcare.    
The NMLM celebration will include the following activities:
We will continue to "Aim for Excellence" by providing quality resources, services and expertise to impact medical care, education, and research at Duke Health.

Making Information Free: Open Access, Public Access & Open Science
Pat Thibodeau, Associate Dean for Library Services & Archives
Easy and immediate access to journal articles still remains a challenge. Even Duke cannot provide access to everything.  Journal prices have continued to increase year after year with more and more expensive journals being published. That means important clinical, research, and educational content can be locked up for months, years, or permanently, inaccessible to the patients, health providers, researchers, teachers and learners that need access to them.  This problem becomes even more massive when you look at access to information within developing countries, and can become an obstacle as Duke tries to work with global sites to reduce disparities in health, education, and research.
The following three movements are trying to ensure that scholarly work is available to everyone.
Open Access
Basic open access has been around for a number of years and indicates that information is freely and immediately available to everyone.  A large number of journals have emerged that allow Duke authors the option of submitting their manuscripts to publications that will immediately make them free upon publication.  There is often an author fee attached to this, but Duke has developed the COPE Fund to assist authors who have no grant support or have limited funding from their departments.

There are different degrees "openness" in Open Access.  While the initial focus was for free and immediate access, there are other issues to consider.  Can you as an author post your work on a Website?  Can readers re-use your work or modify it?  Do journals automatically submit or allow content to be placed in public databases and repositories?  Can the content of a book or journal be text-mined for research?  The guide, HowOpenIsIt? Open Access Spectrum, walks you through these broader issues that you as an author should consider.  In addition, the Open Access Spectrum Evaluation Tool lets you see how open a journal may be.

Unfortunately, open access has gotten a bad name as some predatory publishers have taken advantage of the pay-to-publish business model. These publishers promise quick publication for a fee with limited or no peer review.  In other words, they are more concerned with collecting the fee than providing high quality and free information. How can you avoid falling prey to these predatory publishers?  Look at their editorial boards, the company behind the journal, their policies and procedures, and the quality of the content in existing issues. To aid in this process, use the Library's Be iNFORMEd checklist that provides a way of evaluating unknown publishers and their journals. 

Public Access
Many government and private funding sources are now requiring that works resulting from their research funding are placed in either an open access journal, database, or repository which provides free access to authors' versions of manuscripts.  Over the past year, numerous US federal agencies have begun to implement public access policies similar to the NIH Public Access Policy, which has been in existence since 2008.  The Library has created a guide that provides links to these new federal agency policies for public access to manuscripts as well as to data.

Open Science
Another major movement is for sharing data and creating what is being called open science. This is the ability to share and reuse data from research projects in order to increase the speed of discovery within the scientific community. It also provides a more transparent research environment for the general public and consumers who anxiously await or want to understand the results of research projects.
What can you do as a Duke author?
Consider submitting a manuscript to an open access journal
Or, select a journal that makes its content free within 6 to 12 months
Comply with public access policies and groups that are funding your research
Select journals that assist you with public access compliance
Design and collect your research so that it can be shared with groups outside of Duke
Ask for assistance from the Duke Medical Center Library staff who can:
Help you select open access journals
Identify potential predatory journals that are offering open access
Explain public access policy compliance
Provide samples of data sharing plans
Provide more information on how you can change access to information scholarly communications
Other Resources
Open Access and Scholarly Communications @ Duke: Supporting OA
Data Sharing and Public Access Policies
Getting Published: Quick Links
October is Archives Month!
Lucy Waldrop, Associate University Archivist, Medical Center Archives
Fall is here which means it's time for Archives Month. This month long observance, held each year in October, celebrates the agencies and people responsible for maintaining and making available the archival and historical records of our nation, state, communities, and people. Archives serve as the memory of our nation, and by celebrating, we recognize and give legitimacy to the enduring value of American records and America's archives.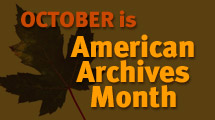 On October 3, 2016, archivists around the country took to Twitter to respond to questions tweeted with the hashtag #AskAnArchivist. To see how North Carolina is celebrating Archives Month, check out the Society of North Carolina Archivists theme for our state, "From Moonshine to Microbrews: North Carolina's Brewing History."
To learn more about DUMC history, visit the Duke University Medical Center Archives Website or email dumc.archives@mc.duke.edu.
Featured New Engel Books
Barbara Dietsch, Acquisitions Manager, Collection Services

These books are part of the Library's special collection established in memory of Dr. Frank Engel, who always thought students should have other reading sources that took them beyond their medical studies.
Grit: The Power of Passion and Perseverance
Angela Duckworth
In this instant New York Times bestseller, pioneering psychologist Angela Duckworth shows anyone striving to succeed - be it parents, students, educators, athletes, or business people - that the secret to outstanding achievement is not talent but a special blend of passion and persistence she calls "grit."
Rise of the Rocket Girls: The Women Who Propelled Us, from Missiles to the Moon to Mars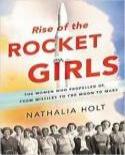 Nathalia Holt
This is a story of an elite group of women,  known as "human computers," who broke the boundaries of both gender and science. Based on extensive research and interviews with all the living members of the team, Rise of the Rocket Girls offers a unique perspective on the role of women in science: both where we've been, and the far reaches of space to which we're heading.
The Gene: An Intimate History
Siddhartha Mukherjee
Mukherjee has a written a biography of the gene as deft, brilliant, and illuminating as his extraordinarily successful biography of cancer. Weaving science, social history, and personal narrative to tell us the story of one of the most important conceptual breakthroughs of modern times, he animates the quest to understand human heredity and its surprising influence on our lives, personalities, identities, fates, and choices

Gut: The Inside Story of Our Body's Most Underrated Organ
Giulia Enders, Jill Enders, and David Shaw
A cheeky up-close and personal guide to the secrets and science of our digestive system. For too long, the gut has been the body's most ignored and least appreciated organ, but it turns out that it's responsible for more than just dirty work: our gut is at the core of who we are.

Are We Smart Enough to Know How Smart Animals Are?
Frans de Waal
De Waal reviews the rise and fall of the mechanistic view of animals and opens our minds to the idea that animal minds are far more intricate and complex than we have assumed. His landmark work will convince you to rethink everything you thought you knew about animal and human intelligence.
Suggestions for purchases? Complete our online Recommend a Purchase form or contact Emma Cryer Heet.  For a complete list of titles added to our print book collections within the last 3 months, check out the Library's newest print book additions or subscribe to our "New Books" feed.
Staff News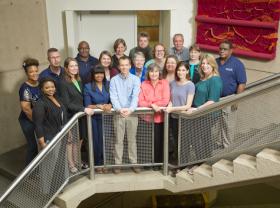 Jamie L. Conklin, Research & Education Librarian, has coauthored an article: Jennie C. De Gagne, Sandra S. Yamane, Jamie L. Conklin, "Evidence-based Strategies to Create a Culture of Cybercivility in Health Professions Education," Nurse Education Today, 45:138-141, July 2016.
Leila Ledbetter, Research & Education Librarian, has coauthored an article: Jennie C. De Gagne, Min Choi, Leila Ledbetter, Hee Sun Kang, Cynthia M Clark, "An Integrative Review of Cybercivility in Health Professions Education," Nurse Educator, 41(5):239-245, Sept-Oct 2016.
Brandi Tuttle, Research & Education Librarian, will present "Librarians: Part of Your PA Education Team Yet?" at the Physician Assistant Education Association (PAEA) Education Forum in Minneapolis, Minnesota with Duke Physician Assistant Program Director Karen Hills, MS, PA-C on October 14, 2016.
Megan Van Noord, Research & Education Librarian, has coauthored an article: Thomas A. Longo, Ajay Gopalakrishna, Matvey Tsivian, Megan Van Noord, Coen R. Rasch, Brant A. Inman, Elisabeth D. Geijsen, "A Systematic Review of Regional Hyperthermia Therapy in Bladder Cancer," International Journal of Hyperthermia, 32(4):381-389, June 2016.
Lucy Waldrop, Associate University Archivist, Medical Center Archives, has authored an article, Updates from the Tarheel State: Jay M. Arena Papers in Archival Elements, Newsletter of the Society of American Archivists Science, Technology, and Health Care Roundtable, Summer 2016, pages 6-7.
Medical Center Library & Archives staff presented the following initiatives during the Medical Library Association Tri-Chapter Meeting in Philadelphia, PA, September 25-28, 2016.
Beverly Murphy moderated a session on Transformational Leadership, which included three paper presentations (MJ Tooey - University of Maryland, Baltimore; Terrie Wheeler - Weill Cornell Medicine, New York; Daniel T. Wilson - University of Virginia, Charlottesville) and two lighning talks (Marie Ascher - New York Medical College, Valhalla, NY; Ryan Harris - University of Maryland, Baltimore)
Megan von Isenburg, Virginia M. Carden, Brandi Tuttle, Patricia L. Thibodeau, and Alexandria Mesa  - Assessing Research Impact: How Good Is Good Enough?  This poster presentation was the first place winner of a research poster award.
Megan von Isenburg collaborated on the poster, Association of Academic Health Sciences Libraries (AAHSL) Task Force Evaluating Association of American Medical Colleges (AAMC) Core Entrustable Professional Activities (EPAs) for Entering Residency
Archives Welcomes its New Intern: Kahlee Leingang
Lucy Waldrop, Associate University Archivist, Medical Center Archives
Kahlee Leingang joined the Medical Center Archives staff in July for a year-long internship. She received her BA in History from Loyola University Chicago and her MA in Public History from North Carolina State University. Currently she is working towards an MSLS at UNC Chapel Hill School of Information and Library Science. After graduation, she would like to work in a university special collections or a historical society, where she could combine her public history and library science degrees.
Kahlee discovered her passion for archives when, as an undergraduate, she worked at the Women and Leadership Archives (WLA) at Loyola University. While at the WLA, she accessioned archival materials, answered reference questions, and conducted archival research for a large exhibit at the Loyola University Art Museum to mark the 200th anniversary of the Jesuit restoration and a century of women's education at Loyola-Mundelein. Kahlee has also worked at the City of Raleigh Museum on a visitor studies project to measure visitor experiences and at NCSU Special Collections where she helped create a toolkit for archiving social media as part of the social media initiative.
Since starting at the Medical Center Archives, Kahlee has processed an addition to the Department of Arts & Health at Duke Records comprised of materials from Gathering in the Stories Exhibition. This addition documents the impact of Dr. Martin Luther King Jr. and the Civil Rights Movement on the lives of Duke University Hospital employees. The exhibit was displayed at the hospital from 2006 to 2016.

When Kahlee is not working or studying, she enjoys reading mystery novels, relaxing by watching Netflix, and exploring the Triangle area for new restaurants with gluten free menus.
Employee Spotlight: Vanessa Sellars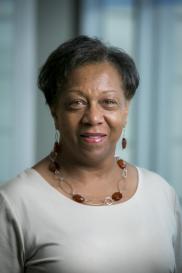 Barbara Dietsch, Acquisitions Manager, Collection Services
Vanessa's Bio
Working at Duke University Medical Center Library & Archives since:  April 1, 1995
Education: BS in Business Management with a concentration in Accounting from Shaw University in Raleigh, NC
Current position: Associate Director Administrative Services/Business Manager
Q & A
1.    Describe your current position & what you find most interesting about it.
As Associate Director of Administrative Services, I am responsible for all financial aspects of the Library and Archives, including facilities, personnel, and purchasing. I enjoy the variety of things I do and the people I interact with.
2.    Describe yourself in three words. Happy, organized, flexible.
3.    What has been your biggest professional challenge?
Availability of resources to provide the requests of patrons.
4.    What do you think is the most interesting issue in libraries & archives today?
The most interesting issue is that our patrons think everything miraculously appears online. They often don't understand the cost, finances, and time needed to make that happen.
5.    Whom do you admire?
At the Library - Pat (Thibodeau), because she has such a passion for making sure that our patrons have the newest and best resources. In general, President Obama, for all that he has achieved and his die-hard spirit.
6.    What organizations are you involved in?
Literate Ladies Book Club, Mt. Calvary United Church of Christ, MCUCC Food Pantry, American Business Women's Association and Administrative Women's Network, NAACP, and the Hillside High School Alumnus Association.
7.    Is there anything about you that others might be surprised to know?
I have lived in 5 states (Kentucky, Tennessee, Pennsylvania, North Carolina, and Minnesota) and a country (Germany) other than the United States.
8.    What do you do for exercise? For relaxation?
For exercise, I walk at least 30 minutes daily and occasionally ride my bike. For relaxation, I read, take walks, play with my grandchildren, and work in my flower garden.
9.    What are you most proud of?
I graduated from college at the age of 40, while working full time, being a wife, and raising a family.  
10.    What is your favorite Website or blog?  I don't have a favorite.
Thanksgiving Hours

                       Thanksgiving Hours
November 23 (Wednesday)    8:00 am - 5:00 pm
November 24 (Thursday)     BADGE ACCESS ONLY
November 25 (Friday)          BADGE ACCESS ONLY
24-hour card access is available to those with Duke Health Badges Only. 
Improve Your Library Research Skills!
Publication Schedule & Staff
Duke University Medical Center Library & Archives News is published bimonthly.
Pat Thibodeau, Associate Dean
Beverly Murphy, Editor
Editorial Board:
               Jamie Conklin

Barbara Dietsch

        Megan von Isenburg
Lucy Waldrop

Subscribe to our newsletter and be notified when a new issue is published!