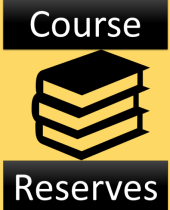 Our staff can help make it easier to provide Library-licensed resources for degree-granting academic programs, ACGME- and ICGME-accredited residency programs, and internal workforce development initiatives at Duke. Materials can be linked from within courses in Sakai, Canvas, or BlueDocs.
E-reserves software is under development and currently unavailable for Fall 2023 and Spring 2024. However, we are able to help streamline linking to Duke-licensed resources and assist with acquiring copies of materials otherwise not available at Duke.
The best practice for complying with copyright is to link to articles and books rather than posting copies of these in course sites. We realize it can be challenging to identify the best link for an electronic article or book. For assistance, please see Creating Links to Journal Articles, our Copyright Guide, or email us at mclibrary-collections@duke.edu.
To request a digital version of print materials or items not available at Duke, please submit requests online through our Document Delivery/Interlibrary Loan System.
If you have questions about about print and electronic reserves, please email mclibrary-collections@duke.edu to discuss options.
NOTICE: The information stored in the Electronic Reserves database is protected under the Copyright Laws of the United States (Title 17 U.S. Code) governing the making of photocopies of copyrighted material. The person using this system is liable for any infringement. For more in-depth information see our Copyright Guide.