October Is...
Breast Cancer Awareness Month
Health Literacy Month
Celebrating National Medical Librarians Month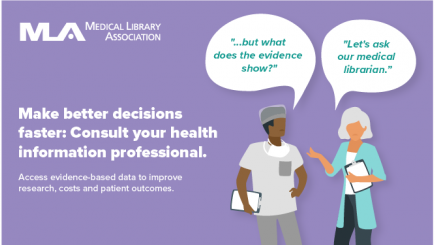 The Duke Medical Center Library & Archives celebrates National Medical Librarians Month (NMLM) in October. NMLM was established by the Medical Library Association in 1997 to raise awareness of the important role of medical librarians. This year's theme, Make Better Decisions Faster: Consult Your Health Information Professional, is a reminder that we are the perfect partners for providing quality, authoritative health information, research, and search instruction.
The NMLM celebration will include the following activities:
Open Access Week will be observed the week of October 24-30. 
October is also Archives Month and the Society of North Carolina Archivists is highlighting The Lighter Side of Tarheelia: Fun, Frolic, and Festivals in the Old North State!  
It Came From the Archives, which has been on hiatus due to the pandemic, returns this year. All are invited to drop by the Library on October 31st from 11a-2p for a fun break. learn some history and enjoy free Halloween candy!
We will continue to "Aim for Excellence" by providing quality resources, services and expertise to impact medical care, education, and research at Duke Health.
International Open Access Week: Oct. 24-30
Lesley Skalla, Research & Education

Open Access (OA) Week is a great reason for everyone to learn more about the many benefits of Open Access and share what we have learned with friends and colleagues. This year's theme, Open for Climate Justice, encourages "connection and collaboration among the climate movement and the international open community" and is the ideal opportunity to "join together, take action, and raise awareness around how open can be a means for climate justice."
For specific actions in the spirit of Open Access week, consider:
For more information, please visit International Open Access Week. The official hashtag of Open Access Week is #OAweek.
It Came from the Archives Returns with Halloween Highlights!
Medical Center Library & Archives
Level 2R, Room 212E
Monday, October 31st
11am – 2pm
FREE and open to all!
After an unexpected multi-year hiatus, the Duke University Medical Center Archives is excited to announce the return of our annual Halloween event! This casual open house will feature a selection of odd, intriguing, and rarely seen materials from the Archives collections.
Curious individuals are invited to gaze upon detailed medical illustrations, touch old medical instruments, explore forgotten stories from the history of Duke Health, and much more. 
Please plan to join us for a fun break to learn some history and enjoy free Halloween candy!
For more information, contact Rebecca Williams, Archives Research, Outreach, and Education Librarian, at 919.383.2653 or rjw12@duke.edu.
NIH Data Management & Sharing Policy Update
Lesley Skalla, Research & Education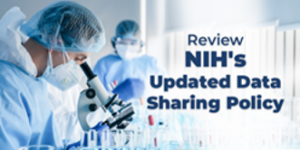 Is your research funded by NIH? Does your research generate scientific data? If you answered yes to both of these questions, you will need to submit a Data Management & Sharing Plan with your grant applications with receipt dates on/after January 25, 2023. Here are the latest updates relevant to the new NIH Data Management and Sharing Policy: 
This policy applies to new applications for receipt dates ON/AFTER January 25, 2023 (see Data Management & Sharing Overview).
Implementation changes for genomic data sharing plans: The NIH recently announced that it will no longer request separate sharing plans for projects subject to both the NIH Genomic Data Sharing Policy (GDS Policy) and the NIH Data Management and Sharing Policy (DMS Policy).  Instead, for grants due on or after January 25, 2023, applicants should provide a single Data Management and Sharing Plan that addresses both policies. Please see NOT-OD-22-198 for details and other considerations. 
The NIH released new supplemental information for the implementation about Protecting Privacy When Sharing Human Research Participant Data and Responsible Management and Sharing of American Indian/Alaska Native Participant Data.
NIH recently updated their 2023 Data Management & Sharing Policy Frequently Asked Question (FAQs).  Find answers to your questions on policy scope, managing and sharing scientific data, considerations for data derived from human participants, compliance/enforcement, and contracts.
NIH has been busy spreading the word to researchers about the new data sharing policies. You can sign up for NIH webinars and listen to recordings.
To learn more about the policy and data management planning resources available to you at Duke, consider signing up for an upcoming class.
As you look ahead to this new requirement, we can help develop efficient and supportive services before the policy takes effect. Please address any concerns and questions to lesley.skalla@duke.edu.  
October is Archives Month
Lucy Waldrop, Medical Center Archives Assistant Director and Technical Services Head
Archives Month is an annual, month-long observance of the agencies and people responsible for maintaining and making available the archival and historical records of our nation, state, communities, and people. Archives serve as the memory of our nation, and by celebrating, we recognize and give legitimacy to the enduring value of American records and America's archives.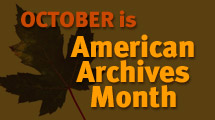 We encourage you to check out our Instagram account where we'll be highlighting treasures from the Medical Center Archives collection all month long. This month the Society of North Carolina Archivists theme is The Lighter Side of Tarheelia: Fun, Frolic, and Festivals in the Old North State.  On October 12, 2022, archivists around the country took to Twitter to respond to questions tweeted with the hashtag #AskAnArchivistDay. Throughout October, we invite you to join us in celebrating the importance of archives as we highlight the history of Duke Health.
To learn more about DUMC history, visit the Duke University Medical Center Archives Website or email dumc.archives@mc.duke.edu
Mobile Apps Guide
Brandi Tuttle, Research & Education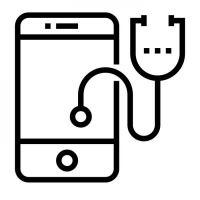 With nearly 2 million apps in the Apple App store alone, it can be tricky to figure out which apps are worth your time and/or money. Before you go hunting in the App or Play Store, don't forget about the health-related apps you can get through Duke. You can visit our Mobile Apps Guide to get started or read on for some highlights!
Our most popular point-of-care apps include UpToDate and DynaMed, which feature an impressive variety of medical calculators and clinical evidence. Did you know that you can get CME/CE from both UpToDate and DynaMed? These will fulfill MOC CME requirements of some ABMS Member Boards including the ABIM.
Lexicomp and the Johns Hopkins ABX Guide are our popular resources for drug information, including interactions, comparisons, and identifications. Take note, the Lexicomp app requires a subscription code (provided via Duke's institutional license) that changes yearly at the end of August. Make sure you go to Lexicomp, click on the Mobile App Access button, and follow their instructions to update your subscription code.
We are thrilled to announce a yearlong trial of our newest addition, VisualDx. This clinical point-of-care tool, educational resource, and decision support system is designed to enhance diagnostic accuracy, aid therapeutic decisions, and improve patient safety. It is renowned for its depth of diverse clinical images, including  14,000+ images of variations in skin color. VisualDx is available for access on mobile devices once you Create a Personal Account (located below the graphical tiles). As we continue to evaluate whether to subscribe to VisualDx in the future, we would like to hear about your experience with this resource. Please take a moment to share your feedback.  
Lippincott Procedures offers step-by-step procedures in nursing, respiratory therapy, and physical therapy including equipment, preparation, implementation, special considerations, patient teaching, documentation, and images. Lippincott Advisor provides evidence-based content for nurses at the point of care including clinical diagnosis, treatment, care planning, quality/safety initiatives, and patient handouts.
We invite you to try these and other apps available on our Mobile Apps Guide.  Email us at medical-librarian@duke.edu with questions, comments, or to set up a consultation.
Archives Receives Trent Grant to Document Maternal Health
Lucy Waldrop, Medical Center Archives Assistant Director and Technical Services Head
Rebecca Williams, Archives Librarian for Research, Outreach, and Education
The Duke Medical Center Archives, in partnership with Rachel Ingold, Curator of the History of Medicine Collections, Rubenstein Library, and Josephine McRobbie and Joseph O'Connell, local oral historians, received a $5,400 grant from the Josiah Charles Trent Memorial Foundation Endowment Fund to document the history of maternal health in Durham.  The project, "Documenting the Duke Midwifery Service and Durham Maternal Health Through First Hand Narratives," will consist of oral history interviews with members of the Duke Midwifery Service and Durham County Health Department. The idea for this project was spurred by the 2021 donation of the Duke Midwifery Service (DMS) Records by Amy MacDonald, Certified Nurse Midwife and former DMS Director (1999-2013). The materials contained in the DMS Records document a program and type of medical care that was previously not represented in our archival holdings.
An oral history is an interview that records an individual's personal recollections of the past and historical events. Using this method of gathering, preserving, and interpreting ensures that the voices and memories of people, communities, and participants are added to the historical record. These interviews will focus on the interviewees' personal histories, experiences, and insight while providing first-hand accounts of the history of the DMS, social and institutional relationships between Duke and Durham, and maternal health.
The maternal mortality rate is a serious crisis in healthcare today. Duke Obstetrics & Gynecology cites that "Black women are three to four times more likely to die from pregnancy-related complications and twice as likely to lose an infant to premature death." This large and complex problem requires a variety of interventions -- one being midwifery. The Surgeon General's Call to Action to Improve Maternal Health advises that the leveraging of midwives into obstetric care can support mothers by offering a variety of support options to meet diverse preferences and needs.
DMS was established in 1999 within the Division of Maternal Fetal Medicine under the Department of Obstetrics and Gynecology at the Duke University School of Medicine. It provides obstetric and gynecologic services to low-risk pregnant women and education to first-year residents, medical students, physician assistant students, midwifery students, and nursing students. Written in 2000, a "Grant Proposal to Expand the Nurse-Midwifery Service at Duke University Medical Center," explicitly outlined the intentions of DMS to "address two risk factors for poor birth outcomes in the community: access to care of underserved minority women and low birth weight/preterm delivery."
Donation of the DMS Records provides the Archives with an opportunity to examine further the relationship between maternal health in Durham and the role that Duke has played; however, they only tell a partial story of maternal health in Durham. With the funding provided by this grant, the Archives can capture and preserve a fuller and more nuanced history through long-form interviews of the often undocumented profession of midwifery. It is imperative to collect the unique stories and the context in which they took place from the individuals who participated in this work. Oral history, the primary method of inquiry for this project, is a format that allows for both.
Over the next year, the Archives will work with our grant partners to interview 4-6 key community members to document the DMS and its relationship with the Durham community. These interviews will be transcribed, and the audio recordings, transcripts, interviewee photographs, and short biographical descriptions will be deposited at the Archives. This will provide access to future researchers and add to our diverse holdings as we strive to build a world-renowned archives in the field of medicine. Additionally, we will publicize our efforts through our blog, newsletter, and social media channels to ensure that our patrons and the broader Duke community are aware and able to take advantage of these resources.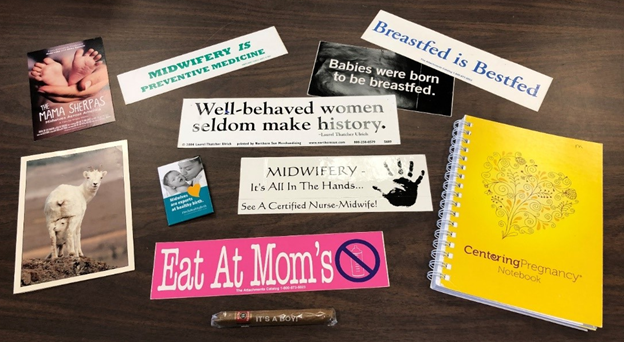 Now Open: Audio/Video Recording Studio
Creating high quality recordings for a podcast, class, or interview can be a challenge on a busy medical campus. Our new Audio/Video Recording Studio, which features acoustic wall panels and recording equipment, is designed to make it easier.
Equipment: Lenovo ThinkCentre with Windows 10, Osborn 4k camera with AI and remote, LG 40 inch mounted display with remote, wireless keyboard and mouse, and Shure Stem wall sound bar.
Software: Audacity, Camtasia 22, Coolcam, Zoom, and NCD video recorder
The Audio/Video Recording Studio is located in Room 322 on Level 3 of the Medical Center Library & Archives and is available for reservation Monday – Friday from 8:30 am to 4:30 pm. Once you have a reservation, stop by our Service Desk to check out the key to the room.
Please note: The Medical Center Library & Archives requires a Duke Health badge for entry.
We welcome your feedback! Please email us at medical-librarian@duke.edu.
Employee Spotlight: Tina Vij and Nidhish Kundur
Victor Gordon, Associate Director for Administration
Introducing our Library Students!
Tina Vij


Nidhish Kundur


1.    What is your academic program?
Tina: Master of Engineering Management (MEM) 
Nidhish: I am a graduate student in the Pratt School of Engineering currently pursuing my masters in Engineering Management. It is an interdisciplinary program comprised of business and technical and is known as a tech savvy alternative to an MBA.


2.    Did you always know you wanted to be in the area you have chosen to pursue?
Tina: No.
Nidhish: The field that I am pursuing right now is not something that I always wanted to pursue. I grew up wanting to be an engineer and solve complex problems. My perspective has changed since, and now I want to solve meaningful customer problems for which I am studying to become a product manager.

3.    What do you like the most about your coursework? 
Tina: I enjoy the different perspectives my peers bring to the table for the same problem. It helps me with my critical thinking. 
Nidhish: The thing I like the most about my coursework is that it is pretty open ended. There is no right or wrong answer. It is a matter of perspective and backing it up. I also get the flexibility of customizing my program to suit my interests which might not be possible everywhere.


4.    What do you like most about working here at the Library? 
Tina: I love the people who make MCL a warm welcoming place. I also enjoy helping patrons in their learning journey and leaving them with a smile. 
Nidhish: Since I started working at the library, it feels like I have found a home away from home. The warmth and hospitality that the people here have shown me is truly amazing. I also get to interact with a lot of fellow students with various backgrounds while working at the help desk.


5.    What are some of your outside interests or hobbies?  
Tina: I am currently exploring new cafes and coffee places in Durham. 
Nidhish: Outside school I enjoy playing badminton at the Wilson recreation centre. I also like watching sports with soccer being my favourite. I also like watching comedy and I am a huge movie buff.

6.    How would your friends and family describe you?
Tina: My friends and family would probably describe me as an affable and ambitious, clumsy woman. 
Nidhish: My friends and family would describe me as someone who is energetic, fun and always up for banter.
Staff News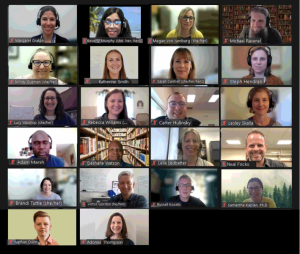 The following publications have been authored/co-authored by Medical Center Library & Archives Staff (highlighted in bold)
Johnson, L. G., Anastasio, A. T., Fletcher, A. N., Hendren, S., & Adams, S. B. (2022). Outcomes Following Total Talus Replacement: A Systematic Review. Foot and Ankle Surgery, S1268-7731(22)00167-9 (Online ahead of print).
Scroggins, J. K., Ledbetter, L. S., Jones-Hepler, B., Brandon, D., & Reuter-Rice, K. (2022). Postpartum Symptom Clusters in Birthing Individuals: A Systematic Review. Journal of Clinical Nursing (Online ahead of print).
Wood, J.L., Eckert, E., von Isenburg, M., Jackson, J., Southwell, B.G. (2022). When Medical Practice Meets medical Myth: Confronting Misinformation in the Clinical Encounter. In A Keselman, C Arnott Smith, & AJ Wilson (Eds.). Combating Online Health Misinformation (pp 137 –148). Rowman & Littlefield.
Welcome Back Adonna!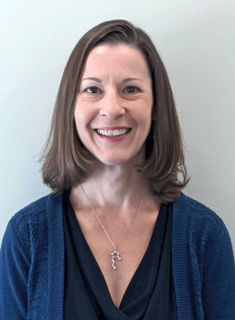 Adonna Thompson

Lucy Waldrop, Medical Center Archives Assistant Director and Technical Services Head
Adonna Thompson joined the Archives staff in August 2022 as the Rice Diet Program Collection Processing Librarian, a 2-year grant funded position.  She has over 15 years experience working in Archives with a strong background in archival management.
Adonna may be a familiar face to some having served in previous roles at the Duke Medical Center Archives as Director and Archivist of the Physician Assistant History Center; Librarian for Research, Outreach and Education; and Archives Assistant Director. After leaving Duke, she worked for six years as the founding archivist for the Martha Smith Archives and Research Center at Avila University in Kansas City, Missouri. During her time there, she was responsible for all aspects of the archives including policy creation and implementation, research, outreach and education, donor relations, collections management, digitization, and managing the archives' reading room. In addition, she served as adjunct faculty in the History Department teaching undergraduate students about archives and public history.

 In her current position, Adonna will develop and implement a plan for processing the Rice Diet Program Collection, which consists of over 450 linear feet of materials. She will also serve as liaison to the BIN Foundation and the on-going Rice Diet research project that focuses on the impact of the Rice Diet on hypertension and metabolic diseases. This position reports to the Director of the Medical Center Archives & Digital Initiatives.
Adonna is an avid reader, loves consignment clothes shopping, yoga, and gardening and is low-level obsessed with ancient Egypt and humankind's funerary practices.

We Offer a Variety of Free Online Classes
We offer a variety of online classes on research and searching topics every month. All classes are free and offered virtually, though registration through our Website is required. In addition to these classes, you can also request an online session for yourself or a group or schedule an appointment for a research consultation.
October - November Classes

   Register for one today!
October 18
12 - 1p
EndNote
October 19
10 - 11a
Searching CINAHL Effectively
October 20
9 – 10a
Demystifying Peer Review in 30
October 20
10 - 11a
Understanding NIH Data Management & Sharing Requirements
October 24
4 - 5p
Building Your Researcher Profile
October 25
4 - 5p
Searching CINAHL Effectively
October 26
11a – 12p
Advanced PubMed
November 1
11a – 12p
Advanced PubMed
November 10
9 – 10a
Zotero
November 10
11a – 12p
EndNote
November 11
12 - 1p
Getting Started with Systematic Reviews

November 15
1 - 2p
Journal Selection for Authors
November 16
10 - 11a
Searching CINAHL Effectively
November 17
9 – 9:30a
Demystifying Peer Review in 30
November 17
11a – 12p
Advanced PubMed
November 21
4 - 5p
Understanding NIH Data Management & Sharing Requirements
November 22
4 - 5p
Searching CINAHL Effectively
November 29
12 - 1p
Measuring and Maximizing Research Impact
New Archives Exhibit Coming in October
Rebecca Williams, Archives Librarian for Research, Outreach, and Education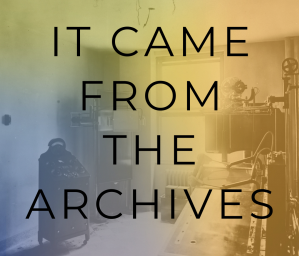 Carter Hulinsky, Archives Intern
It Came from the Archives
Medical Center Library & Archives - Level 1
On Display October 17, 2022 through January 31, 2023
We are excited to announce the installation of a new exhibit on Level 1 of the Medical Center Library & Archives. "It Came From the Archives" celebrates the Duke Medical Center Archives by spotlighting two remarkable stories found in the Archives' collections — one that goes underground and one that takes flight!
Thanksgiving Hours

Thanksgiving Hours
The Medical Center Library & Archives will close at 5:00p on Wednesday, November 23rd.
Library staff will be unavailable and the Library will be closed for seat reservations on Thursday, November 24th and Friday, November 25th.
Normal hours and seat reservations will resume on Saturday, November 26th.

Improve Your Library Research Skills Online!
Publication Schedule & Staff
Duke University Medical Center Library & Archives News is published bimonthly.
Megan von Isenburg , Associate Dean
Beverly Murphy, Editor
                Editorial Board
                        Victor Gordon
Mindy Guzman

                        Lesley Skalla

Lucy Waldrop

Subscribe to our newsletter and be notified when a new issue is published!