July 4th Holiday!


Medical Center Library & Archives staff will be unavailable on Monday, July 5, 2021. Access to the building will not be available during this time.
The Path to Expanded Services and Spaces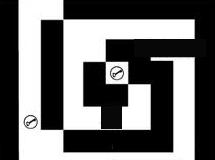 During the COVID-19 pandemic, some library services, such as book pickup, hours, and space and occupancy rates have been adjusted to promote safety and to comply with existing guidance. As vaccination rates rise and the spring semester draws to a close, we have begun to plan for expanded services and spaces that will launch by July 20th. Here is what you can expect.
Expanded hours for spaces: Hours for library study rooms, cubicles, and open spaces have already been expanded to accommodate longer study and work sessions that extend beyond regular business hours. Current hours are Monday–Friday, 8a–11p and Saturday-Sunday, 12 noon– 6p.  
Open stacks: Book stacks (Level 1) will reopen to allow for individual browsing. If you prefer to have a book pulled for you and made available for pick up, that will remain an option as well. 
Self-checkout: Our self-checkout machine, which is located outside the book stacks, will be configured to enable you to use your Duke NetID and password to check out materials yourself to your account.
Group study spaces: We have all missed working in groups over the past year and will be working with university administration and current CDC recommendations to establish safe occupancy limits for our spaces. At reopening, we anticipate that some of our spaces will be large enough to safely accommodate 2-3 people.  
Group meeting spaces: Conference Room 212C (Level 2R) and the Computer Classroom (Level 1) will reopen with safe occupancy limits. Reservations for both will be available via an online form.
Expanded Service Desk hours: Our Service Desk (Level 2R) will reopen for limited hours to start and expand as the fall semester gets underway.  
More staff on-site: Staff will begin to work more on-site this summer and will be excited to see you in person!
We anticipate that these changes will be in place by July 20th. We welcome your feedback on what is important to you this summer and fall. Please email Megan von Isenburg, Associate Dean for Library Services & Archives, at megan.vonisenburg@duke.edu to share your perspective.
Website "Refresh" Round 2 Completed

Our Website has undergone the final stage of its facelift! Here are some additional enhancements.
A magnifying glass icon has been added to the top front of our Website that leads to a Google Search of our site. This makes it easier to search our entire site with a click to one standard location.
Top navigation options have been renamed and streamlined for quicker access to resources.
Two sections of the site now have redesigned (colorized) and categorized side menus with corresponding drop down menus to help in navigating the Website
The new Request & Reserve section is a merger of Accounts & Access and Borrow, Request & Renew
Guides (renamed from Guides & Tool Sets) has an additional option to Browse All Guides
Please note: If you are currently using Internet Explorer (IE) 11, please migrate to Microsoft Edge or use Firefox or Chrome. Many systems are retiring support for IE 11. Our drop-down menus do not work in IE 11.
It is our hope that this refresh will make our Website even better and we look forward to your feedback. Please feel free to share any questions, comments or concerns with Beverly Murphy, Assistant Director, Communications & Web Content at beverly.murphy@duke.edu. We appreciate your interest in our site and welcome your continued use and support.
NCBI Account Login Transitioning
Karen Barton, Research & Education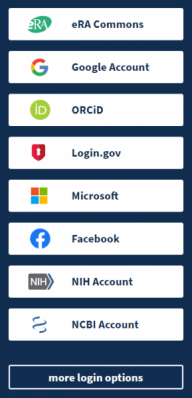 Do you login to NCBI to save PubMed searches or use it for SciENcv or My Bibliography? If so, please note that after June 22, 2021, you will no longer be able to use NCBI-managed credentials to login to NCBI.
NCBI will be transitioning to third party, federated account credentials set through eRA Commons, Google, ORCID, Microsoft, Facebook, or a university or institutional point of access (under "more login options"). Therefore, the NCBI-managed username and password you set at NCBI will be going away.

Reviews by NIH, NLM, and NCBI have determined that making this change will increase the security of accounts. If you currently use a federated login to access your NCBI account, you don't have to do anything! Accounts are not going away and there will be no changes to the data in your account. Only the login process is changing.

If you only have NCBI-managed credentials and would like to get a head start on this transition, you can do the following now.
Login to NCBI the way you usually do.
Click on your username in the top bar to load your NCBI Account Settings page.
If your Settings page looks like Figure 1 (below), where you have a "Native NCBI Account" username and password but no linked accounts, then you will need to add a linked account.
To add a linked account, click the "Change" button under Linked Accounts.
You may choose several options for a linked account including the following:
eRA Commons or NIH Account
Login.gov
Google
ORCID
Microsoft
Facebook
University/Institutional
-- Select "more login options," choose "Duke University" and connect using your Duke NetID & password
 Figure 1. NCBI Accounts Settings page showing a "Native" NCBI account without any linked accounts
If you will be leaving Duke or anticipate losing access to a third party login option, you can link your account to a different option at any time to have more than one way to access your NCBI account.
For more information, you may review the NCBI Account Login Changes FAQs or contact info@ncbi.nlm.gov. If you have questions, feel free to contact us medical-librarian@duke.edu.
Archives Reading Room Open by Appointment Only
Rebecca Williams, Archives Librarian for Research, Outreach, and Education
While the Duke University Medical Center Archives has been closed, staff have been consulting with patrons remotely and providing digital surrogates of materials The Archives Reading Room has now re-opened for Duke researchers by appointment only. In order to limit the number of people in our building, we have designated Tuesdays and Thursdays as research days. Please contact us to schedule a visit.
In addition to our normal reading room regulations, we will also be following the protocols put in place by Duke to reduce risk of the spread of COVID-19. You can find full details at Duke United. Protocols include wearing a mask, washing your hands, maintaining physical distance, and symptom monitoring.
Staff are available for remote consultation (M-F) via our online request form. We are happy to assist you in locating digital materials for your research and making digital reference copies when possible.
Options for Digital Research
As an alternative to in-person research, we also encourage you to check out the following digital resource options.

MEDSpace
If you're looking for historic images, our digital repository, MEDSpace, is an excellent place to start. It contains nearly 700 photographs documenting the history of Duke Medicine. You can also find early publications, medical illustrations and artwork, and medical artifacts.
Digitized Intercom
The Intercom, Duke Medicine's primary news publication from 1953 to 1986, featured information about campus events and construction, faculty and staff news, and articles on medical research and innovations at Duke. The first 25 years of this publication have been digitized, making more than 500 issues available online.
Digital Exhibits
Archives has several digital exhibits about key figures and events in the history of the Medical Center. Some of the topics include the Duke Poison Control Center, Dr. Wilburt C. Davison's correspondence with Sir William Osler, and women in medicine at Duke (which is currently under reconstruction).
DUMC Archives Blog and Instagram


Updated regularly, our blog and Instagram are the places to go for Archives news, to see materials from our collections, and discover stories about the Medical Center's history.
Covidence's Data Extraction Receives a 2.0 Update
Steph Hendren, Research & Education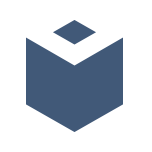 In an effort to make their systematic review software more user friendly, Covidence has recently rolled out significant changes to their data extraction process. Each project will now default to using the Extraction 2.0 capabilities unless manually changed to Extraction 1.0.  
One of the new features includes increased flexibility when creating your own user template. Covidence offers a sample template or you can start from scratch and build your own in a similar fashion to Qualtrics or a Google form.
Another unique feature is the ability to organize and highlight discrepancies between the two extractors. This makes it easy for the arbitrator to solve discrepancies between inputs.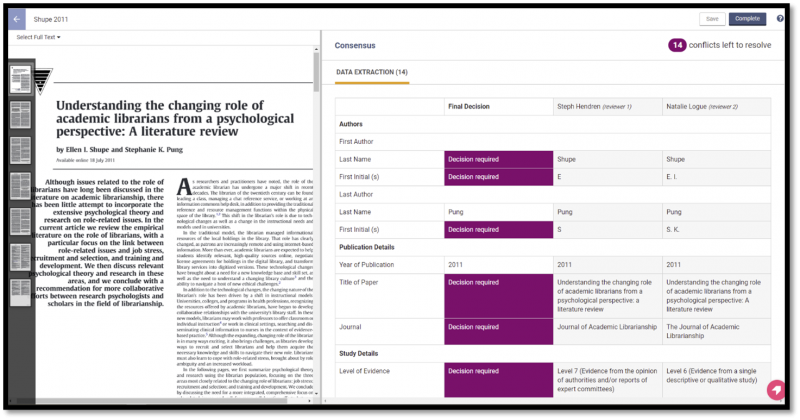 Arbitration process for an article that's undergone data extraction
For more information and help with these new changes, including video tutorials, connect to the Covidence Extraction 2.0 page. 
Summer Reading Time with Select E-books from OverDrive
Karen Barton, Research & Education
Below are some fiction and non-fiction e-books available from Duke's OverDrive Collection. For other fiction and non-fiction e-books and audiobooks, check Duke OverDrive. Descriptions are excerpted from Amazon.com.

Records Management Training Modules for Medical Center Archives
Rebecca Williams, Archives Librarian for Research, Outreach, and Education
Lucy Waldrop, Assistant Director for Medical Center Archives
Do you know what records are (No, not the vinyl kind) and does your office create any? If so, do you know what to do with them once they have reached the end of their usefulness to your office?  If you answered yes or even if you'e unsure, you have come to the right place.
Duke University Medical Center Archives is pleased to announce the launch of a new series of records management training videos. These seven online modules are short (2 to 7 minute) instructional guides on how to handle your records and transfer them for permanent preservation in the Archives.
The first video answers the question "What is a Record?" It outlines key definitions and describes various record types. This module is a great starting point or introduction to records management.
The other six videos provide instructions outlining the steps you should take when transferring your records to the Archives
We hope these training modules make your office records management a little bit less confusing or intimidating. As we continue to make new educational guides, we welcome your feedback. Please contact the Archives with your questions.
Quality Assessment Repository & Risk of Bias Tools for Systematic Reviews
Steph Hendren, Research & Education
We have developed a new resource to assist researchers who need a Quality Assessment (QA) or Risk of Bias (RoB) tool for their systematic reviews. You can access the full project and repository at the Open Science Framework (OSF). A link will also be added soon to our Systematic Reviews Guide. 
This online resource is a repository containing noted tools found through a thorough literature search. Data gathered includes the tool's name, description, original published citation, intended use, validation information, and other notable details. Most notably, the spreadsheet offers a filter option to organize the results based on the study designs you need a tool for!  
Dropdown filtering all spreadsheet results by study design type
This repository is intended to be a living project that will be updated as more tools are created and utilized. Any feedback about the tools can be submitted using the Feedback Form located in the OSF project. 
We Offer a Variety of Free Online Classes
We offer a variety of online classes on research and searching topics every month. All classes are free and offered virtually, though registration through our Website is required. In addition to these classes, you can also request an online session for yourself or a group or schedule an appointment for a research consultation.
June

- August Classes   Register for one today!
June 21
9 – 10a
Finding Quality in Qualitative Data
June 23
10 – 11a
Measuring and Maximizing Research Impact
June 24
2 – 3p
Scopus in 30!
June 28
11a – 12p
Advanced PubMed
July 6
4 – 5p
Searching CINAHL Effectively
July 8
9 – 10a
How to Write an Abstract
July 13
12 - 1p
Endnote
July 14
10 – 11a
Zotero
July 15
5:30 – 6:30p
Endnote
July 20
12 - 1p
Getting Started with Systematic Reviews
July 21
12 - 1p
Searching CINAHL Effectively
July 22
1 - 2p
Advanced PubMed
July 26
2 – 3p
Endnote
July 28
9 – 10a
Journal Selection for Authors
August 2
12 - 1p
Endnote
August 10
10 – 11a
How to Write an Abstract
August 11
10 – 11a
Advanced PubMed
August 12
4 – 4:30p
Scopus in 30!
New Occupational Therapy E-Books!
Barbara Dietsch, Electronic Resources & Acquisitions Manager, Content & Discovery
We have purchased a new R2 Library E-book package featuring a wide variety of Occupational Therapy titles. Below are a few select items from this collection. 
Complementary Health Approaches for Occupational Therapists
Brittany Ferri
This guide provides practitioners and students with foundational knowledge on complementary and integrative health. It is a great asset for occupational therapy students at the graduate level and practicing therapists wanting to incorporate these modalities or gain information regarding new trends.
Pedretti's Occupational Therapy: Practice Skills for Physical Dysfunction 
Heidi McHugh Pendleton and Winifred Schultz-Krohn
This edition of Pedretti's Occupational Therapy: Practice Skills for Physical Dysfunction can help prepare you for occupational therapy practice with adults who have physical disabilities. This cornerstone text offers a foundation for the development of clinical reasoning skills and a comprehensive, case-based learning approach to physical dysfunction.
Assessments in Occupational Therapy Mental Health: An Integrative Approach
Barbara J. Hemphill
This highly anticipated edition is a unique compilation of mental health assessments that are taught in occupational therapy academic programs and used in clinical practice. It provides the occupational therapy student and educator with knowledge about the evaluation process, current and accurate assessments, and how to generate research for developing assessment tools.
Spotlight: Robert Martinez
Victor Gordon, Associate Director for Administration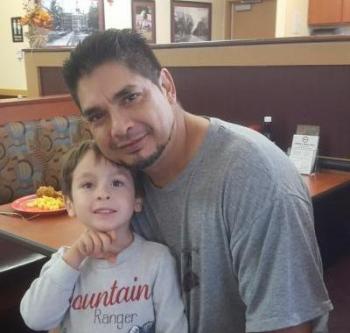 Robert's Bio
Working at Duke University Medical Center Library & Archives since: April 2021
Education: University of Denver
Current position: Security Officer
Q & A
1.    What do you like most about your work as a Security Officer?
I used to work for the military and for the Department of Corrections so I am suited for this kind of work. Having a military background helps with security. I really like it because it feels like you are helping people.

2.    How is your job here at the Medical Center Library different from your work at Perkins?
There were more undergrads at Perkins. They were just kids really and it could be trying at times, but I enjoyed getting to know them. With more professionals, it is calmer here. People are less likely to test your patience.

3.    If you could change one thing about our building or space what would it be? 
This library does not feel like the old classic libraries I've seen in Europe. It is obviously more practical as you can see that the space was designed with functionality in mind. Overall I like it here, but If  I were to change anything, I might liven up the cubicles to make them more relaxing. Maybe more soft seating would help them feel less like office cubicles.

4.    What keeps you busy outside of work?
I teach kickboxing two nights a week. I used to train fighters at a gym that I opened with two partners in Elizabeth City, NC. Before that, I boxed for 22 years on the US International Team. I started boxing at 11 and loved it.

 5.    How did you get into boxing?  
I am the middle child out of 10 brothers and sisters and used to get in a lot of fights at school. My mom made my older brother (who was a Golden gloves boxer) take me to the gym to work out that excess energy, and I took off after that. 

6.    Since you are originally from Colorado, do you miss anything from that part of the country?
I miss the dry heat and mountains. I am not a big fan of the North Carolina humidity. I also miss camping and hiking in real mountains. I have family out there that I've missed over the last year. I am looking forward to going out to Pueblo, Colorado towards end of year to see them.
7.    What do you do for fun?
I love spending time with my boys. I try to take them kayaking and fishing when I can. I love being outside on the weekend and teaching both sons (ages 8 and 18) how to cook.

Staff News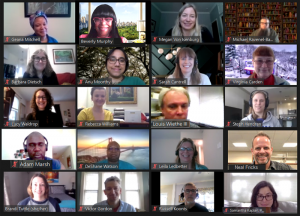 Sarah Cantrell, Associate Director for Research & Education and Liaison to Graduate Medical Education, has co-authored the article: Stark A, Cantrell S, Greenberg RG, Permar SR, Weimer KED, "Long-term Outcomes after Postnatal Cytomegalovirus Infection in Low Birthweight Preterm Infants A Systematic Review," Pediatric Infectious Disease Journal, 40(6):571-581, June 2021.
Sarah Cantrell and  Megan von Isenburg, Associate Dean for Library Services & Archives, were co-authors on the article: Goldstein, KM, Ghadimi, K, Mystakelis, H, Kong, YY, Meng, TT, Cantrell, S, Von Isenburg, M, Gordon, A, Ear, B, Gierisch, JM, Williams, JW, "Risk of Transmitting Coronavirus Disease 2019 During Nebulizer Treatment: A Systematic Review," Journal of Aerosol Medicine and Pulmonary Drug Delivery, April 2021.
Samantha Kaplan, Research & Education Librarian and Liaison to the School of Medicine, has authored the following articles:
Sachdeva S, Kolarova MZ, Foreman BE, Kaplan SJ, Jasien JM, "A Systematic Review of Cognitive Function in Adults with Spina Bifida," Developmental Neurorehabilitation. April 2021.
Issa, K, Smith, BD, Kaplan, SJ, Madden, J, Jang, DW, Zomorodi, A, Brizel, D, Hachem, RA, "A Systematic Review on Sinonasal Mixed Adenoneuroendocrine Carcinoma," [Editorial Material; Early Access], International Forum of Allergy & Rhinology, May 2021.
Wu J, Logue T, Kaplan SJ, Melamed A, Tergas AI, Khoury-Collado F, Hou JY, St Clair CM, Hershman DL, Wright JD, "Less Radical Surgery for Early-stage Cervical Cancer: A Systematic Review," American Journal of Obstetrics and Gynecology, 224(4):348-358e5, April 2021.
Leila Ledbetter, Research & Education Librarian and Liaison to the School of Nursing, has co-authored the following articles:
Kennedy J, Klifto CS, Ledbetter L, Bullock GS. "Reverse Total Shoulder Arthroplasty Clinical and Patient-reported Outcomes and Complications Stratified by Preoperative Diagnosis: A Systematic Review," Journal of Shoulder Elbow Surgery, 30(4):929-941, April 2021.
Lau BC, Pineda LB, Johnston TR, Gregory BP, Wu M, Fletcher AN, Ledbetter L, Riboh JC, "Return to Play After Revision Anterior Shoulder Stabilization: A Systematic Review," Orthopaedic Journal of Sports Medicine, 9(3), March 2021.
Megan von Isenburg also co-authored the article: Fuller AT, Barkley A, Du RB, Elahi C, Tafreshi AR, Von Isenburg M, Haglund MM, "Global Neurosurgery: A Scoping Review Detailing the Current State of International Neurosurgical Outreach," Journal of Neurosurgery, 134(4):1316-1324, May 2020.
Medical Center Library & Archives staff presented the following initiatives during the Annual Meeting of the Medical Library Association (MLA '21 vConference) held virtually on May 10-27, 2021.
Presentations
Beverly Murphy, Assistant Director, Communications & Web Content; DUHS Hospital Nursing Liaison; MLA Past President
Featured Speaker: MLA New Member/First Time Attendee Program & Networking, (May 12, 2021)
Q&A Moderator: John P. McGovern Lecture by Dr. Damon Tweedy (May 24, 2021)
Immersion Sessions
Brandi Tuttle, Research & Education Librarian and Liaison to the Physician Assistant Program
Let's Talk: LGBTQIA+ Inclusion and Equity at Your Workplace (May 24, 2021)
Hannah Schilperoort, April Wright, Brandi Tuttle, Brenda M. Linares, Emily Vardell, Jacqueline Leskovec, Jane Morgan-Daniel, Mary Catherine Lockmiller, Meredith I. Solomon, and David G. Keddle
Beverly Murphy, Assistant Director, Communications & Web Content; DUHS Hospital Nursing Liaison; MLA Past President
Breakout Session Facilitator: Striving for Deep Engagement: Cultivating a Library Environment Where Everyone Feels Included (May 25, 2021)
We Got You! Empowering BIPOC Information Professionals through Virtual Development Opportunities (May 26, 2021)
Aidy Weeks, Tyler Moses, Kelsa Bartley, Xan Goodman, Shannon Jones, Beverly Murphy, Tamara Nelson, and Jamia Williams
Posters
Karen Barton, Biomedical Research Liaison, Sophia Lafferty-Hess, Shadae Gatlin, Ciara Healy, and Lee Sorenson - A Few Words on Data: Promoting Research Data Management Through Existing Campus Communication Channels
Leila Ledbetter, Research & Education Librarian and Liaison to the School of Nursing and Steph Hendren, Research & Education Librarian and Liaison to Doctor of Physical Therapy Program - Creation of an Institutional Quality Assessment Tool Repositor
Beverly Murphy, Assistant Director, Communications & Web Content and DUHS Hospital Nursing Liaison, Virginia Carden, Administrative Research Librarian, Deborah H. Allen, and Joan Cahill - Transforming EBP Workshops: Transitioning from In-Person to Online Using MS Teams
Andrea Kepsel, Christine Andresen, Margaret Ansell, Virginia Desouky, Hilary M. Jasmin, Irene Lubker, Kristine Petre, Janette Pierce, Nena Schvaneveldt, Denise Shereff, Stephanie Swanberg, Brandi Tuttle, Research & Education Librarian and Liaison to the Physician Assistant Program, Hong-nei Wong, Andrea Wright, and Tenley Sablatzky - Designing an Open Repository of Educational Resources for Health
Nena Schvaneveldt, Brandi Tuttle, Research & Education Librarian and Liaison to the Physician Assistant Program, Christine Andresen, Angela Murrell, Kristine Petre, and Sarah Wade - Creating a Directory of Information Literacy Mapping in Health Sciences Disciplines
Megan von Isenburg, Associate Dean, Library Services and Archives, Lucy Waldrop, Assistant Director for Medical Center Archives, Sami Kaplan, Research & Education Librarian and Liaison to the School of Medicine, Hannah Rutledge, Richard James, Barbara Cavanaugh, and Samantha Abrams - Actively Archiving: Creating a Web Archive for Future Research into Vaccine Hesitancy, Misinformation and Public Health
Congratulations to our Career Service Awardees!
Congratulations to the following staff members who received Duke University Career Service Awards  for 2021
85 Years of Service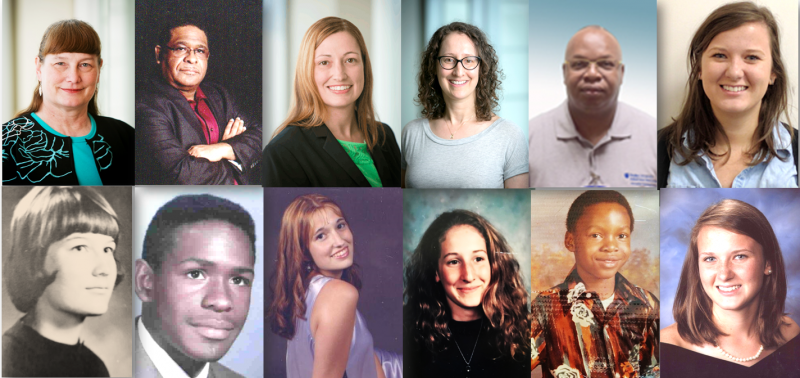 In their Younger Years...

(l. to r.) Virgina Carden-35yrs; Eugene Lofton-20yrs; Brandi Tuttle-15yrs; Lucy Waldrop-5yrs;
DeShane Watson-5yrs; Rebecca Williams-5yrs
Improve Your Library Research Skills Online!
Publication Schedule & Staff
Duke University Medical Center Library & Archives News is published bimonthly.
Megan von Isenburg, Associate Dean
Beverly Murphy, Editor
            Editorial Board:
                        Karen Barton

Barbara Dietsch

                        Steph Hendren

Lucy Waldrop

Subscribe to our newsletter and be notified when a new issue is published!