October is Breast Cancer Awareness Month!
Celebrating National Medical Librarians Month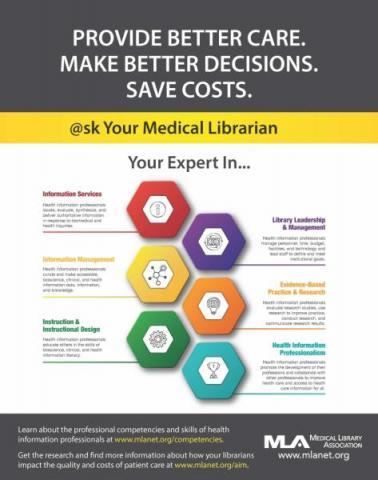 The Duke Medical Center Library & Archives celebrates National Medical Librarians Month (NMLM) in October. NMLM was established by the Medical Library Association in 1997 to raise awareness of the important role of medical librarians. This year's theme highlights health information professionals as experts in areas such as information management and services, evidence-based practice, and instructional design.  
Peformance indicators for the MLA Competencies for Lifelong Learning and Professional Success demonstrate the value of the library in assisting health care professionals in providing better care, making better decisions, and saving costs.
The NMLM celebration will include the following activities:
We will continue to "Aim for Excellence" by providing quality resources, services and expertise to impact medical care, education, and research at Duke Health.
Print and Copy with Your DukeCard!
You can now use the FLEX account on your DukeCard to print and copy at the Medical Center Library & Archives. Black and white printing/copies are $.06/page and printing/color copies are $.30/page.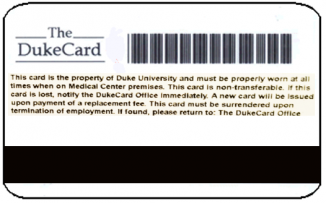 1. From library computers, choose "e-Print-Color-Campus."
2. Type your NetID as the job name.
3. Slide your card on the printer/copier.
4. Follow instructions on the printer/copier screen to release the job.
You will need money on your FLEX  account to print or copy. To add it, please visit http://dukecard.duke.edu/manage/  Note: FLEX is separate from the e-Print system, even though the printer queue shares the name e-Print.
Individuals without DukeCards can still use Library computers and scanners, and can purchase a thumb drive (Level 1, Rm 103A) if needed for saving scanned or downloaded materials.
We will continue to operate our existing printing and copying system through November 30, when they will be removed. No refunds will be provided for old copy cards, so we encourage you to come and print and copy before November 30 as needed.
Open Access Week: October 23-29
Jamie Conklin, Research & Education Librarian
International Open Access (OA) Week will be celebrated Oct. 23 – 29, 2017!
This year's theme "Open in order to..." invites us to consider beneficial outcomes of making scholarship openly available to all. Perhaps your goal is to improve population health, ensure access to knowledge, enhance collaboration and networking, or increase your scholarly impact. Feel free to share your goals using the hashtag #OpenInOrderTo and follow other OA news at #OAWeek or http://www.openaccessweek.org/.
For specific actions to reach these goals, consider:
Library Receives Informationist Grant from NLM
Megan von Isenburg, Associate Dean for Library Services & Archives
The Medical Center Library & Archives, in partnership with the Duke Clinical & Translational Science Institute (CTSI), has received an Administrative Supplement for Informationist Services from the National Library of Medicine (NLM). The purposes of this administrative supplement program are (1) to enhance collaborative, multi-disciplinary basic and clinical research by integrating an information specialist into the research team in order to improve the capture, storage, organization, management, integration, presentation and dissemination of biomedical research data; and (2) to assess the impact of the informationist's participation.

The Library's Informationist Project supports the CTSI's Evaluation Core. Informationists will partner with Jennifer St. Clair Russell and Douglas Chartrand on two primary projects: a needs assessment of researchers seeking to publish findings from CTSA-funded research, and methods to collect and analyze citations that cite the CTSA grants.

The award began in August, 2017 and will be completed by the end of April, 2018.
October is Archives Month
Rebecca Williams, Archives Librarian for Research, Outreach, and Education
Archives Month is an annual, month-long observance of the agencies and people responsible for maintaining and making available the archival and historical records of our nation, state, communities, and people. Archives serve as the memory of our nation, and by celebrating, we recognize and give legitimacy to the enduring value of American records and America's archives.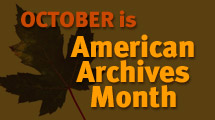 On October 4, 2017, archivists around the country took to Twitter to respond to questions tweeted with the hashtag #AskAnArchivist. To see how North Carolina is celebrating Archives Month, check out the Society of North Carolina Archivists theme for our state, "North Carolina in the Great War."
The Duke Medical Center Library & Archives will be commemorating this observance by highlighting treasures from the Archives all month long. Follow the Archives blog for updates. To learn more about DUMC history, visit the Duke University Medical Center Archives Website or email dumc.archives@mc.duke.edu.
New Art in the Library
New art was installed recently which brings all the colors of the new furniture into focus and brightens our reconfigured spaces. 
Stop by to see the beautiful paintings and enjoy the colorful atmosphere.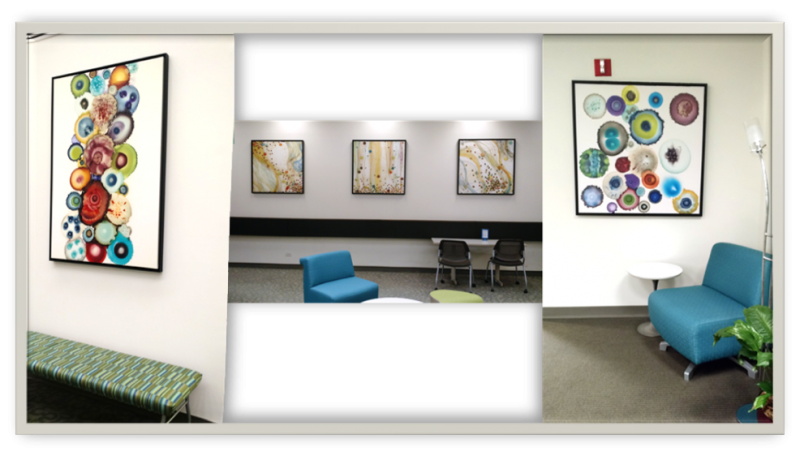 It Came from the Archives: Halloween Highlights!
Medical Center Library & Archives
Level 2R, Room 212E
Tueday, October 31st
11am – 2pm
FREE and open to all!
In honor of Archives Month, Medical Center Archives is hosting its fourth annual Halloween event  featuring a selection of eerie, fascinating, and rarely seen materials from its collections. Brave souls are invited to gaze upon spine-chilling artwork, stare into the faces of frightening death masks, behold macabre medical artifacts and instruments, and much more!
Halloween candy will be available…for those who don't lose their appetite!
For more information, contact Rebecca Williams at 919.383.2653 or rjw12@duke.edu.
Staff News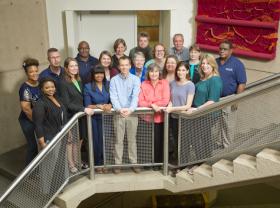 Lucy Waldrop, Associate University Archivist, Medical Center Archives, has authored an article, "Does it Smell Like Vinegar in Here? Protecting and Preserving Film" in The Watermark, Newsletter of the Archivists and Librarians in the History of the Health Sciences, 40(4):22-26, Fall 2017.
Medical Center Library & Archives staff will present the following initiatives during the Annual Meeting of the Mid-Atlantic Chapter of the Medical Library Association in Staunton, VA, October 21-24, 2017.
Virginia Carden, Beverly Murphy, Jamie Conklin, and Connie Bishop - Research Matrix Fear? EndNote to the Rescue!  (Poster)

Welcome to Jesse and Caroline
Rebecca Williams, Archives Librarian for Research, Outreach, and Education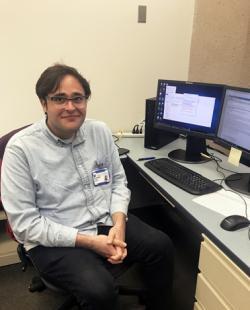 Jesse Akman

Jesse Akman started as a Library Intern in July, 2017 and is currently pursuing a degree in Library Science from University of North Carolina at Chapel Hill. Jesse graduated in 2014 from Wake Forest University with a BA in Philosophy and a minor in Computer Science. He then worked for an auction company where he was responsible for product research and drafting descriptions of items to be sold. In addition to working with some truly amazing historical artifacts, he particularly enjoyed the research aspect, which led him to an internship at the UNC Greensboro Archives and his decision to pursue an MSLS degree.
Since starting at the Library, Jesse has been tracking Scholars@Duke publication information, assisting with CTSA publication tracking, answering reference questions, and helping students and faculty develop search queries for different projects. He has also been helping to finish the design for the upcoming History of Medicine kiosk page.
Jesse is still deciding what path his professional career in librarianship will take, but regardless of the exact direction, he is inspired by the idea that library work can be a career of community activism. He hopes to work in pushing librarianship towards a role as a democratizing, community building force.
In his spare time, Jesse enjoys playing a couple of instruments, baking (especially bread), and gardening. He also has a dog who keeps him busy!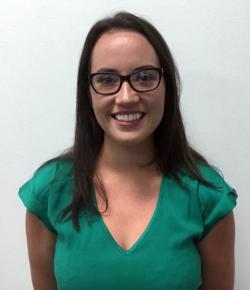 Caroline Waller

Caroline Waller started as an Archives Intern in July. She received her B.A. in English with minors in Southern Studies and Composition, Rhetoric, and Digital Literacy from the University of North Carolina at Chapel Hill. She is currently working towards dual degrees in Public History from North Carolina State University and Information and Library Science from UNC-Chapel Hill. After graduation, she hopes to continue working in archives.
Caroline developed an interest in archives through her undergraduate coursework and previous internship experiences. As an undergraduate student, she worked as a Genealogy/Archive Intern at Historic Stagville in Durham and immediately prior to starting here, she worked as an Intern for the National Anthropological Film Collection in the National Anthropological Archives.
Since starting at the Medical Center Archives, Caroline has been working on several projects. She has been busy rehousing several collections in better archival housing and enhancing the description on finding aids to help make them more accessible to researchers. She has also helped accession new materials, redact patient health information, and remove mold from newly donated records.
Farewell to Ashley Brown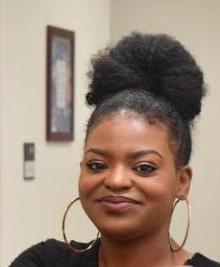 Elizabeth Berney,  Access Services Manager

Ashley Brown, one of the familiar faces at the Service Desk for several years, left the Library in August.  Ashley started at Duke nearly eleven years ago in our Interlibrary Loan department, and over the years she worked in a variety of roles throughout the Library but mainly within Access Services. 
While working with us she became a mom and recently finished her undergraduate degree in Childhood Education at North Carolina Central University.  Ashley leaves us for a position at the Durham County Public School System where she will be working with middle schoolers. Though she will be missed on our staff, we are thrilled she has reached her goal of becoming a teacher.  Please join us in congratulating Ashley and wishing her the best in her new adventure.
Thanksgiving Hours

                       Thanksgiving Hours
November 22 (Wednesday)    8:00 am - 6:00 pm
November 23 (Thursday)     BADGE ACCESS ONLY
November 24 (Friday)          BADGE ACCESS ONLY
24-hour card access is available to those with Duke Health Badges Only. 
Improve Your Library Research Skills!
Publication Schedule & Staff
Duke University Medical Center Library & Archives News is published bimonthly.
Megan von Isenburg, Associate Dean
Beverly Murphy, Editor
            Editorial Board:
                        Elizabeth Berney

Jamie Conklin
                        Barbara Dietsch

Rebecca Williams

Subscribe to our newsletter and be notified when a new issue is published!