The Medical Center Library & Archives extends warm wishes
to all during this holiday season!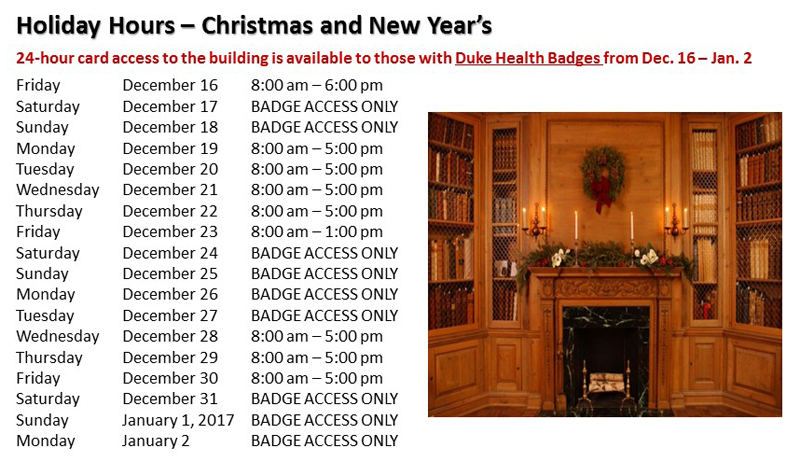 Click here for detailed service information and access hours from Dec. 16 - Jan. 2.
Library & Archives Strategic Plan for 2017 to 2021
Pat Thibodeau, Associate Dean for Library Services & Archives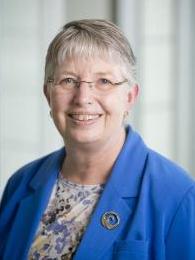 We have a new five-year plan to help set our course for the future.  Our strategic priorities will assist us in defining the types of services and resources we need to have in place to help you, our Duke education, patient care, and research communities, be successful.

To see what our future should be, Library and Archives staff have listened to and observed you, our users. We have talked to numerous individuals including department chairs and key administrators, not about the library, but about the obstacles and challenges you face in being successful at Duke. Our liaison librarians also reached out to faculty and students and listened to their expectations, unique needs, and obstacles in attaining their goals. Data from surveys and interviews were reviewed and analyzed to tease out current gaps and future priorities.  Our own Library staff also brought forward their perceptions of what could be better and areas that need exploration, based on endless encounters with all of you over the past two years.  

We also looked beyond our Duke doors as well, scanning reports, articles, and thought pieces about our changing environment. We considered the trends in health care, research, and education, as well as in information services and archives.

As the strategic plans within Duke Health and Duke University were released, we also considered how our mission, vision, values, and priorities aligned with those plans and what we must consider to be ready for new initiatives and programs.

The result of 18 months of planning has been released on our Website. We welcome any feedback or questions you might have so please feel free to email me at patricia.thibodeau@duke.edu.

So, is our planning done?  NO!  We will now set measurable goals as part of our annual planning based on the strategic priorities in this long term plan.  And, we know that Duke's dynamic environment may require resetting priorities over the coming years as we respond to emerging and evolving needs.
Need Help After Hours? Try Our New Self-Service Kiosk!
Leila Ledbetter, Research & Education
If you've been to the Library recently, you may have noticed a new addition to the Service Desk - a touch screen to help answer some basic questions you might have after hours, when Library staff are not on duty.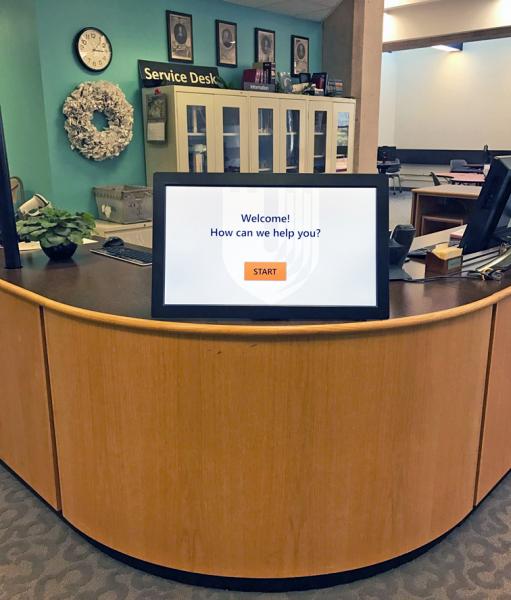 Are you trying to access a journal article?  Is there a book you'd like us to get for you from another library?  Would you like to schedule an appointment with a librarian?  Just touch the screen and the kiosk will guide you through the steps.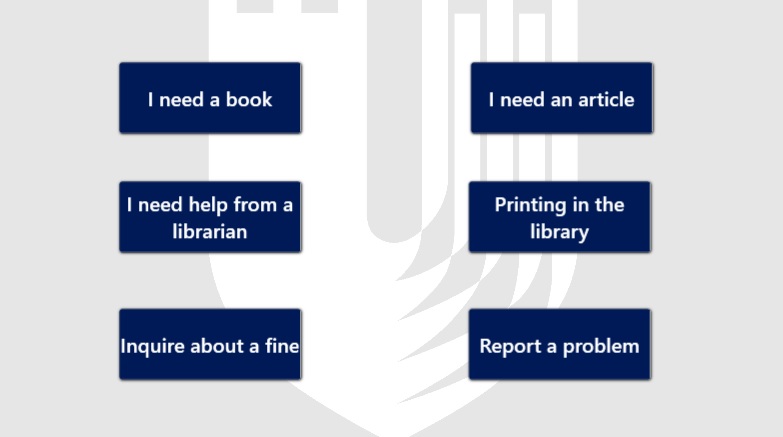 If you have suggestions for other items to include or additional feedback about the kiosk, please contact us at medical-librarian@duke.edu.
Online Payment of ILL Invoices is Here
You can now pay your invoice for Interlibrary Loans (ILLs) online at https://payments.mclibrary.duke.edu/ill using a credit card. Just enter the invoice number, payment amount, and billing information.  This is a secure payment system which uses DukePay and meets all of Duke's criteria for handling online credit card payments.

Copies from any of the Duke Library collections are still free to the Duke community. Duke patrons will only receive an invoice for a journal article if we have to get it from a non-Duke library. 

In early 2017, we hope to launch online payments by faculty and staff for fines and lost books, as well as links for giving gifts to the Duke Medical Center Library & Archives.

Questions or problems?  Contact Library Administration at 919.660.1150.
Have You Tried DynaMed Plus?
Megan von Isenburg, Associate Director, Research & Education

DynaMed Plus, an evidence-based point-of-care information resource, is available for a one-year trial through July 2017. It's accessible through the Library's Clinical Tools, Databases page, and via mobile devices.
By offering bulleted topic overviews on diseases, drugs and other therapies, DynaMed Plus seeks to make the best available evidence easier to use at the point of care. These topics are formatted for quick look up and link back to the original studies for a deeper dive.
If you're ready to learn more, you can:
We are seeking information about how well DynaMed Plus answers your questions and integrates into your workflow. Please complete our survey to help us gather data on its usefulness. If you have any additional questions, please email us at medical-librarian@duke.edu.
Get More from PubMed
Brandi Tuttle and Erica Brody, Research & Education
Have you ever wondered if you are getting all that you can from PubMed? Check out these tips and tricks to make sure you are finding all the research on your topic and getting free access to articles in the Duke collections.
1. Click on PubMed from the Medical Library's Website to get full text available through Duke, or bookmark the link: https://mclibrary.duke.edu/pubmed
PubMed is liberally scattered throughout the Medical Library's Website (on the main page under Quicklinks, Clinical Tools page, and more). Using one of these PubMed links ensures you will see the Get it @ Duke button, which will either provide you with access to the full text of an article or offer you options to order it. If off-campus, you may be directed to login with your Duke NetID and password to access full text.
2. Looking for a specific article?  Try the Single Citation Matcher from PubMed's homepage
Use the Single Citation Matcher to find an article with only a few pieces of the citation.
Pro Tip: Start with just the journal title, year, and first page number…not the whole citation. Many citations contain inaccuracies, so switch out pieces of citation information if you don't have success.
3. Under the Hood – MeSH terms (Medical Subject Headings)
Humans read every article in PubMed and assign standardized terms, called MeSH, to each article to help researchers find articles. Remember, you don't search the full text of an article, just the citation information and MeSH terms for that article. By incorporating MeSH terms on your topic, you'll increase the accuracy of your search results. Note: Since the assignment of MeSH terms can take a few months, it's important to search using both text words AND MeSH to find newer articles. See Tip #4
4. PubMed goes above and beyond as it tries to search appropriate MeSH terms, as well as your keywords. Scroll down to find the Search details box on the right side of the search results to make sure PubMed used appropriate MeSH terms for your concepts.
Example: ssri AND depression
Select "See more" under the Search details box
("serotonin uptake inhibitors"[Pharmacological Action] OR "serotonin uptake inhibitors"[MeSH Terms] OR ("serotonin"[All Fields] AND "uptake"[All Fields] AND "inhibitors"[All Fields]) OR "serotonin uptake inhibitors"[All Fields] OR "ssri"[All Fields]) AND ("depressive disorder"[MeSH Terms] OR ("depressive"[All Fields] AND "disorder"[All Fields]) OR "depressive disorder"[All Fields] OR "depression"[All Fields] OR "depression"[MeSH Terms])
The example shows you how PubMed expands your search to include the SSRI pharmacological actions, appropriate MeSH terms, and keywords so you can find more relevant articles! Don't miss relevant research.
5. Use Filters to narrow and refine your results
While all PubMed filters are available on the left-hand side of the search results, we've customized PubMed to help you get to the best evidence quickly using the filters on the right.
Some commonly used filters (ages and languages) are hidden under the "Show additional filters" option on the left.
Filter selections remain active until deselected or you choose "Clear all."
Adding filters can be useful, but you may miss newer results that have not been indexed yet (Note: This is not a problem for the Language and Publication Date filters). 
To create your own custom filters, see Setting Up Filters in PubMed.
Don't use the Free Full Text or Full Text Filter or you will miss relevant results from resources that Duke owns or from those that could be requested through the Document Delivery/InterLibrary Loan Service.
My NCBI streamlines research
Log into My NCBI in the top right corner of PubMed:
If you have NIH funding, click on NIH Login and use your eRA Commons credentials. 
Otherwise, we recommend creating a My NCBI account.
Save searches and keep up on new research
Save Searches: click Create Alerts under the search box after you have run your search.
Choose "Yes" to receive emails when new items come in on the topic (you set the frequency). Select "No" to just save the search and later you can go to My NCBI to see what articles are new since you last ran your saved search. 
Create & Share Collections
To make a collection: Select the desired articles from your Search results, click Send to: Collections and Add to Collections. Then select to add to an existing collection or create a new collection. 
To share a collection: Go to your My NCBI page and find the Collections box. Then click on the gear icon for a specific collection and select Public to get a URL to share.
Customize your PubMed experience
Create customized Filters: On your My NCBI page, scroll to the Filters box and click Manage Filters. Select the filters you would like to see available for your PubMed searches.
You can also create custom filters (i.e. limit results to RCTs in a specific age group, from particular journals, or more). 
Note: When you are signed into My NCBI, your preferences override the Library's custom filters you normally see to the right of your search results. Librarians can help you add some or all back to your account.
Want more information? See PubMed Tutorials and Tips, My NCBI Home Page (YouTube Quick Tour), and My NCBI Help
Proposed Journal Cancellations
Emma Heet, Associate Director, Collection Services
Since the costs of journal subscriptions rise by 6% to 10% every year, we have to make difficult decisions about what to keep and what to cancel.  We look at usage, cost, and other factors.  We also compare titles based on cost per use of all downloaded journal articles.

The following titles are  proposed cancellations for 2017 based on high cost and low use, thereby having high cost per use as compared to hundreds of other titles. Please send any concerns about these cancellations to: emma.cryer@duke.edu.
Alcohol
$2,460; 216 uses
Journal of Medical Virology
$5,771; 232 uses
British Journal of Oral and Maxillofacial Surgery
$1,038; 110 uses
Microbial Pathogenesis
$1,218; 82 uses
Calcified Tissue International 
$2,046; 169 uses
Pulmonary Pharmacology and Therapeutics
$1,229; 129 uses
International Journal of Hyperthermia
$4,298; 91 uses
Virus Research
$5,656; 318 uses
Journal of Cardiovascular Medicine
$1,464; 115 uses
 
EndNote Advanced Features
Jamie Conklin, Research & Education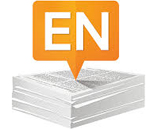 Whether you're new to EndNote or a long-time fan, improve your EndNote experience with these five advanced features.
1. Customize how EndNote looks
Some of our favorite Preferences include:
Within "Display Fonts," make that font size bigger!
Within "PDF Handling," have EndNote rename PDF files as Author + Year + Title.
Within "Display Fields," hide the fields you don't use (e.g. read/unread status) and display those you do (e.g. Research Notes). Also, uncheck the box to "Display all authors in the Author field."
2. Have EndNote download PDFs for you 
EndNote can retrieve full text articles for you while you take a break. Since EndNote won't find all articles we have access to at Duke, simply locate and attach the PDFs manually using the paperclip icon within each reference.
3. Get rid of duplicate references
Duplicate references can clutter up your library. Remove duplicates by going to References > Find Duplicates. Note that:
You have the option to go through them one by one or you can click "Cancel" and then delete all duplicates at once.
EndNote's default setting is to check for references where the author, year, and title all match. You can change this setting in Preferences > Duplicates.
If you've searched in multiple databases, first check for duplicates, then sort by title to identify duplicates missed due to variations in database references.
4. Create a quick citation or bibliography
Do you ever need to create a bibliography without writing the full paper with in-text citations? First, set the Output Style to what you need (e.g. APA, JAMA, etc.). Then select all the references you need, right click, and select "Copy Formatted." Then paste it into your document. The Annotated style will include abstracts, which can be handy when sharing with colleagues.
5. Compress your library for back-up and for sharing via email
To do so, simply go to File > Compressed Library. You can choose to compress the entire library, selected references only, or all references within a particular group.
For additional EndNote features, check out our EndNote guide, take an EndNote class, or Ask a Librarian. 
Assessing Research Impact: How Good is Good Enough?
Megan von Isenburg, Associate Director, Research & Education
We set out to compare a recently developed "gold standard" method for determining the research impact of authors to more automated processes available through Web of Science, Scopus, and Google.
Quick explanation: For research impact, we looked at the h-index. The index is based on a researcher's number of publications and the number of times those publications have been cited and is expressed as a single number. An h-index of 10, for example, would mean a researcher has 10 papers that have been cited at least 10 times.
What was the bottom line?
In our experiment, we found that searching Scopus for an author's h-index had the closest match to our "gold standard" method.

What did we do to determine this?
We developed a comprehensive "gold standard" process for determining an author's career and 10-year h-index. The process includes manually checking citations against CVs, determining prior work and education locations, and disambiguating similar names. While the final data gathered is thorough and clean, the process is time consuming and unrealistic on an institutional level. To assess how much was gained by this cumbersome but accurate process, we selected a purposive sample of authors from our data set based on various criteria that may predict a difference in the comprehensive "gold standard" h-index versus the automated h-indices from Web of Science and Scopus. Factors examined were length of career, degree (MD or PhD), length of time at current institution, and commonality of last name. H-indices from Web of Science, Scopus, and Google were compared to the "gold standard."
What did we find?
Overall accuracy of h-indices against our gold standard were 55% for Scopus and 13% for Web of Science. In Scopus, the highest overestimate was 8 points above our gold standard h-index and the lowest underestimate was 31 points below our h-index. In Web of Science, the highest overestimate was 83 points above our h-index and the lowest underestimate was 39 points below our h-index. Subgroup analyses show differing accuracy rates and identify potential strengths and weaknesses of the two search engines. Only 9% of our faculty had created a Google Scholar profile, and the Google Scholar h-index had an accuracy rate of 0% for those individuals.
What's our recommendation?
If you're looking for the H-index of an author and do not have a lot of time to match data against a CV, try using Scopus. If you want to ensure the data is clean, contact the Medical Center Library at medical-librarian@duke.edu.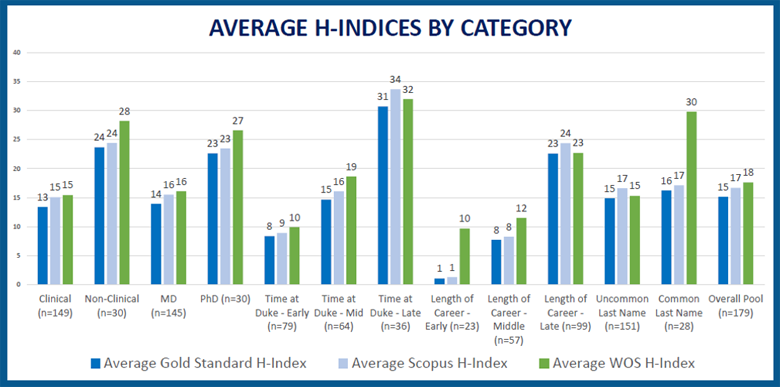 We reported on this project at a recent regional meeting of health sciences librarians. And we won the First Place Research Award for Posters!
"Assessing Research Impact: How Good is Good Enough?" Virginia Carden, Alexandria Mesa, Pat Thibodeau, Brandi Tuttle, and Megan von Isenburg. Poster presentation at the Tri-Chapter Meeting of the Mid-Atlantic, New York-New Jersey, and Philadelphia Chapters of the Medical Library Association. Philadelphia, PA. October 2016.
Staff News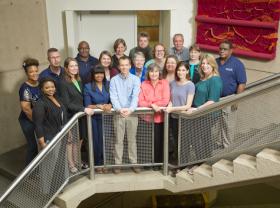 Jamie L. Conklin, Research & Education Librarian, has coauthored an article: Marilyn H. Oermann, Jamie L. Conklin, Leslie H. Nicoll, Peggy L. Chinn, Kathleen S. Ashton, Alison H. Edie, Sathya Amarasekara, Susan C. Budinger, "Study of Predatory Open Access Nursing Journals," Journal of Nursing Scholarship, 48(6):624-632, November 2016.
Leila Ledbetter, Research & Education Librarian, has been selected to participate in the Duke AHEAD Certificate Program in Health Professions Education. Leila underwent a competitive selection process and will be the Library's second librarian to go through the year-long program, which involves educational sessions and a project.
Beverly Murphy, Assistant Director, Communications & Web Content Management and Hospital Nursing Liaison, has coauthored a book chapter: Beverly Murphy and Shannon D. Jones (2017). "Core Competencies Across the Profession." In JG Coghill & RG Russell (Eds), Developing Librarian Competencies for the Digital Age (pp. 133-142). Lanham, MD: Rowman & Littlefield Publishers.
Brandi Tuttle, Research & Education Librarian, hosted a webinar, "Don't Flip Out! Exploring Team-Based Learning," on November 9, 2016 as part of the Medical Library Association's Instructional Design Webinar Series. The webinar explored the fundamentals of team-based learning (TBL), a small group–based instructional strategy.
Megan Van Noord, Research & Education Librarian, has coauthored an article: Ajay Gopalakrishna, Thomas A. Longo, Joseph J. Fantony, Uma Doshi, Michael R. Harrison, Megan Van Noord, Brant A. Inman, "High Rates of Venous Thromboembolic Events in Patients Undergoing Systemic Therapy for Urothelial Carcinoma: A Systematic Review and Meta-analysis," Urologic Oncology: Seminars and Original Investigations, 34(9):407-414, September 2016.
Megan von Isenburg, Associate DIrector, Research & Education, copresented a poster: "Library Research Services and Care Redesign: Partnering for Evidence-Based Practice," Caitlin Daley, Megan von Isenburg, and George Cheely. Make it 3D. Duke Hospital. August 1, 2016.
Welcome to Deshane and Rebecca
DeShane Watson
By Barbara Dietsch, Acquisitions Manager, Collection Services
DeShane serves as the Desktop Support Manager in the Library with a hands on approach to delivering great customer service to patrons, staff and faculty. He is a Microsoft Certified Professional and has over 20 years of experience in technology. DeShane has an Associate of Arts Degree with a concentration in Information Technology/Networking from The University of Phoenix and an A+ Certification from CompTIA. He was the first Tier 3 Supervisor for Time Warner Cable's Road Runner Tier 3 team when it was introduced to the Raleigh market.
DeShane comes to our Library from Meredith College where he served as the Technical Support Specialist and Hardware Technician for six years. His responsibilities included repairing laptops that were issued to students, faculty, and staff and assisting them with troubleshooting software needs and training on basic everyday use.
A diehard Star Wars fan and lover of Sci-Fi, DeShane has been married for 24 years and has 5 children and 3 grandchildren.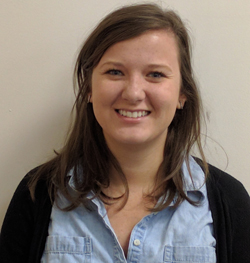 Rebecca Williams
By Lucy Waldrop, Associate University Archivist, Medical Center Archives
Rebecca joined the Medical Center Archives staff in October as Archives Librarian for Research, Outreach, and Education. She holds an MLS from UNC-Chapel Hill and a BA in English from Duke University.
In addition to performing outreach duties on behalf of the Archives, Rebecca will provide bibliographic instruction for medical history materials, create and publicize exhibits featuring Archives' holdings, and provide in-person and remote reference and research services for Archives users. Rebecca will also create bibliographies relating to medical education, research, and practice, and work with the Archives Director to acquire and preserve official Medical Center publications.
Since starting, Rebecca has been busy answering reference questions, writing for the Archives blog, and planning Archival outreach events for Halloween and the School of Medicine Alumni Weekend. She is excited to begin her career in archival public service and is looking forward to working on exhibits and exploring new outreach opportunities, as she continues to develop her skills.

In her spare time, Rebecca enjoys going to Broadway shows, hiking, paddleboarding, and cross-stitching.
Get a FREE Christmas Stocking Stuffer!
Free copies of Foundations for Excellence: 75 years of Duke Medicine by Walter E. Campbell are available at the Medical Center Library & Archives on Level 2R. This historical look at the development of the Duke medical center, hospital, school of medicine, and research enterprise is waiting to become a part of your personal library or take a copy to give as a Christmas gift.
Have a free book on us...  Come and get your copy today!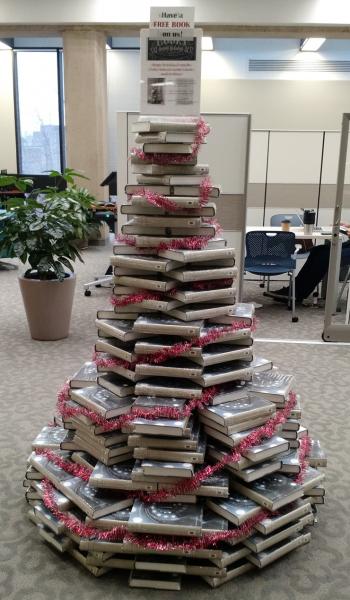 Improve Your Library Research Skills!
Publication Schedule & Staff
Duke University Medical Center Library & Archives News is published bimonthly.
Pat Thibodeau, Associate Dean
Beverly Murphy, Editor
Editorial Board:
               Jamie Conklin

Barbara Dietsch

        Megan von Isenburg
Rebecca Williams

Subscribe to our newsletter and be notified when a new issue is published!