October is Breast Cancer Awareness Month!
SmartSearch Is Here!
Emma Heet, Associate Director, Collection Services

Beginning this month, BioMedSearcher will be replaced with a new metasearch engine called SmartSearch.  BioMedSearcher will still be available until  Dec. 31, 2015 and may be accessed directly or from the Databases page.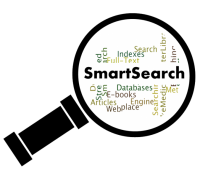 SmartSearch fully indexes content from top biomedical journals and databases, providing a fast, streamlined search through a single search box. It  utilizes the specialized subject indexes from numerous sources such as PubMed, CINAHL, PsycINFO and Web of Science.  Searches can be limited by peer-reviewed content, full-text only, resources available in the Duke libraries, and many other facets. Databases that do not include full-text article level content, such as UpToDate and Lexicomp, will be searchable as separate options within SmartSearch.
Later this month, SmartSearch will include a separate search engine for all full-text biomedical e-books subscribed to at Duke, regardless of publisher and platform.
Celebrating National Medical Librarians Month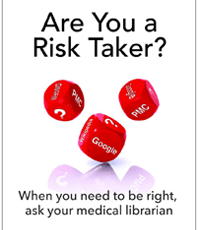 The Duke Medical Center Library & Archives celebrates National Medical Librarians Month (NMLM) in October. NMLM was established by the Medical Library Association in 1997 to raise awareness of the important role of medical librarians. As we focus on this year's theme, "Are You a Risk Taker?" it is an opportunity to remind you that medical librarians are your best bet when searching for health information. We will continue to provide quality resources, services and expertise to impact the quality of medical care, education, and research at Duke Medicine.  
The NMLM celebration will include a variety of activities:
For more information about NMLM events, come by the Library or check our Website at http://mclibrary.duke.edu.
Liaison Office Hours Roundup
Don't Get to the Library As Much As You'd Like?
Librarian Office Hours Are Available Offsite!
 Virginia Carden
 EndNote
 Wednesdays, 8:00 - 9:00a
 DUSON Atrium
 Jamie Conklin
 School of Nursing
 Mondays, 11:30a - 1:00p; Tuesdays, 1:00 - 2:00p;
 Thursdays, 11:30a - 1:00p; Fridays, 12:00 - 2:00p
 DUSON Atrium
 Leila Ledbetter
 Doctor of Physical Therapy Program
 Mondays, 11:00a - 1:00p
 Erwin Square Lunch Room
Beverly Murphy
Hospital Nursing
1st & 2nd Thursday monthly, 11:30a - 1:00p
DUH Suite 1300 (past Starbucks)

Megan Van Noord
Doctor of Medicine (MD) Programs
By Appointment Only

Brandi Tuttle
Physician Assistant Program
Oct. 21: 1:00 - 5:00p 
Nov. 18, Jan. 6, Feb. 3,  Mar. 2, Mar. 30, May 4, June 2: 9:00a - 1:00p
PA Building Bistro, 800 S. Duke St

Megan von Isenburg
Global Health
Mondays, 1:30 - 3:30p
Trent Semans Center 131
Downloading Book Chapters in ClinicalKey

ClinicalKey offers hundreds of online textbooks, journals, Procedures Consult, First Consult, surgical Vitals and other clinical information with one convenient search. Unlike some e-book sites, you can even download chapters of books to read offline.
In order to download PDFs, you need to create a separate ClinicalKey account. Simply go to ClinicalKey and click on the "Register" link in the top right corner of the main screen. Create a username and password that is easy to remember. It will work as long as you are affiliated with Duke.
For more information about ClinicalKey, see the information site, or Ask a Librarian. We'd be happy to give you an overview or answer questions!
Proposed Journal Cancellations
Emma Heet, Associate Director, Collection Services
Since the costs of journal subscriptions rise by 6% to 10% every year, we have to make difficult decisions about what to keep and what to cancel.  We look at usage, cost, and other factors.  We also compare titles based on cost per use of all downloaded journal articles.

The following titles are  proposed cancellations for 2016 based on high cost and low use, thereby having high cost per use as compared to hundreds of other titles. Please send any concerns about these cancellations to: emma.cryer@duke.edu.
Amyloid
$1,568; 23 uses
Journal of Vestibular Research
$1,130; 31 uses
Archives of Microbiology
$5,161; 230 uses
Medical Mycology
$1,886; 123 uses
Disaster Medicine and Public Health Preparedness 
$418; 40 uses
Medicinal Research Reviews
$2,219; 148 uses
Genes to Cells
$2,669; 235 uses
Springer Protocols
$13,922; 450 uses
Status of Biomedical Publishing: Traditional, OA, and PA Trends
Pat Thibodeau, Associate Dean for Library Services & Archives
Recently, several faculty have asked me about the status of biomedical publishing remembering my earlier articles on escalating prices, restrictive licensing, and the open access movement.  This is an update from the Library perspective – costs and free access – leaving other major challenges (peer review, detecting misconduct, etc.) to future discussions.
It would be great to report massive changes in the field, and while there have been some shifts within the biomedical publishing field, not a lot has changed from the library perspective.
What has changed for traditional journals is that more and more content is available in digital/online formats (including older volumes), making access by our Duke community very easy.
So what about Open Access (OA)? It is clearly here to stay with over 10,000 titles in the Directory of Open Access Journals across all fields.  
The bad news about OA
But Public Access (PA) is arriving on the scene in an even bigger way.  Public access policies are making grant funded content more and more available.  While we have been focusing on the NIH Public Access Policy, many other public agencies will be requiring submission of scientific articles in repositories that provide free access to research articles.
Featured E-Books
Barbara Dietsch, Acquisitions Manager, Collection Services

Here are a few selected e-book titles from the R2 Digital Library that have been recently added to our collection. These reviews are excerpted from Amazon.com.
Global Surgery and Anesthesia Manual: Providing Care in Resource-limited Settings
John G. Meara
This book is filled with practical anatomy, decision algorithms, and treatment options. It serves as a core resource for surgeons and anesthesiologists interested in global surgery, as well as trainees and those confronted with surgical problems in low and middle income countries to which they are not routinely exposed.
Examination of Orthopedic & Athletic Injuries


Chad Starkey and Sara D. Brown
Completely revised and updated, the 4th edition of this standard resource brings you all the field's most current knowledge and an all new full-color art program. Its superb combination of detailed illustrations and precise language makes even the most complicated concepts and techniques clear.
A Guide to Oncology Symptom Management
Carlton Brown
This comprehensive, evidence-based resource is a leader for oncology nursing practice, education, and research. Each chapter addresses a particular symptom, such as pain or fatigue, or an area of impact, such as spirituality or electrolyte imbalances.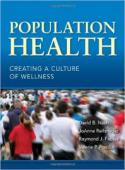 Population Health: Creating A Culture Of Wellness
David B. Nash, Joanne Reifsnyder, Raymond Fabius, and Valerie P. Pracilio
This book is a concise overview of the topic from the perspectives of providers and businesses. It offers a population-based approach to understanding disease management, chronic care management, and health policy making.  It is ideal for students in programs of public health, quality and patient safety, health care administration, medicine, nursing, pharmacy, social work and other related clinical professions.
Suggestions for purchases? Complete our online Recommend a Purchase form or contact Emma Cryer Heet.  For a complete list of titles added to our print book collections within the last 3 months, check out the Library's newest print book additions or subscribe to our "New Books" feed.
October is Archives Month!
Archives Month is an annual, month-long observance of the agencies and pople responsible for maintaining and making available the archival and historical records of our nation, state, communities and people.
This year's archival theme is Celebrating Archives: North Carolina Arts, Crafts, and Music Traditions.
To learn more about DUMC history, visit the Duke University Medical Center Archives Website or email dumc.archives@mc.duke.edu.
The Journal is Indexed In...
Pat Thibodeau, Associate Dean for Library Services & Archives
When selecting a place to publish, be cautious with new or unknown journals and their indexing claims.  Not all indexing is equal or even really indexing.

PubMed, Web of Science, Scopus, Psychological Abstracts, ERIC, Biological Abstracts, and similar traditional tools abstract and index citations. They are often solid indicators of good or at least respected journals in the field.  These indexes have selection criteria and those journals which are included have to meet certain standards.

But you may also see some other so-called indexes listed by less than reputable publishers.  Many times these are not really indexes but simply lists of journals.  They do not represent any in-depth selection process in terms of the quality of the journal's content.
• DOAJ (Directory of Open Access Journals) – This list of open access journals and their policies tries to block predatory journals, but it is not a real indicator of quality of content.

• CrossRef – Any publisher can choose to become a member of this citation linking service for online publications, which provides DOIs (direct object identifiers) to make finding individual articles easier.

• Institute of Scientific Information (IS) – A citation may be in an ISI citation index because another major journal cited it, and not for that specific journal's quality. The publisher make work with ISI on the accuracy of the citation.

• Archived in - Just because an article is archived in a repository of articles does not mean it is indexed or screened for quality.  Check out the repository that is mentioned.

• Cabell's Directory of Publishing Opportunities – This directory does not index content, but lists journals and their policies to assist authors in submitting manuscripts.

• Google Scholar, Google Docs, Slideshare, Scribd – These and many other social medical sites are not based on quality or true indexing.
Even if the big indexes are listed, beware! Some less than reputable publishers may present misleading information. Check out the indexes that you want to have cover your article to see if they include that journal in them.

For more information on this topic, connect to the post, "Journal Indexing:  What it is, and What it's Not," on the Scholarly Open Access blog.  
New Exhibit Honors the Duke PA Program
Jolie Braun, Assistant Director, Medical Center Archives
Currently On Display
Celebrating 50 Years of the Duke Physician Assistant Program: The Birth of a Profession
Medical Center Library & Archives - Level 1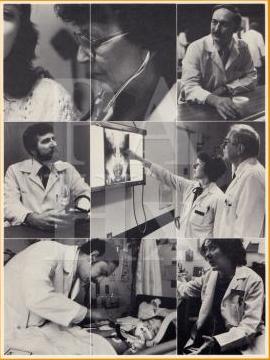 On Display October 1 - January 28, 2016
We are happy to announce that our new exhibit, Celebrating 50 Years of the Duke Physician Assistant Program: The Birth of a Profession, is now on display. Featuring artifacts, photographs, and documents from the Medical Center Archives collections, the exhibit charts the founding, growth, and accomplishments of Duke's PA Program. Highlights include a 1964 letter written by Dr. Eugene A. Stead, Jr., expressing his desire to start the program at Duke, scrapbooks and publications made by PA students, and the 1966 issue of Look magazine that introduced the profession, and Duke's program, to the general public.
When Dr. Stead, then Chairman of Duke's Department of Medicine, established the PA Program in 1965, it was the first of its kind in the nation. A two-year course that trained students to practice medicine and provide health care services under a doctor's supervision, the program aimed to address the problem of the physician shortage, particularly in rural areas throughout North Carolina. While the initial recruitment targeted ex-military corpsmen who possessed some medical experience, Duke's PA program soon attracted a wide range of applicants, including women and people of color seeking new career opportunities in medicine.
Today there are nearly 100,000 PAs practicing in the US. The success of the profession during the second half of the 20th century is due in part to the early efforts of Duke PA leaders, graduates, and students. They worked to have the profession legally recognized and accredited, founded the American Academy of Physician Assistants – the official organization for the profession – and were instrumental in the development of certification and continuing education guidelines.
To learn more about the PA Program's history, visit the PA Program Records Finding Aid or go to MEDSpace to see digitized items from this collection.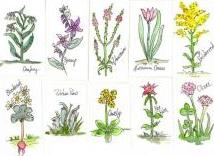 Duke's Medical Garden
Medical Center Library & Archives - Level 2R
On Display through December 2015
The Library is also hosting an exhibit featuring medicinal plants. The display showcases artistic representations of many varieties grown in the Medical Garden on our terrace, or possibly in your own yard.
Did you know that foxglove is a common ingredient in medicines used to treat congestive heart failure and atrial fibrillation? Or that garlic binds with heavy metals so it is useful in the treatment of patients with lead poisoning?
Stop by and learn more factoids, and see renderings from the original artist and Library staff member, Elizabeth Berney.
It Came from the Archives: Spooky Halloween Event!
Medical Center Library & Archives
Level 2R, Room 212E
Friday, October 30th
11am – 2pm
FREE and open to all!
In honor of Archives Month, we are hosting our second annual Halloween event featuring a selection of eerie, fascinating, and rarely seen materials from the Medical Center Archives collections. Brave souls are invited to gaze upon spine-chilling artwork, stare into the faces of frightening death masks, behold macabre medical artifacts and instruments, and much more!
Halloween candy will be available…for those who don't lose their appetite!
For more information, contact Jolie Braun at 919.383.2653 or jolie.braun@duke.edu. 
Remembering the 65th Exhibit Now Online
Jolie Braun, Assistant Director, Medical Center Archives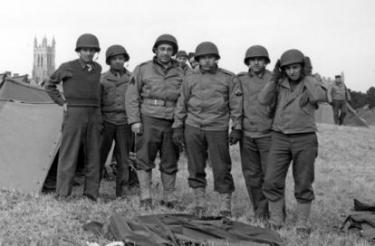 Earlier this summer, we unveiled an exhibit documenting the staff, activities, and accomplishments of the 65th General Hospital, Duke's World War II hospital unit. A digital version of this exhibit is now available!
Like the physical exhibit, the online companion features artifacts, photographs, and documents from the Medical Center Archives collections. Items include medical instruments used by hospital staff, an aircrew flak helmet worn by a patient treated at the hospital, original artwork of the unit's doctors and nurses, and a letter from President Ronald Reagan commending the unit.
The digital exhibit contains over 40 images as well as additional materials that we weren't able to include in the physical counterpart, such as oral history excerpts with one of the unit's nurses and a clip of a documentary made by one of the unit's doctors.
Staff News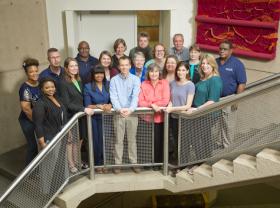 Jolie Braun, Assistant Director, Medical Center Archives, will be present "Now on Display: Lessons Learned from Building an Exhibits Program at Duke University Medical Center Library & Archives," at the Society of Tennessee Archivists Meeting on October 21-23 in Pickwick Landing State Park, TN.
Barbara M. Dietsch, Acquisitions Manager; Emma Cryer Heet, Associate Director, Collection Services; and Patricia L. Thibodeau, Associate Dean, have coauthored an article, "Sweeping It All Away: A Case Study in the Elimination of an On-Site Journal Collection," in Serials Review, 41(3):153-159, 2015.
Susan Keesee joined our staff in August and will be working with us for the next six months as the Research Impact Librarian for a special project with the Department of Surgery.  She will work closely with Administrative Research Librarian Virginia Carden, who is heading up this project studying the impact of surgical faculty.  Susan will gather metrics on faculty publications using the H-index, update Scholars@Duke profiles, as well as other related projects.
Megan von Isenburg, Associate DIrector, Research & Education, graduated on September 30th from a national Leadership Fellows Program sponsored by the National Library of Medicine and the Association of Academic Health Sciences Libraries. This competitive fellowship program prepares librarians to be leaders of health sciences libraries through a year-long program of intensive workshops, visits at the mentor's institution, and participation in a series of learning opportunities.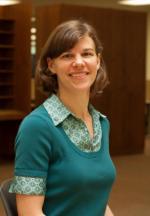 Welcome Jamie Conklin, New Liaison to the School of Nursing
Megan von Isenburg, Associate DIrector, Research & Education
Please join the Medical Center Library & Archives in welcoming Jamie Conklin, the new School of Nursing Liaison Librarian.

Jamie comes to us from the Southern Illinois University in Edwardsville, Illinois, where she served as Science & Health Sciences Librarian at Lovejoy Library from 2011 to 2015. Prior to her work in Illinois, Jamie worked at the University of Central Florida Libraries and the Orange County Library System. Jamie received her Master of Science in Library and Information Studies from Florida State University in 2006 and has two Bachelor degrees (one in Biology and the other in English) from the University of Central Florida.

Jamie is available for consultation with faculty, staff, and students on searching the literature, selecting course materials, and managing information. We encourage faculty to reach out to Jamie to determine the accessibility of e-books and to plan student assignments dealing with literature searching.

While Jamie works primarily with the School of Nursing, she is part of the Library's Research and Education team, which works together to offer research services, systematic review searches, and information management classes to Duke Medicine as a whole.

Jamie has scheduled office hours in the School of Nursing Atrium at the following times and is also available by appointment.
Mondays, 11:30a - 1:00p; Tuesdays, 1:00 - 2:00p; Thursdays, 11:30a - 1:00p; Fridays, 12:00 - 2:00p
Jamie may be reached at jamie.conklin@duke.edu, 919.660.1120, or via the Nursing Tools page.
Thanksgiving Holiday Hours

                       Thanksgiving Hours
November 25 (Wednesday)    8:00 am - 5:00 pm
November 26 (Thursday)     BADGE ACCESS ONLY
November 27 (Friday)          BADGE ACCESS ONLY
24-hour card access is available to Duke Medicine Badge Holders Only. 
Improve Your Library Research Skills!
Publication Schedule & Staff
Duke University Medical Center Library & Archives News is published bimonthly.
Pat Thibodeau, Associate Dean
Beverly Murphy, Editor
Editorial Board:
               Jolie Braun
Barbara Dietsch
Megan von Isenburg
Subscribe to our newsletter and be notified when a new issue is published!