February is Black History Month!
This month we are featuring "Black History Month: A Medical Perspective," our online exhibit containing a chronology of medical achievements of African Americans, a section on folk medicine, and a selective bibliography.
DUMC History Retrospective: Duke's African-American LPN Program
Jolie Braun, Archives Assistant Director and Librarian for Research, Outreach & Education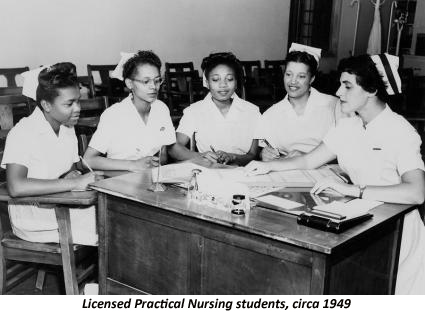 In honor of Black History Month, this look back at DUMC history features Duke's Licensed Practical Nursing (LPN) program. When it began in 1948, there were already several others in the state. Duke's was unique, however, as it was the only one in North Carolina established exclusively for training African-American nurses.
The program, known as the Practical Nurse School at Hillside High School, was a collaborative effort between Duke University Hospital, the Durham City Schools, and the North Carolina Department of Vocational Education and was established to address the area's shortage of professional nurses. The idea was that trained LPNs would be a means of improving bedside care, as they could take over the duties that might have been previously handled by a nurse's aide or a professional nurse.
Yet because LPNs performed a more limited range of duties than professional nurses, they required less education, and therefore even a newly-established program could begin to supply the local area with LPNs in a relatively short amount of time. Knowing that one third of the city's population was African American, the program's creators wanted to tap into this labor pool. They envisioned the LPN program as a means of addressing the area's shortage, as well as creating new work opportunities for African-American women.
The program was originally set to operate through Lincoln Hospital, which served Durham's African-American population. However, it became clear during the planning stages, that the hospital could not financially support the new program, forcing the institution to withdraw. The leaders at Duke University Hospital agreed that the program could move to Duke, which had the means to support it, and could provide office and classroom space, instructor salary, and cover incidental costs.
The year-long course consisted of three months of nursing and basic science classes at Hillside High School, followed by nine months of practical experience at Duke University Hospital, through which students gained skills in bedside nursing duties, such as feeding and bathing patients, maintaining medical charts, and caring for equipment. An early brochure stated the program's goal was "to prepare qualified persons to work as practical nurses under the direction of physicians or professional nurses. A practical nurse is prepared to care for mildly ill patients, and to assist the registered professional nurse in the care of others."
In June 1949, the first 26 LPNs graduated from the program, the majority of which were hired to continue on at Duke. While Duke University Hospital already had African-American workers and technicians, this group was noteworthy as they were the first African-American nurses to be employed at the institution. Although the hospital maintained segregated wards until the early 1960s, the LPNs occupied a unique space in the hospital's structure, working throughout the facility on all wards, with black and white patients.
As part of the Black History Month celebration in February, 2006, several of the original members of the 1949 class and subsequent classes of the Licensed Practical Nursing program were honored during the Library's Tea with the Trailblazers celebration. 
To learn more about DUMC history, visit the Duke University Medical Center Archives Website or email dumc.archives@mc.duke.edu.
New Study Spaces Have Arrived!
In trying to meet the growing demand for study spaces of various kinds, the Library has made the following changes:
Level 1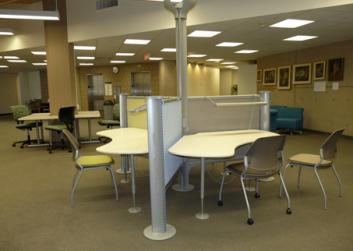 Group study room (102A) now houses new modular tables that can be rearranged to accommodate small groups.
Reminder: The Richmond House Room (previously the Trent Room) is also available as a group study room.
Level 2 (near Service Desk on Main Level)
Two new small group carrels have been added to the existing cluster.
Room 212E, which can accommodate small groups for meetings or studies, has new modular tables to move around. Whiteboards have also been installed.
Level 3
New study pods have been added that provide 6 individual work surfaces.
Borrow an iPad or Android Tablet
Leila Ledbetter, Research & Education
Are you interested in trying a tablet computer for your work, clinic or class?  Have you been trying to decide between an iPad or an Android tablet?  Unsure if you'd prefer a full sized tablet or one of the "mini" 7-inch versions?
The Medical Center Library & Archives has a tablet loaner program available to Duke Medical Center faculty,
housestaff and students. Currently we have five iPads (3 iPad 1s and 2 iPad 3s) and a mini Android (Google Nexus 7) available to borrow for a two week loan.  To learn more, see Frequently Asked Questions.
If you want to explore a tablet's usefulness in medicine and in teaching and learning,  you can apply to borrow one using the Tablet Request Form.
For more information, please contact Leila Ledbetter at 919.660.1128.
Office Hours Roundup
Don't Get to the Library As Much As You'd Like?
Librarian Office Hours Are Available Offsite!
Leila Ledbetter
Liaison to Doctor of Physical Therapy Program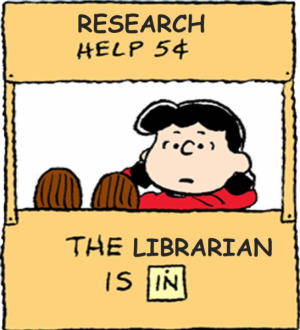 Mondays, 11:00a to 1:00p
Erwin Square
Adrianne Leonardelli
School of Nursing Liaison
Most Thursdays, 11:30a – 1:00p
DUSON Atrium
Beverly Murphy
Hospital Nursing Liaison
1st & 2nd Thursday monthly, 11:30a - 1:00p
DUH Suite 1300 (past Starbucks)
Brandi Tuttle
Liaison to Physician Assistant Program
March 3rd: 3:00 - 5:00p
April 2nd, May 7th, June 4th: 9:00a - 1:00p
PA Building Bistro
800 S. Duke St 
New Engel Books
Emma Cryer, Associate Director, Collection Services
These books are part of the Library's special collection established in memory of Dr. Frank Engel, who always thought students should have other reading sources that took them beyond their medical studies.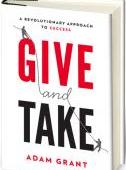 Give and Take: A Revolutionary Approach to Success
Adam M. Grant
Grant's aim is to explain why we underestimate the success of givers, to explore what separates giver champs from chumps, and what is unique about giver success. We learn givers give more than they get, takers get more than they give, and matchers aim to give and get equally, yet all can succeed. Emphasis on teams and the rise of the service sector offers givers access to opportunities that takers and matchers often miss.
Permanent Present Tense: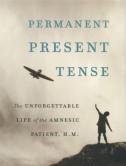 The Unforgettable Life of the Amnesic Patient
Suzanne Corkin
The amnesic patient H.M. is arguably the most important case in the history of neuropsychology.  Nobody knew him better than Suzanne Corkin, who has written an engaging and insightful account of H.M.'s memory loss that combines personal stories with accessible discussions of memory research. Just as important, Permanent Present Tense presents a sympathetic portrait of the person named Henry Molaison.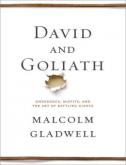 David and Goliath: Underdogs, Misfits, and the Art of Battling Giants
Malcolm Gladwell
In David and Goliath, Gladwell examines and challenges our concepts of "advantage" and "disadvantage" in a way that may seem intuitive to some and surprising to others. Beginning with the classic tale of David and Goliath, and moving through history with figures such as Lawrence of Arabia and Martin Luther King Jr., he shows how, time and again, players labeled "underdog" use that status to their advantage and prevail through the elements of cunning and surprise.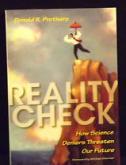 Reality Check: How Science Deniers Threaten Our Future
Donald R. Prothero
Geology professor and prolific author Prothero takes on the science deniers, including creationists, climate change naysayers, and AIDS deniers.  He addresses nine topics for which a segment of the U.S. population rejects, even though they are well-supported by scientific research and knowledge.  For each, he begins with background information and data and then addresses the arguments of the deniers, providing additional data and references.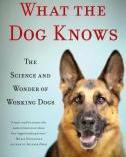 What the Dog Knows: The Science and Wonder of Working Dogs
Cat Warren
What the Dog Knows is first the story of the relationship between a hard-working cadaver dog and his human companion. That deeply felt relationship opens the way to an exploration of the working dog world, and in doing so, becomes something more - a realization of the intelligence, determination, and decency of these animals, a story both wonderful and wise.
Suggestions for purchases? Complete our online Recommend a Purchase form or contact Emma Cryer.  For a complete list of titles added to our book and ebook collections within the last 3 months, check out the Library's newest book additions or subscribe to our "New Books" feed.
Update on Journal Cancellations
Pat Thibodeau, Associate Dean for Library Services & Archives 
Emma Cryer, Associate Director, Collection Services
Since the costs of journal subscriptions rise by 6% to 10% every year, we have to make difficult decisions about what to keep and what to cancel. We look at usage, cost, and other factors. We also compare titles based on cost per use of all downloaded journal articles.

The following titles are finalized cancellations for 2014 based on high cost and low use, thereby having high cost per use as compared to hundreds of other titles. Please send any concerns about these cancellations to: medical-librarian@duke.edu.
Current Eye Research
Cytoskeleton
Genes and Immunity
International Journal of Health Services
Journal of Human Hypertension
Library & Archival Security
Library Resources & Technical Services
Psychology & Psychotherapy
Scandinavian Journal of Gastroenterology
Dr. Edward C. Halperin to Speak in March
NIH Public Access Compliance: An Ongoing Requirement
Pat Thibodeau, Associate Dean for Library Services & Archives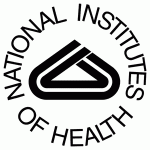 Compliance with the NIH Public Access policy is an ongoing requirement!  While many authors and PIs have worked on old citations, we are now seeing a lot of new journal articles published in 2013 and 2014 that need to be in compliance as well.
Remember, you have 90 days from the publication date to be compliant!
Word of caution: NIH seems to be using the e-publication date and not just the print publication date, so please also pay attention to when the article was published electronically.  Sometimes this date is months before the print date.
The author and PI are responsible for making sure this is done even if the journal does it for you!
Some journals do not submit right away
Track whether the journal has submitted for you
If you are getting close to deadlines, contact the journal for progress reports! 
Ask for advice and assistance from Library staff!  We want all our faculty to be fully compliant and will be glad to work with you and your staff to make sure this happens.
Need Help? Call the LIbrary Service Desk at 919.660.1100 or contact us via email or chat.
Exhibits on Display!
Jolie Braun, Archives Assistant Director and Librarian for Research, Outreach & Education
Coming Soon!

Duke's Medical Garden - Level 1

In March, the Library will unveil a new exhibit about medicinal plants. Featuring information about herbs and flowers in the Library's Medical Garden, the exhibit will include botanical illustrations, plant specimens, and archival materials. 
The exhibit will be on display from March through May 2014.
 Currently on Display!
The History of Durham's Early Hospitals

Museum of Durham History, 500 West Main St., Durham, NC
On Display through March 2014

Medical Center Archives has partnered with the Museum of Durham History on their new exhibit, "The History of Durham's Early Hospitals," which looks back at the beginnings of medicine and healthcare in the city. The exhibit, which features materials from our collections, will be on display in the rotating exhibit space through March 2014.
For more information on the Museum, visit their Website at http://museumofdurhamhistory.org.
Holiday Toy Drive for Duke Children's Hospital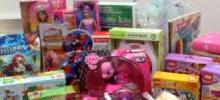 To honor the holiday season, employees at the Duke Medical Center Library & Archives donated a variety of books, games, and toys to the Children's Hospital.
Gifts were delivered to children in the hospital by Santa on Christmas Eve.
Staff News
Adrianne Leonardelli, Research & Education, has been appointed Finance Committee Chair of the Nursing and Allied Health Resource Section of the Medical Library Association.
Marilyn H. Oermann (Director of Evaluation and Educational Research, Duke University School of Nursing) and Adrianne Leonardelli coauthored an editorial, "Make the Title Count," published in Nurse Author & Editor, 23(3), Sept. 2013.
Adrianne Leonardelli also authored the article, "How to Find and Evaluate Pertinent Research," published in AACN Advanced Critical Care, 24(4):416-420, Oct-Dec. 2013.
Brandi Tuttle, Research & Education, has been appointed Co-Chair of the 2015 Annual Meeting Committee for the Mid-Atlantic Chapter of the Medical Library Association. 
Welcome to Megan Van Noord
Jolie Braun, Archives Assistant Director and Librarian for Research, Outreach & Education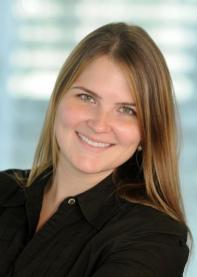 The Duke Medical Center Library & Archives is happy to introduce our newest staff member, Megan Van Noord. She joined the Library in January as a Research & Education Librarian.
Megan comes to Duke from Danube University Krems in Austria, where as a Research Associate and Information Specialist in the Department of Evidence-based Medicine & Clinical Epidemiology, she worked on all aspects of systematic reviews. Previously, she was a Project Coordinator and Information Specialist at the RTI-UNC Evidence-based Practice Center. There she provided project management and assisted with systematic reviews. Megan received her MSIS from UNC-Chapel Hill and a BA in English and Global Studies from the University of California, Santa Barbara.
As a Research & Education Librarian, Megan will coordinate and co-teach with faculty in the School of Medicine's evidence-based medicine curriculum and serve as a liaison to the School of Medicine.  She is particularly excited about the opportunity to work with medical students and faculty and continue to develop her expertise in systematic reviews.
In her spare time, Megan likes to travel.  She also enjoys cooking, running, playing tennis, and spending time with Tobin, her Cavalier King Charles Spaniel.
Improve Your Library Research Skills!
Feeling Chilled While Working in the Library?
Publication Schedule & Staff
Duke University Medical Center Library & Archives News is published bimonthly.
Pat Thibodeau, Associate Dean
Beverly Murphy, Editor
Editorial Board:
Jolie Braun
Barbara Dietsch
Adrianne Leonardelli
Megan von Isenburg
Subscribe to our newsletter and be notified when a new issue is published!