The Medical Center Library & Archives extends warm wishes
to all during this holiday season!
The Library and the Mary Semans Center
Pat Thibodeau, Associate Dean for Library Services & Archives
With the opening of the Mary Semans Center for Health Education, the Medical Center Library will undergo a lot of changes -- from furnishings to extended hours.
Here are some changes to expect!
Level 1 (Lower Level)
All book and audiovisual collections will be housed in Room 102, including the Reference and Engel collections
Improved seating area with current journals and newspapers
Coffee service and vending machines
Level 3 (First Stack Level)
Connecting bridge between the Mudd and Semans buildings
New furniture
Journals and copiers will remain
Changes in wall colors throughout the building
Hours
Beginning January 7, 2013, we hope to provide 24-hour access to the Library for Duke Medicine faculty, students, and clinical staff. We are still finalizing security and renovation details, so this date may change. [Update 2/4/13: 24-hour access is now available]
Here is our proposed plan:
Card access all other hours for Duke Medicine faculty, students, and clinical staff with ID badges,
Duke University faculty and students, TRLN faculty and students, and other authorized users can have extended access during the following hours: Monday-Friday: 7 pm -12 midnight; Saturday: 12 noon - 8 pm; Sunday: 12 noon - 12 midnight. These users must present a current university ID or be on our authorized list.
Reading Room and Book Collections will be available Monday-Friday: 8 am -12 midnight; Saturday: 12 noon - 8 pm; Sunday: 12 noon - 12 midnight.
Library will be completely closed on official Duke Medicine Holidays, NO access will be available.
More to come!
The main plaza will open in February 2013, tying together the Duke Medicine Pavillion, Cancer Center, and the Mudd and Semans buildings. A glass covered walkway will be installed between the Hospital and the Mudd building, replacing the plywood walkway. The concourse between Duke Hospital and Clinics will be relocated to Level 1, the main level of the Hospital and the plaza!
Please let us know what you think of the changes! We appreciate your patience as we continue to undergo rennovations.
EXPLORE: Tools to Improve Your Research, Teaching & Work
Adrianne Leonardelli, Research & Education
     Organize Citations and Save Database Searches!
What is My NCBI?
My NCBI is a tool from the National Center for Biotechnology Information that helps customize your searching preferences, organize your citations, and facilitate your research. It is compatible with many NCBI databases, including PubMed.
What are the benefits of a My NCBI Account?
Save searches and receive email updates when new citations related to your search are added to the database
Customize filter options and settings for displaying your search results
Maintain a record of your publications using the My Bibliography feature
Create, save, and share collections of citations
Track and keep a record of your recent activity searches for 6 months
Set up and receive Table of Contents alerts for your favorite journals via email
How do I sign up for a My NCBI Account? 
Creating a My NCBI account is quick and easy.  Go to our our Website and click on PubMed (Medline), which is located on the left under Quicklinks. In the upper right corner of PubMed, click on "Sign in to NCBI," then click on "Register for a NCBI account."
If you don't want to create yet another account, you can use a 3rd party sign in option, such as Duke, Google or your NIH Login. If you wish to sign in through Duke, click on "See more 3rd party sign in options" and choose Duke University from the menu. You will then be prompted to sign in with your Duke NetID and password.
Where can I find more information about My NCBI?
For more information about My NCBI, including tipsheets on how to "Save Searches" and "Set up Table of Contents Alerts via Email," visit the Library's PubMed Tutorials & Tipsheets page.
Database of the Month: Lexicomp
Megan von Isenburg, Associate Director, Research & Education
Lexicomp is now available! This well-known resource delivers time sensitive drug information and contains:
Searchable drug monographs
Drug ID tool
Clinical calculators
IV compatability tool
Patient education handouts
Toxicology information
Pediatric and Geriatric Information
Highlighted to make it easier to find information for special populations.
Natural Products
Can be included in the interaction checker.
Infectious Diseases section
Includes drugs, diseases, and topics relevant to infectious diseases, such as Abacavir, Abscess Aerobic and Anaerobic Culture, and Adenovirus.
Lab Tests and Diagnostic Procedures
Provides articles on common laboratory tests and includes information on method, storage, normal findings, critical values, and diagnostic pearls.
Martindale Index
If you treat international patients, this resource can assist you in tracking down international drug names and information.
Lexicomp is intuitive and easy to use!  You may connect to it from the "Databases, Journals, and Books" page. For access from off-campus, use the  Duke University Web-based VPN or the Duke Medicine Web-based VPN.
 If you would like help getting started, contact a librarian at medical-librarian@duke.edu or 919. 660.1100.
COS Funding Now PIVOT
Emily Mazure, Biomedical Research Liaison, Research & Education
COS Pivot has replaced the COS (Community of Science) Funding Opportunities database. Pivot integrates funding opportunities with scholar profiles, making the search for funding more collaborative.  You can search Pivot for funding opportunities in any discipline and create a personal account to save searches and receive alerts.  You may also explore who has similar research interests at Duke or elsewhere.
Connect to Pivot from the "Databases, Journals, and Books" page. For access from off-campus, use the Duke University Web-based VPN or the Duke Medicine Web-based VPN. 
For more information, including a "Quick Start Guide" and YouTube tutorials, visit the Duke Office of Research Support.
New ePrint System Available!
Elizabeth Berney, Access Services Manager

A new ePrint system is now available within the Medical Center Library & Archives. Names and IDs for all currently enrolled Physician Assistant, Pathology Assistant, Physical Therapy, School of Medicine, and School of Nursing students have been added to our system. This allows students to independently access ePrint at the release station without monitoring from Library staff.
To use the Library's ePrint system, choose "OIT-ePrint" from the print options. If you are using a laptop, you will need to download free software from the Duke OIT Website. 
Unlike most ePrint stations on campus, the Medical Library's station is paid for jointly by the School of Medicine and the School of Nursing, for their students only.  No access is provided to faculty, staff or students from other departments. Eligible students who cannot get access to the system may submit a request through our Website. Our staff will verify the student's status and enable access if possible.
BioMedSearcher Coming Soon
Karen Grigg, Collection Development Services
Duke Medical Center Library & Archives will soon be introducing BioMedSearcher, a new federated search service powered by Deep Web Technologies. This product allows the user to search many library databases, e-book collections, and other resources with one search form, and return the results in a single page. Results will be ranked by relevancy, and users can follow the links directly to the articles and e-books presented.
Approximately 20 resources will be searchable including CINAHL, PubMed, MD Consult, and Embase, and some basic science resources such as Gene, Genome, and other databases in the NCBI Entrez collection.  Advanced search options allow users to limit to e-books or by topic (medicine, nursing, or basic science).
This new search service will launch as a one year trial. We hope to solicit feedback from our users as to the effectiveness and ease of use of the product, as well as the relevancy of search results.  Stay tuned for more details!
Netter Exhibit on Display

Medical Center Library & Archives - Lower Level
Exhibit on Display: October - December 2012 

An exhibit is now on display chronicling the life of Dr. Frank H. Netter, foremost medical illustrator of the human body and producer of the Atlas of Human Anatomy. Netter began his career as a commercial artist and later became a surgeon, but the demand for his illustrations grew faster than his surgical practice. Referred to by the New York Times as "Medicine's Michelangelo," he produced almost 4,000 paintings over his lifetime.
DUMC History Retrospective: Home for the Holidays
Matt Shangler, Assistant Archivist, Medical Center Archives
While former deans and faculty are often lauded for their brilliant minds and contributions to Duke, their pastimes and lives outside of work are often overlooked. It is common knowledge that Wilburt Davison was the first Dean of the School of Medicine and, over three decades, brought Duke from its very beginnings to one of the top medical institutions in the United States.  But in all those years of service, what did Davison do outside of work?
Davison's wife, Atala, and their children would spend the summer in either New England or Europe. But for Davison, such long vacations were not possible.  He wrote, "Because my clinical work is with children and as the worst season for them is warm weather I cannot take a summer vacation. However I like to get away for week-ends."  The small resort community of Roaring Gap, built on a 3500-foot mountain in the northwestern part of North Carolina, proved the perfect solution.
Davison first visited Roaring Gap in 1927, where he was introduced to Dr. and Mrs. Frederic M. Hanes.  Dr. Hanes, who was then an internist in Winston-Salem, later became a physician and Professor of Medicine at Duke in 1931.  Davison enjoyed his first visit so much that he spent the next several summers driving up on Fridays and staying at the Graystone Inn or with Dr. and Mrs. Hanes.  He wrote, "I could leave my office Fridays at five and be in the cool mountains at eight, and by leaving Roaring Gap at six on Monday morning I could be back at work at nine, giving me three nights under blankets."  In addition to Davison and Hanes, Dr. Deryl Hart, first chair of the Department of Surgery at Duke, also owned a cottage at Roaring Gap.
But Roaring Gap was not all rest and relaxation for Davison, Hanes, and Hart.  They often had to be the physicians for the other residents of Roaring Gap, as there were no other doctors around.  As demand for their services grew, medical students and interns were recruited to handle the load.
Finally, in 1937, Davison bought his own cottage at Roaring Gap.  While this cottage provided Davison and his family a getaway retreat for vacations, it was enjoyed by more than just the Davison family.  Several years after purchasing the cottage, Davison had a five bed dormitory built onto the cottage to allow for friends of his children to stay there, as well as interns and residents from Duke Hospital.
However, the cottage did attract at least one unwelcome guest.  Davison recounts that the cottage lay vacant during the winter months.  One March, he came back to the cottage to find furniture moved around, cans of food eaten, and some clothes and his shoes missing.  He also found a pair of prison boots and a note in the guest book that read, "Jan. 10, 1960 John Jones, escaped from the Georgia prison gang, Ha Ha."
Indeed, Roaring Gap was not an unusual target for thieves.  Dr. Hanes also reported thefts at his residence several times in the 1940s.
Want to know more about the history of the Medical Center? Please contact Medical Center Archives at dumc.archives@mc.duke.edu or 919.383.2653.
New Engel Books
Karen Grigg, Collection Development Services
These books are part of the Library's special collection established in memory of Dr. Frank Engel, who always thought students should have other reading sources that took them beyond their medical studies. These reviews are excerpted from Amazon.com.
Bioethics emerged in the 1960s from a conviction that physicians and researchers needed the guidance of philosophers to handle issues raised by technological advances in medicine. It claimed to offer a set of generally applicable, universally accepted guidelines that would simplify complex situations. In Thieves of Virtue, Tom Koch argues that bioethics has failed to deliver on its promises, but instead, has promoted a view of medicine as a commodity whose delivery is predicated not on care but on economic efficiency.
Safe Patients, Smart Hospitals
Doctors, nurses, and clinicians swear by the code of conduct, "First, do no harm."  Yet, medical errors are made every single day - avoidable mistakes that often cost lives. Inspired by two such mistakes, Dr. Peter Pronovost made it his personal mission to improve patient safety and make preventable deaths a thing of the past, one hospital at a time.  Safe Patients, Smart Hospitals shows how Dr. Pronovost started a revolution by creating a simple checklist that standardized a common ICU procedure.
The Secret Life of the Grown-up Brain: The Surprising Talents of the Middle-Aged Mind
Pulitzer Prize-winning science writer, Barbara Strauch, explores the latest findings that demonstrate how the middle-aged brain is more flexible and capable than previously thought. In fact, new research from neuroscientists and psychologists suggests that the brain reorganizes, improves in important functions, and even helps us adopt a more optimistic outlook in middle age. We recognize patterns faster, make better judgments, and find unique solutions to problems.
The Mansion of Happiness: A History of Life and Death

Renowned Harvard scholar and New Yorker staff writer, Jill Lepore, has composed a strikingly original, ingeniously conceived, and beautifully crafted history of American ideas about life and death from before the cradle to beyond the grave.  Investigating the surprising origins of the stuff of everyday life — from board games to breast pumps — Lepore argues that the age of discovery, Darwin, and the Space Age turned ideas about life on earth topsy-turvy.
Suggestions for purchases? Complete our online Recommend a Purchase form or contact Karen Grigg.  For a complete list of titles added to our book and ebook collections within the last 3 months, check out the Library's newest book additions or subscribe to our "New Books" feed.
MS2 Book Exchange Program Gets Better!
Elizabeth Berney, Access Services Manager
The Medical Center Library & Archives recently started a pilot program for MS2 Book Exchange participants. Patrons are now able to request books for the next rotation and pick them up during Library hours.  
Library staff will check out all the books, currently available on the shelf, for the rotation requested.  The books will be bagged, labeled, and placed in a secure location. Pickup will require patrons to show their ID.
The success of this program revolves around people returning books! If books are not returned, there may not be enough copies for the next rotation group.
To learn more about this new program or to complete a request form, please check out our new BEx Guide.
Thanks to Our NMLM Sponsors!
The Medical Center Library & Archives would like to extend special thanks to our sponsors for our National Medical Librarians Month celebration in October!
Duke University Stores
Searle Center Commons Restaurant
Staff News
Leila Ledbetter, Research & Education; Brandi Tuttle, Research & Education; Beverly Murphy, Communications and Web Content; Karen Grigg, Collection Development Services; and Emily Mazure, Research & Education, represented the Medical Center Library & Archives at the Live for Life @ Duke Health and Fitness Expo on October 17th in the Medical Center Searle Center. The Library's goal for the expo was to promote the Library within the Duke employee community as a resource for health-related questions, as well as a place to work quietly or borrow an iPad or Kindle.
Dawne Lucas, Head of Technical Services, Medical Center Archives, participated on a panel, "The Post-SILS Job Hunt," at the UNC-Chapel Hill School of Information and Library Science on October 1st. This event was co-sponsored by the Student Chapter of the Society of American Archivists at UNC-Chapel Hill and the Society of North Carolina Archivists.
Dawne Lucas presented "Duke University Medical Center: A Look at Our Past, Present, and Future" on October 13th at the Duke Division of Neurosurgery OWL Symposium.
Dawne Lucas co-taught an "'Archivists' Toolkit Workshop" at the NC Archives & History Building in Raleigh on October 15th. The workshop was a joint venture between the Society of North Carolina Archivists and North Carolina Connecting to Collections, a federal grant project administered by the North Carolina Department of Cultural Resources.
Connie Schardt and Megan von Isenburg, Associate Directors for Research & Education; Emily Mazure, Biomedical Research Librarian, Research & Education; and Beverly Murphy, Assistant Director, Communications and Web Content Management, presented a paper, "Infobutton - It's Not Just for the Electronic Medical Record" on  October 15th at the Medical Library Association Quad Chapter Meeting in Baltimore, Maryland.  Connie Schardt also taught a CE class at the Quad Meeting entitled, "EBM – Introduction to Study Design and Critical Appraisal."
Jane P. Gagliardi (Asst. Professor of Psychiatry & Behavioral Sciences, Duke); Sandra S. Stinnett (Asst. Research Professor of Biostatistics and Bioinformatics Ophthalmology, Duke); and Connie Schardt coauthored the article "Innovation in Evidence-based Medicine Education and Assessment: An Interactive Class for Third- and Fourth-year Medical Students," published in the Journal of the Medical Library Association, 100(4):306-9, Oct 2012.
Archives Welcomes Jolie Braun
Matt Shangler, Assistant Archivist, Medical Center Archives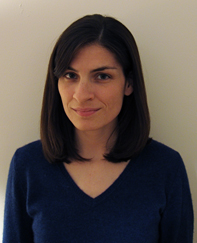 The Duke Medical Center Library & Archives is happy to announce that Jolie Braun has joined the staff as Archives Assistant Director and Archives Librarian for Research, Outreach, and Education. Starting in December, she will lead the Archive's efforts in promoting the use and visibility of our historical resources.
Jolie comes to us from Washington University in St. Louis where she worked in the Modern Graphic History Library performing reference and outreach activities. These included the creation of a digital exhibit titled, "Thrill Seekers: The Rise of Men's Magazines," which served as a companion to the in-person exhibit installed at the Modern Graphic History Library.  Prior to that, she worked in the Becker Medical Library at Washington University and has additional experience as a grants coordinator, an English instructor, and a journals production editor.
Jolie received her MLIS, with an archival concentration, from San Jose State University. She also has an MA in English from the University of California-Davis. She completed her undergraduate degree at the University of Massachusetts-Amherst with a double major in English and Women's Studies.
Of her new position, Jolie says, "I'm excited that the position combines two of my favorite parts of archival work – doing outreach and providing reference services."  Outside of work, Jolie has a keen interest in book collecting. Learning how to identify a first edition and what makes a book "rare" are what she finds fascinating.
Improve Your Library Research Skills!
Publication Schedule & Staff
Duke University Medical Center Library & Archives News is published bimonthly.
Pat Thibodeau, Associate Dean
Beverly Murphy, Editor
Editorial Board:
Barbara Dietsch
Matt Shangler
Adrianne Leonardelli
Megan von Isenburg
Subscribe to our newsletter and be notified when a new issue is published!