Megan von Isenburg Named Associate Dean for Library Services
Jamie Conklin, Research & Education and Barbara Dietsch, Collection Services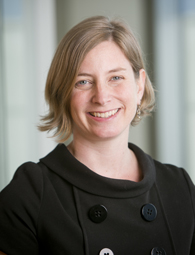 Megan von Isenburg has been appointed Associate Dean for Medical Center Library & Archives (MCL&A). She has dedicated 13 years of her career to our library, most recently as Associate Director for Research and Education and Liaison to Graduate Medical Education and Global Health. A strong advocate for both library services and improved patient care, Megan has developed and taught numerous classes, co-directed the nationally known Teaching and Leading Evidence-Based Medicine workshop held at Duke Health, and participated in numerous evidence-based practice initiatives. Megan has co-authored multiple systematic reviews, as well as research articles on reaching new user groups through innovative programs, including a scholarly writing boot camp and several technology initiatives.
As Associate Dean, Megan will serve on the School of Medicine (SOM) Comprehensive Administrative Group, SOM Curriculum Committee, Executive Committee of the Medical Staff, Clinical Research Unit (CRU) Advisory Council, and the DUHS Patient Education Governance Council. She will report to Edward Buckley, M.D., Vice Dean for Education, School of Medicine. "Megan brings a clear understanding and vision of the role medical libraries will play in the future. I am confident she will build on Pat's legacy and continue to keep our library vibrant and relevant in the years to come," said Buckley.
"It is truly a privilege to lead the amazing staff, valuable services, and important collections of the Duke Medical Center Library and Archives," said Megan about her new role. "I look forward to working across Duke Health to continue to expand and evolve the role of our Library in connecting clinicians, researchers, students and staff with the information needed to advance health together."
Pat Thibodeau, former Associate Dean of the Library, said that Megan "has identified numerous opportunities over the years to strengthen our services and repeatedly demonstrated MCL&A's value to Duke Health. Given that she has been involved in several rounds of strategic planning, has strong collaborative relationships throughout Duke Health, and is already involved in many key initiatives, I know that she will provide excellent leadership for MCL&A."
Megan holds a Master of Science in Library Science degree from the University of North Carolina-Chapel Hill. She received a Bachelor of Arts degree with Distinction in American Studies from the University of North Carolina-Chapel Hill. More recently, she earned a Graduate Certificate in e-Learning from North Carolina State University and is currently participating in the Foundation for Advancement of International Medical Education and Research (FAIMER)-Keele Master's Program in Health Professions Education.
Megan began her new position on April 1st. She can be reached at 919.660.1148 or megan.vonisenburg@duke.edu.
What's in Your Pocket?
Brandi Tuttle, Research & Education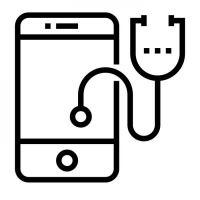 According to a 2015 Pew Research Center report, "64% of American adults now own a smartphone of some kind, up from 35% in the spring of 2011" and "62% of smartphone owners have used their phone in the past year to look up information about a health condition" [Pew Research Center American Trends Panel survey from October 2014]. Undoubtedly that number has increased.
In a world where the Medical Center Library & Archives can live in your pocket or purse, did you know that…
We maintain a Mobile Apps Guide offering information on many Duke provided resources (e.g. apps for DynaMed Plus or Lexicomp) as well as other useful productivity and medical calculators.
We can help you find, download, and use high-quality medical related apps via classes or individual consultations.
NC Health Info has a handy Webpage to help you evaluate and choose quality health apps. (Several Duke Medical Librarians are volunteer editors for NC Health Info!)
iMedicalApps, created by a team of physicians, allied health professionals and trainees, is a great resource for reviews and research on mobile medical technology and mHealth. They are also developing iPrescribeApps.com, a platform that will enable providers to prescribe health apps to their patients.
The top seven apps accessed from the Medical Library's Mobile Apps Guide are: Maestro Care, Lexicomp, DynaMed Plus, Citrix Receiver Virtual PIN, Micromedex, ePocrates, & UpToDate.
As always, we welcome your feedback or app suggestions! Email us at medical-librarian@duke.edu with questions or to meet with a Librarian.
Image credit: Created by Icon Fair from Noun Project
Text Us!

Have a quick question, having problems getting article access, or want to set up a consultation?
We have extended our reference services from in-person, live chat, and phone to also include texting! Whether you are rushing straight from the parking garage to grand rounds or sitting in a comfy chair right in the Library, you can now pull out your phone and text with a medical librarian.
Text us at 919.629.1113 and Ask a Librarian
Monday - Friday 9a - 5p
#txtus2day
Tools for Choosing Journals
Megan von Isenburg, Associate Dean for Library Services
Choosing a journal for your newest article is not always easy. While you may wish to publish in a high impact journal, there are many factors to consider when picking a journal to submit your latest article to, such as audience and potential visibility. Here are a few of our favorite tools for identifying potentially relevant journals for your work:
These and other tools are available on our Getting Published Guide. We invite you to try them out.
Questions? Email us at medical-librarian@duke.edu.
Scholars@Duke & Publication Features in Elements
Matthew Johnson, Research & Education Intern

Scholars@Duke is a profile system for faculty and staff to display information about their scholarly activity, such as education, positions, publications, and presentations. Profiles on Scholars@Duke are searchable and viewable by anyone. The data that populates the Selected Publications section of a Scholars@Duke profile is pulled from a linked profile in Elements. You will need your Duke NetID and password to access Elements.
Elements pulls publication data from databases such as Scopus, PubMed, and Web of Science, using programmed searches based on your name and other information. This makes the process of claiming publications that you've written as simple as possible. Once you've claimed your publications in Elements, they'll appear in your Scholars@Duke profile for other people to view.
Here are some key functions of Elements to help you get started:
Creating delegates
If you have an assistant or someone else who you'd like to manage your profile, you can select the Menu

tab at the top of the Elements home page after logging in, and then in the

My Account section

, select

Manage delegates

under

Account Settings

.

On the Manage Delegates page under Add delegate, you can start typing the last name of the person you'd like to add, and a drop down menu will appear for you to find them. Choose your delegate and select Add Delegate.
You can view the people who you've added as delegates at the bottom of the screen. Select the red "x" to remove someone.
Your delegate(s) will then be able to make changes to your information by selecting Impersonate Another User in the upper-left corner after logging in to Elements with their Duke NetID and password.
Claiming publications
If you have any pending publications, there should be an option to claim them in the large My Actions space on your home page.
They should also be listed below that under My Summary and then in Pending publications.
You can also view claimed, pending, and rejected publications by selecting the Menu tab at the top of the page, and then clicking on Publications under Manage. You can click on the three tabs Mine, Pending, and Not mine.
Manually adding publications
You can manually add a publication from the home page at the bottom under My Summary.
Next to where it lists your number of publications, there's a button that says + add on the far right side. This will ask you about the type of publication and then walk you through the steps to add it into Elements.
Uploading publications to open access repository
After claiming a publication as yours, you should be directed to a page to upload a file to deposit the work in Duke's open access repository.
You can also get to this page by going to Menu then Publications and finding the article that you want to deposit. In the bottom right-hand corner of the box for the particular article, there's an icon of a page with an arrow pointing upwards. Selecting this will take you to the page to deposit journal articles. From there, you choose the file on your computer and then hit the Upload button.
On the home page or from your profile, you can click on the Deposit your work button under the arrow with the red document icon in it labeled Accepted for Publication? This will allow you to add a manuscript that has been accepted for publication but hasn't been published yet. It will also take you to the deposit protocol for Journal Articles that will also work for published journal articles.
Changing search settings
If Elements is finding too many articles that aren't you or is missing articles that you've written, you can update your search settings to be broader or narrower.
Select the Menu tab at the top of the page. Under Manage then Publications, select Search settings.
From this page, you can add or delete name variants (e.g. add a previous last name, add a middle initial to narrow your search, etc.).
You can also add address modifiers like Duke or a previous university, Durham or a previous city, or 27710 or another zip code.
If publications are appearing in your Pending list from before you started publishing, you can change the start date for your searches.
Linking ORCiD or Scopus ID
From the same page where you modify your searches (detailed in Changing search settings above), you can also add identifiers for accounts like ORCiD or Scopus.
These identifiers will allow Elements to automatically claim these publications for you, so you won't have to do so manually in your Pending publications.
To do this, scroll down to the bottom of the Publication search settings page, input your identifier in the Online database IDs section, and then select the appropriate database from the drop down menu. Your Scopus and ORCiD IDs should both be denoted on your specific author pages.
Alternatively, you can scroll further down to Source-specific search terms, and click on the + sign next to any of the databases and then enter the appropriate identifier.
Construct a List of Publications for a CV
To have Elements print a list of your claimed publications to copy into your CV, select the Menu tab at the top of the page, and then CV and Reports under Build.
This will pop open an Export page where you can select the style for an Academic CV.
You can set a date range for your CV, but you don't have to. You can also select to download a .pdf or .doc (Word document) file. The Word document will be easier to modify or copy your publications list from.
You can also access this pop-up window by going to Menu and then under My Account and Profile, select View profile. On your profile page in the top right-hand corner across the page from your name, you'll see a button for CV and Reports. This will open the same menu.
On your CV, publications marked in your profile as your favourites, will be listed as Selected Publications with other publications under Further Publications.
Marking Publications as Favourites or Invisible
You can mark publications as your favourites or invisible by going to Menu and then Publications under Manage.
If you scroll down to a publication, you can mark it as favourite by selecting the red heart or invisible by selecting the blue eye.
Publications marked as favourites will show up on your profile page under the bar graph of publications under the tab labelled Favourites.
These publications will also be listed as Selected Publications on the Elements print out of your CV as detailed above.
If you have questions, you can find additional help and information at Scholars@Duke or Elements.
Archives Increases Its Storage Space
Lucy Waldrop, Associate University Archivist, Medical Center Archives
Space is often a contentious issue in archives because physical collections take up, well, so much space, but as collections grow, all archives must confront the issue of diminishing storage area. The Medical Center Archives recently met this issue head on by turning unused office space into a new storage area for low use collections.
The addition of the new storage unit added 2,430 linear feet of space for the Archives to grow our collections. Translated from archives speak, this means the Archives now has the capacity to add 1,620 more boxes at our location. Onsite storage at the Archives can now hold 10,506 linear feet or 7,004 boxes. This, in turn, will help the Archives better collect and preserve the official records of DUMC and DUHS departments and divisions.
Fellow Visits the Library!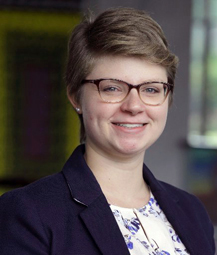 Megan Kellner
NLM Associate Fellow
The National Library of Medicine (NLM) Associate Fellowship Program is a one-year postgraduate training fellowship at the NLM in Bethesda, Maryland, with an optional second year program component. The program is designed to provide a broad foundation in health sciences information services and to prepare librarians for future leadership roles in health sciences libraries and in health services research.
NLM Associate Fellow Megan Kellner visited the Medical Center Library & Archives March 27–28. Her goals for the visit were to learn more about library services for nurses and nursing students and how the Library runs its systematic review service. She is working on several projects at NLM including a conducting a training needs assessment of PubMed users and tracking legislation of interest to NLM.
Megan received her MLS degree from the University of Maryland in 2016. While completing her degree, she interned with NLM, where she created a PubMed for Nurses video tutorial to provide nurses and nursing students with an introduction to searching the literature. As an intern at the Health Sciences and Human Services Library at the University of Maryland Baltimore, she worked on several education and outreach projects. She also worked as the Graduate Assistant for Teaching and Outreach at the University of Maryland Libraries, leading information literacy instruction sessions. Megan completed her undergraduate degree in Health Administration and Policy with a minor in Management of Aging Services at the University of Maryland Baltimore County.
Have You Ever Wanted to Respond to a PubMed Article?
Erica Brody, Research & Education Intern

PubMed Commons lets you in on the research conversation. It is a system that enables researchers to share opinions and information about scientific publications. If you are listed on even one item indexed in PubMed, you are eligible to become a member of PubMed Commons. You will need a My NCBI account and an invitation to join PubMed Commons. Both are free of charge.
Getting an invitation to PubMed Commons:
Key features of PubMed Commons:
Members can comment on any publication indexed by PubMed and invite other eligible authors to join. More details about how to post comments can be found at https://www.ncbi.nlm.nih.gov/pubmedcommons/get-started/
Journal Clubs can apply to pubmed.commons@ncbi.nlm.nih.gov for PubMed Commons membership, with an individual PubMed Commons member serving as guarantor to ensure comments posted by the group comply with guidelines.
Members making substantive criticisms of a publication are encouraged to let the publication's authors know there is a comment. An "invite an author to comment" facility is provided at each PubMed entry.
Members play a pivotal role in ensuring that PubMed Commons remains a forum for open constructive criticism and discussion of scientific issues, by reporting concerns and rating the helpfulness of comments.
In joining PubMed Commons, members agree to:
Establish a single individual account with their real name (no pseudonyms or anonymous accounts are allowed)
Follow the current guidelines when they use PubMed Commons
Grant other users a worldwide, royalty-free, non-exclusive, perpetual license under the Creative Commons Attribution 3.0 United States License
Invite only eligible individuals to join PubMed Commons
Disclose potential conflicts of interest
Make comments that are directly relevant to the particular work in PubMed on which they are commenting
Not use PubMed Commons to spam or systematically promote a product, position or the members' own publications or to target others
For more information, connect to http://www.ncbi.nlm.nih.gov/pubmedcommons/
Employee Spotlight: Emma Cryer Heet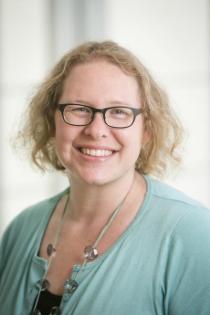 Barbara Dietsch, Electronic Resources & Acquisitions Manager, Collection Services
Emma's Bio
Working at Duke University Medical Center Library & Archives since: 2008
Education: MSLS, School of Information and Library Science, UNC-Chapel Hill; MA in Art History, University of California Santa Barbara, BA in Art History, UNC-Chapel Hill
Current position: Associate Director of Collections Services
Q & A
1. Describe your current position & what you find most interesting about it.
I oversee the Access Services, Technical Services and ILL departments. I most love working with the staff in my departments and being a colleague to all the other fabulous library staff here and in other libraries. I spend a lot of my time coordinating with librarians outside of the Medical Center Library and with journal, book and database publisher representatives. Working through the challenges of 21st century library collections is the most interesting aspect of my job.

2. Describe yourself in three words. Practical, laid-back, fair
3. What has been your biggest professional challenge? Negotiating with publishers.
4. What do you think is the most interesting issue in libraries & archives today?
Linked data and how it will revolutionize the way libraries make content accessible and discoverable.
5. Whom do you admire?
Rick Anderson…he thinks big and outside of the box, he's always pushing library collections to be more expansive and forward-thinking.

6. What organizations are you involved in?
Medical Library Association (MLA), North American Serials Interest Group (NASIG), and the American Libary Association (ALA)
7. Is there anything about you that others might be surprised to know? I don't like bread, including pastry of any kind.

8. What do you do for exercise? For relaxation?
I love to hike, row and swim. To relax I play video games, take walks and listen to K-pop.

9. What are you most proud of?
Making the most of our collections budget! Our cost-per-use numbers are insanely low. I love saving Duke money.

10. What is your favorite Website or blog?
I have three: K-pop-related news; video games; and library scholarly communications.
Staff News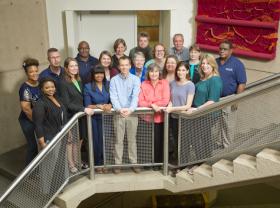 Erica R. Brody, Research & Education Intern, has coauthored a review of a new reference database: Erica R. Brody, Kathleen A. McGraw, Barbara Rochen Renner, "F1000 Workspace," Journal of the Medical Library Association, 105(1):98-101, January 2017.
Jamie Conklin and Leila Ledbetter, Research & Education Librarians, copresented a poster: "Engaging with Faculty in Evidence-Based Teaching: Librarians as Co-captains of Campus Learning." Association of College & Research Libraries (ACRL) Conference, Baltimore, MD; March 23, 2017.
Emily S. Mazure, Biomedical Research Liaison, has coauthored a review article: M.A. Scult, A.R. Paulli, E.S. Mazure, T.E. Moffitt, A.R. Hariri, and T.J. Strauman, The Association between Cognitive Function and Subsequent Depression: A Systematic Review and Meta-Analysis. Psychological Medicine, 47(1):1-17, January 2017.
Medical Center Library & Archives staff will present the following initiatives during the Annual Meeting of the Medical Library Association in Seattle, Washington, May 26-31, 2017.
Erica R. Brody - Patient Education Materials: Assessing Compliance with Health Literacy Standards (Lightening Talk)
Erica R. Brody, Kathleen A. McGraw, Barbara R. Renner - Dreaming of the Perfect Fit: A Structured Evaluation of Three Reference Management Tools That Support Collaborative Research (Poster)
Virginia Carden, Pat Thibodeau, Brandi Tuttle, and Megan von Isenburg - Assessing Research Impact: How Good Is Good Enough? (Poster)
Virginia Carden, Beverly Murphy, Jamie Conklin, and Connie Bishop - Daring to Think Outside the Box: Using EndNote to Create a Research Matrix (Poster)
Jamie Conklin, Leila Ledbetter, Brandi Tuttle, Megan Van Noord, and Megan von Isenburg - Defining Evidence-Based Practice Across the Disciplines: First Steps for Interprofessional Education (Paper)
Jamie Conklin, Leila Ledbetter, Emily Mazure, Brandi Tuttle, Megan Van Noord, and Megan von Isenburg - Mapping Health Professions Education Program Standards to Library Competencies (Poster)
Emily S. Mazure, Melissa A. Ratajeski, Karen H. Gau, Brandi Tuttle, and Erica R. Brody - Searching for Animal Research Methodology: The Potential Impact of Differences Between the PubMed Record and Full-text Methods Section (Poster)
Brandi Tuttle - Librarians: Part of the PA Education Team? (Poster)
Publication Schedule & Staff
Duke University Medical Center Library & Archives News is published bimonthly.
Pat Thibodeau, Associate Dean
Beverly Murphy, Editor
Editorial Board:
Jamie Conklin

Barbara Dietsch

Megan von Isenburg
Rebecca Williams

Subscribe to our newsletter and be notified when a new issue is published!