EXPLORE BioMedSearcher!
Please Note: Effective January 1, 2016, BioMedSearcher has been replaced with SmartSearch, our new metasearch engine.
Karen Grigg, Collection Development Services
BioMedSearcher
Searches across databases and resources!
The Medical Center Library & Archives is testing BioMedSearcher, a new tool that searches across many different biomedical sciences databases and resources and returns results on one search page! You can locate BioMedSearcher by using the "Quicklink" on Website main page or by going to http://biomedsearcher.deepwebaccess.com/biomedsearcher/.
Please try this new approach to searching and give us your feedback on how useful it is.
Basic Features
Searches across many different biomedical sciences resources
Returns results in one search page
Presents results according to relevancy ranking
Allows users to limit to more specific topics or resources
Includes major biomedical databases such as PubMed, Embase, and Web of Science
Includes specialized databases such as CINAHL, Biosis, and Engineering Village
Searches the NCBI Entrez collection including Gene and Genome
Advanced Features
Search by categories of resources – Basic Sciences, Medicine, and Nursing
Choose one or several categories
Select one or several resources to search
Choose the fields, years, etc. to be searched
After you have used BioMedSearcher, please take a moment to fill out our survey and give us feedback on how this new search tool meets your research needs. In the top left corner of the search page, you will see the graphic (on the left) asking for your feedback. Clicking on it will take you directly to the survey.
NIH Public Access Policy – Old Policy, New Requirements
Pat Thibodeau, Associate Dean for Library Services & Archives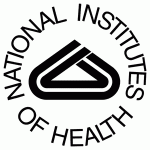 The NIH Public Access Policy was implemented on April 7, 2008, but in January and February 2013, several new requirements were announced with the possibility of delaying the processing of renewals effective July 1, 2013.
ALL NIH funded researchers MUST meet the following new requirements now and in the future!
Create a My NCBI account that is linked to your eRA Commons account
Within My NCBI, add ALL of your NIH funded publications to My Bibliography

Add all articles that resulted from funding that you are a PI for, even if you are not an author
Add peer-reviewed articles from research funded by NIH, even if they are NOT in PubMed
You do not need to add letters, editorials, book chapters, etc. unless you want to

Monitor your compliance with the NIH Public Access policy in My Bibliography by using the "Awards" display. Address any articles marked with a Red dot or Question mark. You can edit the status of articles, add grants, and start the submission process by clicking on the links next to the article.
Generate your Research Performance Progress Reports from My Bibliography
Instructions for these steps and how to handle compliance issues can be found on the Library's NIH Public Access Policy Compliance Guide. Library staff are available to offer help to researchers and their staff as they manage compliance.
Other Requirements
Articles must be compliant within three (3) months of the publication date. You must have a PMCID (PubMed Central ID) number. This became effective in 2009.

You can no longer use a NIHMSID number after 3 months

Publishers establish the embargo period, but it can only be a maximum of 12 months after publication

Your manuscript/article will have a PMCID number, but it will remain hidden in PubMed Central until this embargo period has expired
Check with your publisher/journal about the length of the embargo period that is required

There are TWO approval steps for manuscripts submitted by author, PI, designate, or publisher

Initial approval of the PDF of the peer-reviewed manuscript
Final approval of the Web version created by NIHMS
If you do not remember seeing an email asking for approval, log into the NIHMS submission system through your eRA Commons account and find the pending approval
Questions? Contact the Library's Service Desk at 919.660.1100 or medical-librarian@duke.edu.
Database of the Month: CINAHL Plus with Full Text
Adrianne Leonardelli, Research & Education

What is CINAHL Plus with Full Text?
CINAHL (Cumulative Index to Nursing and Allied Health Literature) is a database on the EBSCOhost platform that provides comprehensive coverage of the nursing journal literature.
What does it cover?
CINAHL Plus with Full text contains almost 4 million records dating back to the 1930s. In addition to the literature of nursing and allied health, it provides coverage of biomedicine, alternative and complementary medicine, and consumer health.
How do I access it?
It is available to Duke-affiliated users only and can be accessed from the Library's Nursing Tools page (available as a "Quicklink" on the main Website) or from the Databases page.
Is there anything unique about the content in CINAHL Plus with Full Text?
In addition to almost 5,000 journals, CINAHL Plus with Full Text indexes dissertations, conference proceedings, standards of practice, audiovisual materials, and research instruments. Other resources that can be accessed via the database include E-books, Evidence-Based Care Sheets, Quick Lessons, and CEUs.
Does it use MeSH (Medical Subject Headings)?
CINAHL has its own controlled vocabulary, known as CINAHL Headings. Although CINAHL Headings follow the structure of PubMed's MeSH, they are geared to the nursing and allied health professions. Therefore, CINAHL Headings may not always be the same as MeSH terms.
How can I learn more about CINAHL Plus with Full Text?
Searching CINAHL, a new interactive tutorial, walks you through a basic CINAHL search. Additional online video tutorials and printable instructions on searching CINAHL can be accessed from the Library's CINAHL Training & Consulting page.
For more in-depth training, contact a librarian at medical-librarian@duke.edu or 919. 660.1100.
What's New on the Website? Search Widget and Enhanced Blog!
Beverly Murphy, Assistant Director, Communications and Web Content Management
New Search WIdget!
A quick and easy search widget is now located at the top of every page on our Website! The widget includes more direct options for searching PubMed, Clinical Searcher (highlighed in our February 2013 issue), UpToDate, E-Journals, E-Books, the Catalog, and the Library's Website. Just click on a tab to see the various search functions available.

Enhanced Blog!
You can now search the Library's Blog by Categories and Tags, which group similar blog posts together. There is also a link to the Blog RSS Feed that you can subscribe to and archived posts by month and year.
New Guide Available: Enhance Your Research Impact
Adrianne Leonardelli, Research & Education

"Research impact is the demonstrable contribution that excellent research makes to society and the economy. It embraces all the diverse ways that research-related skills benefit individuals, organisations and nations." Research Councils UK (RCUK)

The Library has developed a new guide, "Enhance Your Research Impact," to help researchers quantify and improve their research impact!
It is important that researchers know their impact as it can help:
Support applications for tenure or promotion
Justify requests for grants and other funding
Quantify and determine how their research is being used
Identify other researchers or institutions that are using their work
Identify other researchers and potential collaborators in their field
For more information or training on this topic, please call 919.660.1100 and ask to speak to a Librarian.
A Few Timely Reminders!
Elizabeth Berney, Access Services Manager
The Reading Room (Room 102, Level 1) houses our book collections and is designated as a Quiet Study area. It is available Monday-Friday: 8 am -12 midnight; Saturday: 12 noon - 8 pm; Sunday: 12 noon - 12 midnight. There is no 24-hour access to this area.
We own six copies each of the ACLS, BLS and PALS books. When the Health System has its blitz periods, they are heavily in demand. These books often have long waiting lists, so please plan accordingly.
Course Reserves and Hold items can only be picked up at the Service Desk from 8 am - 6 pm, Monday – Friday. They are unavailable for pickup on nights and weekends.
The MS2 Book Exchange shelves are accessible from 8 am - 6 pm, Monday – Friday.

There is no open access to the BEx shelves during nights and weekends.

BEx participants can request that items be pulled, checked out to them, and bagged for pickup on nights and weekends through the online request form. Requests must be made by 3 pm, Monday – Friday, to be available by 6 pm the same day. We do not pull BEx books on weekends. If you place a request on the weekend, it will be processed on the following Monday morning.
New Engel Books
Karen Grigg, Collection Development Services
These books are part of the Library's special collection established in memory of Dr. Frank Engel, who always thought students should have other reading sources that took them beyond their medical studies. These reviews are excerpted from Amazon.com.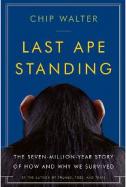 Last Ape Standing: The Seven-Million-Year Story of How and Why We Survived
Over the past 180 years, scientists have sifted through evidence that at least twenty-seven human species have evolved on planet Earth. And as you may have noticed, twenty-six of them are no longer with us, done in by their environment, predators, disease, or the unfortunate shortcomings of their DNA. What enabled us to survive when so many other human species were shown the evolutionary door? Acclaimed science journalist, Chip Walter, gives an intriguing tale of how against all odds and despite nature's brutal and capricious ways, we stand here today, the only surviving humans, and the planet's most dominant species. Drawing on a wide variety of scientific disciplines, Walter reveals how a rare evolutionary phenomenon led to the uniquely long childhoods that make us so resourceful and emotionally complex. He looks at why we developed a new kind of mind and how our highly social nature has shaped our moral (and immoral) behavior.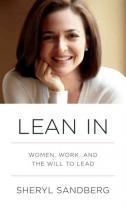 Lean In: Women, Work, and the Will to Lead
Thirty years after women became 50 percent of the college graduates in the United States, men still hold the vast majority of leadership positions in government and industry. This means that women's voices are still not heard equally in the decisions that most affect our lives. In Lean In, Sheryl Sandberg examines why women's progress in achieving leadership roles has stalled, explains the root causes, and offers compelling, commonsense solutions that can empower women to achieve their full potential. Sandberg, Chief Operating Officer of Facebook, is ranked on Fortune's list of the "50 Most Powerful Women in Business" and is one of Time's "100 Most Influential People in the World." In 2010, she gave an electrifying TEDTalk in which she described how women unintentionally hold themselves back in their careers. Her talk became a phenomenon and has been viewed more than two million times. In this book, she provides practical advice on negotiation techniques, mentorship, and building a satisfying career, urging women to set boundaries and to abandon the myth of "having it all."
Big Data: A Revolution That Will Transform How We Live, Work, and Think
Which paint color is most likely to tell you that a used car is in good shape? How can officials identify the most dangerous New York City manholes before they explode? And how did Google searches predict the spread of the H1N1 flu outbreak? The key to answering these questions, and many more, is big data. "Big data" refers to our burgeoning ability to crunch vast collections of information, analyze it instantly, and draw sometimes profoundly surprising conclusions from it. In this book, Viktor Mayer-Schönberger and Kenneth Cukier give a revelatory exploration of the hottest trend in technology and the dramatic impact it will have on the economy, science, and society at large. This emerging science can translate myriad phenomena into searchable form and uses our increasing computing power to unearth epiphanies that we never could have seen before. It will change the way we think about business, health, politics, education, and innovation in the years to come. This brilliantly clear, often surprising work, explains what big data is, how it will change our lives, and what we can do to protect ourselves from its hazards. Big Data is the first big book about the next big thing.
Frankenstein's Cat: Cuddling Up to Biotech's Brave New Beasts
For centuries, we've toyed with our creature companions, breeding dogs that herd and hunt, housecats that look like tigers, and teacup pigs that fit snugly in our handbags. But what happens when we take animal alteration a step further, engineering a cat that glows green under ultraviolet light or cloning the beloved family Labrador? Science has given us a whole new toolbox for tinkering with life. How are we using it? In Frankenstein's Cat, journalist Emily Anthes takes us from petri dish to pet store, as she explores how biotechnology is shaping the future of our furry and feathered friends. As she ventures from bucolic barnyards to a "frozen zoo" where scientists are storing DNA from the planet's most exotic creatures, she discovers how we can use cloning to protect endangered species, craft prosthetics to save injured animals, and employ genetic engineering to supply farms with disease-resistant livestock. Along the way, we meet some of the animals that are ushering in this astonishing age of enhancement, including the world's first cloned cat. Through her encounters with scientists, conservationists, ethicists, and entrepreneurs, Anthes reveals that while some of our interventions may be trivial (behold: the GloFish), others could improve the lives of many species, including our own.
Salt Sugar Fat: How the Food Giants Hooked Us
In the spring of 1999, the heads of the world's largest processed food companies — from Coca-Cola to Nabisco — gathered at Pillsbury headquarters in Minneapolis for a secret meeting. On the agenda was the emerging epidemic of obesity and what to do about it. Increasingly, the salt-, sugar-, and fat-laden foods these companies produced were being linked to obesity, and a concerned Kraft executive took the stage to make the case that processed food companies could not afford to sit by, idle, as children grew sick and class-action lawyers lurked. After he was done, the most powerful person in the room — the CEO of General Mills — stood up to speak, clearly annoyed. And by the time he sat down, the meeting was over. Since that day, with the industry in pursuit of its win-at-all-costs strategy, the situation has only grown more dire. Twenty-six million Americans have diabetes, the processed food industry in the U.S. accounts for $1 trillion a year in sales, and the total economic cost of this health crisis is approaching $300 billion a year. In Salt Sugar Fat, Pulitzer Prize–winning investigative reporter Michael Moss shows how we got here.
Suggestions for purchases? Complete our online Recommend a Purchase form or contact Karen Grigg. For a complete list of titles added to our book and ebook collections within the last 3 months, check out the Library's newest book additions or subscribe to our "New Books" feed.
DUMC History Retrospective: Nurses to the Front
Matt Shangler, Assistant Archivist, Medical Center Archives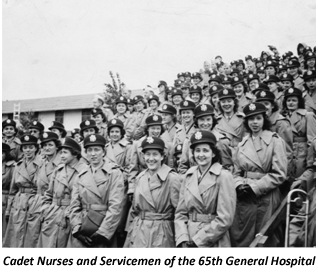 This month, the School of Nursing welcomes back its graduates for their annual alumni weekend. Nursing education has a long and rich history here at Duke. From its beginnings in 1931 to the present day, Duke has attracted the best faculty and produced top graduates. Among these graduates is a unique group that exemplified service: the Cadet Nurses.
On April 30, 1941, prior to U.S. involvement in World War II, the United States Public Health Service (USPHS) issued a call for schools of nursing to increase enrollment in order to train more nurses for military, health, and civilian service. Duke responded by admitting 84 students in October, 1941, a boost from 58 the previous year.
After the bombing of Pearl Harbor later that year, the United States officially entered the war. U.S. involvement resulted in an increased need for nurses, and on July 1, 1943, the Nursing Training Act was signed into law, officially establishing the Cadet Nurse Corps Program. This program was administered by the USPHS to finance the training of eligible women, at participating schools, to become nurses and part of the war effort.
Duke facilitated this program by increasing enrollment and shortening the gap between admitting classes from twelve months to nine months. Entering class enrollment peaked at 121 students during this period.
While the number of nursing students grew, the number of graduate nurses at Duke Hospital shrank from 110 to just 45 from 1942 to 1943, as many went to join the military service. Nursing students were called on to make up the difference, their number swelling from 189 to 275 from 1942 to 1944. Their service in the Hospital added extensive hands-on training to their already rigorous courses.
Duke graduated 302 nurses from 1939 to 1946 and, through the Cadet Nursing Program, had a significant impact on the war effort. The program also influenced nursing education at Duke in the years to come, as the intensive training of nurses during World War II set a precedent for increased training that would continue into the 1950s.
To learn more, please visit the Medical Center Archives Website or email dumc.archives@mc.duke.edu.
Staff News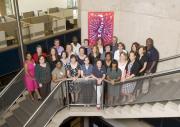 Virginia Carden, Administrative Research Librarian, was recently honored for her work with DCRI (Duke Clinical Research Institute). Ginger provides EndNote consultations, training, and other assistance as needed.
Emma Cryer, Associate Director, Electronic Resources, and Pat Thibodeau, Associate Dean for Library Services & Archives, partnering with librarians from the University of California-San Francisco Library and Center for Knowledge Management, were invited to write an article on open access and health sciences libraries: Karen Butter, Anneliese Taylor, Emma Cryer and Patricia Thibodeau. "The Growing Crisis: Scholarly Publishing Pressures Facing Health Sciences Libraries." Journal of Library Administration, 52(8):672-698, Dec 2012.
Adrianne Leonardelli and Brandi Tuttle, Research & Education Librarians, presented "Using TBL to Increase Collaborative Learning" at the Annual LAUNC-CH Conference of The Librarians' Association, University of North Carolina at Chapel Hill on March 11, 2013.
Connie Schardt, Associate Director for Research & Education, has authored a chapter, "Finding the Evidence" in Evidence into Practice: Integrating Judgments, Values and Research, edited by Laurita M. Hack and Jan Gwyer; Philadelphia, F.A. Davis Company, 2013.
Publication Schedule & Staff
Duke University Medical Center Library & Archives News is published bimonthly.
Pat Thibodeau, Associate Dean
Beverly Murphy, Editor
Editorial Board:
Barbara Dietsch
Matt Shangler
Adrianne Leonardelli
Megan von Isenberg
Subscribe to our newsletter and be notified when a new issue is published!