The Medical Center Library & Archives extends warm wishes to all
during this holiday season!
Holiday Hours - Christmas and New Year's
24-hour card access to the building is available to

those with Duke Health Badges from Dec. 23 – Jan. 1

Saturday
December 23
BADGE ACCESS ONLY
Sunday
December 24
BADGE ACCESS ONLY
Monday
December 25
BADGE ACCESS ONLY
Tuesday
December 26
BADGE ACCESS ONLY
Wednesday
December 27
8:00 am – 5:00 pm
Thursday
December 28
8:00 am – 5:00 pm
Friday
December 29
8:00 am – 5:00 pm
Saturday
December 30
BADGE ACCESS ONLY
Sunday
December 31
BADGE ACCESS ONLY
Monday
January 1, 2018
BADGE ACCESS ONLY
New Touchscreen Kiosks Coming Soon!
Megan von Isenburg, Associate Dean for Library Services & Archives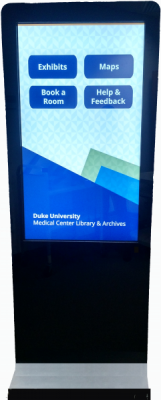 While we are always happy to help you at the Library Service Desk, we recognize that sometimes you need information in a rush, after hours, or maybe on another floor of the Library, far from our desk. Our new kiosks will help you connect with library services at our Entrance Level, Level 1, and Level 3.
What's on the kiosks?
Exhibits – Learn more about our special collections, historical medical instruments, and some of our artwork
Book a Room – See what study rooms are free and book a room directly from the kiosk
Maps – Our building can be confusing but hopefully our maps will help you get where you need to go, whether it's to the books, a conference room, or a quiet place to study.
Help & Feedback – Make an appointment to meet with a librarian or let us know how we are doing
We plan to add new features to the kiosks in the coming months to help make learning and collaborating at our Library even easier. If you have suggestions for kiosk enhancements, please let us know at medical-librarian@duke.edu.
Donate Gifts to Duke Children's Hospital Snow Blitz

Barbara Dietsch, Electronic Resources & Acquisitions Manager, Collection Services
Every year staff at the Duke Children's Hospital host an event called Snow Blitz for patients and their families who are here over the holidays. Community members donate items for children ranging from infancy through the teen years. Families are invited to visit a "store" to choose gifts for their hospitalized child, free of charge. Santa then delivers those gifts to the child's room on Christmas Eve day. The Children's Hospital relies entirely on donations for Snow Blitz. Without the help of community members, this day would not be possible!
You can donate gifts for Snow Blitz at the Medical Center Library and Archives Service Desk until December 13th. Click here for the complete Snow Blitz Wish List. Please leave donations unwrapped so parents are able to select gifts for their child. They will then be wrapped before being given to the child.
We are excited about this gift drive for the Children's Hospital and hope you are too!
CTSI and Library Receive Data Catalog Award
The Duke Clinical and Translational Science Institute (CTSI) and the Medical Center Library & Archives have been awarded funding through the National Network of Libraries of Medicine to create a data catalog at Duke Health. This award will allow CTSI and the Library to partner and pilot new software for the GetData@Duke listing of data sets. Project leaders will be Jamie Roberts, Duke CTSI, and Emma Heet, Medical Center Library & Archives.
The catalog will not store the data itself, but instead will attempt to create a map of data that could be hosted in different locations. It will offer the ability to browse and search for data sets based on subject, study characteristics, and other metadata. Initially the focus will be on clinical and translational data sets created at Duke, but could be expanded to include data sets from other research types as well.
Featured Engel Books
Barbara Dietsch, Electronic Resources & Acquisitions Manager, Collection Services
These books are part of the Library's special collection established in memory of Dr. Frank Engel, who always thought students should have other reading sources that took them beyond their medical studies. Reviews are excerpted from Amazon.com.
Suggestions for purchases? Complete our online Recommend a Purchase form or contact Emma Cryer Heet. For a complete list of titles added to our print book collections within the last 3 months, check out the Library's newest print book additions or subscribe to our "New Books" feed.
Patient Health Information
Leila Ledbetter, Research & Education Librarian
The Medical Center Library & Archives wants to help you and your family members with basic health related questions. Check out our Consumer/Patient Health Information Guide which highlights resources such as:
MedlinePlus for health topics, drug and supplement information, and even tutorials and videos
KidsHealth for pediatric information about everything from diseases & conditions to growth and development
Merck Manual for pill identifiers, news, procedures and more
And finally, don't forget UpToDate! The patient information sections are written at varying levels depending on the audience.
Have any other questions about patient health information? Drop us a line at medical-librarian@duke.edu!
NIH Statement on Predatory Publishing

Jesse Akman, Research & Education Intern
The National Institutes of Health (NIH) recently released a statement intended to "protect the credibility of published research" by encouraging authors to publish papers resulting from NIH-funded research in reputable journals. You can read the full statement here.
For resources to help you determine where (and where not) to publish, see our Publication Metrics Guide.
Have questions about predatory publishing? Ask a Librarian! Contact us at medical-librarian@duke.edu.
Importing Citations into EndNote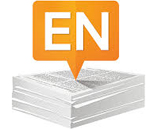 Jamie Conklin, Research & Education Librarian
Need to get referenced into EndNote and not sure how? Try these tips:
Import articles from PubMed by using the "Send to" feature. If needed, see instructions for a PC or for a Mac.
Import articles from Google Scholar by simply changing your Google Scholar settings. Within your settings, go to Bibliograpy Manager and select the second radio button for "Show links to import citations into" and select EndNote. Then click Save. You'll then see an option to import into EndNote when you are viewing Google Scholar results.
Import articles from EBSCO databases (CINAHL, PsycINFO, etc.), Embase, Ovid, or the Cochrane Library by following the instructions in our "Importing Citations into EndNote" tipsheet.
Import books from WorldCat. To do so, search for the title, click on the record you need, and then click the "Cite/Export" button. Next, select the "Export to EndNote / Reference Manager" option.
Import Web pages by using the EndNote Web Capture button or the Capture Reference bookmarklet. Note that EndNote can only capture content from select sources.
For additional EndNote features, check out our EndNote Guide, take an EndNote class, or Ask a Librarian.
Employee Spotlight: Lucy Waldrop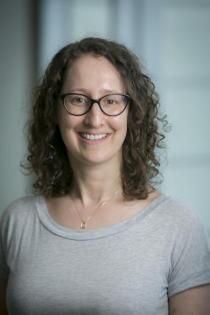 Barbara Dietsch, Electronic Resources & Acquisitions Manager, Collection Services
Lucy's Bio
Working at Duke University Medical Center Library & Archives since: January 2016
Education: MLIS with a Concentration in Archival Studies, University of Wisconsin-Milwaukee; MA in History, University of Wisconsin-Milwaukee; BA in American Studies, Skidmore College
Current position: Technical Services Head/Associate University Archivist
Q & A
1. Describe your current position & what you find most interesting about it.
As Technical Services Head at the Duke University Medical Center Archives, I work with departments to assess the enduring value of their materials, as well as the transfer of those materials to the Archives and adding them to our collections. I often find myself walking into unknown situations based on a plaintive phone call or desperate email asking for help because a department has materials they do not want to throw out but do not have the space to keep. I enjoy meeting people in departments across Duke Health, learning about all the meaningful work that happens here at Duke, and trying to figure out the best way to house unusual items/formats.

2. Describe yourself in three words. Inquisitive, pragmatic, adventurous
3. What has been your biggest professional challenge?
So far, my biggest professional challenge was getting into the profession. I graduated from Library School in May 2010, which was not a good time for archives, let alone most recent graduates or any industry. I applied to entry level archives jobs for 16 months before getting my first archives job, which was a 7 month project archivist position at Wichita State University with the possibility of an annual renewal. I stayed there for almost 3 years before taking an 18 month NEH grant funded project processing archivist position at Stanford University. While I value the experience I gained at both those institutions, it is hard to feel comfortable when you know your job has an expiration date. I have been in my position at the Duke University Medical Center Archives for over a year and a half now, and it is very rewarding to be part of a team working towards future goals.
4. What do you think is the most interesting issue in libraries & archives today?
How to capture born-digital materials, email, and Web content. People have been doing some very innovative work in these fields, and I am excited to learn and participate as best practices emerge.

5. Whom do you admire?
I admire my mother. She worked full time and raised my sister and me on her own. She taught me the importance of a good work ethic and self-reliance.

6. What organizations are you involved in?
I am a member of the Society of American Archivists, Archivists and Librarians in the History of the Health Sciences, and the Society of North Carolina Archivists.
7. Is there anything about you that others might be surprised to know? I lived at the YMCA.

8. What do you do for exercise? For relaxation?
To stay calm, focused, and energized, I practice yoga. I have a home practice and recently started going to Mysore at the Ashtanga Yoga Club Durham. For relaxation only, I like to read, hike, and hang out with my cats.

9. What are you most proud of?
When I first moved to Durham, I noticed a lot of cats in my apartment's parking lot. I quickly discovered it was a feral cat colony, and none of the cats had been fixed. I knew that I had to start doing TNR (Trap, Neuter, Return) or the apartment complex would soon be overrun with inbred, sick cats. I found Independent Animal Rescue (IAR) and they trained me on how to trap cats. I was able to stabilize the cat colony by TNRing 17 cats. Like Bob Baker always said: "Help control the pet population, have your pets spayed or neutered."

10. What is your favorite Website or blog?
Aljazeera and Wellness Mama

Staff News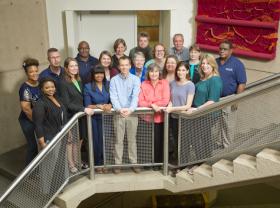 Jamie L. Conklin, Research & Education Librarian, has coauthored a book chapter: Elizabeth O. Moreton and Jamie L. Conklin (2017). "From Novice to Nurse: Searching for Patient Care Information as Strategic Exploration." In S. Godbey, S. Wainscott, & X. Goodman (Eds), Disciplinary Applications of information Literacy Threshold Concepts. (pp. 289-301). Chicago, IL: Association of College & Research Libraries.
Jamie L. Conklin was appointed to serve on the Medical Library Association (MLA) National Program Committee for the 2019 Annual Meeting, and was also elected to the officer role of Secretary of the Mid-Atlantic Chapter of MLA.
Megan Van Noord, Research & Education Librarian, has coauthored an article: M. Shepherd-Banigan, K.M. Goldstein, R.R. Coeytaux, J.R. McDuffie, A.P. Goode, A.S. Kosinski, M.G. Van Noord, D. Befus, S. Adam, V. Masilamani, A. Nagi, J.W. Williams Jr., "Improving Vasomotor Symptoms; Psychological Symptoms; and Health Related Quality of Life in Peri- or Post-menopausal Women through Yoga: An Umbrella Systematic Review and Meta-analysis," Complementary Therapies in Medicine, 34:156-164, October 2017.
Welcome to Keondra and Amanda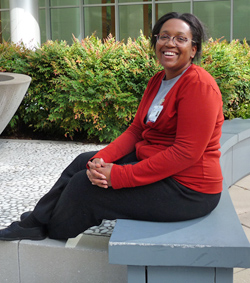 Keondra Bailey
By Barbara Dietsch, Acquisitions Manager, Collection Services
Keondra joins the Library from North Carolina Central University (NCCU) where she worked as the Executive Assistant to the Dean in the School of Library and Information Sciences (SLIS). During her time at SLIS, she undertook a variety of tasks including budget administration, overseeing the hiring of faculty and graduate assistants, and serving as Chair of the Operations Committee for the North Carolina Serials Conference. Keondra holds a BA in History from Virginia Commonwealth University in Richmond, VA and is also an alumnus of the Benjamin A. Gilman Scholarship program. She is currently enrolled in the Master of Library Sciences program at NCCU with a concentration in Digital Librarianship.
As part of the Access Services team, Keondra will be working as Access and Technical Services Senior Library Assistant, a role where she will continue to provide outstanding customer service to students, faculty, and staff. She will also be working on technical services and collections projects.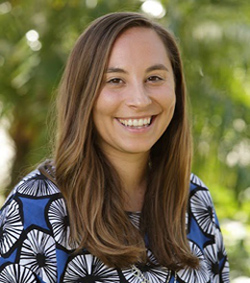 Amanda Woodward
By Jamie Conklin, Research & Education Librarian

Amanda joined the Library as a Part-time Research and Education Librarian in November, 2017. In this role, she provides reference, information services, and instruction for the Duke Health community. She is also enhancing several online toolkits, guides, and tutorials and assisting with in-depth searches. Additionally, Amanda will help coordinate data collection for a Clinical and Translational Science Award (CTSA) supplemental informationist grant assessing the needs of CTSA funded researchers in the manuscript preparation process.
Prior to this position, Amanda worked as the User Engagement Librarian at Woodbury University in Burbank, CA. While there, she taught research strategies to students, organized events, and managed social media for the library. She also worked at Disney as an Assistant Librarian for several years. Amanda received her Master of Library & Information Science degree from the University of California Los Angeles. In her free time, she enjoys playing with her Beagle puppy, practicing yoga, reading novels, and exploring Durham.
Proposed Journal Cancellations for 2018
Emma Heet, Associate Director, Collection Services
Since the costs of journal subscriptions rise by 6% to 10% every year, we have to make difficult decisions about what to keep and what to cancel. We look at usage, cost, and other factors. We also compare titles based on cost per use of all downloaded journal articles.

The following titles are proposed cancellations for 2018 based on high cost and low use, thereby having high cost per use as compared to hundreds of other titles. Total savings for these titles will be $9,672.00. Please send any concerns about these cancellations to: emma.cryer@duke.edu.
Cambridge University Press
International Journal of Technology Assessment in Health Care

Ovid/LWW
Journal of Cardiovascular Medicine
Journal of ECT

Wiley
American Journal of Human Biology
Annals of Human Genetics
Clinical & Experimental Allergy
Journal of Anatomy

ScienceDirect


Blood Cells, Molecules and Diseases
Pancreatology
Steroids
Seminars in Nuclear Medicine
Seminars in Oncology Nursing
Seminars in Pediatric Surgery
Seminars in Ultrasound CT & MRI
Get a FREE Christmas Stocking Stuffer!
Free copies of Foundations for Excellence: 75 years of Duke Medicine by Walter E. Campbell will soon be available at the Medical Center Library & Archives on Level 2R. This historical look at the development of the Duke medical center, hospital, school of medicine, and research enterprise is waiting to become a part of your personal library or take a copy to give as a Christmas gift.
Have a free book on us... Come and get your copy!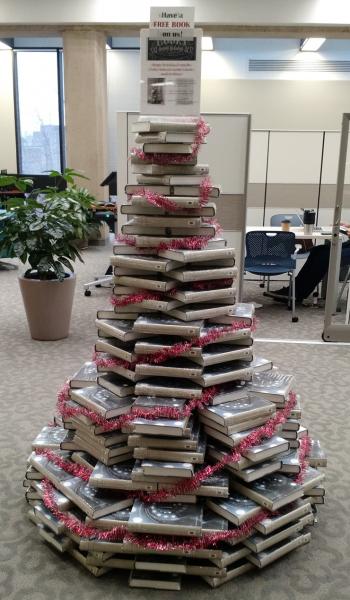 Publication Schedule & Staff
Duke University Medical Center Library & Archives News is published bimonthly.
Megan von Isenburg, Associate Dean
Beverly Murphy, Editor
Editorial Board:
Elizabeth Berney

Jamie Conklin
Barbara Dietsch

Rebecca Williams

Subscribe to our newsletter and be notified when a new issue is published!