Women in Duke Health Exhibit


In March, the Duke Medical Center Library & Archives debuted its newly redesigned and updated online exhibit of Women in Duke Health.
Highlighting women in multiple fields at Duke, many of which were pioneers or firsts in their disciplines, this exhibit looks at their stories and the context in which those stories took place. The primary method of inquiry for context in this exhibit was via oral histories, a unique format that allows for both.
This historical perspective is presented through individual profiles and interviews, a general timeline of events, and background interviews conducted with people who have a longtime view of Duke Medicine. For most individuals you will find a brief biography, photo, audio file, and transcript.
There will always be women pushing boundaries in Duke Health so this will remain an ongoing project. We welcome your feedback!
NCBI Account Login Changes Coming
Karen Barton, Research & Education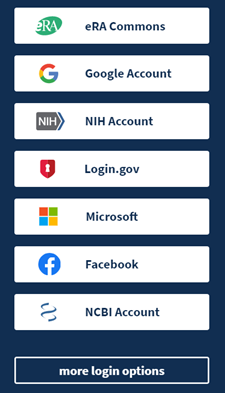 Do you login to NCBI to save PubMed searches or use it for SciENcv or My Bibliography? If so, please note that after June 1, 2021, you will no longer be able to use NCBI-managed credentials to login to NCBI.
NCBI will be transitioning to third party, federated account credentials set through eRA Commons, Google, Microsoft, Facebook, or a university or institutional point of access (under "more login options"). Therefore, the NCBI-managed username and password you set at NCBI will be going away.

Reviews by NIH, NLM, and NCBI have determined that making this change will increase the security of accounts. If you currently use a federated login to access your NCBI account, you don't have to do anything! Accounts are not going away and there will be no changes to the data in your account. Only the login process is changing.

If you only have NCBI-managed credentials and would like to get a head start on this transition, you can do the following now.
Login to NCBI the way you usually do.
Click on your username in the top bar to load your NCBI Account Settings page.
If your Settings page looks like Figure 1 (below), where you have a "Native NCBI Account" username and password but no linked accounts, then you will need to add a linked account.
To add a linked account, click the "Change" button under Linked Accounts.
You may choose several options for a linked account including the following:
eRA Commons or NIH Account
Login.gov
Google
Microsoft
Facebook
University/Institutional
-- Select "more login options," choose "Duke University" and connect using your Duke NetID & password
Figure 1. NCBI Accounts Settings page showing a "Native" NCBI account without any linked accounts
If you will be leaving Duke or anticipate losing access to a third party login option, you can link your account to a different option at any time to have more than one way to access your NCBI account.
For more information, you may review the NCBI Account Login Changes FAQs or contact info@ncbi.nlm.gov. If you have questions, feel free to contact us medical-librarian@duke.edu.
Virtual COVID-19 Towns Halls
Lucy Waldrop, Assistant Director for Medical Center Archives
In the early days of the COVID-19 pandemic, Duke Health assembled a COVID-19 Response Team (now named Duke Health Leadership). Along with Duke Health Nursing, they began to hold virtual town halls where they discussed Duke Health's and Duke Nursing's clinical response to the COVID-19 pandemic. Each town hall had a theme, panelists, and a Q&A session for participants. Some themes included: COVID-19 patient surge preparations, COVID-19 testing, nursing issues, PPE, COVID-19 patient care, clinical and operations updates, COVID-19 vaccine, return to school, Duke Health's voter registration and turnout initiative for the 2020 elections, and Moments to Movement (Duke Health's collective stand against systemic racism and injustice). These videos are available for viewing as a continuing series.
Duke University Medical Center Archives (DUMCA) is actively collecting this content for our holdings in order to document the day-to-day actions of the Duke University Health System during the COVID-19 pandemic. While the bulk of this content contains the previously mentioned videos, DUMCA has also collected more content from the Duke Health COVID-19 Website including the Document Library files; Duke Health marketing plans; other video messages pertaining to Duke Health's clinical response to the COVID-19 pandemic; and images taken by Shawn Rocco, photographer and multimedia producer for Duke Health Marketing & Communications as he traveled between Duke University, Duke Regional and Duke Raleigh hospitals to document the many ways employees prepare and care for patients with COVID-19.
For more information about this growing collection, contact the Medical Center Archives or consult the Office of Creative Services and Marketing Communications Records Finding Aid.
COVID-19: Core Clinical Resources
Sarah Cantrell, Associate Director, Research & Education
COVID-19: Core Clinical Resources is a compilation of information and literature about COVID-19 that will be immediately useful to practicing clinicians and researchers at Duke. The guide features a number of librarian-crafted search strategies on COVID-19 topics. Simply click our links to be connected to the results in PubMed. Clinically-relevant topics include epidemiology, diagnosis, treatment, vaccines, and special populations.
Additionally, you'll find links to COVID-19 resource centers from major journals, preprint servers, and other emerging literature sites. A section featuring research data, including data sets, repositories, and data banks is also included.
We welcome your feedback and suggestions.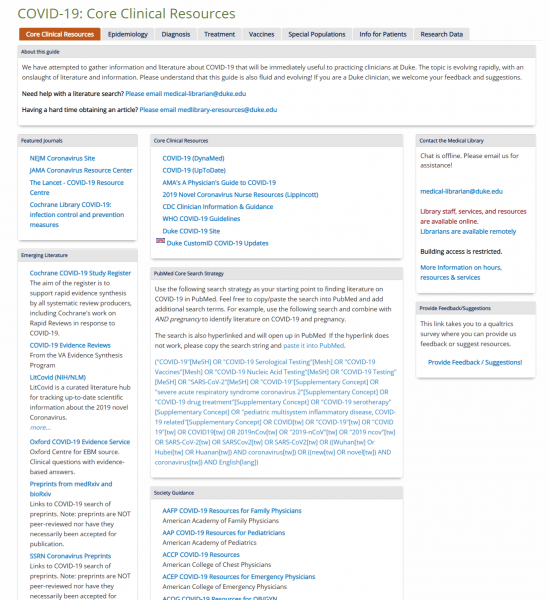 Medically-Related Resources from Overdrive
Barbara Dietsch, Electronic Resources & Acquisitions Manager, Content & Discovery
These medically-related titles are available from Duke's OverDrive Collection. For other fiction and non-fiction e-books and audiobooks, check Duke OverDrive. Descriptions are excerpted from the OverDrive Collection.
Calling All Alums! Do You Have Student-Faculty Show Materials?
Lucy Waldrop, Assistant Director for Medical Center Archives
Each year the Duke School of Medicine students put on an entirely student-run production that offers a comedic view of the experiences of a medical student at Duke, usually parodying a popular musical or movie. The shows feature original songs and dances, student performances, and guest appearances by School of Medicine faculty.
Duke University Medical Center Archives (DUMCA) actively collects materials from Student-Faculty Shows dating from 1940 to 2020. This collection contains digital and analog materials featuring video performances (VHS video tapes, U-matic video tapes, DVDs, MP4 files), audio recordings (LPs, CDs, 7 inch reel-to-reel audio tapes), photographs, negatives, scripts, cast lists, bulletins, programs, tickets, drafts, and lyrics.
DUMCA is always looking to add to this collection. If you have any materials from Student-Faculty Shows from days past, present, or future, please consider donating them to the DUMCA where they will serve to document this School of Medicine tradition.
For more information about this growing collection or to donate to it, contact the Medical Center Archives or connect to the Student-Faculty Shows Collection Finding Aid.
We Offer a Variety of Free Online Classes
We offer a variety of online classes on research and searching topics every month. All classes are free and offered virtually, though registration through our Website is required. In addition to these classes, you can also request an online session for yourself or a group or schedule an appointment for a research consultation.
April

- June Classes Register for one today!
April 12
12 - 1p
Scopus in 30!
April 14
11a – 12p
Advanced PubMed
April 15
12 - 1p
Endnote
April 16
2 – 3p
Advanced PubMed
April 19
1 - 2p
Posters: The Good, the Bad & the Ugly
April 19
5:30 – 6:30p
Endnote
April 20
2 – 3p
Searching CINAHL Effectively
April 21
9 – 10a
Finding Quality in Qualitative Data
April 22
10 – 11a
Measuring and Maximizing Research Impact
April 22
2 – 3p
Zotero
May 4
11a – 12p
Advanced PubMed
May 4
4 – 5p
Posters: The Good, the Bad & the Ugly
May 5
9 – 10a
Finding Quality in Qualitative Data
May 11
12 - 1p
Endnote
May 12
9 – 10a
How to Write an Abstract
May 13
2 – 3p
Zotero
May 18
12 - 1p
Systematic Reviews: Practical Steps for Getting Started
May 19
4 – 5p
Searching CINAHL Effectively
May 20
5:30 – 6:30p
Endnote
May 24
4 – 5p
Scopus in 30!
May 25
2 – 3p
Advanced PubMed
May 26
2 – 3p
Searching CINAHL Effectively
May 28
10 – 11a
Journal Selection for Authors
June 2
12 - 1p
Keeping up with the Literature
June 3
4 – 5p
Searching CINAHL Effectively
June 9
12 - 1p
Endnote
June 10
2 – 3p
Advanced PubMed
June 14
12 - 1p
Searching CINAHL Effectively
June 15
9 – 10a
How to Write an Abstract
June 16
2 – 3p
Zotero
June 17
5:30 – 6:30p
Endnote
June 21
9 – 10a
Finding Quality in Qualitative Data
June 23
10 – 11a
Measuring and Maximizing Research Impact
June 24
2 – 3p
Scopus in 30!
June 28
11a – 12p
Advanced PubMed
Staff News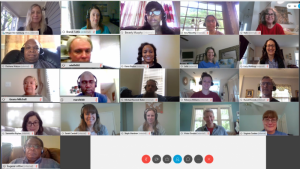 Leila Ledbetter, Research & Education Librarian and Liaison to the School of Nursing, has co-authored the following article: Horn ME, Reinke EK, Couce LJ, Reeve BB, Ledbetter L, George S, "Reporting and Utilization of Patient-Reported Outcomes Measurement Information System (R) (PROMIS (R)) Measures in Orthopedic Research and Practice: a Systematic Review," Journal of Orthopaedic Surgery and Research, 15(1):553, 2020.
Eugene Lofton Retires After 20 Years at Duke

Victor Gordon, Associate Director for Administration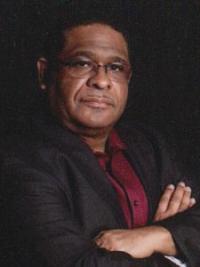 Eugene Lofton, Network Administrator, is retiring this May after serving the Medical Center Library & Archives for 20 years. To say he will be missed is an understatement. Many of his coworkers say what they will miss most about Eugene, affectionately known as Gene, is his kindness and patience.
"When I think of Gene, I think of a BIG heart."
"[Gene] is eager to help, generous with his time and expertise, and always kind."
"Gene is the embodiment of customer service."
"Gene can find the good in a situation and a way to accommodate the person that needs help."
None of these statements come as a surprise to those who know Gene. But before he came to the Library in 2001 and became a Network and IT guru, he had a completely different job - a meteorologist for the U.S. Air Force. Gene entered the service in 1977 and immediately gravitated towards science and technology. His aptitude tests put him in the meteorology field, and with his long time interest in tinkering and electronics, he leveraged that into a career. Working with weather in the 1980s meant working with computers and he learned everything he could. His various Air Force assignments took him and his family to far flung locations like Spain, Greece, and Alaska for months at a time.
After retiring from the service, Eugene started a second professional life as a Novell and Microsoft Systems Administrator at a time when the Library had a large staff and very different computer storage capabilities. Over the years, Gene has seen what he calls "virtualization of storage space" dramatically change our work environment. With storage feeling free, infinite, and cloud based, the needs that he had to meet for the Library 10-15 years ago might be unrecognizable today. As someone who has always loved electronics, computers, and tinkering (ask him about the 1979 Cheverolet El Camino he rebuilt), Gene has always been up to the challenge.
Here are a few excerpts of a short interview that we captured with Gene since we know that he will happily ignore any return-to-work emails that Duke may send after the pandemic.
What are you looking forward to doing more of once you retire?
It is not a matter of doing more, but of continuing to stay involved in the political, spiritual, and parental (family) things that I love now. I am more worried that I will become too sedate so I plan to be intentionally involved. I have two granddaughters (9 months old and 4 years old) that live nearby who I keep occasionally and visit often. They are pure joy. 

Are there any places you haven't traveled to that you would like to visit?
I have never been to the Montana, Idaho, Utah area. It is my ambition to travel to many places in the US, possibly in a house trailer attached to my truck. I have never been to the Asian Pacific area. I have an aversion to flying and get really sea sick so I will have to work out how to get around those limitations.
How did you get into photography? What do you enjoy taking pictures of and do you have a favorite photograph?
I have always loved taking photos and decided about 10 years ago to get a little training in the area. I want to get better, especially at the graphic art of photography. I love taking pictures of the outdoors, but it is a hard area to master. I think I actually do better with portraits. 
What advice do you have for those pursuing their careers?
Don't get so caught up in a career and work that you forget to make memories. Don't put off adventurous thinking as you can catch up when you retire or get older. The body gets older so the things you enjoy today may not be possible tomorrow. Make memories with the people you love, today. I've done that and it may be the most important thing I've happily gotten right.
Publication Schedule & Staff
Duke University Medical Center Library & Archives News is published bimonthly.
Megan von Isenburg, Associate Dean
Beverly Murphy, Editor
Editorial Board:
Karen Barton

Barbara Dietsch

Steph Hendren

Lucy Waldrop

Subscribe to our newsletter and be notified when a new issue is published!