The Medical Center Library & Archives extends warm wishes to all
                                       during this holiday season!
Holiday Hours - Christmas and New Year's
24-hour card access to the building is available to

those with Duke Health Badges from Dec. 23 – Jan. 1

Monday
December 23
8:00 am – 5:00 pm
Tuesday
December 24
8:00 am – 12:00 pm
Wednesday
December 25
BADGE ACCESS ONLY
Thursday
December 26
BADGE ACCESS ONLY
Friday
December 27
8:00 am – 5:00 pm
Saturday
December 28
BADGE ACCESS ONLY
Sunday
December 29
BADGE ACCESS ONLY
Monday
December 30
8:00 am – 5:00 pm
Tuesday
December 31
8:00 am – 5:00 pm
Wednesday
January 1, 2020
BADGE ACCESS ONLY
Donate Gifts to Duke Children's Hospital Snow Blitz

Barbara Dietsch, Electronic Resources & Acquisitions Manager, Content & Discovery

Every year staff at the Duke Children's Hospital host an event called Snow Blitz for patients and their families who are here over the holidays. Community members donate items for children ranging from infancy through the teen years.  Organizers then set up a store where families are invited to visit to choose gifts for their hospitalized children, free of charge. Santa then delivers those gifts to the child's room on Christmas Eve day. The Children's Hospital relies entirely on donations for Snow Blitz. Without the help of community members, this day would not be possible!
 You can donate gifts for Snow Blitz at the Medical Center Library and Archives Service Desk until Monday, December 16th. This year we are focusing on Infant and Toddler gifts. Click here for the complete Snow Blitz Wish List. Please leave donations unwrapped so parents are able to select gifts for their child.  They will then be wrapped before being given to the child. 
We are excited about this gift drive for the Children's Hospital and hope you are too!
New PubMed Interface to Launch in 2020
Sarah Cantrell, Associate Director, Research & Education
In early 2020, PubMed will launch its newly designed search interface!
Features of the New PubMed include:
Ability to cite references quickly in your preferred citation style format (AMA, APA, NLM, or MLA)
Option to share references via social media or a permalink
Seamless search experience on your mobile device
Search results sorted by best match by default as opposed to the most recent articles
All of your favorite features will still be there including clinical queries, the advanced search, MeSH database, search details, and your MyNCBI account. Additionally, you'll be able to export citations to  management tools (e.g., EndNote, Zotero, F1000, Mendeley) through the Cite feature. Once New PubMed becomes the default interface, Duke's specific filters will also appear to help you quickly narrow search results. 
Caveats: You can check out this new interface now, but please note that there is some limited connection to the full text articles via Duke's journal subscriptions at this time (look for the 

icon). Also, please be aware that once you select the New PubMed version, it will become your default interface. You can always return to legacy PubMed by clicking the option in the yellow banner near the top of your screen in New PubMed.
If you have any questions or concerns, please feel free to drop us a line at medical-librarian@duke.edu.
Another Change to PubMed!
Starting mid-December, the

button will be the only button in PubMed to access Duke full text subscriptions. The 
 button will be going away due to changes at the National Library of Medicine, which manages PubMed.
With the Getit@Duke button, you can:
-    Access our full text journal articles from PubMed, whether you are on campus or off
-   Connect directly to the PDF of the journal article, if available
If you do not see the Getit@Duke button in PubMed, you will need to access PubMed at mclibrary.duke.edu/pubmed or from our Website.
Exhibits on Display
For All The People: A Century of Citizen Action in Health Care Reform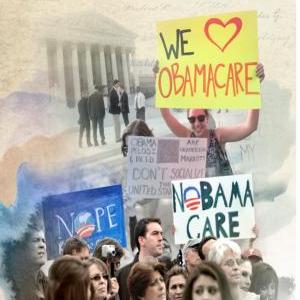 Medical Center Library & Archives - Level 1
On Display through Dec. 26, 2019
Health care reform has been a contentious political issue in the United States for more than a hundred years. From the beginning of the 20th century to today, citizens have made their voices heard in these debates. "For All The People: A Century of Citizen Action in Health Care Reform," a six-banner traveling exhibition developed and poduced by the National Library of Medicine, tells the lesser-known story of how movements of ordinary people helped shape the changing American health care system. In conjunction with the NLM exhibit, the Library has  produced a companion exhibit for display through February 2020, featuring some of Duke's past and current healthcare activites within the surrouonding communities. 
Documenting Durham's Health History
Medical Center Library & Archives - Levels 2R and 3
On Display through Dec. 13, 2019
"Documenting Durham's Health History" is co-hosted by the Trent Center for Bioethics, Humanities & History of Medicine and the Medical Center Library & Archives. Through maps, images, and video interviews, this exhibition examines the roots of health disparities in the "City of Medicine." It focuses on four case studies: tuberculosis before WWII, childbirth during hospital desegregation, HIV/AIDS epidemic in the 1980-90s, and the more recent rise of diabetes and obesity.


New Engel Books
Barbara Dietsch, Electronic Resources & Acquisitions Manager, Content & Discovery
Several new titles have been added to the Library's special collection established in memory of Dr. Frank Engel, who always thought students should have other reading sources that took them beyond their medical studies. Most reviews are excerpted from Amazon.com.
Suggestions for purchases? Complete our online Recommend a Purchase form or contact Anu Moorthy. For a complete list of titles added to our print book collections within the last 3 months, check out the Library's newest print book additions.
Check Out a Digital Health Device
Brandi Tuttle, Liaison to Physician Assistant Program, Research & Education
Did you know that of the research proposals submitted to the Duke Health Institutional Review Board (IRB), the number that include mobile apps or digital health devices has rapidly increased? In the past year alone, 476 new studies (19.5%) indicated that they will use a mobile application as part of the research study. In response, the Duke Mobile App Gateway and the Duke Medical Center Library & Archives have teamed up to provide access to digital health devices that can be used in research and pilot projects across Duke.
The Digital Health Device Collection will enable researchers, clinicians, students and consumers to explore the capabilities and features of digital health devices to inform their research project design or purchasing decisions for their own projects. To help facilitate appropriate device selection (data collection, data format, participant comfort, etc.), our devices can be borrowed by researchers across Duke Health and Duke University who are considering digital health devices for their research or clinical needs.
We invite researchers to check out a device, give us your thoughts and experiences, suggest a device for purchase, or donate a recently used device to the collection! Currently the collection includes over 30 devices, such as activity trackers (FitBit and Apple Watch), smart devices (Echo, Google Home, etc), tablets (iPad, Fire, etc), virtual reality (Oculus Go), and vital metric devices (fertility, blood pressure, EEG, EKG, vision, ascultation, etc).
Note: This project has been funded in whole or in part with Federal funds from the Department of Health and Human Services, National Institutes of Health, National Library of Medicine, under cooperative agreement number UG4LM012340.
Image: Idea by lastspark from the Noun Project
ORCiD Required for NIH Training & Career Development Awards
Megan von Isenburg, Associate Dean for Library Services & Archives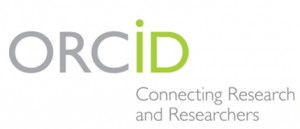 Now is the time to create your own ORCID iD if you do not have one!  All you need to do is register and it only takes 30 seconds!
As of October 2019, ORCID iDs are now required in the application process for NIH trainees, scholars, and participants supported by institutional research training, career development, and research education awards that require appointments for the following activity codes: T03, T15, T32, T34, T35, T37, T42, T90/R90, TL1, TL4, TU2, K12/KL2, R25, R38, RL5, RL9.
Beginning with receipt dates on or after January 25, 2020, ORCID iDs will be required on applications for the following NIH individual fellowship and career development awards: F05, F30, F31, F32, F33, F37, F38, F99/K00, FI2, K01, K02, K05, K07, K08, K18, K22, K23, K24, K25, K26, K38, K43, K76, K99/R00.
ORCID (Open Researcher and Contributor ID), a globally supported non-profit organization, maintains a registry of author identifiers that facilitate reporting and tracking by attaching a unique identifier to individual authors. This streamlines applications and reporting by pulling publication data from one system into another with little effort. It also disambiguates authors with similar names, those who may change names over their career or whose names are inconsistently represented in literature and grants.
We encourage you to add your ORCID to the Duke Directory and Scholars@Duke. Instructions are available online. If you need assistance, please contact our medical librarians at Ask a Librarian or email us.
Doctor of Physical Therapy Capstone Projects on MEDSpace
Lucy Waldrop, Archives Assistant Director and Technical Services Head
We are happy to announce that the Doctor of Physical Therapy Capstone Projects are now available online in MEDSpace, our digital repository. MEDSpace provides online access to historical images and documents reflecting the history of medicine and health care at Duke University, as well as scholarly works created by students, faculty, and staff that are part of Duke Health System.
This creative, incisive poster collection represents the research efforts of Doctor of Physical Therapy students in the form of capstone projects, showing the students' work on a wide range of topics - from dance and pediatrics to sports-related concussions and spinal cord injuries.
To learn more about this and other collections, visit the Duke University Medical Center Archives Website or email dumc.archives@mc.duke.edu.
Watts School of Nursing Records Open to Researchers
Caroline Waller, Archives Intern and Lucy Waldrop, Archives Assistant Director and Technical Services Head
Watts School of Nursing Records have been processed and are now open for research. Among these records are nursing student composites, photographs of Watts Hospital, and a certificate. These materials should be of interest to anyone who wants to know more about the history of medicine and nursing education in Durham and the state of North Carolina. The history of Watts School of Nursing (SON) is linked to the opening of Watts Hospital in Durham, NC.
Watts Hospital was funded by George W. Watts and built on a four-acre tract of land at the intersection of Guess Road (now Buchanan Boulevard) and Main Street. The 22-bed hospital consisted of a central administrative building flanked by two patient wings, one for men and one for women. It operated as a private segregated hospital that served only Durham's white citizens, with many of its beds reserved for charity patients. African American citizens were cared for at Lincoln Hospital, which opened in 1901. In 1895, Watts donated the hospital to Durham County, along with an endowment of $50,000. Central to the mission of Watts Hospital was nursing education. Originally Watts Hospital Training School for Nurses, Watts SON was established as a two-year diploma program and part of Watts hospital by George Watts in 1895. Its first graduate received her nursing degree in 1897.
To accommodate Durham's growing population, Watts decided in 1907 to build a new Watts Hospital on a 56-acre tract of land north of Trinity College and off of Durham's New Macadam Road (later Broad Street). The new hospital opened in December 1909 and cost a million dollars (half for the building and half for an endowment). During World War I, several Watts Hospital nurses volunteered for overseas military service. The hospital was enlarged in 1926 with the Valinda Beale Watts Pavilion. In 1931 the hospital opened an outpatient clinic, free to charity patients except for laboratory fees. Financial strain resulted in more crowded conditions in the hospital in the 1930s and 40s, with employees being overworked and underpaid. Watts Hospital became public in 1953, and in 1956, Watts Hospital Training School for Nurses became the first diploma program in North Carolina to achieve National League for Nursing accreditation.
By the early 1960s, Watts Hospital was overcrowded and outdated, while Lincoln Hospital, which served African Americans, was even more ill-equipped to meet local health care needs. At this time, African Americans were admitted to Watts Hospital on a limited basis. A plan to build a new integrated Watts Hospital was proposed but it was ultimately defeated. Durham's African-American citizens feared that the plan would not adequately meet their needs and that they would lose Lincoln Hospital, and Durham's white citizens feared integration. Watts Hospital closed in 1976 when Durham County General Hospital opened. Watts Hospital Training School for Nurses then moved to Durham Regional Hospital and was renamed Watts School of Nursing, becoming part of the Duke University Health System.
In 2007 Watts School of Nursing relocated to a facility on Coasdaile Drive in Durham. Currently the nursing school is undergoing another significant transition, as their long-standing diploma program converts to a baccalaureate program. This year Watts School of Nursing became Watts College of Nursing and will offer Bachelor of Science in Nursing (BSN) degrees starting in 2020. The school's articulation agreement with the University of Mount Olive, that was developed in 2004, ended in 2019 with this transition.
To learn more about these materials, visit the Finding Aid or contact Medical Center Archives staff.
Watts Hospital Training School for Nurses Class of 1905
Watts School of Nursing Class of 2005
Staff News
Karen Barton, Research & Education and Biomedical Research Liaison Librarian, co-hosted a Webinar on October 16, 2019 titled, "Search Committee Insights" with Christian Minter, Aidybert "Aidy" Weeks, and Peace Ossom-Williamson for AAMLA (African American Medical Librarians Alliance Caucus) Leveling Up Series.
Rebecca Williams, Archives Librarian for Research, Outreach, and Education and Lucy Waldrop, Archives Assistant Director and Technical Services Head, presented at the North Carolina Preservation Consortium's Annual Conference on November 15th on the topic, "Everyday Disaster: What Happened at the Duke University Medical Center Archives When the Toilet Overflowed."
Jordan Wrigley, Research & Education Intern, Virginia Carden, Administrative Research Librarian, and Megan von Isenburg, Associate Dean for Library Services & Archives have co-authored, "Bibliometric Mapping for Current and Potential Collaboration Detection," Journal of the Medical Library Association, 107(4):597-600, October 2019.
Medical Center Library & Archives staff presented the following poster at the 2019 Health Professions Education Day: Working and Learning Together to Advance Health and Wellness for All sponsored by Duke AHEAD, Duke University School of Medicine, and Duke University School of Nursing at the Trent Semans Center on September 20, 2019.
Samantha J. Kaplan, Sarah Cantrell, Megan von Isenburg, and Leila Ledbetter - Pediatric Residents Value Individualized Feedback On Their Senior Talk PowerPoint Slide Decks
Medical Center Library & Archives staff presented the following initiatives during the Annual Meeting of the Mid-Atlantic Chapter of the Medical Library Association in Durham, NC, October 5-7, 2019.
Presentations
Beverly Murphy, Virginia Carden, and Deborah H. Allen - EBP Liftoff and Landing...Engaging Nurses for Practice Implementation (Poster)

Sarah Cantrell, Beverly Murphy, and Megan von Isenburg - Improving Usage and Visibility of Library Resources in the Electronic Health Record (Poster)
Karen Barton, Megan von Isenburg, Sarah Cantrell, and Virginia Carden - An Agile Approach to Defining and Enhancing a Budding Bibliometrics Service (Lightning Talk)
Beverly Murphy, Immediate Past President of the Medical Library Association (MLA), presented the MLA Update

Committees
Registration: Beverly Murphy and  Virginia Carden, Co-Chairs
Local Arrangements: Leila Ledbetter, Chair; Sarah Cantrell and Jordan Wrigley
Virginia Carden Awarded Top Honor for Professional Excellence in Librarianship

Elizabeth Berney, User Services Manager, Content & Discovery
Those who have been fortunate enough to have Virginia Carden help them with EndNote know she is an amazing Library resource. This year the Mid-Atlantic Chapter (MAC) of the Medical Library Association agreed. In October at the 2019 MAC Annual Meeting, Virginia was honored with the Award for Professional Excellence by a Health Sciences Librarian. This annual award is presented to a librarian who has made outstanding contributions to health sciences librarianship through leadership, scholarship, publications, teaching, service, or professional activity.

Next year will mark Virginia's 32nd year working for the Library. It is fitting that she has received this award after many years of providing amazing service to health science patrons and to the entire medical librarian profession. Congratulations to Virginia for a well-deserved honor. 

Welcome to Our Newest Staff Member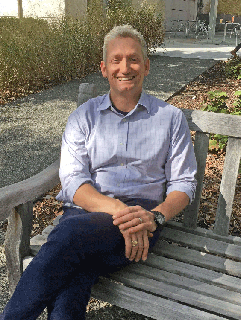 Victor Gordon

Karen Barton, Biomedical Research Liaison, Research & Education
Victor Gordon joined the Library as Associate Director for Administration on October 21, 2019. In this role, he helps oversee all Library business operations, including budget, human resources, and facilities. Victor has been a Duke employee since 2007 and brings experience in the University's personnel, budget, and accounting systems. He holds a B.A. in United States History from UNC Chapel Hill and an M.A. in Historic Preservation Planning from Cornell University.
Victor comes to the Library from Duke's Robertson Scholars Leadership Program, where he served as the Departmental Business Manager III for three years, overseeing finance, operations, and contracts. Prior to this position, he was the Departmental Business Manager II for the Duke Institute for Brain Sciences for five years, where he managed charitable contributions and other funds, provided financial and effort reports to PIs, and oversaw staff. Previous to this position, Victor was a Grants and Contracts Specialist for the Department of Neurobiology for four years.
Before coming to Duke, Victor worked in unique roles to preserve and bring attention to Durham's Black Wall Street history and downtown Raleigh's Mordecai Historic Park. He has also taught high school English and U.S. history to middle school students as a Teach for America Corps member.
Victor's range of experience and skills working in business administration and with students, faculty, and university administrators makes him a great addition to the Library.
Get a FREE Christmas Stocking Stuffer!
Free copies of Foundations for Excellence: 75 years of Duke Medicine by Walter E. Campbell will soon be available at the Medical Center Library & Archives on Level 2R. This historical look at the development of the Duke medical center, hospital, school of medicine, and research enterprise is waiting to become a part of your personal library or take a copy to give as a Christmas gift.
Have a free book on us...  Come and get your copy!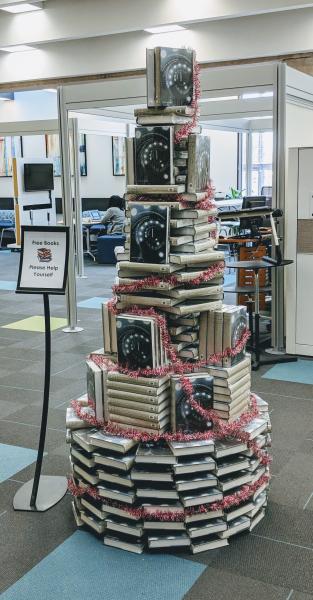 Book Tree created by Randy Marsh
It's the Season of Giving
Support access to essential information for research, patient care, and education.


Monetary gifts of any size are welcome and used to purchase journals, books, and databases; to enhance our spaces to facilitate study, collaboration, and teamwork; to preserve Duke Health's history; and for special initiatives to promote inquiry, discovery, and innovation.
The Library & Archives can also accept gifts of:
Books and journals
Artifacts (stamps, book plates, instruments) relating to medicine or Duke University
Manuscripts and papers of key figures in health care and medicine at Duke University
If you are not sure whether your gift fits one of the categories above, we will be glad to discuss it with you to determine if it is within our scope of Library or Archives collections.
Improve Your Library Research Skills!
Publication Schedule & Staff
Duke University Medical Center Library & Archives News is published bimonthly.
Megan von Isenburg, Associate Dean
Beverly Murphy, Editor
            Editorial Board:
                        Keondra Bailey

Karen Barton

                        Barbara Dietsch

Lucy Waldrop

Subscribe to our newsletter and be notified when a new issue is published!