The Medical Center Library & Archives extends warm wishes
to all during this holiday season!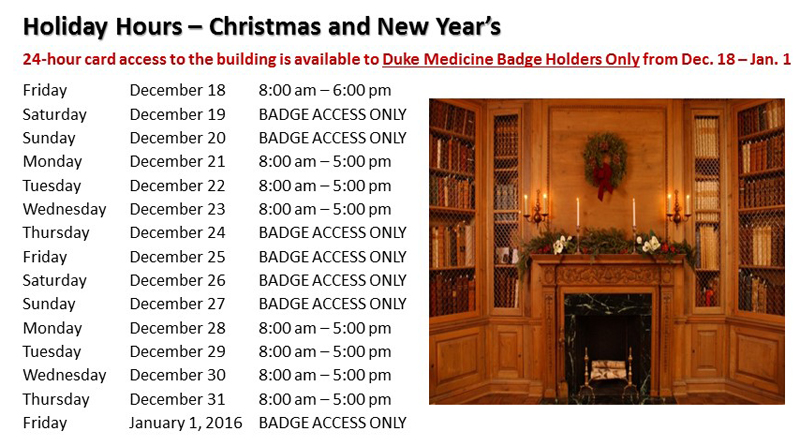 Click here for detailed service information and access hours from Dec. 18 - Jan. 1.
The Library of the Future: What Will It Look Like?
Pat Thibodeau, Associate Dean for Library Services & Archives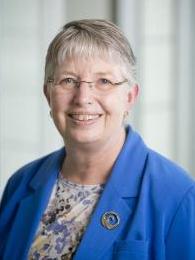 As strategic planning is underway, our staff will be reaching out to you and asking the BIG questions:
How can we further your work at Duke?
What challenges can we help you overcome?
What services are the most valuable to you and what is missing?
What additional expertise do we need on our staff?
What additional resources can we provide – technology, software, mobile apps, other?
How can our facility better serve the Duke community?
Below are some of the opportunities and roles we are considering, but I welcome your ideas and suggestions for our future strategic priorities!
More fully participating in systematic reviews, searches, and beyond
Serving as partners in research teams
Providing free access to materials not at Duke
Eliminating the print book collection
Creating innovative areas and makerspacers (3D printing, high tech applications)
Offering data management services
Showcasing new technologies
Developing writing and editing services
Training and assisting in grant preparation
Embedding a librarian in your department/program
Transforming some of our space into collaborative meeting spaces
Consulting on data sharing and management plans
Digitizing the Archives collection
Providing more exhibits
Creating more study or quiet work space
Teaching evidence-based medicine to all learners
Digitizing more historical/archival documents
Participating in Care Redesign and performance improvement
Submitting manuscripts to comply with public access policies
Publishing online textbooks and journals
Supporting data visualization
Paying author fees for open access journals
Offering personalized services for early career faculty
Rounding with clinical teams in the hospitals
Email me at patricia.thibodeau@duke.edu and let me know your thoughts. All ideas are welcome!
Would you rather meet? I will be glad to sit down and talk to you as well. Send me an email or call 919.660-1150.
Have You Tried SmartSearch?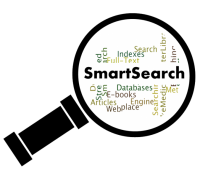 SmartSearch, our new metasearch engine, fully indexes content from top biomedical journals and databases, providing a fast, streamlined search through a single search box. It  utilizes the specialized subject indexes from numerous sources such as PubMed, CINAHL, PsycINFO and Web of Science. 
Searches can be limited by peer-reviewed content, full-text only, resources available in the Duke libraries, and many other facets. Databases that do not include full-text article level content, such as UpToDate and Lexicomp, will be searchable as separate options within SmartSearch.
A separate search engine for all full-text biomedical e-books subscribed to at Duke (regardless of publisher and platform) will soon be added to SmartSearch, so stay tuned for this enhancement.
Systematic Reviews of the Literature
Megan von Isenburg, Associate Director, Research & Education
A systematic review attempts to collate all empirical evidence that fits pre-specified eligibility criteria in order to answer a specific research question. The key characteristics of a systematic review are: a clearly defined question with inclusion and exclusion criteria; rigorous and systematic search of the literature; critical appraisal of included studies; data extraction and management; analysis and interpretation of results; and report for publication.
Not every research question fits well with the systematic review methodology. Other types of reviews might be better suited for research questions that are broader or that may not have much empirical evidence on the topic.
What does it take to do a systematic review?
Time

: On average, systematic reviews require 18 months of preparation.

A team

: A systematic review can't be done alone! You need to work with subject experts to clarify issues related to the topic, librarians to develop comprehensive search strategies and identify appropriate databases, reviewers to screen abstracts and read the full text, a statistician who can assist with data analysis, and a project leader to coordinate and write the final report.

Clearly defined question

: Clarify the key question(s) for your systematic review and the rationale for each question. Use the PICO framework to identify key concepts of the question. Determine inclusion/exclusion criteria.

Written protocol

: You will need to write a protocol outlining the study methodology. The protocol should include the rationale for the systematic review, key questions broken into PICO components, inclusion/exclusion criteria, literature searches for published/unpublished literature, data abstraction/data management, assessment of methodological quality of individual studies, data synthesis, and grading the evidence for each key question.

Registered protocol

: After you write the protocol, you should register it with PROSPERO, an International Prospective Register of Systematic Reviews. Registration is free and open to anyone undertaking systematic reviews of the effects of interventions and strategies to prevent, diagnose, treat, and monitor health conditions, for which there is a health related outcome.

Comprehensive literature searches

: First, identify systematic reviews that may address your key questions. Then, identify appropriate databases and conduct comprehensive and detailed literature searches that can be documented and duplicated.

Citation management

: You should have a working knowledge of EndNote to help manage citations retrieved from literature searches.

Data abstraction and analysis

: Use appropriate tools to grade the evidence you find.

Follow reporting guidelines

: Use appropriate guidelines, such as PRISMA, for reporting your review for publication.
How can the Library help?
Research librarians can partner with you on systematic reviews and other types of review articles. If the systematic review road is right for your question, add us to your author team and we can design and manage complex, thorough searches in multiple databases. We will also provide you with:
EndNote libraries of de-duplicated results
Tables with detailed search strategies
A narrative of the search methodology
Come See Our Exhibits!
Jolie Braun, Assistant Director, Medical Center Archives
Currently On Display
Celebrating 50 Years of the Duke Physician Assistant Program: The Birth of a Profession
Medical Center Library & Archives - Level 1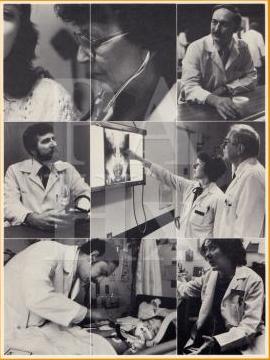 On Display October 1 - January 28, 2016
If you haven't had a chance to see Celebrating 50 Years of the Duke Physician Assistant Program: The Birth of a Profession, you still have time. Featuring artifacts, photographs, and documents from the Medical Center Archives collections, the exhibit charts the founding, growth, and accomplishments of Duke's PA Program. Highlights include a 1964 letter written by Dr. Eugene A. Stead, Jr., expressing his desire to start the program at Duke, scrapbooks and publications made by PA students, and the 1966 issue of Look magazine that introduced the profession, and Duke's program, to the general public.
When Dr. Stead, then Chairman of Duke's Department of Medicine, established the PA Program in 1965, it was the first of its kind in the nation. A two-year course that trained students to practice medicine and provide health care services under a doctor's supervision, the program aimed to address the problem of the physician shortage, particularly in rural areas throughout North Carolina. While the initial recruitment targeted ex-military corpsmen who possessed some medical experience, Duke's PA program soon attracted a wide range of applicants, including women and people of color seeking new career opportunities in medicine.
Today there are nearly 100,000 PAs practicing in the US. The success of the profession during the second half of the 20th century is due in part to the early efforts of Duke PA leaders, graduates, and students. They worked to have the profession legally recognized and accredited, founded the American Academy of Physician Assistants – the official organization for the profession – and were instrumental in the development of certification and continuing education guidelines.
To learn more about the PA Program's history, visit the PA Program Records Finding Aid or go to MEDSpace to see digitized items from this collection.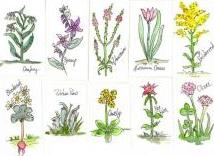 Duke's Medical Garden
Medical Center Library & Archives - Level 2R
On Display through December 2015
The Library is also hosting an exhibit featuring medicinal plants. The display showcases artistic representations of many varieties grown in the Medical Garden on our terrace, or possibly in your own yard.
Did you know that foxglove is a common ingredient in medicines used to treat congestive heart failure and atrial fibrillation? Or that garlic binds with heavy metals so it is useful in the treatment of patients with lead poisoning?
Stop by and learn more factoids, and see renderings from the original artist and Library staff member, Elizabeth Berney.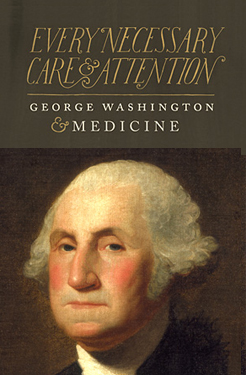 Coming Soon!
Every Necessary Care and Attention: George Washington and Medicine
Medical Center Library & Archives - Level 2R
On Display February 8 - March 20, 2016 
Early next year, the Medical Center Library & Archives will host "Every Necessary Care and Attention: George Washington and Medicine," a six-banner traveling exhibition. Developed and produced by the National Library of Medicine, National Institutes of Health with George Washington's Mount Vernon Estate, Museum, and Gardens, the display explores the story of George Washington's own health and examines the ways in which he sought to safeguard the health and wellness of his family, staff, slaves, and troops. 
Washington's story also illuminates the broader context of the experience of illness and the practice of medicine, which during his time was transitioning from a traditional healer craft to a profession.
In conjunction with the NLM display, the Library will produce a companion exhibit, "Presidential Illnesses," featuring other presidents who faced critical health issues. 
Featured New Books
Barbara Dietsch, Acquisitions & Cataloging Manager, Collection Services
Here are a few selected books that have been recently added to our collection. Reviews are excerpted from Amazon.com.


Participatory Qualitative Research Methodologies in Health
Gina Higginbottom and Pranee Liamputtong
This is a guide to the essentials of doing participatory methods in a broad range of health contexts. It covers all of the stages of the research process, from research design through dissemination. It's an ideal resource for students and researchers embarking upon participatory research projects.
Clinical Ethics: A Practical Approach to Ethical Decisions in Clinical Medicine


Albert Jonsen, Mark Siegler, and William Winslade
Clinical Ethics teaches healthcare providers how to effectively identify, evaluate, and resolve ethical issues in clinical medicine. The book goes beyond theory to offer a decision-making strategy applicable to real-world practice.

Advanced Health Assessment & Clinical Diagnosis in Primary Care
Joyce E. Dains and Linda Ciofu Baumann
The practical resource is designed for advanced practice nurses and students, as well as Physician's Assistant students and practitioners. It goes eyond basic history and physical examination to help you master the diagnostic reasoning process.
Manual Therapy for Musculoskeletal Pain Syndromes: An Evidence- and Clinical-Informed Approach
Cesar Fernandez de las Penas, Joshua Cleland, and Jan Dommerholt
A pioneering, one-stop manual which harvests the best proven approaches from physiotherapy research and practice to assist the busy clinician in real-life screening, diagnosis and management of patients with musculoskeletal pain across the whole body.
Suggestions for purchases? Complete our online Recommend a Purchase form or contact Emma Cryer Heet.  For a complete list of titles added to our print book collections within the last 3 months, check out the Library's newest print book additions or subscribe to our "New Books" feed.
Staff News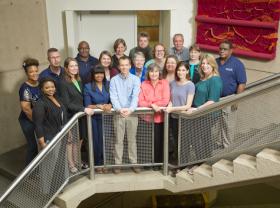 Alex Dowrey and Astrid Cook-Dail began year-long internships at the Medical Center Archives this past summer. Both are responsible for arranging and describing collections, creating finding aids, and assisting with exhibits and special events. Alex is a student at UNC's School of Information and Library Science, and Astrid attends the School of Library and Information Science at North Carolina Central University.
Beverly Murphy, Assistant Director, Communications and Web Content Management and Hospital Nursing Liaison, has been selected as a mentor in the 2015-2016 NN/LM MAR (Middle Atlantic Region) Mentoring Program. This year-long program, which is the first sponsored by MAR, pairs an experienced librarian with a librarian desiring to benefit from that knowledge base.  Beverly, a longtime mentor and one of 3 mentors in the program, has been paired with Andrew Gerber, Health Sciences Librarian and Continuing Medical Education Coordinator, at the Robert Wood Johnson University Hospital in Rahway, NJ.
Patricia Thibodeau, Associate Dean, has also been selected as a mentor in the 2015-2016 NLM/AAHSL Leadership Fellows Program, sponsored by the National Library of Medicine and the Association of Academic Health Sciences Libraries.  The program prepares emerging leaders for director positions in academic health sciences libraries through a year-long mentoring relationship with a director of another library and a curriculum focused on developing leadership knowledge critical to enhancing the value of libraries in their institutions.  Pat will be one of ten fellows and mentors from academic health sciences libraries across the U.S. who will begin their program in November.  Since the program began in 2002, twenty-seven fellow graduates have assumed director positions.
Patricia Thibodeau co-authored a chapter on "The Role of the Library in Programmatic Accreditation" in Reviewing the Academic Library: A Guide to Self-study and External Review, which was published in September 2015 by the Association of College and Research Libraries.
Brandi Tuttle, Research & Education, and Kenyon Railey, MD, presented "Electronic Mail and Professionalism: Perceptions and Practices" at the PAEA (Physician Assistant Education Association) Education Forum which was held November 11-15, 2015 in Washington, DC.
Medical Center Library & Archives staff were involved in the following initiatives during the Annual Meeting of the Mid-Atlantic Chapter of the Medical Library Association in Asheville, NC, October 18-20, 2015.
Presentations
PJ Grier, Beverly Murphy, Deborah Breen, and Donna Flake - The Role of the Librarian in Achieving Compliance for Meaningful Use Stage 2 Core Measure 5 (Paper)
Megan von Isenburg - Infobuttons in EMR Apps (Tech Talk)
Committees
Brandi Tuttle, Co-Chair, 2015 Annual Meeting Committee
Emily Mazure, Chair, Invited Speaker Committee
Beverly Murphy, Chair, Registration Committee
Virginia Carden, Registration Committee
Emma Heet, Registration Committee
Leila Ledbetter, Exhibits Committee
Megan von Isenburg, Chair, Technology Symposium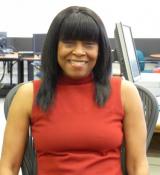 Murphy Receives Roadbuilder's Award for Special Librarianship
Pat Thibodeau, Associate Dean for Library Services & Archives
Beverly Murphy, Assistant Director, Communications and Web Content Management, and Hospital Nursing Liaison, was selected by the Round Table for Ethnic Minority Librarians (REMCo) of the North Carolina Library Association as the recipient of the Roadbuilder's Award for Special Librarianship.
The Roadbuilder's Award, which was established in 1989, recognizes ethnic minority librarians in academic, public, school and special libraries, who have served as pioneers in librarianship and also as positive role models.  This award pays homage to ethnic minority librarians who exemplify courage, integrity, perseverance, and who have contributed to the field of librarianship for their specific category.  Beverly has certainly met these qualifications within the special field of health sciences librarianship.

For many years, Beverly has been involved in activities to recruit minority students into librarianship and welcome and mentor new minority librarians in the health sciences and other areas of the profession.  She has worked at the state, regional, and national levels on diversity issues.  This tremendous honor reflects Beverly's many contributions to the library profession as a leader, role model, and mentor.
Employee Spotlight: Randy Marsh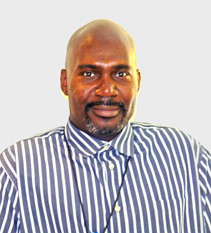 Barbara Dietsch, Acquisitions & Cataloging Manager, Collection Services
Randy's Bio
Working at Duke University Medical Center Library & Archives since:  2001 (employed at Duke since 1989)
Education: Jordan High School Class of 1988
Current position: Senior Library Assistant
Q & A
1.    Describe your current position & what you find most interesting about it.
What I like most about my job is being able to connect with the patron, mainly with a joke to loosen up their day.
2.    Describe yourself in three words. Spiritual, observant, and cautious
3.    What has been your biggest professional challenge?
Adapting to new systems and password changes and requirements.

4.    What do you think is the most interesting issue in libraries & archives today?
Staying employed, especially with the different cuts here and there.

5.    Whom do you admire?
Anyone who puts others before themselves, expecting nothing in return.

6.    What organizations are you involved in?
I'm a musician (drummer) at my church and the Founder & Director of a youth drumline (P-STORM DRUMLINE). I'm also in the process of going back to coaching little league basketball.

7.    Is there anything about you that others might be surprised to know?
That I love various types of music and stand-up comedy. Though music is my gift, I don't read music and I've never been in a band or music class.
 
8.    What do you do for exercise? For relaxation?
For exercise I work out 3 to 4 times a week.  Developing new routines for my youth group is relaxing. I also don't think about work related issues between 5:01 pm and 7:59 am, Monday through Friday. In other words, I don't take work home with me.

9.    What are you most proud of?
Being the father of two sons and a father figure to so many other youth.
 
10.    What is your favorite Website or blog?
My favorite Website is YouTube, because it allows me to see what my sons have done and continue to do with their musical talents. It also allows me to hear and see classics that seem to have been forgotten about.
Improve Your Library Research Skills!
Publication Schedule & Staff
Duke University Medical Center Library & Archives News is published bimonthly.
Pat Thibodeau, Associate Dean
Beverly Murphy, Editor
Editorial Board:
               Jolie Braun
Barbara Dietsch
Megan von Isenburg
Subscribe to our newsletter and be notified when a new issue is published!