February is Black History Month!
This month we are featuring "Black History Month: A Medical Perspective," our online exhibit containing a chronology of medical achievements of African Americans, a section on folk medicine, and a selective bibliography.
NIH Researchers - New Look for NIHMS!

Pat Thibodeau, Associate Dean for Library Services & Archives
The old NIH Manuscript Submission (NIHMS) System got a facelift in January 2015. NIHMS is used to deposit and approve research manuscripts  funded by NIH and accepted for publication on or after April 7, 2008.
In addition to a new, fresh Web page design, NIH is streamlining the manuscript submission process, as well as the login procedures. The homepage now has a graphic overview of the process. Just hover over the steps for more information or links to more details.
When you enter the system, you will find a list of your manuscripts with the status for each. A PI or author must still provide the initial and final approvals steps, but there are updated instructions for each part of the process.
Major changes to the process:
NIHMS ID will be assigned only AFTER files are uploaded
Deposit process has been streamlined with clear explanations
PDF receipt MUST BE opened before going to the next step reports!
Funding must be added by the reviewer BEFORE the initial approval
You can still access the NIHMS System through "My Bibliography" when you add a new citation and want to start the submission or compliance work.
Need help with NIHMS? Call the LIbrary Service Desk at 919.660.1100 or contact us via email or chat.
Research Services in Support of Patient Care
Megan von Isenburg, Associate Director, Research & Education
Uncertainty and questions frequently arise during patient care, but the best evidence may not be easy to find. The Medical Center Library & Archives has multiple initiatives to help connect providers with the information they need to care for patients and for performance improvement.
Librarians have long been available to assist with questions involving patient care and can help identify resources, terms, and articles that address the questions at hand. Clinicians with questions can reach a librarian via phone (919.660.1100), email, text, chat or by stopping by the library. Immediate help is available during regular business hours, and after-hour requests can generally be fulfilled the next business morning.
Recently, librarians have also joined care redesign teams as part of the Transforming Our Future initiative. As members of the core teams, librarians locate best and leading practices and track down the best evidence to support care redesign decisions.
Research services are also available in order set review. Groups reviewing order sets may want to look at the most recent randomized controlled trials or systematic reviews in their area. They may also have specific questions about the comparative effectiveness of different therapies.
Librarians are experts in finding information to guide both individual and institutional decision-making. Tap into our research services today by contacting medical-librarian@duke.edu.
New Exhibit Highlights the History of Attire at Duke Medicine
Jolie Braun, Assistant Director, Medical Center Archives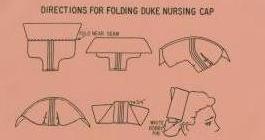 Head to Toe: Medical Attire Past & Present
On Display February - May  2015 
Our upcoming exhibit, "Head to Toe: Medical Attire Past & Present," is now on display. Featuring clothing and accessories from the Medical Center Archives, the exhibit explores the role of apparel in the health profession over the past 75 years. Items include an original Duke nursing uniform, an early medical bag of a Duke physician, and a graduation cap of the first School of Medicine Dean, Wilburt Davison, as well as historical photographs and documents.  (Pictured on left: Directions for folding a Duke nursing cap, undated)
Explore SPORTDiscus
Brandi Tuttle, Research & Education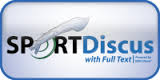 Did you know the Library offers access to SPORTDiscus with Full Text, a database focused solely on topics such as orthopedics, physical therapy, occupational health, sports medicine, and rehabilitation? Our subscription to this database was recently expanded and now provides full text for more than 660 journals, books, book chapters, and conference proceedings back to the 1970's! That's on top of the thousands of citations already included, many with abstracts. Use the GetIt@Duke button to look for full text availability through Duke.

This a great place to go for a quick, focused search, as well as a good resource to include when searching for any systematic reviews of sports medicine or orthopedic topics.  It is best searched using a combination of subject headings (referred to as Thesaurus terms) and keywords. 
For more information or for help in conducting a search in SPORTDiscus or in any other database, feel free to Ask a Librarian!
Biosketch Format Changes Impact Public Access Policy Compliance
Pat Thibodeau, Associate Dean for Library Services & Archives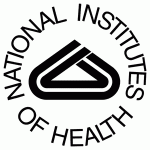 NIH has rolled out a new format for its biographical sketches, also known as "Biosketches." While this new format is required for due dates for NIH and AHRQ grants on or after May 15, 2015 (Notice NOT-OD-15-032), it's a good idea to start using it now to familiarize yourself with the new requirement. Forms and instructions have been posted on the NIH Website.
The Library also strongly recommends considering the use of the new Science Experts Network Curriculum Vitae (SciENcv) that lets you easily build and change your biosketch as well as update and modify future biosketches.  It can also be used when submitting proposals to other federal agencies such as DOD, DOE, EPA, NIH, NSF and USDA.
Highlights of Biosketch Changes
Page limit extends to five (5) pages
Allows description of up to five (5) most significant contributions with historical background to frame the research
Accompanied by listing of up to four (4) peer-reviewed publications or other research products, such as patents, databases, curricular materials, equipment, etc.
Outline central findings of prior work and influence on investigators in field
Specific role(s) in Team Science
Allowed to link to a FULL LIST of published work in My Bibliography or SciENcv
If some sections are underlined and bolded, they may have compliance issues with the NIH Public Access Policy! Older publications, funded by NIH and accepted for publication on or after April 7 2008, must be compliant if you want to add them to My Bibliography or SciENcv and include them in your Biosketch.
Sometimes submitting these older publications can be difficult. The Library can assist you in contacting the publisher and requesting that they submit a copy of the manuscript, identifying if an article is not covered by the policies (review of the literature, editorial, letter, not funded by a grant current as of FY20008, etc.), and determining if there is a problem with the status of the manuscript (some get stuck in the system).
Have an older publication that needs to be compliant? Please contact the Library at 919.660.1100 or via email or chat. We can also generate lists for you of outstanding issues.
Biosketch Training
Date: March 5, 2015
Time: 12-1p
Location: Trent Semans Center Great Hall
Click here to Register
The School of Medicine will be discussing with faculty study section reviewers and SciENcv experts from the Duke Medical Center Library & Archives this new format and its potential impact on Duke scientists. Join us to share your thoughts, learn about the process, and prepare for the change.
Featured New E-Books
Barbara Dietsch, Acquisitions Manager, Collection Services


Basic Biostatistics: Statistics for Public Health Practice
B. Burt Gerstman
This concise, introductory text covers biostatistical principles and focuses on the common types of data encountered in public health and biomedical fields. The text puts equal emphasis on exploratory and confirmatory statistical methods.
Evidence-Based Practice for Nurses: Appraisal and Application of Research


Nola A. Schmidt, PhD
This book is the definitive reference for transitioning research into nursing practice. Based on the Innovation-Decision Process (IDP), each unit is shaped according to the five steps of the IDP: knowledge, persuasion, decision, implementation, and confirmation.

Medical Complications in Physical Medicine and Rehabilitation
Diana Cardenas, MD, MHA and Thomas Hooton, MD
This practical handbook combines the perspectives of physical medicine, rehabilitation, and internal medicine. It provides physiatrists and residents in training with a concise description of common medical concerns that can disrupt or complicate therapy and rehabilitation.

A Practical Approach to Movement Disorders: Diagnosis and Management
Hubert Fernandez, Andre G. Machado, and Mayur Pandya 
This resource offers quick-access to the diagnosis and treatment of all major movement disorders. Written for busy practitioners who need an immediate reference at the bedside, it presents medical, behavioral, surgical, and nonpharmacological approaches in an expanded outline and bulleted format.
Selecting the Right Analyses for Your Data: Quantitative, Qualitative, and Mixed Methods
W. Paul Vogt, PhD; Elaine R. Vogt, MA; Dianne C. Gardner, PhD; and Lynne M. Haeffele, PhD

This thoughtful and engaging book reviews the selection criteria for coding and analyzing any set of data - whether qualitative, quantitative, mixed, or visual. It shows how using the right analysis methods leads to more justifiable conclusions and more persuasive presentations of research results.
Suggestions for purchases? Complete our online Recommend a Purchase form or contact Emma Cryer Heet.  For a complete list of titles added to our print book collections within the last 3 months, check out the Library's newest print book additions or subscribe to our "New Books" feed.
Medical Center Archives Receives Trent Foundation Grant
Duke University Medical Center Archives is honored to receive a grant from the Josiah Charles Trent Memorial Foundation Endowment Fund. Awarded for history of medicine projects at Duke, the grant will enable the Archives to digitize films from their Audiovisual Collection.
Because many of the materials in this collection exist solely on older and obsolete media formats, digitization will help the Archives preserve and improve access to important and unique footage documenting the Medical Center's heritage. Films include interviews with prominent Duke figures such as Drs. J. Deryl Hart and Jay Arena, as well as footage about major innovations and key events, including the 65th General Hospital (Duke's WWII unit) and the groundbreaking of Duke North.
Staff News
Beverly Murphy, Assistant Director, Communications and Web Content Management, has been appointed to the Search Committee for the next Editor of the MLA News, a publication of the Medical Library Association. Beverly served two terms as MLA News Editor from Jan. 2000 - Dec. 2005. The current editor, Laurie  L. Thompson, will complete her term in May 2015.
Brandi Tuttle, Research & Education, has been elected to serve on the Medical Library Association's Nominating Committee which develops the slate for President and Board of Directors. Her work will begin in Spring 2015 as the Nominating Committee starts gathering recommendations for candidates, narrowing the list of suggested names, discussing MLA's leadership needs, and then contacting candidates.
Megan Van Noord, Research & Education, has coauthored the article: Anna Glechner, Jürgen Harreiter, Gerald Gartlehner, Sonja Rohleder, Alexander Kautzky, Jaakko Tuomilehto, Megan G. Van Noord, Angela Kaminski-Hartenthaler, and Alexandra Kautzky-Willer, "Sex-specific Differences in Diabetes Prevention: A Systematic Review and Meta-analysis," published in Diabetologia, 58(2):242-54, 2015.
Improve Your Library Research Skills!
Publication Schedule & Staff
Duke University Medical Center Library & Archives News is published bimonthly.
Pat Thibodeau, Associate Dean
Beverly Murphy, Editor
Editorial Board:
Jolie Braun
Barbara Dietsch
Adrianne Leonardelli
Megan von Isenburg
Subscribe to our newsletter and be notified when a new issue is published!