The Medical Center Library & Archives extends warm wishes to all
during this holiday season!
Holiday Hours - Christmas and New Year's
24-hour card access to the building is available to

those with Duke Health Badges from Dec. 24 – Jan. 1

Monday
December 24
BADGE ACCESS ONLY
Tuesday
December 25
BADGE ACCESS ONLY
Wednesday
December 26
8:00 am – 5:00 pm
Thursday
December 27
8:00 am – 5:00 pm
Friday
December 28
8:00 am – 5:00 pm
Saturday
December 29
BADGE ACCESS ONLY
Sunday
December 30
BADGE ACCESS ONLY
Monday
December 31
8:00 am – 5:00 pm
Tuesday
January 1, 2019
BADGE ACCESS ONLY
Donate Gifts to Duke Children's Hospital Snow Blitz

Barbara Dietsch, Electronic Resources & Acquisitions Manager, Collection Services
Every year staff at the Duke Children's Hospital host an event called Snow Blitz for patients and their families who are here over the holidays. Community members donate items for children ranging from infancy through the teen years. Families are invited to visit a "store" to choose gifts for their hospitalized child, free of charge. Santa then delivers those gifts to the child's room on Christmas Eve day. The Children's Hospital relies entirely on donations for Snow Blitz. Without the help of community members, this day would not be possible!
You can donate gifts for Snow Blitz at the Medical Center Library and Archives Service Desk until Monday, December 17th. This year we are focusing on Infant and Toddler gifts. Click here for the complete Snow Blitz Wish List. Please leave donations unwrapped so parents are able to select gifts for their child. They will then be wrapped before being given to the child.
We are excited about this gift drive for the Children's Hospital and hope you are too!
Employee Spotlight: Rebecca Williams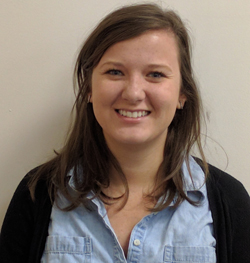 Barbara Dietsch, Electronic Resources & Acquisitions Manager, Collection Services
Rebecca's Bio
Working at Duke University Medical Center Library & Archives since: October 2016
Education: MSLS, University of North Carolina at Chapel Hill; BA in English, Duke University
Current position: Archives Librarian for Research, Outreach, and Education
Q & A
1. Describe your current position & what you find most interesting about it.
In my role as Archives Librarian, I provide access to archival materials and promote better understanding and knowledge of the history, programs and goals of Duke Health. This includes assisting with research questions both remotely and in-person, creating exhibits, attending alumni events, or crafting social media posts. I enjoy working with researchers and learning about their many varied projects

2. Describe yourself in three words. Inquisitive, empathetic, optimistic

3. What has been your biggest professional challenge?
One of my biggest challenges is identifying new ways to connect, partner, and advocate for the value of archives. I am continually thinking about new ways to communicate the importance of history to the medical community.

4. What do you think is the most interesting issue in libraries & archives today?
I am very interested in conversations revolving around documenting histories and legacies of trauma and the related ethical and privacy concerns.

5. Whom do you admire?
A whole lot of people! But the first person that comes to my mind is my grandmother for her love and faithfulness as she cares for my grandfather through cognitive decline. I am in awe of the patience and generosity of long-term caregivers.

6. What organizations are you involved in?
I am a member of the Society of American Archivists (SAA), Archivists and Librarians in the History of the Health Sciences (ALHHS), and the Society of North Carolina Archivists (SNCA).
7. Is there anything about you that others might be surprised to know?
I really love dance. While I haven't put on my pointe shoes for several years, I still enjoy taking a weekly ballet class.

8. What do you do for exercise? For relaxation?
I really enjoy going for long walks or hikes with friends. Slightly less enjoyably - I run and do circuit workouts in my living room. For relaxation, I love trying out new recipes and seeing as many live-theater events as possible.

9. What are you most proud of?
I feel pride whenever I am able to assist someone who needs help.

10. What is your favorite Website or blog?
In addition to several traditional news outlets, I am a daily reader of The Ringer and Playbill for all my sports/pop culture and theatre news respectively.

Exhibit on Display: Apocalypse Medicine
Apocalypse Medicine
Medical Center Library & Archives - Level 1
On Display through February, 2019
Imagine that the civilized world has ended. Businesses have closed. There are no more big box stores, groceries, pharmacies, schools or hospitals. With the standard of medical care diminished, what can you do with limited supplies and few pharmaceutical drugs?
For hundreds of years, people have turned to herbal treatments as an alternative to manufactured drugs. Our new exhibit highlights several medicinal herbs found in North Carolina. Come take a look and learn about the medicinal uses of plants that are growing in our backyard!


EndNote X9: New Tools and Updates
Jordan Wrigley, Research & Education Intern
X9, the latest upgrade of EndNote, has added some key features including enhanced sharing abilities, a Manuscript Matcher, new electronic media reference types, and a citation report creator. Here is an overview of the major additions to the program.
Library Sharing: Permissions can now be defined for individuals as read-write or read-only access. Custom Groups from synced libraries can be shared with other online users from a desktop EndNote library through EndNote online. Users can also see a list of Groups shared with them through EndNote online on their desktop library. The links in the shared list can be used as shortcuts to the online shared Groups. You cannot share except through the online version.
Manuscript Matcher: Perhaps the most interesting updated feature for researchers is the Manuscript Matcher. This tool can be used to identify potential journals that may be interested in publishing a user's work. This feature requires the user to input a title, abstract, and group of example articles. The Matcher returns a detailed analysis and ranking of potential journals as well as journal information. Each recommended journal has a "Submit" button that takes the user to the submission or author page for that journal.
New Reference Types: The new reference types added in X9 include: Discussion Forums, Multimedia Applications, Social Media, and Television Episode.
Citation Report Creation: If a user has access to the Web of Science, they can create a citation report from a group in an EndNote Library.
Several bugs noted in previous features have also been addressed including Cite While You Write and improving Import Performance and Print Preview . The few issues that persist are largely in the formatting of citations and based on the source database. For example, the inability to disambiguate abbreviated qualifications (eg. PhD or MD) from initials (eg. Smith, RJ). Therefore, a reference that includes an author like "Smith, R. James M.D." will appear as "Smith, R.J.M.D." and must be hand cleaned.
Overall, X9 provides some interesting new features that are worth exploring. For researchers, the Manuscript Matcher may be a valuable tool in initiating manuscript submission. Librarians and project managers may likewise find value in the ability to create Citation Reports from particular groups. More information on X9 features and improvements can be found on the YouTube video, Whats New in EndNote X9. A comparative table of recent EndNote versions can be found on ResearchSoftware.com.
New Engel Books
Barbara Dietsch, Electronic Resources & Acquisitions Manager, Collection Services
These books are part of the Library's special collection established in memory of Dr. Frank Engel, who always thought students should have other reading sources that took them beyond their medical studies. Most reviews are excerpted from Amazon.com.
Suggestions for purchases? Complete our online Recommend a Purchase form or contact Emma Cryer Heet. For a complete list of titles added to our print book collections within the last 3 months, check out the Library's newest print book additions or subscribe to our "New Books" feed.
Staff News
Sarah Cantrell, Associate Director, Research & Education, co-presented a poster at the Transcatheter Therapeutics (TCT) Conference in San Diego, CA in September 2018 based on the paper: A.E. Sullivan, M.G. Nanna, S.V. Rao, S. Cantrell, C.M. Gibson, F.W.A. Verheugt, E.D. Peterson, M.K. Yee, and D.F. Kong. "A Systematic Review of Randomized and Non-randomized Trials Comparing Dual Therapy with Triple Therapy in Patients with Atrial Fibrillation Undergoing Percutaneous Coronary Intervention."
Leila S. Ledbetter, Research & Education Librarian and Liaison to the Doctor of Physical Therapy Program, has co-authored the following article: J.K. Helmkamp, G.S. Bullock, N.R. Amilo, E.M. Guerrero, L.S. Ledbetter, T.C. Sell, and G.E. Garrigues, "The Clinical and Radiographic Impact of Center of Rotation Lateralization in Reverse Shoulder Arthroplasty: A Systematic Review," Journal of Shoulder and Elbow Surgery, 27(11):2099-2107, November 2018.
Beverly Murphy, Assistant Director, Communications and Web Content Management and DUHS Hospital Nursing Liaison, has coauthored the following two articles:
I.L. Riley, B. Murphy, Z. Razouki, J.A. Krishnan, A. Apter, S. Okelo, M. Kraft, C. Feltner, L.G. Que, and L.E. Boulware, "A Systematic Review of Patient and Family-Level Inhaled Corticosteroid Adherence Interventions in Adult African-Americans," Journal of Allergy and Clinical Immunology: In Practice, November 2, 2018 [Epub ahead of print].
Marilyn H. Oermann and Beverly Murphy, "Selecting Keywords for your Manuscript," Nurse Author & Editor, 28(4):1, December 2018.
Megan von Isenburg, Associate Dean for Library Services & Archives, has co-authored the following article: G.P. Adam, S. Springs, T. Trikalinos, J.W. Williams, J.L. Eaton, M. Von Isenburg, J.M. Gierisch, L.M. Wilson, K.A. Robinson, M. Viswanathan, J.C. Middleto , V.L. Forman-Hoffman, E. Berliner, R.M. Kaplan, "Does information from ClinicalTrials Increase Transparency and Reduce Bias? Results from a Five-Report Case Series," Systematic Reviews, 7(1), April 2018.

Amanda Woodward, Research & Education Librarian and Liaison to the School of Nursing, has co-authored the following article: Latefa Ali Dardas, Amanda Woodward, Jewel Scott, Hanzhang Xu, and Faleh A. Sawair, "Measuring the Social Impact of Nursing Research: An Insight into Altmetrics," Journal of Advanced Nursing, December 3, 2018.
Medical Center Library & Archives staff presented the following initiatives during the Annual Meeting of the Mid-Atlantic Chapter of the Medical Library Association in Ocean City, MD, October 28-30, 2018.
Virginia Carden, Administrative Research Librarian, Chaired the Registration Committee.
Beverly Murphy, President of the Medical Library Association (MLA), presented the MLA Update and participated on the Leadership Panel.

Jordan Wrigley, Research & Education Intern, received a Student Vision Scholarship which included complimentary conference registration and accommodations.

Remembering Terry Wiethe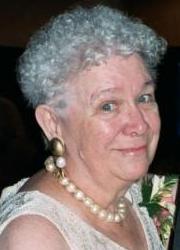 Theresa (Terry) Wiethe, who worked at Duke University for almost 40 years, died peacefully on Tuesday, October 16, 2018 at Brookdale Senior Living Center. As the Medical Center Library's Business Manager, Terry handled budget matters and facilities along with many other responsibilities. She helped coordinate and participated in the big move of the Library from the Davison Building to its current location in the Seeley G. Mudd Building. Terry retired from the Library in January, 1993. Before coming to the Library, she had previously worked at the Duke Eye Center.
Terry loved to read, travel, work at the Duke Children's Classic, and attend Duke basketball and Durham Bulls games. She will be remembered fondly as an integral staff member during the Library's expanding years.
Get a FREE Christmas Stocking Stuffer!
Free copies of Foundations for Excellence: 75 years of Duke Medicine by Walter E. Campbell will soon be available at the Medical Center Library & Archives on Level 2R. This historical look at the development of the Duke medical center, hospital, school of medicine, and research enterprise is waiting to become a part of your personal library or take a copy to give as a Christmas gift.
Have a free book on us... Come and get your copy!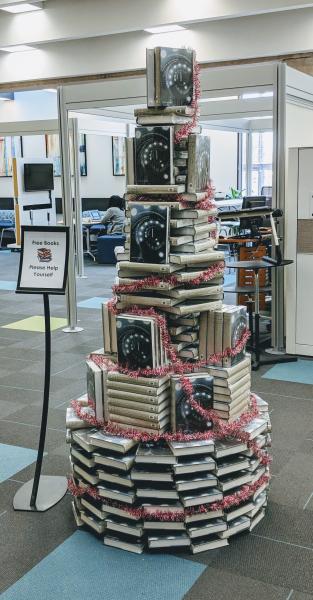 Book Tree created by Randy Marsh
Publication Schedule & Staff
Duke University Medical Center Library & Archives News is published bimonthly.
Megan von Isenburg, Associate Dean
Beverly Murphy, Editor
Editorial Board:
Keondra Bailey

Sarah Cantrell

Barbara Dietsch

Rebecca Williams

Subscribe to our newsletter and be notified when a new issue is published!