July 4th Holiday Hours!

The Library will be CLOSED to the public on Tuesday, July 4th. 24-hour card access will be available during this time to those with Duke Health Badges Only. Regular hours will resume on Wednesday, July 5th.
Beverly Murphy Assumes Role as MLA President-Elect
Pat Thibodeau, Former Associate Dean for Library Services & Archives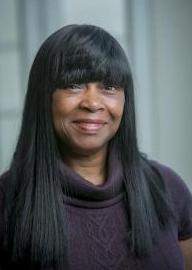 Beverly Murphy, MLS, AHIP, FMLA, began her term as President-Elect of the Medical Library Association (MLA) in May at the end of the annual conference in Seattle, WA. Elected in December 2016 by the MLA members, she will serve as President from 2018 to 2019. Her election to this office is also a milestone for the Association since she will be the first African-American President of MLA. Beverly has been at Duke for 34 years and is currently the Assistant Director, Communications and Web Content Management in the Library and the Hospital Nursing Liaison for the Duke Health System and Watts School of Nursing. She also serves as the outreach contact for Neurobiology and Ophthalmology.
Beverly has provided leadership to the profession for many years, from the state and regional levels to the MLA national Board of Directors. She is a member of MLA's Academy of Health Information Professionals (AHIP) at the Distinguished level and became a Fellow of MLA (FMLA) in 2015. Her commitment to the library profession has been demonstrated through the time and expertise she has dedicated to making library associations stronger and relevant to their members.
Her contributions to MLA began in the mid-1990s when she became a mentor for the Academy of Health Information Professionals and then a liaison to the MLANet Task Force. She quickly went on to serve on the Publications Committee, Credentialing Committee, National Program Committee, and the African-American Medical Librarians Alliance Special Interest Group (AAMLA SIG). She brought her expertise to MLA News as Editor for 6 years and holds an appointment on the Journal of the Medical Library Assocation (JMLA) Editorial Board. After serving on the Education Committee, the Diversity Symposium Planning Group, and the Nominating Committee, she became Chair of the Professional Recruitment and Retention Committee, which reflected her commitment over the years to bringing more people into the profession and increasing the number of under-represented minorities within MLA. All this work culminated in her election to the MLA Board of Directors, where she worked on major issues facing the Board and MLA members from 2008 to 2011.
Beverly has also supported MLA on the chapter level as well, serving as Chair of the Mid-Atlantic Chapter (MAC), along with extensive work on numerous committees, several of which she chaired. Her many years of leadership and service at the regional chapter level were recognized by her colleagues when she received the Marguerite Abel Service Recognition Award in 1998 and the MAC Librarian of the Year Award in 2007. Her contributions within the region were also recognized by the National Library of Medicine (NLM) and the National Network of Libraries of Medicine (NN/LM) when she was appointed to the NLM Biomedical Library and Informatics Review Committee and the NN/LM SE/A Regional Technology Committee. Her work on diversity and recruitment issues was further acknowledged at the state level when the NC Library Association presented her with the Roadbuilder's Award for Special Librarianship through its Round Table for Ethnic Minority Concerns.
In addition to her formal leadership roles and association work at the chapter and national levels, Beverly has had a strong commitment to sharing her expertise and pride in the profession with peers. She has authored numerous presentations, posters and papers and has been a willing and active mentor to many, from high school and graduate students to new librarians in the health sciences field. She has had a particular interest in encouraging African-American librarians to become more engaged in the association and the profession.
Beverly's strong commitment to the profession and her colleagues as a leader, expert, and mentor, has led to this latest recognition at the national level. The staff of the Medical Center Library & Archives congratulate her on her election to this new national role.
New Furniture and Renovated Spaces in the Library
Megan von Isenburg, Associate Dean for Library Services & Archives
New furniture and reconfigured spaces are now available on Level 2R next to the Library's Service Desk. With new zones for collaboration, individual work, and reflection, the space meets the increasing needs of Duke Health's students, faculty, and staff.
We invite you to come in and see our new spaces. As always, we welcome your feedback!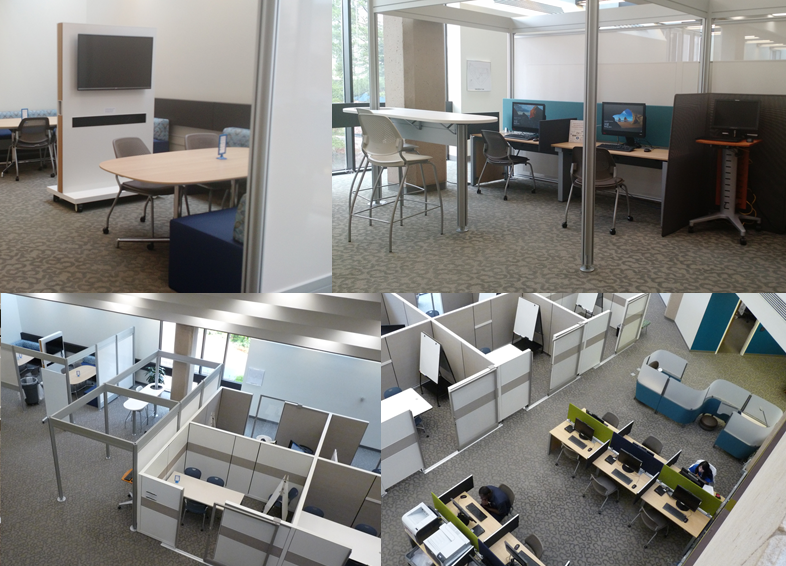 Collaboration Space: Whiteboards, tables, bench seating, and a rolling monitor allow groups to gather to meet, discuss projects, or study.
Data Stations: Two computers have been configured for data analysis and visualization. For a full list of available software, see our Data - From Start to Finish Guide on our Website.
Computer Lab: Three PIN stations and 7 library computers are available. The library computers can print in black and white and color. New tables provide ample space to spread out.
Individual Study: New chairs outside Conference Room 212C provide space for quiet reflection.
Carrels for Groups and Individuals: Eight cubicles are available first-come, first-served for any member of the Duke Health community.
Stand-up Desks: Adapters are available to enable you to stand up and work when using your own computer.
Team Room: Room 212E, located behind the Library Service Desk, offers writeable walls, a huge monitor, and flexible tables that seat up to 12 people. Available first-come, first-served.
Our E-journals Page has Changed!
Effective April 25th, our e-journals platform switched over to the current EBSCO platform, which is the same as what we use for our metasearch engine, SmartSearch.
To navigate this new page:
Type in the name of the journal or a significant word from the journal title (does not have to be case sensitive). The system will pick up all journal titles with that word as part of the title. Note: The word may also appear or be mapped to other fields in the record (eg. journal description, publisher information, etc). The former alphabetical (A-Z) guide that appeared at the top of the page no longer exists.
The vendor and holdings information, that used to appear on the opening page with the journal titles, will now appear once you click on the title of the journal or the link for "Full Text Access."
Journals may also be browsed and selected by Discipline (specialty)
We are still making a few tweaks to the page as we get feedback. We appreciate your patience as we continue to transition to this new platform.
Preparing Citations from Endnote (APA, AMA, Chicago Styles)
Matthew Johnson, Research & Education Intern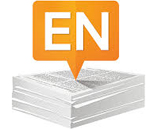 Ever get nervous about formatting citations? Here's an overview of a few common issues when citing journal articles in often-used styles (APA, AMA, and Chicago)
In most cases, you can easily export citation information from databases like PubMed, Web of Science, Scopus, etc. into a reference management system like EndNote. However, you have to be careful about how that data is entered to ensure that your final citations are correct.
APA Style
When citing a journal article, use the following basic format:
Author, A. A., Author, B. B., & Author, C. C. (Year). Title of article. Title of Periodical, volume number(issue number), pages. http://dx.doi.org/-----
Here's an example:
Calabrese, S. K., Earnshaw, V. A., Underhill, K., Hansen, N. B., & Dovidio, J. F. (2014). The impact of patient race on clinical decisions related to prescribing HIV pre-exposure prophylaxis (PrEP): Assumptions about sexual risk compensation and implications for access. AIDS and Behavior, 18(2), 226-40. http://dx.doi.org/10.1007/s10461-013-0675-x
A few issues can arise when importing citations into EndNote and then printing out your reference list:
Capitalization in article titles: In APA style, you should capitalize the first letter of the first word of the title and subtitle, the first word after a colon or dash, and proper nouns. EndNote will not correct this capitalization for you. After importing a citation, if you know you're using APA style, you can easily navigate to the reference in the side or bottom panel or double click the reference to open a new screen and change the capitalization of the title in the Title field.
Journal titles should not be abbreviated: Certain databases will provide abbreviated journal titles; however, in APA format, these should be written out fully and punctuation and capitalization should match the title used by the journal (e.g. don't change "&" to "and" or vice versa).
Check DOIs and URLs: If the journal has been assigned a DOI, you should present it in the URL form above or as "doi:-----". Check your references to make sure they don't appear as doi:http://dx.doi.org/------". It should be one or the other. If there is no DOI, you should use the URL for the article instead. Check your URLs to make sure they don't have extra information redirecting you from a database or other source. Long links will clutter your reference list, so find the precise article link.
Spacing between colons or dashes: When exporting a citation, if you see strange spacing around the title, it will likely be reproduced in your citation. For example, a book or journal article might display as "word : word" or "word / word." In most cases, you don't want these spaces, so be cognizant and simply delete the extra spaces in the Title field for the reference.
AMA Style
The general format for AMA style for journal articles is:
Author AA, Author BB, Author CC. Title. Journal Abbreviation. year;volume number(issue number):pages. doi:----
You may be required to include "Accessed [Month day, year]" at the end depending on where you're submitting your work.
If you cite the same article using the AMA style, you should use:
Calabrese SK, Earnshaw VA, Underhill K, Hansen NB, Dovidio JF. The impact of patient race on clinical decisions related to prescribing HIV pre-exposure prophylaxis (PrEP): assumptions about sexual risk compensation and implications for access. AIDS Behav. 2014;18(2):226-240. doi: 10.1007/s10461-013-0675-x
Issues 1, 3, and 4 discussed with APA Style formatting (above) might still be issues for you with AMA. However, remember:
Subtitles in AMA are not capitalized. You can make these changes yourself in the Title field of the reference.
Titles should be abbreviated in AMA according to the National Library of Medicine's list of abbreviations. If your reference manager doesn't abbreviate the journal title for you, you can change it yourself in the Journal field of the reference. To quickly find a journal title abbreviation, use LocatorPlus and search by "Journal Title."
Chicago Style
When using Chicago style, you might use paranthetical citations or notes, followed by a bibliography at the end. These elements will depend on where you are submitting your work. Inclusion of date accessed information will also depend on where you submit.
The note format for journal articles is as follows:
Author Name, "Article Title," Journal Title, volume number, no. issue number (year): pages, accessed [Month day, year], doi:-----
The commas would become periods (except after volume number) for the bibliographic entry, and all authors are listed in the bibliography with the first author's name inverted (i.e. last name first).
Here are the citations using our previous example article:
Bibliographic record
Calabrese, Sarah K., Valerie A. Earnshaw, Kristen Underhill, Nathan B. Hansen, and John F. Dovidio. "The Impact of Patient Race on Clinical Decisions Related to Prescribing HIV Pre-Exposure Prophylaxis (PrEP): Assumptions About Sexual Risk Compensation and Implications for Access." AIDS and Behavior. 18, no. 2 (2014): 226-240. doi: 10.1007/s10461-013-0675-x
Note Record
Sarah K. Calabrese, et al, "The Impact of Patient Race on Clinical Decisions Related to Prescribing HIV Pre-Exposure Prophylaxis (PrEP): Assumptions About Sexual Risk Compensation and Implications for Access," AIDS and Behavior, 18, no. 2 (2014): 229, doi: 10.1007/s10461-013-0675-x
When using Chicago style, as with APA and AMA, it's important to check URLs and DOIs to make sure that they work, that they're in the most direct form, and that there's no redundancy.
You might have issues in EndNote with Chicago style when an abbreviation should be capitalized, such as "HIV" in the example above. EndNote should add capitalization for you in the titles, but it might change your abbreviations as well. You might also have to manually add notes or parentheticals in your document depending on which you decide to use.
These are some common issues that might occur; however, there could be other issues from the way the data is exported from databases. So make sure to always check over your bibliography even if you're using EndNote or another reference manager.
Note: You should use the formatting features in Microsoft Word to add a hanging indent for your citations.
Are Your Publications Compliant?
Emily Mazure, Biomedical Research Liaison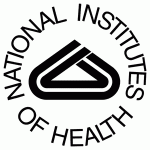 Submitting a renewal or new grant application? Are you compliant with the NIH Public Access Policy? If you're not sure, we can help!
We can check our database to see if any non-compliant articles are associated with your name or grant number.
Better yet, we can help you use "My Bibliography" to manage compliance yourself! Easily add and track your publications for compliance issues. Easily use the citations you have added to My Bibliography in your Biosketch when you use NCBI's Science Experts Network Curriculum Vitae (SciENcv) tool, saving you even more time!
Be aware that many federal funding agencies have similar policies and may require additional work to be compliant with all policies. If you have funding from NIH or any other agency and would like to ensure you are compliant with Public Access Policies, you can review our online guides:
• Data Sharing & Public Access Policies
• NIH Public Access Policy Compliance
Questions? Contact us at medical-librarian@duke.edu or 919.660.1100.
More than Just PubMed
Leila Ledbetter, Research & Education Librarian

For every job there is just the right tool. While most people are familiar with PubMed, we also provide access to many other databases -- from specialty to general -- that might better fill your information searching needs.
Embase
: Covers biomedical literature from journals from around the world. It offers particularly strong coverage of drugs. Embase includes records and journals that are not covered by PubMed, including conference abstracts and European journal titles.

Scopus
: Offers excellent coverage of biomedical literature as well as business, social sciences, education, and other humanities. This is an excellent tool for interdisciplinary research and s easy to use.

Web of Science
: Indexes scholarly journals in the sciences, social sciences, and arts and humanities. It provides bibliographic data, full-length author abstracts, and is the go to resource for determining the number of times an article has been cited.
For help with searching any of these databases, you can arrange a consultation with one of our research librarians.
These and other databases are available in the "Databases" section of our Website. Please explore these resources to see if there are other tools that suit your needs.
Questions? Contact us at medical-librarian@duke.edu or 919.660.1100.
Employee Spotlight: Leila Ledbetter
Barbara Dietsch, Electronic Resources & Acquisitions Manager, Collection Services
Leila's Bio
Working at Duke University Medical Center Library & Archives since: 2009
Education: BS, Biology, Marietta College, Marietta, OH; MLIS, School of Information Studies, University of Wisconsin at Milwaukee
Current position: Research & Education Librarian and Liaison to Doctor of Physical Therapy Program, Master of Biomedical Sciences Program, and the Duke AHEC Program
Q & A
1. Describe your current position & what you find most interesting about it.
A lot of my time is spent assisting researchers, faculty and students with some part of the publication process. I help with searches for literature reviews, the systematic review process, reference management, and scientific posters, among other things. I offer both individual consultations and group classes on these topics, as well as a bunch of others. I love that every day is different. There's always a new interesting question, or consultation, or new class full of people who want to learn a skill. I really enjoy helping people learn to be self-sufficient.

2. Describe yourself in three words. Curious, enthusiastic, and understanding
3. What has been your biggest professional challenge?
My biggest challenge was that I came to my job with limited teaching experience. Since I've started, I've worked hard to improve my classroom teaching skills. I've been lucky to be surrounded by some amazing instructors that have mentored me, and I've also had support by Duke to participate in programs that have taught me a lot. Right now, I'm part of the Duke AHEAD program and it's been very interesting and helpful.
4. What do you think is the most interesting issue in libraries & archives today?
Recently I've been following the struggle to provide library patrons with high quality information in an easy, seamless way. The library gets its resources from many different providers who have many different platforms that don't all play together nicely. It can sometimes be confusing even for information professionals. I'd like to see some sort of unified service that makes it easy to search across everything we provide, but I think that's a ways into the future.
5. Whom do you admire?
Oh gosh, so many people! People who write beautifully, people who are creative… If I had to pick something that ties that into my current obsession with teaching, it would be a couple of dog trainers I follow (In my life outside of work I train and compete with my dogs). Dog trainers, the good ones, really teach you to teach your dog. They are observant, good communicators, empathetic, and excellent at breaking things down into meaningful and understandable chunks. And they're also fun! In some of my seminars recently, I've found myself thinking "Wow. I'd like to learn to think and teach like her."
6. What organizations are you involved in?
I am involved nationally with the Medical Library Association, and locally with the Mid-Atlantic Chapter of the MLA and the Association of North Carolina Health and Sciences Libraries.
7. Is there anything about you that others might be surprised to know?
A couple of years ago I discovered the world and culture of perfume. It's a lot like people who get into wine – where you learn about the makers and ingredients and "taste," and you rate and collect them. I've read books and follow blogs and try to visit perfumers when I'm in a new city.

8. What do you do for exercise? For relaxation?
For exercise and relaxation I walk, jog or hike with my dogs. I also go horseback riding.

9. What is your favorite Website or blog?
I regularly check Lifehacker for interesting new tech tools, apps and life tips.
Time Again for Summer Reading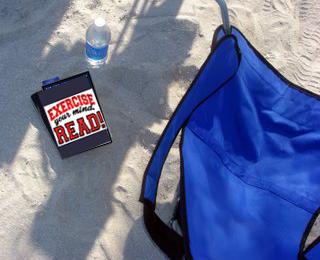 Jamie Conklin, Research and Education Librarian
Barbara Dietsch, Electronic Resources & Acquisitions Manager
As you plan vacations and downtime this summer, don't forget to drop by our Library and other libraries in Durham and the surrounding areas for some reading materials. No matter what your reading interests are, you're covered!
For nonfiction health and science, stop by and browse our Engel Collection for titles like these:
For fiction and other types of nonfiction reading, explore the collections available in the Duke University Libraries and local public libraries, including Chapel Hill Public Library, Durham County Library, Orange County Public Library, and Wake County Public Libraries.
Be on the lookout for your local library's summer reading programs, which provide a great way to share reading fun with friends and family.
Exhibit On Display - Confronting Violence: Improving Women's Lives
Confronting Violence: Improving Women's Lives
Medical Center Library & Archives - Level 2R
On Display until June 17, 2017

We are currently hosting "Confronting Violence: Improving Women's Lives," a six-banner traveling exhibition. Produced by the National Library of Medicine with support from the Office of Research on Women's Health, the display explores images, manuscripts and records that tell the stories of the nurses who witnessed firsthand the effects of domestic violence and campaigned for change.
Through both their research and practice, nurses were among the first to identify women who were battered as a population with specific health needs that were largely neglected by the medical community. As nurses advocated, educated, and organized nationally for this issue, they began to change the way the medical profession identified and treated women who were battered. By the 1990s, all the major medical organizations recognized domestic violence as a significant health issue and urged their members to take action, reinforcing over a decade of advocacy by nurses and their allies.

Publication Schedule & Staff
Duke University Medical Center Library & Archives News is published bimonthly.
Megan von Isenburg, Associate Dean
Beverly Murphy, Editor
Editorial Board:
Elizabeth Berney

Jamie Conklin
Barbara Dietsch

Rebecca Williams

Subscribe to our newsletter and be notified when a new issue is published!