Library and Archives Services in the Time of COVID-19
Megan von Isenburg, Associate Dean for Library Services & Archives

We know this has been a trying time for everyone associated with the University and Health System. We are filled with gratitude and awe for the flexibility and resilience of our Duke Health colleagues. Our faculty, staff, and students quickly flipped to online and transitioned or suspended their research. Our clinical colleagues are facing this epidemic on the front lines. We are grateful to all of you.

While our facilities are temporarily badge-access only and our staff are working from home, we want to remind you that library services and resources are just a click away. We have been a primarily digital library for several years and all of our online journals, databases, and books are available through your Duke NetID and password. Staff are providing online research services, teaching classes on systematic and other literature reviews, identifying resources for newly online courses, and facilitating seamless access to resources for the Duke community, wherever they may be.
Access to information is more important now than ever. As such, we have created new Web pages to facilitate access to high quality evidence and library resources specific to these times.
COVID-19: Core Clinical Resources highlights clinically-focused research to facilitate evidence-based practice. Wondering what the literature says about best treatment or diagnostic options for COVID-19? Start here.
Our Teaching Resources guide for educators has a new tab – Clinical & Basic Sciences Educational Content. This page features resources from our online collections that can be easily integrated into online learning. There are cases, videos, and self-assessments across disciplines.
 Many of our publishers are offering their COVID-19 content for free. We have linked all their offers in our blog post on Temporary Free E-Resources in Response to COVID-19.
In addition, our Archives is collecting information about Duke's response to this global pandemic so that future researchers can learn from our actions today. If you know of sites or documents that you feel should be captured for future research, please reach out to our Medical Center Archives staff at dumc.archives@mc.duke.edu.

COVID-19 has disrupted our lives, but Library and Archives services and resources are here to help. For further information on our services and resources during COVID-19, please see our Website at https://mclibrary.duke.edu/about/coronavirus. If you have questions, comments, or concerns, please contact Megan von Isenburg, Associate Dean for Library Services & Archives, at megan.vonisenburg@duke.edu.
COVID-19: Core Clinical Resources
COVID-19: Core Clinical Resources is a compilation of information and literature about COVID-19 that will be immediately useful to practicing clinicians at Duke. Please understand that this guide is also fluid and evolving since the topic is evolving rapidly, with an onslaught of literature and information. If you are a Duke clinician, we welcome your feedback and suggestions.
Our Classes Are Being Held Online!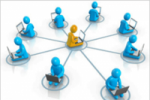 Our savvy Librarians have created a robust class schedule for Duke faculty, staff, and students to increase their knowledge and confidence in research, publishing, citation management, and more. 
Connect to the class schedule for class details, dates, and registration information!
Follow Us on Facebook, Instagram, and Twitter
Rebecca Williams, Archives Librarian for Research, Outreach, and Education
We are on social media! Follow us on Facebook, Instagram, and Twitter.
These platforms are a great way to get updates and alerts about our resources, services, and events, as well as learn more about Duke Health and its history. We use them to report outages, provide building access updates, and other timely information. We also highlight new acquisitions to our collections, upcoming classes and events, and relevant toolsets. Follow us to engage in larger scholarly discourse and learn more about our staff's accomplishments.
On Facebook we often share #onthisday posts with information or fun facts about the Medical Center.

Our Instagram page features a wide variety of historical photographs, illustrations, publications, and artifacts.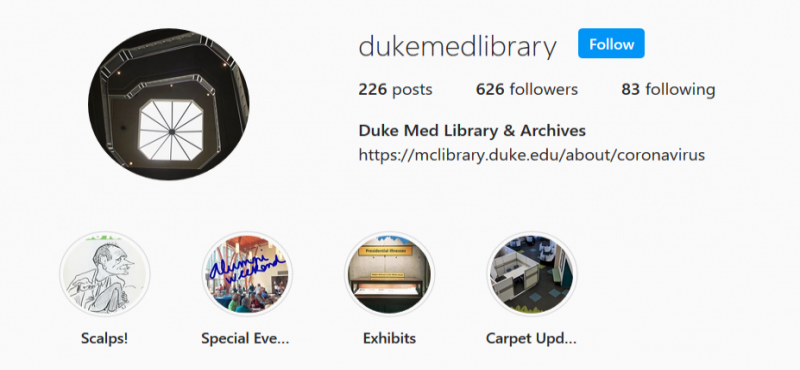 Twitter is an especially good forum for illustrating how the Library is connected to scholarship across Duke and beyond.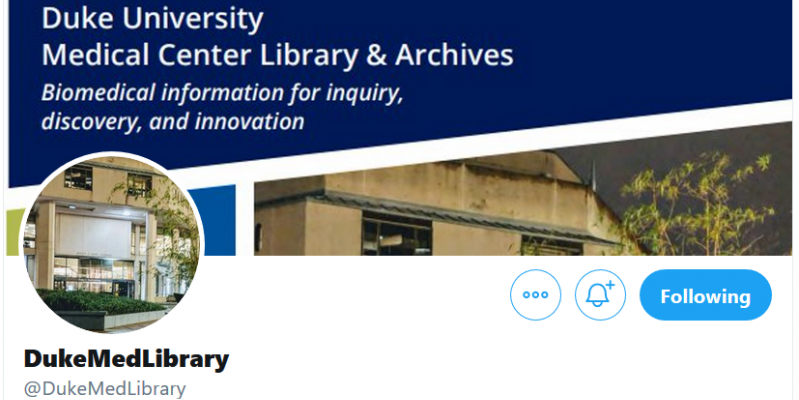 Teaching Resources: Clinical & Basic Sciences Educational Content
If you're looking for tools and resources to teach online or need sound educational content for your courses from reputable sources, look no further! Medical Center Library & Archives staff have put together Clinical & Basic Sciences Education Content from our online collections that can be easily integrated into online learning. These include cases, videos, and self-assessments across disciplines.
New NIHMS System for Public Access Policy Compliance
Karen Barton, Research & Education
The National Institutes of Health (NIH) is in the process of updating many of its research support tools for improvements in navigation, usability, and more. The NIH Manuscript Submission (NIHMS) system is the latest tool to see changes, which went into effect on January 23, 2020. NIHMS facilitates the submission of peer-reviewed manuscripts for inclusion in the PubMed Central (PMC) database in support of the NIH Public Access Policy. NIHMS also supports the public access policies of other organizations and government agencies.
Here's what's notably new in NIHMS:
"My Manuscripts" menu that allows researchers to more easily see the progress of submissions
Submission progress graphic for individual deposits (shown below)
Ability to easily import metadata (information describing the manuscript) from PubMed, DOIs or My Bibliography while in the first step of the submission
Ability for reviewers to more easily preview PMC-ready manuscripts in Web and PDF views
"Walkthrough" pop-up window now automatically guides users during the first use of the new system. For subsequent uses, submitters will have to select the walkthrough (walking person) icon for this step-by-step help.
The NIHMS instructions on our NIH Public Access Policy Compliance Guide have been updated to reflect the recent changes and include a link to the new NIHMS step-by-step tutorials (screenshots). Users should still sign in to NIHMS with eRA Commons credentials if they have one, though My NCBI login credentials may be used if an eRA Commons account does not exist.
Eleanor B. Easley Papers Addition to the Medical Center Archives
Lucy Waldrop, Associate University Archivist, Medical Center Archives
Duke University Medical Center Archives is happy to announce the recent addition to the professional papers of Eleanor B. Easley (1907-1998), a doctor of obstetrics and gynecology who practiced in Durham, NC. The addition includes Easley's degrees, memberships, North Carolina medical license, and awards from her medical career. Materials dating from 1928 to 2000 have been processed and are open for research.
Easley was the first female graduate of Duke's School of Medicine's first four-year class. In 1941, she helped co-found the Durham Women's Clinic. Types of materials in the collection include notes from talks and presentations, short writings, meeting minutes, agendas, articles, reports, photographs, correspondence, memberships, degrees, awards, and clippings. Major subjects include Durham, North Carolina; nursing; obstetrics and gynecology; women physicians; women's health; and Watts Hospital.
This collection should be of note to researchers interested in studying the experience of female doctors in the early to mid-20th century, during a time when the field was still very male dominated. In fact, there are numerous examples in this collection of the male pronoun being used on certificates given to Easley because of the lack of female representation in the field of medicine during the early decades of her practice.
For example, the text on Easley's membership certificate to the North Carolina Obstetrical and Gynecological Society reads:
The North Carolina Obstetrical and Gynecological Society certifies that Eleanor B. Easley because of his proven ability in this specialty, and because of his good character and high integrity, has been duly elected a member of this society.
To learn more about these materials, visit the Finding Aid or contact the Archives staff.
New Nursing and Occupational Therapy E-Books
Barbara Dietsch, Electronic Resources & Acquisitions Manager, Content & Discovery
Here are a few of our newly-acquired Nursing and Occupational Therapy e-books. Reviews are excerpted from Amazon.com.
Suggestions for purchases? Complete our online Recommend a Purchase form or contact Anu Moorthy. For a complete list of titles added to our print book collections within the last 3 months, check out the Library's newest print book additions.
Who is Engel?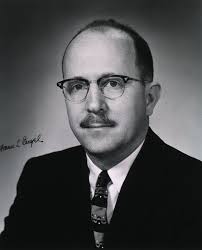 Frank Libman Engel, M.D., 1913-1963, was at Duke University from 1947 until his early death at age 49 in 1963. He was Chief of the Division of Endocrinology in the Department of Medicine and Professor of Medicine and Associate Professor of Physiology.
Dr. Engel, known internationally for his research in the fields of endocrinology and metabolic diseases, was a man of many talents and diverse interests. His peers have described him as a gifted teacher, excellent physician, leading experimental endocrinologist, and an administrator endowed with a creative imagination, a scholarly perspective, and the capacity for sustained inquiry.
To honor the memory of this man who loved medicine, but enjoyed many other things, his colleagues created a special reading collection to broaden the interests and horizons of health professionals and students. The Engel Collection offers a broad range of cultural and informative reading, including books of general of scientific interest not usually found in a medical library. It remains one of the most popular collections in the Medical Center Library & Archives. A special book plate, based on a caricature of Dr. Engel by Elec Emile Leclercq, identifies each volume.
The Engel Collection has been sustained over the years through gifts from his wife, Mildred Engel Handleman, and now his daughter, Susan Engel Zarutskie, M.D. Dr. Zarutskie has also provided a large bequest to support this highly used and cherished collection well into the future.
The Engel Collection Has Moved!
Victor Gordon, Associate Director for Administration
The Frank Engel Memorial Collection, located in the Reading Room on Level 1, is a group of just over 500 titles designed to promote "extracurricular" reading for patrons of the Medical Center Library & Archives. It has been a part of the Library since the fall of 1963, when a Medical Center Library committee decided to establish it in remembrance of the beloved endocrinologist Frank Engel.
The Medical Center Library still maintains the Engel Collection decades after its establishment. Due to the ongoing generosity of Dr. Engel's family, new titles are added every year. Browsing of the current holdings could turn up an eclectic group of titles such as: Gulp: Adventures in the Alimentary Canal by Mary Roach;  Rescuing Patty Hearst: Growing Up Sane in a Decade Gone Mad by Virginia Homan; and Paul Johnsgard's The Hummingbirds of North America. One can easily find more than one book about dozens of topics including Durham history, art and architecture, big data, and cultural attitudes about death.
In order to make the Collection appear more prominent, Library staff made the decision in February to move all 60 linear feet from the stacks to the wooden bookshelves that line the Reading Room. Staff aimed to give it more of a "bookstore" feel by turning some titles outward and by curating a selection of "Staff Picks" in the front of the room. The framed poster that tells the story of Frank Engel and why the Collection is named after him was also brought out from the stacks and hung in the Reading Room. As time goes on, the outward facing titles and Staff Picks will rotate in order to refresh the look of the Collection.
Though the Engel Collection is currently unavailable at this time due to the COVID-19 response, we are hopeful that this new emphasis will make our patrons eager to check out more of these books once we are back in the building.

New PubMed Interface to Launch in 2020
Sarah Cantrell, Associate Director, Research & Education
PubMed will launch its newly designed search interface in 2020!
Features of the New PubMed include:
Ability to cite references quickly in your preferred citation style format (AMA, APA, NLM, or MLA)
Option to share references via social media or a permalink
Seamless search experience on your mobile device
Search results sorted by best match by default as opposed to the most recent articles
All of your favorite features will still be there including clinical queries, the advanced search, MeSH database, search details, and your MyNCBI account. Additionally, you'll be able to export citations to management tools (e.g., EndNote, Zotero, F1000, Mendeley) through the Cite feature. Once New PubMed becomes the default interface, Duke's specific filters will also appear to help you quickly narrow search results.
Caveats: You can check out this new interface now, but please note that there is some limited connection to the full text articles via Duke's journal subscriptions at this time (look for the 

icon). Also, please be aware that once you select the New PubMed version, it will become your default interface. You can always return to legacy PubMed by clicking the option in the yellow banner near the top of your screen in New PubMed.
If you have any questions or concerns, please feel free to drop us a line at medical-librarian@duke.edu.
Staff News
Karen Barton, Research & Education Librarian and Biomedical Research Liaison, has been selected as a Fellow for the Data Analytics Research Training (DART) program. Fully funded by the National Network of Libraries of Medicine, in agreement with the University of Texas at Arlington, the DART Fellowship is a 6-week cohort training and development program, providing a guided pathway for information professionals to acquire data literacy skills using common methodologies applied toward public health efforts.
Leila Ledbetter, Research & Education Librarian and Liaison to the School of Nursing, has co-authored the following article: Losciale JM, Bullock G, Cromwell C, Ledbetter L, Pietrosimone L, and Sell TC, "Hop Testing Lacks Strong Association With Key Outcome Variables After Primary Anterior Cruciate Ligament Reconstruction: A Systematic Review," American Journal of Sports Medicine, 48(2):511-522, February 2020.
McKenzie Long, Medical Center Archives Intern, will be leaving the Duke Medical Center Library & Archives in late May for a position as the Local Records Archivist for the Library of Virginia in Richmond. She will be working in many aspects with collections from Virginia's Circuit Courts including processing papers, working on conservation, making the materials accessible to users by cataloging and creating finding aids, and working on digitization and outreach projects. 
Beverly Murphy, Assistant Director, Communications & Web Content and DUHS Hospital Nursing Liaison, completed the Duke Libraries Copyright Consultants Program. The Duke Libraries Copyright Consultants work with members of the Duke community on issues related to copyright as it applies to research, scholarship, and teaching.
Two of our librarians recently received memberships with the Medical Library Association's Academy of Health Information Professionals (AHIP). Karen Barton, Research & Education Librarian and Biomedical Research Liaison, received membership at the Senior Level, and Sarah Cantrell, Associate Director for Research & Education and Liaison to Graduate Medical Education, received membership at the Distinguished Level. AHIP is a peer-reviewed, accomplishment/portfolio-based certification and career development program with the Medical Library Association for health information professionals. Academy membership signifies a standard of professional education, experience, and accomplishment and demonstrates a committment to career development in medical librarianship.

In Memoriam

Mary Ann Brown,1936-2020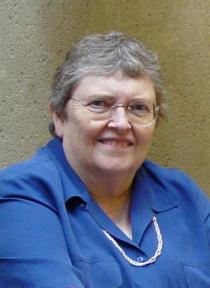 Mary Ann Brown, former Associate Director of the Medical Center Library, died peacefully in her home on March 20, 2020. She was 83.
Mary Ann came to Duke as a reference librarian in 1965 from the Medical Library at Emory University, where she had worked after getting her Master's degree in Library Science from Peabody College in Nashville (now part of Vanderbilt University). At that time, the Library had just celebrated its 35th anniversary and was located in the dark cramped quarters next door to the mortuary in the basement of what we now call the South Clinics.
An integral part of the Medical Center Library staff for thirty-nine years, Mary Ann had worked in almost every department in the Library, with the primary emphasis on reference work. From 1984 to 1991, she served as Associate Director of the Library and then as Collection Development Librarian. In 2004, she retired from her library work that had spanned more than half of the Medical Library's existence at the time.
In retirement, she volunteered at the Durham County Library with its North Carolina Collection. She also devoted even more of her time to her longtime hobbies of genealogy, philately, classical music, cats, and ACC sports, especially Duke basketball!
Donations may be made in her memory to WCPE: The Classical Station, Duke University Chapel, or to a favorite charity of your own.
Ella Cooper,1934-2020

Ella Cooper, former Administrative Library Clerk at the Medical Center Library, died on March 19, 2020 at the age of 86.
Ella's career at Duke began in November of 1961. She had just returned to North Carolina after working for a year in a sewing factory in New York City, upon graduation from Person County High School in Roxboro.  She began work at a time before photocopiers, computers and faxes, but she noted that they did have electric typewriters. At that time, there were no parking garages and monthly fees so staff just drove right up to the building, parked outside the entrance, and walked in to work.
Ella described her job at Duke as being a sort of "Girl Friday," doing a little bit of everything. Many patrons may remember her as the soft-spoken lady who helped them with their photocopy card purchases or answered their phone calls.
Ella retired from the Library in March, 1999 after thirty-seven years of service. She witnessed the growth of the Library staff from only four people in 1961 to forty-six in 1999 with her career spanning the tenures ofto four Library Directors. At her retirement she remarked, "I didn't think I was going to last long at the job when I first started at the Medical Center Library. The place made me jumpy because the Library was located right beside the hospital morgue, and we had to walk past rows of corpses to get to work... But I got used to it, finally."
Her retirement allowed her to spend more time with her family, including traveling and fishing with her husband. She also devoted more time to working with her church and enjoying her favorite pastimes - cooking and shopping (but "mostly looking").
Farewell to Keondra Bailey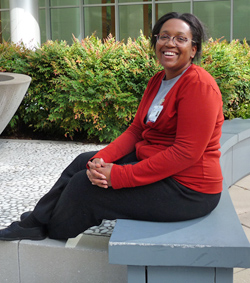 Keondra Bailey, Access Services and Technical Services Assistant, Content & Discovery left the Medical Center Library & Archives in February, 2020 to take a position as the Digital Access Specialist at Duke University Press. As part of the Access Services team, Keondra helped to cover the Library Service Desk, processed materials for the Library collections, analyzed book usage statistics, and assisted with special projects.
Keondra came to Duke in October 2017 from North Carolina Central University (NCCU) where she had worked as the Executive Assistant to the Dean in the School of Library and Information Sciences (SLIS).  Keondra holds a BA in History from Virginia Commonwealth University in Richmond, VA and is also an alumnus of the Benjamin A. Gilman Scholarship program. During her time at Duke, she completed the Master of Library Sciences program at NCCU with a concentration in Digital Librarianship.
Improve Your Library Research Skills Online!
Publication Schedule & Staff
Duke University Medical Center Library & Archives News is published bimonthly.
Megan von Isenburg, Associate Dean
Beverly Murphy, Editor
            Editorial Board:
                        Keondra Bailey

Karen Barton

                        Barbara Dietsch

Lucy Waldrop

Subscribe to our newsletter and be notified when a new issue is published!