July 4th Holiday Hours!

The Library will be CLOSED to the public on Thursday, July 4th. 24-hour card access will be available during this time to those with Duke Health Badges Only. Regular hours will resume on Friday, July 5th.
Access for Visiting Scholars/Sponsored Guests
Keondra Bailey, Access Services and Technical Services Assistant
A new process is now available for visiting scholars and other Duke University Medical Center affiliates to request library access. This system has been adopted by all libraries under the Duke University Libraries umbrella, including the Medical Center Library & Archives. "The new process should be more streamlined for departments and individuals requesting temporary affiliate access to Duke University e-resources, while maintaining compliance with publishers' contracts," said Elizabeth Berney, Access Services Manager.

Those requiring more information can contact Elizabeth Berney at 919. 660.1136 or visit the newly created Sponsoring for Library Access Web page.
Reporting Guidelines for Studies
Sarah Cantrell, Associate Director, Research & Education

Starting a new research project without a reporting guideline can feel daunting – a bit like driving without Google Maps. You may have a vague sense of where to go and what you need to do, but the details and street names are a bit hazy. 
Thankfully, numerous "roadmaps" for health research studies exist. The EQUATOR Network has gathered these reporting guidelines all in one convenient location and includes reporting guidelines for case reports (CARE), quality improvement studies (SRQR), observational studies (STROBE), randomized controlled trials (CONSORT), and systematic reviews (PRISMA), among others. 
The EQUATOR (Enhancing the QUAlity and Transparency Of health Research) Network is an international initiative that seeks to improve the reliability and value of published health research literature by promoting transparent and accurate reporting and wider use of robust reporting guidelines. They also have toolkits which provide practical help and resources to support you in writing research, selecting the appropriate reporting guideline, peer reviewing research, and more. 
PMIDs, DOIs, and PMCIDs Oh My!

Brandi Tuttle, Research & Education
Let's take a moment to demystify these commonly used acronyms. They are all unique identifiers for an article (like a barcode), which can be used to easily link to or find an article online.
A PMID (such as 30256255) is a unique numerical identifier for an article in PubMed. You will notice every article includBraed in PubMed has a PMID under the citation/abstract. You can search this number in PubMed or our E-Journals page to go straight to that particular article.
The International DOI Foundation assigns a unique alphanumeric string to content online known as a Digital Object Identifier or DOI. Most publishers give their articles DOIs because it is the best way to provide links to articles that are persistent or permalinks. A DOI will still work on a Website where common occurrences might make other links unusable.
When available, you will also see DOIs included with the citation data in PubMed. In order to "resolve" these DOIs, or make them usable links, simply add http://dx.doi.org/ before the DOIs. Thus an article with a DOI of 10.1097/ACM.0b013e31828acf27 can be linked by using http://dx.doi.org/10.1097/ACM.0b013e31828acf27
Finally, PMCIDs are simply unique identifiers for articles that are included in PubMed Central (PMC). These numbers will be preceded by PMC first.
This article has all three identifiers included in PubMed

If you only have one identifier and want to know of others associated with an article, you can use the NCBI Converter tool.
Findable & shareable...isn't that what we all want?
Track Your Publishing Contributions in Publons
Megan von Isenburg, Associate Dean for Library Services & Archives
What is Publons?
Publons is a Web service that allows you to track your publications, citations, and contributed peer reviews in one dashboard. It also calculates your h-index (the productivity/impact indicator based on the most cited papers and the number of citations that they have received in other publications) and displays all data on a public-facing dashboard.
Originally launched as a service to track completed peer reviews, Publons was recently purchased by Clarivate, the group that owns Web of Science, and has added integrations with published citation data using the Web of Science ResearcherID and ORCID.
What does this mean for researchers?
If you have a ResearcherID or ORCID, it's easy to create a dashboard that shows a fairly complete picture of your productivity that not only lists publications, but also citation counts, visualizations, and other measures. Researchers can export their record for funding or promotion applications.
Adding entries for the peer reviews and journal editing work adds important contributions to an individual's research impact that are not currently available elsewhere.
Publons also offers an online course in completing peer reviews called Publons Academy. For researchers new to writing peer reviews, this may be a helpful feature.
How do you use Publons?
Users must create their own account and then add any ORCID or ResearcherID profiles to populate their publications. To add a peer review, you must add the journal name and date, then send the email acknowledgement to verify the work. The text of the peer review can be added but does not have to be included.
How does this relate to similar sites?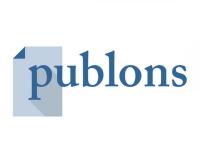 Mendeley is the most similar product in terms of publication impact, but it also includes features that allow researchers to save citations by others for manuscripts and research projects.
Scopus and Web of Science, both citation databases, allow you to calculate research impact based on a group of publications, including those by an individual.
Scholars@Duke offers the ability to display a bibliography of a Duke faculty member's own work on their Scholars profile page.
Featured New E-Books
Barbara Dietsch, Electronic Resources & Acquisitions Manager, Collection Services
Here are a few of our newly-acquired e-books. Reviews are excerpted from Amazon.com.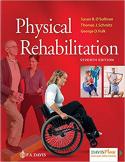 Physical Rehabilitation
Susan B. O'Sullivan, Thomas J. Schmitz, and George Fulk
This 7th edition features more than 60 narrated, full-color video clips of patients in treatment, including the initial examination, interventions, and outcomes for a variety of the conditions commonly seen in rehabilitation settings. This indispensable book incorporates current research in basic and clinical sciences with physical therapy assessments and treatment procedures.
Guidelines for Perinatal Care
American Academy of Pediatrics and the American College of Obstetricians and Gynecologists
Significantly revised and updated, the new 8th edition of this bestselling manual addresses the full spectrum of perinatal medicine from both the obstetric and pediatric standpoints. A gold standard guide, it provides the latest recommendations on quality care of pregnant women, their fetuses, and their newborn infants.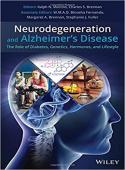 Neurodegeneration and Alzheimer's Disease: The Role of Diabetes, Genetics, Hormones, and Lifestyle
Ralph N. Martins, Charles S. Brennan, Binosha Fernando, Margaret A. Brennan, and Stephanie J. Fuller
This resource is essential for researchers, medical practitioners, dietitians, and students with an interest in neurological diseases and their diagnosis and risk factors, as well as diet-related conditions such as diabetes and obesity. A better understanding of this evidence amongst health professionals will hopefully lead to greater public awareness of how to reduce the likelihood of these widespread conditions.
Suggestions for purchases? Complete our online Recommend a Purchase form or contact Barbara Dietsch.  For a complete list of titles added to our print book collections within the last 3 months, check out the Library's newest print book additions.
Computerized Textbook of Medicine Exhibit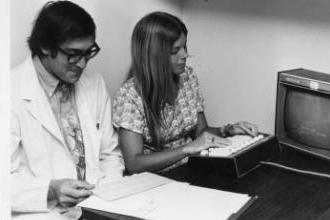 Currently on Display
Computerized Textbook of Medicine:
Development of Computer Technology & Medical Databases at Duke Medicine
Medical Center Library & Archives - Level 1

Today it is hard to remember a world without computers, but their value in medicine has not always been apparent. As with any new technology, widespread adoption takes time.
The Duke University Medical Center has played a crucial role in the development of data science techniques and innovations in medicine and clinical research since the 1960s. This is most clearly evident in the development of the Duke Databank for Cardiovascular Disease, but early data science efforts also played a critical role in other departments.
This exhibit explores the history of computation and data science efforts at Duke in context with technological advancements of the twentieth century and similar efforts at other institutions. 
Staff News
Leila Ledbetter, Research & Education Librarian and Liaison to the Doctor of Physical Therapy Program, has co-authored the following article: Hodulik KL, Root AG, Ledbetter LS, and Onwuemene OA, "Effects of therapeutic plasma exchange on anticoagulants in patients receiving therapeutic anticoagulation: a systematic review," Transfusion, 59(5):1870-1879, May 2019.
Medical Center Library & Archives staff presented the following initiatives during the Annual Meeting of the Medical Library Association in Chicago, IL, May 3-8, 2019.
Sarah Cantrell, Beverly Murphy, and Megan von Isenburg - Infobuttons in the Electronic Health Record (EHR): Improving Usage and Visibility  (Poster)
Sarah Cantrell and Megan von Isenburg - Teaching Evidence-Based Practice through a Free, Modularized Online Tutorial  (Poster)
Leila Ledbetter, Sarah Cantrell, Brandi Tuttle, and Amanda Woodward - Librarian Partnerships in a Program-Wide Systematic Review Capstone Project: Elevating Team Work (Lightning Talk)
Beverly Murphy completed her role as President of the Medical Libary Association and will now transition to her term as Immediate Past President.
Farewell to Emma Cryer Heet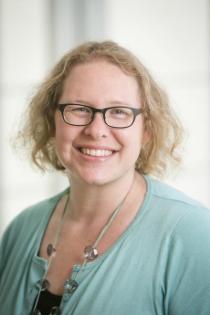 Barbara Dietsch, Electronic Resources & Acquisitions Manager, Collection Services
After ten years with the Library & Archives, Emma Cryer Heet will be taking on a new role at Loyola University Chicago Libraries as Associate Dean of Collection Services. In her new position she will head up Technical Services, Collection Development, and Access Services.
Emma started her tenure at Duke in 2008 as the Serials Librarian and quickly took on more responsibilities becoming Assistant Director of E-Resources and Technical Services. In 2015, she became Associate Director of Collection Services overseeing Collection Development, Technical Services, Access Services, and Interlibrary Loan/Document Delivery.
During her ten years with the Library, she oversaw the reduction of print journal subscriptions, replacing them with electronic subscriptions, and adding backfiles for hundreds of journals titles. The physical journal collection was also moved to storage allowing the Library to expand its study areas on Level 3. To retrieve print titles located in our off-campus stacks, Interlibrary Loan service was expanded.  Due to her proactive and innovative collections leadership, patrons have seamless access to journals from their desktops, laboratories, and from off-campus.  She has kept the Library current with the latest of library systems, including electronic journal and book management systems. On a sometimes flat or deflated budget, Emma always made sure our electronic resources were stable and robust. 
Emma has been active in the library community as well, participating on committees, presenting at conferences, and writing journal articles. She is a member of the Medical Library Association (MLA), the Mid-Atlantic Chapter (MAC) of MLA, and has regionally collaborated with the Triangle Research Library Network (TRLN) which includes Duke, NCCU, UNC, and NCSU.
Emma received her Bachelors in Art History degree from the University of North Carolina at Chapel Hill in 2001 and her Masters of Arts in Art History from University of California at Santa Barbara in 2003. She then came back to the University of North Carolina at Chapel Hill graduating with her Master of Science in Library Science in 2006. Emma went on to work at Johns Hopkins Sheridan Libraries as the Electronic Resources Librarian from 2006 to 2008.
Improve Your Library Research Skills!
Publication Schedule & Staff
Duke University Medical Center Library & Archives News is published bimonthly.
Megan von Isenburg, Associate Dean
Beverly Murphy, Editor
            Editorial Board:
                        Keondra Bailey

Karen Barton

                        Barbara Dietsch

Rebecca Williams

Subscribe to our newsletter and be notified when a new issue is published!