October is Breast Cancer Awareness Month!
Celebrating National Medical Librarians Month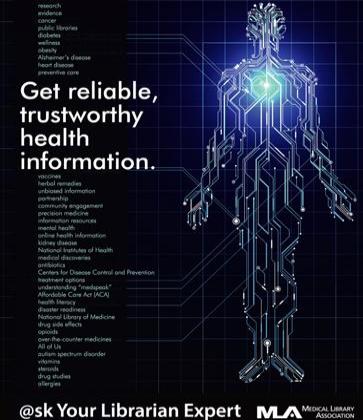 The Duke Medical Center Library & Archives celebrates National Medical Librarians Month (NMLM) in October. NMLM was established by the Medical Library Association in 1997 to raise awareness of the important role of medical librarians. This year's theme highlights health information professionals as the experts for getting reliable, trustworthy health information.  
The NMLM celebration will include the following activities:
We will continue to "Aim for Excellence" by providing quality resources, services and expertise to impact medical care, education, and research at Duke Health.
Open Access Week: October 22-28
Sarah Cantrell, Associate Director for Research and Education
International Open Access (OA) Week will be celebrated Oct. 22 – 28, 2018!
This year's theme "Designing Equitable Foundations for Open Knowledge" invites us to consider the current transitioning state of the scholarly communication enterprise and, in particular, how institutions, publishers, and funders are grappling with open access policies and practices.
The Open Access Week Advisory Committee poses several questions and challenges: How do we ensure sustainability models used for open access are not exclusionary? What are inequities that open systems can recreate or reinforce? Whose voices are prioritized? Who is excluded? How does what counts as scholarship perpetuate bias? What are areas where openness might not be appropriate?
Feel free to share your comments using the hashtag #OAWeek and follow other OA news at  or http://www.openaccessweek.org/.
For specific actions consider:
Food for Fines!
Elizabeth Berney, Access Services Manager
The Medical Center Library & Archives, along with Perkins, Lilly, Law and the Music Libraries, will be doing a food drive from October 10-26, 2018.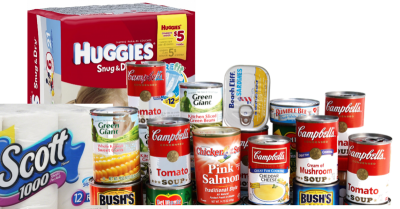 Patrons will be asked to provide non-perishable food items, plus high-need hygiene and infant items (i.e. toothpaste and diapers), in exchange for library fine reductions.  All donations will be sent to the Food Bank of Central & Eastern NC to benefit counties affected by Hurricane Florence.
1 non-perishable food item = $1 fine waived
$25 maximum for all late or recall fines
Lost item replacement fees are NOT eligible for waiving
Donations for fines will be accepted at any participating libraries
Donations may be exchanged for fine reductions after-hours by using the Donations Form
4 Things about Duke Apps
Brandi Tuttle, Research and Education

We can help you get your mobile device set up in the Duke Medicine environment. Check out our Mobile Apps Guide for more information on Duke provided apps (and more).
Did you know…
#1 The Lexicomp app, Duke's chosen clinical drug resource, has a new subscription code. You'll need to update your account to continue using the app. These codes expire yearly. Click here and then click on the Mobile App Access button on the right. Follow the instructions for the new product code. If you haven't gotten started with Lexicomp yet, first create an account on a desktop before downloading and activating the app.
#2 The Johns Hopkins ABX Guide mobile app is now available through Duke. This app includes guidance on infectious diseases, pathogens, and drugs. To get started, download the UCentral app (Apple or Android). Once in UCentral, register for an account. Then log in with your new account information and proceed to access the Johns Hopkins ABX Guide.
#3 Docphin and Read by QxMD are two apps that provide easy access to Duke University's journal subscriptions, make it easy to share, and allow you to create a customized news feed so you don't waste any time staying current. Let us know if you need any help figuring out how to connect to Duke's journal subscriptions.
#4 Text a Medical Librarian! Did you know you can text us with your medical reference questions Monday - Friday between 9a - 5p? Whether you are having resource access issues, need some information, or starting a project, we can help! Feel free to text us at 919.629.1113.
Questions or Comments?  We'd love to hear from you. Use our Ask a Librarian page (or just text us!).
Image credit: Created by Icon Fair from Noun Project
October is Archives Month
Rebecca Williams, Archives Librarian for Research, Outreach, and Education
Archives Month is an annual, month-long observance of the agencies and people responsible for maintaining and making available the archival and historical records of our nation, state, communities, and people. Archives serve as the memory of our nation, and by celebrating, we recognize and give legitimacy to the enduring value of American records and America's archives.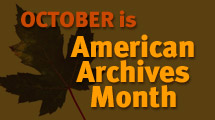 We encourage you to check out our Instagram account where we'll be highlighting treasures from the Medical Center Archives collection all month long. This month the Society of North Carolina Archivists is highlighting the Andrews Geyser, a man-made landmark in McDowell County which marked the entrance of the Blue Ridge Mountains and was visible to rail passengers both east and westbound. On October 3, 2018, archivists around the country took to Twitter to respond to questions tweeted with the hashtag #AskAnArchivist.
To learn more about DUMC history, visit the Duke University Medical Center Archives Website or email dumc.archives@mc.duke.edu
ORCID: Distinguish Yourself and Promote Your Research
Sarah Cantrell, Associate Director for Research and Education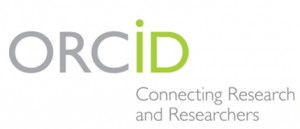 ORCID (Open Researcher and Contributor ID) is an international, not-for-profit organization that maintains a registry of unique identifiers for authors. Signing up for an ORCID ID will help you to disambiguate your research from others and help you retain authority over your work. A complete and up-to-date ORCID record can help to streamline some processes within Scholars@Duke and help populate your NIH Biosketch if you use Science Experts Network Curriculum Vitae (SciENcv).
If you need an ORCID ID to submit an article to a publisher, you can easily register for one and link it to your Duke Directory listing and Scholars@Duke information. If you have registered in the past and have forgotten your ORCID ID, search for yourself at the top of the ORCID Website.
Interested and want to learn more? Register now for a class on Thursday, November 1st from 12:15-12:45p to get started with ORCID. For more information on ORCID or the publication process, see our Getting Published Guide or Ask a Librarian. 
It Came from the Archives: Halloween Highlights!
Medical Center Library & Archives
Level 2R, Room 212E
Tueday, October 31st
11am – 2pm
FREE and open to all!
In honor of Archives Month, Duke University Medical Center Archives is hosting its fifth annual Halloween event  featuring a selection of eerie, fascinating, and rarely seen materials from its collections. Brave souls are invited to gaze upon spine-chilling artwork, stare into the faces of frightening death masks, behold macabre medical artifacts and instruments, and much more!
Halloween candy will be available…for those who don't lose their appetite!
For more information, contact Rebecca Williams at 919.383.2653 or rjw12@duke.edu.
Staff News
Medical Center Library & Archives staff presented the following posters at the 2018 Health Professions Education Day sponsored by Duke AHEAD, Duke GME, Duke University School of Medicine, and Duke University School of Nursing at the Trent Semans Center on September 21, 2018.
Mitigating the Madness: Teaching EBP to Clinical Nurses - Beverly Murphy, Virginia Carden, and Deborah H. Allen
Incorporating Evidence-Based Teaching into Health Education - Melinda Blazer, Leila Ledbetter, and Ernestina Belt

Duke Ahead Digital Repository: Capturing the Scholarship of Duke Ahead - This poster references the digital repository built by Russell Koonts and Michael Ravenel-Baker

Welcome to Jordan and McKenzie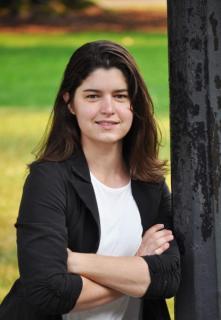 Jordan Wrigley

Rebecca Williams, Archives Librarian for Research, Outreach, and Education
Jordan Wrigley joined the Library staff as an Intern in July. She received a BA from the University of Idaho and a MA from Western Washington University and is currently working towards a Masters of Library and Information Science at the University of North Carolina at Chapel Hill. During her undergraduate career, she focused on economic development and health statistics in Southeast Asia. Her master's research centered on marine impact policy, food access, and geographic information systems (GIS).
Jordan decided to pursue a career in librarianship due to the influence of many wonderful friends and mentors who are librarians. She is passionate about supporting people through information and knowledge provision and is particularly drawn to medical librarianship, because it addresses equity directly through health information research and access.
In her spare time, she enjoys hiking, mountaineering, rock climbing, paddling, and camping with her husband Scott and dog Chai. A real mountain girl, her favorite thing to do is fly fish! She also enjoys trying new food, theater, and reading social histories and biographies.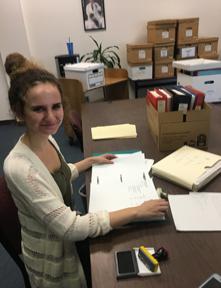 McKenzie Long

Lucy Waldrop, Associate University Archivist
In July, McKenzie Long joined the Medical Center Archives staff as an Intern. She received degrees in English and History from the College of William and Mary and is currently working towards a Masters of Library and Information Science from University of North Carolina at Chapel Hill. She expects to be finished in 2020 and hopes to continue working in Archives after graduation.
McKenzie developed an interest in archives as an undergraduate when she worked in Special Collections at the College of William and Mary. She is passionate about history and working with materials from the past like photographs, maps, and letters which allows her to constantly discover, explore, and learn. Working in an archives also gives her the opportunity to help preserve and make archival materials accessible to others.
Since starting at the Medical Center Archives, McKenzie has worked on several processing projects, as well as helped to accession new materials and enhanced the description on our finding aids to make them more accessible to researchers.
When McKenzie is not at work or busy with school, she loves to watch old movies, craft, cook, bake, and swim and hike when the weather is nice.
Farewell to Emily and Megan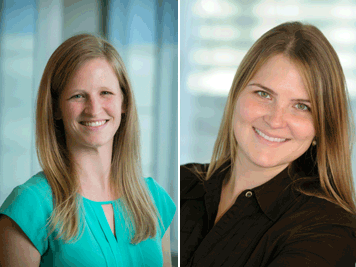 Sarah Cantrell, Associate Director for Research and Education
The Medical Center Library & Archives is sad to say goodbye to two fantastic colleagues from the Research & Education Department. For the last eight years, Emily Mazure (pictured on left) served the many facets of the research community across Duke in her role as Biomedical Research Librarian. She worked closely with Institutional Animal Care and Use Committees (IACUC) and helped establish the Research Wednesdays educational program series. Megan Van Noord (pictured on right) was the School of Medicine Liaison Librarian for the last four years. She worked closely with medical students during their third year with research projects and was a key contributor to the Library's systematic review service.
Emily will be joining the Mountain Area Health Education Center Library in Asheville, NC as a clinical librarian working with the Obstetrics/Gynecology and Surgery divisions. Megan will be joining the University of California, Davis Library where she will be working with the Veterinary School, the Department of Public Health Sciences, and the California National Primate Research Center.
Thanksgiving Hours

                       Thanksgiving Hours
November 21 (Wednesday)    8:00 am - 6:00 pm
November 22 (Thursday)     BADGE ACCESS ONLY
November 23 (Friday)          BADGE ACCESS ONLY
24-hour card access is available to those with Duke Health Badges Only. 
Improve Your Library Research Skills!
Publication Schedule & Staff
Duke University Medical Center Library & Archives News is published bimonthly.
Megan von Isenburg, Associate Dean
Beverly Murphy, Editor
            Editorial Board:
                        Keondra Bailey

Sarah Cantrell

                        Barbara Dietsch

Rebecca Williams

Subscribe to our newsletter and be notified when a new issue is published!