Welcome to Duke!
Pat Thibodeau, Associate Dean for Library Services & Archives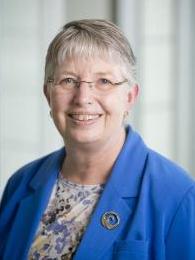 I want to welcome all our new faculty, learners, and staff to Duke Medicine and the Medical Center Library & Archives.  Here are my tips for a successful experience at Duke!
Get to know and contact our expert staff.  They are ready to help you be successful!
Visit our Websites and discover the vast resources available to you at Duke.
Find a space to study or collaborate in the Library in the Mudd building. We have everything from group rooms to individual carrels and comfy chairs.
ASK a Librarian or any member of our staff! Whenever you need assistance or need to find something, contact us – no question is too trivial or outlandish. We can often point you to lots of Duke resources as well as traditional library materials.
Tell us how we can improve! Send us an email, drop by the Service Desk, or chat with a librarian. Your feedback makes us more relevant to what you require to be successful in your role at Duke.
                We also solicit ideas, suggestions, and comments for improvements through surveys.
Please participate if contacted!  Below are examples of how we review and consider the feedback that you give us. While we cannot always meet all the demands, we do take your suggestions very seriously. We have already made changes in the facility based on surveys from medical and nursing students over the past year.  Here are some areas that are a little more challenging, but which we continue to explore and discuss! 
Books
What we were told~
• Electronic books are preferred by most and everyone wants more. 
• BUT print textbooks, especially core titles and study guides, are still in demand. 
• ClinicalKey, offering a 1,000+ e-book titles, is the most frequently used e-book resource.
• OUR challenge: Balancing much more expensive e-books against lesser used print copies.
E-journals
What we were told~
• E-journals are highly important.
• People would like to see more titles.
• OUR challenge: Keeping up with steep annual price increases while the budget stays flat
Databases
What we were told ~
• Online databases are important tools and are meeting your needs
• OUR challenge: Finding better ways for searching across these tools. We are currently testing a new "discovery" tool to provide this functionality.  
Website
What we were told~
• Our Library Website is important and is meeting your information needs.
• OUR Challenge: Keeping the site fresh and responsive. To make sure this happens, we have a team that reviews the Website throughout the year.
Study Space
What we were told!~
• People like the new spaces on Level 3.
• You want more small group study rooms and carrels and better access to printing.
• OUR Challenge: Re-evaluating our existing spaces and figuring out how to meet these needs in a fairly challenging building design, as well as evaluating new systems and locations for printing.
Meet Your Library Liaisons
What are Library Liaisons?
In order to better serve Duke University and the Health System, librarians at the Medical Center Library & Archives have been assigned to work with specific departments or groups.
What can Library Liaisons do?
 • Guest lecture in your class or journal club
 • Integrate evidence-based practice and information literacy into your course or curriculum
 • Collaborate on systematic reviews of the literature and grant preparation
 • Consult on literature search strategies and resource selection
Who is my Library Liaison?
Biomedical Research
Emily Mazure, MSI
emily.mazure@duke.edu
919.660.1197

Doctor of Physical Therapy Program and Master of Biomedical Sciences Program
Leila Ledbetter, MLIS
leila.ledbetter@duke.edu
919.660.1128

Duke's Research Impact and EndNote
Virginia Carden, MLS
virginia.carden@duke.edu
919.660.1184

Global Health and Graduate Medical Education
Megan von Isenburg, MSLS
megan.vonisenburg@duke.edu
919.660.1131

Hospital Nursing, Neurobiology Graduate Program, and Ophthalmology
Beverly Murphy, MLS
beverly.murphy@duke.edu
919.660.1127

Physician Assistant Program and Pathologists' Assistant Program
Brandi Tuttle, MSLIS
brandi.tuttle@duke.edu
919.660.1126

School of Medicine
Megan Van Noord, MSIS
megan.van.noord@duke.edu
919.660.1124

School of Nursing
Jamie Conklin, MSLIS
jamie.conklin@duke.edu
919.660.1120
Getting Started at the Medical Center Library
Resources

&

Services
About the Library
http://mclibrary.duke.edu/about 
Want to know about us? Check here for hours, staff, directions, floor plans, blog, how to contact us, and more.
Catalog
http://library.duke.edu/catalog
Provides access to the library collections at Duke. 
E-Journals
http://mclibrary.duke.edu/ejournals
Searchable list of full-text biomedical electronic journals. 
Databases – Connect to the Website for the full list of databases, descriptions, and any access restrictions.
http://mclibrary.duke.edu/databases-books-journals/databases
MEDLINE (via PubMed or Ovid): references to biomedical and nursing journals
CINAHL: references to articles in nursing and allied health
ClinicalKey: medical and surgical resources
Cochrane Library: evidence-based healthcare databases
ExitCare: patient education materials
Lexicomp and Micromedex: drug information
PsycINFO: references to psychology and psychiatry articles and books 
UpToDate: evidence-based point of care resources
Web of Science: cited references to journal articles
Off-campus Access
http://mclibrary.duke.edu/accounts-access/access-campus
Most of our resources are accessible through the EZProxy by signing in with your Duke NetID and password. For those which are not, remote access is available to Duke employees through http://portal.duke.edu/, the Duke University Web-based VPN.  Visit our Web page for more information.
Training & Consulting
http://mclibrary.duke.edu/training-and-consulting
We're here to help you improve your productivity, partner with you on your research project, guest lecture in your class, or help you online. Check here to find videos and tipsheets for many of our most frequently used resources.
 
Subject Guides & Tool Sets 
http://mclibrary.duke.edu/subject-guides-tool-sets
Selected tools and various topic guides offer quick access to the Library's electronic resources for clinicians, nurses, students, and other groups in the Duke community. The Clinical Tools Searcher interface allows you search across several evidence-based resources simultaneously.
Accounts & Access
http://mclibrary.duke.edu/accounts-access
Check here to find out which services are available to you as a Duke employee, patient, or special group within the Triangle area.
Ask a Librarian – Reference and Research Assistance
http://mclibrary.duke.edu/about/ask-librarian
Get help from a librarian via Instant Messaging, text by cell phone, email, phone, or in person. In-depth consultations and search services available. Use our online request form or contact the Library Service Desk at 919.660.1100 to set up an appointment.
Computers & Equipment
http://mclibrary.duke.edu/accounts-access/computers-equipment
Information about computers, PIN workstations, scanners and photocopiers, ePrint, large screen monitors, and devices for borrowing.
Document Delivery/Interlibrary Loan
http://illiad.mclibrary.duke.edu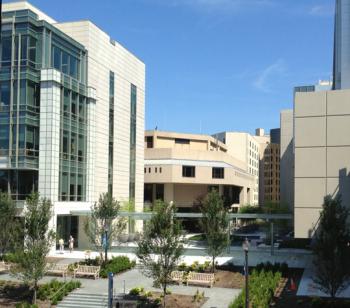 If you need to request articles or books or items not available at Duke, this service can help you.
Medical Center Archives
http://archives.mc.duke.edu
Administrative records of Duke Medical Center departments and personal papers of individuals.
Located at 1408-A Christian Avenue, Durham, NC
Library Blog
http://mclibrary.duke.edu/about/blog
Stay current on Library events, classes, new resources, and more. RSS feed available.
DUMC Archives Resources Round-up
Jolie Braun, Assistant Director, Medical Center Archives

Duke University Medical Center (DUMC) Archives has a variety of online resources to help users learn about the collections and the Medical Center's history.
MEDSpace – If you're looking for historic images, our digital repository, MEDSpace, is an excellent place to start. MEDSpace contains nearly 700 photographs documenting the history of Duke Medicine. You can also find early publications, medical illustrations and artwork, and medical artifacts.
Digitized Yearbooks – Want to look up a faculty member, an old classmate, or maybe even yourself? Our entire collection of the Aesculapian, the Duke School of Medicine's yearbook, has been digitized and made available online. Browse or search 34 volumes spanning more than 60 years of Duke history, from 1950 to 2013.
Digitized Intercom – The Intercom, Duke Medicine's primary news publication from 1953 to 1986, featured information about campus events and construction, faculty and staff news, and articles on medical research and innovations at Duke. The first 25 years of this publication have been digitized, making more than 500 issues available online.
DUMC Archives Guide – Our subject guide provides a brief overview of the Archives, including information about our collections, how to find items, and suggested resources. We recommend it for anyone who is new to Medical Center Archives as an introduction to what we have and how we can help with your research or project.
DUMC Archives African Americans at Duke Medicine Guide – This guide aims to introduce researchers to materials documenting the history of African American faculty, students, and staff at Duke Medicine. Included are recommended oral histories, archival collections, photograph and AV items, publications, selected key dates and key figures, and links to suggested digital resources.
Digital Exhibits – The Archives has several digital exhibits about key figures and events in the history of the Medical Center. Some of the topics include the Duke Poison Control Center, Dr. Wilburt C. Davison's correspondence with Sir William Osler, and women in medicine at Duke.
DUMC Archives Blog – Updated regularly, our blog is the place to go for Archives news, to see materials from our collections, and discover stories about the Medical Center's history.
Come Visit Our Medical Garden!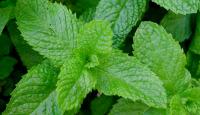 It's spring and the Medical Garden is in bloom! If you are not familiar with our garden, come visit our table at the Farmer's Market on August 21 from 11a-2p (rescheduled from an earlier date). You will have a chance to get some information, explore some common medicinal herbs and plants, and pick up a few samples. We hope to see you there!
Easy Access from Off Campus
Need to get to journal content or other library resources from off campus? Simply start at our Website! You will be prompted to sign in with your Duke NetID and password once you get to a resource that requires authentication. No VPN or Virtual PIN is needed!

There are only a few resources that require the VPN – Micromedex, PIVOT, and ExitCare Patient Education. If you need drug information from off campus, Lexicomp only requires your NetID and password.

Be sure to use the Duke version of PubMed if you're ff campus and need to get to full text. When you find an article you want to read, click on the Get it@Duke button, which will prompt you to sign in with your Duke NetID and password. Remember that Get it@Duke will only take you to the full text of what we subscribe to. If we do not subscribe to the content you are looking for, you will be able to use Get it@Duke to look for the journal in the catalog or to request the article through Document Delivery/Interlibrary Loan Services. The DUMCL Online button only works on campus or on the VPN.

When accessing UpToDate, start at our Website and click on UpToDate under the Quicklinks. You'll be prompted to sign in with your Duke NetID and password.

If you have any trouble accessing our resources from off campus, please contact the Library at 919.660.1100, email medical-librarian@duke.edu, or use our chat box.
Biosketch Tips
Pat Thibodeau, Associate Dean for Library Services & Archives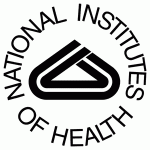 NIH's new format for its biographical sketches (Biosketches) has created a different approach to what's included. Changes consist of a new limit of 5 pages and the ability to describe up to 5 areas of contributions to science, with up to 4 peer-reviewed publications or other res earch products for each contribution. 
We recommend you consider using Science Experts Network Curriculum Vitae (SciENcv) instead of the Word template, since you can easily create different profiles from a master profile.
Here are some TIPS!
Your biosketch should answer the question, "Why should I get this award"?
Showcase the items relevant to the specific grant, contract, or award.
Include your experience, training, and accomplishments that show why you qualify for it.
Brag about yourself and/or your research team.
Rewrite your personal statement so you tell "your story" about how your background, interests and experiences match the research or project.
Think like the grant reviewer. 
Can it be determined from your statements and accomplishments why you should receive the grant?
Have a colleague in another area review what you write to see if they understand it. Showcase the items relevant to the specific grant, contract, or award.
Focus on "significant contributions.
The subject/research area of the grant.
Your skills, experience and expertise in research or the research area.
New to research?
Focus on prior projects that have relevant methodologies, subject areas, or experiences.
Talk about how you have gained skills and relevant experiences and expertise.
Cite "unconventional" items in addition to peer-reviewed articles, such as data sets, online videos, software, etc.
Running out of room?
Consolidate listings for the same institution without demonstrating you have the needed expertise.
Consider whether the instructor or minor consulting position needs to be listed. 
Think carefully about how relevant awards, honors and memberships are to obtaining the grant. You want to demonstrate leadership and recognition, but do not need to list everything.
Citations are peer-reviewed publications BUT you can include other things.
Include patents, databases, curricular materials, software, and equipment.
Add these products to "My Bibliography" and then add them to your profile.

My Bibliography has formats for many other items as well.
Presentations and meeting abstracts can be added along with books.

You can list up to a total of 24 individual citations in your Biosketch.

Four citations in Section A and four for each of the five Contributions in Section C.

It is also acceptable to list the same citation more than once.  You decide which makes more sense for you.
Don't forget you can include a link to a full bibliography. My Bibliography is the recommended tool to use to create your full list of citations.
Think about creating a customized Biosketch profile for each grant.
The customized profile should really demonstrate why you are the logical choice for that specific grant funding.
DukeSpace - Sharing Your Publications with Duke and the World!

Have you ever wanted to make your journal articles, book chapters or other materials more available to students? Perhaps even to health professionals and learners around the world?  Would you like to go beyond the funding agency requirements such as the NIH Public Access policy?

You can do this by using DukeSpace, a "repository" created for Duke Scholarly Works, as well as dissertations, master's projects, and archival collections.   DukeSpace provides free access to Duke publications that can be used by Duke students, other faculty and health professionals, and the general public across the country and world.
First step: Make sure you retain your rights to place a copy of your works in DukeSpace.
The Duke Academic Council established an open access policy in 2010 for all faculty members to deposit copies of scholarly articles in DukeSpace, unless individual authors opt-out.
How to upload articles
Use the Duke Elements feature of Scholars@Duke 
Check the publishers agreement to see what can be uploaded

Final published version, peer-reviewed manuscript, or author files

If the citation is in Scholars, use the upload button to start the process
If not sure what the journal allows, use the SHERPA RoMEO tab to check on policies
By following these steps, you can make your content freely available to the Duke community as well as colleagues and learners across the world.
Featured Engel Books
Barbara Dietsch, Acquisitions Manager, Collection Services

These books are part of the Library's special collection established in memory of Dr. Frank Engel, who always thought students should have other reading sources that took them beyond their medical studies.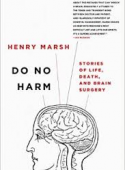 Do No Harm: Stories of Life, Death, and Brain Surgery
Henry Marsh, M.D.
In this fascinating look into the reality of life as a neurosurgeon, Dr. Marsh takes the reader deep into a world of life, death, and everything in between. The personal patient stories are gripping, providing the public with an incredibly candid look into the imperfections and perfections of a dedicated neurosurgeon. Despite it all, Dr. Marsh's commitment to his patients and his profession never wavers. (Review: Paul Ruggieri, M.D.)
Headstrong: 52 Women Who Changed Science and the World

Rachel Swaby
Swaby covers Nobel Prize winners and major innovators, as well as lesser-known but hugely significant scientists who influence our every day lives. Her vibrant profiles span centuries of courageous thinkers and illustrate how each one's ideas developed, from their first moment of scientific engagement through the research and discovery for which they're best known. (Review: Amazon)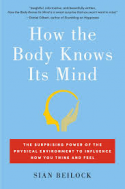 How the Body Knows Its Mind: The Surprising Power of the Physical Environment
to Influence How You Think and Feel
Sian Beilock
An award-winning scientist offers a groundbreaking, new understanding of the mind-body connection and its profound impact on everything from advertising to romance. From the tricks used by advertisers, to the ways body language can improve your memory, Beilock explains a wealth of fascinating interconnections between the mind and body and how mastering them can make us happier, safer, and more successful. (Review: Amazon)

The Patient Will See You Now: The Future of Medicine is in Your Hands
Eric Topol, M.D.
"Dr. Eric Topol is uniquely positioned to map out a new era of democratized medicine - a time when each individual will not only have immediate access to all of their own medical data, but even generate much of it and play a principal role in their healthcare." (Review: Sanjay Gupta, M.D.)
Suggestions for purchases? Complete our online Recommend a Purchase form or contact Emma Cryer Heet.  For a complete list of titles added to our print book collections within the last 3 months, check out the Library's newest print book additions or subscribe to our "New Books" feed.
Exhibits on Display
Jolie Braun, Assistant Director, Medical Center Archives
Currently On Display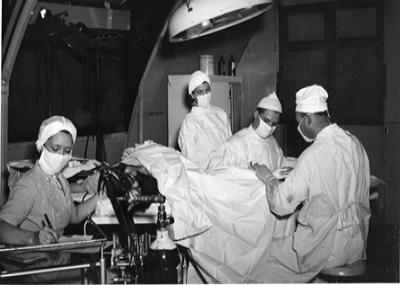 Remembering the 65th: Duke's General Hospital
Medical Center Library & Archives - Level 1
On Display June 25 - September 29, 2015 
"Remembering the 65th: Duke's General Hospital," will be on display for another month. Featuring artifacts, photographs, and documents from the Medical Center Archives collections, the exhibit tells the story of Duke Medicine's World War II hospital unit. Items include medical instruments used by hospital staff, an aircrew flak helmet worn by a patient treated at the hospital, original artwork of the unit's doctors and nurses, and a letter from President Ronald Reagan commending the unit.
The idea for a Duke hospital army unit was born in October 1940, the brainchild of Wilburt C. Davison, then Dean of the Duke University School of Medicine. The Army reserve unit's original core, activated in July 1942, consisted of male and female doctors and nurses who all had some connection to Duke University, creating a mix of faculty, alumni, and current or former house staff. Members of the 65th General Hospital handled a constant stream of front-line casualties from heavy bomber crews, acute diseases and emergency cases, and acted as a specialty center for neurosurgery, thoracic and plastic surgery, burns, and hand injuries. In all, the unit treated more than 17,000 patients during its time in England.
A companion digital exhibit is now available! To learn more about this exhibit and the 65th General Hospital, please contact the Archives at 919.383.2653 or dumc.archives@mc.duke.edu.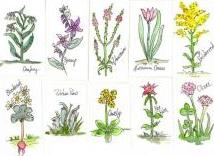 Duke's Medical Garden
Medical Center Library & Archives - Level 2R
On Display through December 2015
The Library is also hosting an exhibit featuring medicinal plants. The display showcases artistic representations of many varieties grown in the Medical Garden on our terrace, or possibly in your own yard.
Did you know that foxglove is a common ingredient in medicines used to treat congestive heart failure and atrial fibrillation? Or that garlic binds with heavy metals so it is useful in the treatment of patients with lead poisoning?
Stop by and learn more factoids, and see renderings from the original artist and Library staff member, Elizabeth Berney.
Beautiful Albarelli and Versatoi Collection on Loan to the Library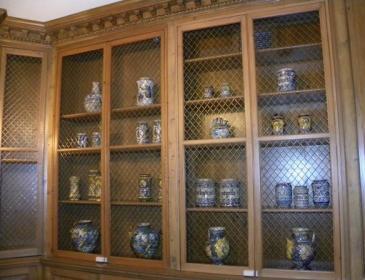 The Mary Duke Biddle Trent Semans Foundation, currently under the direction of current President Beth Semans Hubbard, has graciously expanded its loan of albarelli (medicinal jars) and versatoi (ewers) to the Library. This is a stunning collection of 15th to 17th century tin-glazed earthenware apothecary vessels used to hold ointments and other materials used to treat diseases.  These were collected by Dr. Josiah Trent and his wife, Mary Duke Biddle Trent Semans, from about 1945 until Dr. Trent's death in 1948.

The jars and ewers, with their colorful and rich designs, will be on display in the Richmond Room (Level 1) and expands the current loan of 15 items to 55 albarelli and versatoi. This striking collection compliments the Medical Center Library & Archives' focus on medicinal herbs found in its Medical Garden, as well as the existing Caldwell apothecary jar collection from the 18th and 19th centuries.
Staff News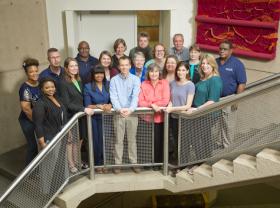 Megan G. Van Noord, Research & Education, presented "Interdisciplinary Library Partnerships for Innovation in Online Teaching and Learning" at the Triangle Research Libraries Network (TRLN) Annual Meeting on July 15, 2015 in Chapel Hill, NC.
Megan von Isenburg, Associate DIrector, Research & Education, has been awarded Distinguished membership in the Medical Library Association's Academy of Health Information Professionals (AHIP). This highest level of membership requires documented leadership within and contributions to library associations and fields.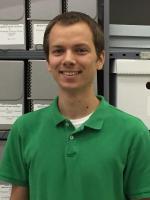 Farewell to Matt Shangler
Jolie Braun, Assistant Director, Medical Center Archives
In July the Library bid farewell to Matthew Shangler, Head of Technical Services at the Medical Center Archives. Matt joined the Library staff in 2010. Previously, he had served as the Isobel Craven Drill Intern at Duke University Archives, and was an intern for the PA History Center. He received a BA in history from the University of North Carolina, Greensboro and an MA in Public History from North Carolina State University.

As Head of Technical Services, Matt's major responsibility was processing collections, which included reviewing, organizing, and rehousing incoming materials, and creating inventories to make these items discoverable by staff and patrons. One of his major accomplishments was processing the Robert J. Lefkowitz Papers, a collection of more than 200 containers. Matt was also a regular contributor to the Archives blog and newsletter and worked on exhibits. A personal highlight of his time at Duke was curating a medical illustration exhibit. "I got to work with arguably the most fascinating part of our collections," Matt said. "Being able to pull the information together and display in a public place was really special."

Matt leaves the Archives to return to school and pursue a career in auto mechanics, noting that, "Cars have long been a passion of mine." We wish him the best of luck as he embarks on this exciting new chapter.
Improve Your Library Research Skills!
Publication Schedule & Staff
Duke University Medical Center Library & Archives News is published bimonthly.
Pat Thibodeau, Associate Dean
Beverly Murphy, Editor
Editorial Board:
               Jolie Braun
Barbara Dietsch
Megan von Isenburg
Subscribe to our newsletter and be notified when a new issue is published!