Welcome to the Start of a New Academic Year!
Pat Thibodeau, Associate Dean for Library Services & Archives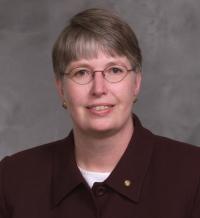 This is always a great time of the year as we welcome residents, students, faculty and staff to the start of a new academic year!  In addition to new faces, we get to introduce and reintroduce our community to resources and services, letting you know that our Library & Archives can assist you with educational activities, research projects, administrative questions, and patient care information.
Through the Duke University Health System, you now have access to some wonderful decision support tools:
• UpToDate - diagnosis and treatment; patient handouts
• Lexicomp - drug information
• ExitCare - patient instructions and education
• Micromedex - poisoning and drugs
A mobile version of UpToDate ("UpToDate Anywhere") is now available as well! On August 6th and 7th, UpToDate reps will be on campus to provide information and assistance with registration.  Visit our blog for specific times and locations. For instructions on how to register on your own, see our related article in this issue. Medical Center Library & Archives staff are also available to assist you at the Service Desk (Level 2R), Monday - Friday,  9:00 am - 5:00 pm.
BioMedSearcher has been launched for our research community and provides a single interface for searching across our major scientific databases.  It is a great way to get started with a research question or to identify which resources have the most relevant information on a topic.  Give it a try and let us know if it works for you. It is still being tested!
E-books have been growing in number, but we will be making major changes this year as a result of evaluating content and platforms.  MD Consult will no longer be available effective September 30th, as it is being discontinued by Elsevier.  Most of the content that MD Consult offered is already available at Duke through UpToDate (clinical care), Lexicomp (drug information), ScienceDirect (journals), and ExitCare (patient handouts). We are transitioning the remaining content (e-books) to other platforms, making the transition as seamless as possible for our users.
Our facility continues to be redefined as the Duke Medicine Pavilion, Cancer Center, and Trent Semans Center buildings have opened.  We are busier than ever and at peak hours, our carrels are full.  We have obtained approval to expand our existing cluster of carrels on Level 2R and add some new workstations on Level 3 for individual or small group study.  Twenty-four hour access with a Duke Medicine ID badge has proved very popular as well, meeting the needs for those who like or require late night and early morning hours throughout the week.  We have additional plans for upgrading our wireless computer network this fall.
As you start your career or programs at Duke, don't hesitate to ask how our Library & Archives staff can help you.  Check out our Web pages for the Library and Archives, and tell us what you need to be successful at Duke!
Meet Your Library Liaisons
Adrianne Leonardelli, Research & Education
What are Library Liaisons?
In order to better serve Duke University and the Health System, librarians at the Medical Center Library & Archives have been assigned to work with specific departments or groups.
What can Library Liaisons do?
 • Guest lecture in your class or journal club
 • Integrate evidence-based practice and information literacy into your course or curriculum
 • Collaborate on systematic reviews of the literature and grant preparation
 • Consult on literature search strategies and resource selection
Who is my Library Liaison?
Department/Group
Biomedical Research
Library Liaison
Emily Mazure, MSI
emily.mazure@duke.edu
919.660.1197

Department/Group
Doctor of Physical Therapy Program
Library Liaison
Leila Ledbetter, MLIS
leila.ledbetter@duke.edu
919.660.1128

Department/Group
Duke's Research Impact and EndNote
Library Liaison
Virginia Carden, MLS
virginia.carden@duke.edu
919.660.1184

Department/Group
Global Health, Graduate Medical Education, and School of Medicine
Library Liaison
Megan von Isenburg, MSLS
megan.vonisenburg@duke.edu
919.660.1131

Department/Group
Hospital Nursing, Neurobiology Graduate Program, and Ophthalmology
Library Liaison
Beverly Murphy, MLS
beverly.murphy@duke.edu
919.660.1127

Department/Group
Physician Assistant Program
Library Liaison
Brandi Tuttle, MSLIS
brandi.tuttle@duke.edu
919.660.1126

Department/Group
School of Nursing
Library Liaison
Adrianne Leonardelli, MLIS
adrianne.leonardelli@duke.edu
919.660.1120
Getting Started at the Medical Center Library

Getting Started
Resources and Services

About the Library
http://mclibrary.duke.edu/about 
Want to know about us? Check here for hours, staff, directions, floor plans, blog, how to contact us, and more.
Catalog
http://library.duke.edu/catalog
Provides access to the library collections at Duke. 
E-Journals
http://mclibrary.duke.edu/ejournals
Searchable list of full-text biomedical electronic journals. 
Databases – Connect to the Website for the full list of databases, descriptions, and any access restrictions.
http://mclibrary.duke.edu/databases-books-journals/databases
MEDLINE (via PubMed or Ovid): references to biomedical and nursing journals
CINAHL: references to articles in nursing and allied health
Lexicomp and Micromedex: drug information
Cochrane Library: evidence-based healthcare databases
ExitCare: patient education materials
BioMedSearcher: single search interface for scientific databases
PsycINFO: references to psychology and psychiatry articles and books 
UpToDate: evidence-based point of care resources
Web of Science: cited references to journal articles
Off-campus Access
http://mclibrary.duke.edu/accounts-access/access-campus
Remote access is available to Duke employees through http://portal.duke.edu/, the Duke University
Web-based VPN.  Visit our Web page for more information.
Training & Consulting
http://mclibrary.duke.edu/training-and-consulting
We're here to help you improve your productivity, partner with you on your research project, guest lecture in your class, or help you online. Check here to find videos and tipsheets for many of our most frequently used resources.
 
Subject Guides & Tool Sets 
http://mclibrary.duke.edu/subject-guides-tool-sets
Selected tools and various topic guides offer quick access to the Library's electronic resources for clinicians, nurses, students, and other groups in the Duke community. The Clinical Searcher interface allows you search across several evidence-based resources simultaneously.
Accounts & Access
http://mclibrary.duke.edu/accounts-access
Check here to find out which services are available to you as a Duke employee, patient, or special group within the Triangle area.
Ask a Librarian – Reference and Research Assistance
http://mclibrary.duke.edu/about/ask-librarian
Get help from a librarian via Instant Messaging, text by cell phone, email, phone, or in person. In-depth consultations and search services available. Use our online request form or contact the Library Service Desk at 919.660.1100 to set up an appointment.
Computers & Equipment
http://mclibrary.duke.edu/accounts-access/computers-equipment
Information about computers, PIN workstations, scanners and photocopiers, ePrint, large screen monitors, and audiovisual equipment.
Document Delivery/Interlibrary Loan
http://illiad.mclibrary.duke.edu

If you are too busy to scan materials or need items not available at Duke, this service can help you.
Medical Center Archives
http://archives.mc.duke.edu
Administrative records of Duke Medical Center departments and personal papers of individuals.
Located at 1408-A Christian Avenue, Durham, NC
Library Blog
http://mclibrary.duke.edu/about/blog
Stay current on Library events, classes, new resources, and more. RSS feed available.
UpToDate Anywhere – Registration August 6th & 7th!
You can now access UpToDate - anytime, anywhere - with the free mobile app for iPhones, iPads, Androids, and Windows 8 devices.
UpToDate representatives will be available at the following locations to help you with registration and answer any questions about UpToDate Anywhere access. 
Outside Duke North Cafeteria
August 6 from 8:00 am – 5:00 pm
August 7 from 2:00 pm – 5:00 pm
Outside Duke South Cafeteria
August 7 from 8:00 am – 2:00 pm

Medical Center Library & Archives staff are also available to assist you at the Service Desk (Level 2R), Monday - Friday,  9:00 am - 5:00 pm.
UpToDate Anywhere offers:

Fast and easy access to UpToDate from any computer with an Internet connection. Simply enter your user name and password to get evidence-based clinical information from home, the office, or wherever you are!
Effortless CME credits when you research a clinical question using UpToDate, whether onsite or remotely – via mobile device or desktop
Free UpToDate mobile app for your iPhones, iPads, Androids, and Windows 8 devices (App Store or Google Play)
Don't want to wait until August 6th or 7th to register? You can self-register immediately by following these instructions!

Go to UpToDate and click on the red Log In/Register button in the top right corner while on Duke campus/VPN (or click the "Want the UpToDate mobile app? Register Now" link below the search box)
Register and create a username/password
From your mobile device, download the UpToDate app
Open the app & login with your UpToDate username/password
Use anywhere via Wifi or 3G
Please note: Clinicians who are using Maestro Care should register for UpToDate Anywhere through Maestro Care. Otherwise the two accounts will not be linked.
For more information, see Frequently Asked Questions about UpToDate Access.
NOTE: In order to maintain off-campus access to UpToDate via the app, you will need to log in from the Duke wireless network every 30 days to prove your continued Duke affiliation.  UpToDate Mobile Complete (a full content download to your device) is currently not available for the Duke institutional license but is available to individual subscribers for an additional fee.
Questions? Contact UpToDate customer service at customerservice@uptodate.com (use the subject line "UpToDate Anywhere") or 1.800.998.6374.
EXPLORE: Zotero
Adrianne Leonardelli, Research & Education
Zotero (zoh-TAIR-oh) is a free citation management tool that conveniently "lives in" your Web browser, where you do the majority of your work and research. Most commonly, Zotero works as an add-on for the Firefox browser. However, there is a Zotero standalone version that is compatible with Safari and Chrome.
Zotero is easy to use and has many of the same functions as EndNote and RefWorks, as well as some unique features.
With Zotero, you can:
Organize & manage references into searchable collections
Insert citations as you write using the Zotero word-processing plug-in
Create formatted bibliographies in many different styles
Attach PDFs, notes and images to references
Easily add citations directly from databases and Websites
Get reference information for PDFs that you already have
Attach searchable tags to citations
Zotero is available for download. For more information about using Zotero, step-by-step video tutorials are available.
Duke Medical Center Library & Archives staff are also available to provide training and answer questions about Zotero. Call 919.660.1100 and ask to speak to a librarian, or email us at medical-librarian@duke.edu.
Medical Archives Launches New Version of MEDSpace
Jolie Braun, Assistant Director and Archives Librarian for Research, Outreach & Education
This summer the Medical Center Archives unveiled the new version its digital repository, MEDSpace.
While the content of the database remains the same, the site has been redesigned with a new user interface and functionality to make it easier and faster to use. Because the new site was built entirely in-house by Russell Koonts, Director of Medical Archives & Digital Initiatives, and Michael Ravenel-Baker, Web & User Services Manager, the Medical Center Library & Archives will no longer need to rely on an outside vendor for technical support, as it did previously. In addition to being quicker and more user-friendly, the new version will also have improved catalog records, since Archives staff updated and corrected information, as needed, during the process of uploading images and entering metadata into the new site.
MEDSpace contains thousands of images and publications related to the history of Duke Medicine. Two highlights are Foundations of Excellence, a collection of over 600 photos documenting the first 30 years of Duke Medicine, and Historical Images in Medicine, a collection of 3,000 images of photographs, illustrations, bookplates, and engravings drawn from the Duke University's History of Medicine Collections. Other materials include documents related to history of the Physician's Assistant Training Program, a full run of the Davison Society's publication Shifting Dullness, scholarly literature pertaining to hyperbaric medicine, and publications of many departments throughout the medical campus.
To learn more about MEDSpace and view the Medical Center Archives' collection of digitized historic images and documents, please visit http://medspace.mc.duke.edu.
BrowZine Helps Monitor Current Journals
Brandi Tuttle, Research & Education
Duke University Libraries is currently running a trial of BrowZine (think "browsing"), an app for iPads and Android tablets that enables you to browse, read, and monitor current journals in your subject areas.  BrowZine is compatible with Zotero, Dropbox, Evernote and other services (Mendeley and RefWorks coming soon!), allowing you to organize and manage your research seamlessly.  You may also save articles to your BrowZine pin board to read even when you don't have Internet access.
Download BrowZine to your device by following these easy steps:
From your iPad or Android device, download BrowZine from the App Store or Google Play, and install it
When you open BrowZine for the first time, you will see a list of schools – select Duke, then enter your net ID and password
Select subject areas and start browsing journals; save your favorites to your personal bookshelf 
BrowZine has relationships with many academic journal publishers, so you should see many of your favorite journals available for viewing back to 2005. Set up your bookshelf today and stay on top of the literature!
If you have any questions or don't see a particular journal, let us know!
BioMedSearcher: We Need Your Feedback!
Please Note: Effective January 1, 2016, BioMedSearcher has been replaced with SmartSearch, our new metasearch engine.
BioMedSearcher
Searches across databases and resources!
The Medical Center Library & Archives is testing BioMedSearcher, a new tool that searches across many different biomedical sciences databases and resources and returns results on one search page! You can locate BioMedSearcher by using the "Quicklink" on Website main page or by going to http://biomedsearcher.deepwebaccess.com/biomedsearcher/.
Please try this new approach to searching and give us your feedback on how useful it is. 
Basic Features
Searches across many different biomedical sciences resources
Returns results in one search page
Presents results according to relevancy ranking
Allows users to limit to more specific topics or resources
Includes major biomedical databases such as PubMed, Embase, and Web of Science
Includes specialized databases such as CINAHL, Biosis, and Engineering Village
Searches the NCBI Entrez collection including Gene and Genome
Advanced Features
Search by categories of resources – Basic Sciences, Medicine, and Nursing
Choose one or several categories
Select one or several resources to search
Choose the fields, years, etc. to be searched
After you have used BioMedSearcher, please take a moment to fill out our survey and give us feedback on how this new search tool meets your research needs.  In the top left corner of the search page, you will see the graphic (on the left) asking for your feedback. Clicking on it will take you directly to the survey. 
Customize TRIP to Get Duke's Full-text Holdings
Megan von Isenburg, Associate Director, Research & Education
TRIP, the freely available evidence-based practice database that searches across resources, now allows you to customize your settings to more easily connect to full-text. You can sign in by creating a TRIP account or by logging in with either an existing Facebook or Twitter account.
To create links to check for Duke full text, sign in, click on settings, and then select Duke University from "Your Institutions." Right now, the links appear on journal article results but may not appear on systematic reviews or other evidence syntheses.
You will have to be signed in to see the links that check for full text, which say: Full Text - Duke University.
Also new in TRIP

 

Case Reports: BioMed Central's Cases Database has been added to the site
Developing World Filter: Working with a slightly modified filter from a Norwegian Cochrane site, we have created a specific and sensitive filter to quickly and easily find evidence suitable for low and middle income countries.
Our Website is Open 24/7!
Beverly Murphy, Assistant Director, Communications & Web Content Management
Need to print the full text of a journal article from your home or office? Or are you looking for the electronic version of a medical textbook? Perhaps you need an image to use in your presentation.  Or maybe you're leaving Duke and need to know what resources are available for use in your private practice. 
Well, the Medical Center
Library & Archives Website has it all! 
Quicklinks appear on most pages to take you to the most heavily used resources, while navigation across the top guides you to resources and services.  A quick and easy search widget is now located at the top of every page!  We also use collapsible options which allow you to see more specifically what you want to see, while giving a cleaner and more streamlined appearance for our pages. 
Take a tour of what we have to offer!
About
Want to know about us? Check here for hours, staff, directions, floor plans, blog, how to contact us, etc.
Accounts & Access
Check here to find out which services are available to you as a Duke employee, patient, or special group within the Triangle area.
Databases, Journals & Books
Need to find a journal article, database, or book?  We offer a variety, from basic sciences to clinical resources.
Borrow, Request & Renew
Need to check out a book or kindle, or get a copy of a journal article? We can tell you how to locate and access the materials that you need, whether we own it or not. 
Subject Guides & Tool Sets
The popular "Clinical Tools" are here along with other Tool Sets for user groups and subject guides about various topics. Be sure to check out the Clinical Searcher interface, which allows you search across several evidence-based resources simultaneously.
Training & Consulting
We can help you improve your productivity, partner with you on your research project, guest lecture in your class, or help you online.  Check here to find videos and tipsheets for many of our most frequently used resources.
Questions or comments about our Website? Contact me at beverly.murphy@duke.edu or 919.660.1127.
Featured E-Books
Here are some of the new e-book titles from the R2 Digital Library that have been recently added to our collection.

Human Embryology and Developmental Biology
Master the concepts you need to know with Human Embryology and Developmental Biology. Dr. Bruce M. Carlson's clear explanations provide an easy-to-follow "road map" through the most up-to-date scientific knowledge, giving you a deeper understanding of the key information you need to know for your courses, exams, and ultimately, your clinical practice.
Designed for the busy practitioner, Geriatrics presents 97 alphabetically arranged topics covering all major concerns in geriatric rehabilitation ranging from age-related changes to end-of-life care.
Brain Tumors: An Encyclopedic Approach
This new edition guides you through the latest developments in the field. It includes hot topics like malignant gliomas, functional brain mapping, neurogenetics, molecular biology of brain tumors, and biologic and gene therapy.
Hematology, Immunology and Infectious Disease
This reference provides information about the most controversial hematology, immunology, and infectious disease challenges faced in this practice. The book tackles these subjects and gives seasoned advice on the latest diagnostic and treatment strategies using evidence-based medicine wherever possible.
The completely revised 2nd edition of Clinical Radiation Oncology provides comprehensive, authoritative, and up-to-date information for treating patients with cancer. Featuring a multidisciplinary perspective, the text examines the therapeutic management of specific disease sites based on both single-modality and combined-modality approaches.

Suggestions for purchases? Complete our online Recommend a Purchase form or contact Emma Cryer.  For a complete list of titles added to our book and ebook collections within the last 3 months, check out the Library's newest book additions or subscribe to our "New Books" feed.
Come See the Henkel Physicians Exhibit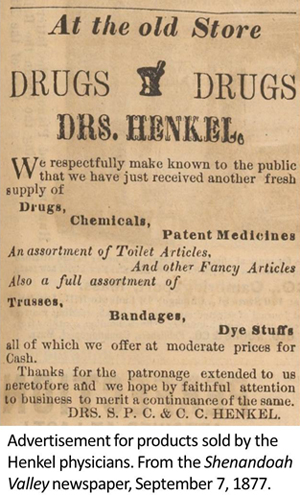 Jolie Braun, Assistant Director and Archives Librarian for Research, Outreach & Education
The Medical Center Library & Archives is hosting a new exhibit, "The Henkel Physicians: A Family's Life in Letters." Produced by the National Library of Medicine (NLM), the exhibit traces the daily lives of a family of physicians in the Shenandoah Valley during the 19th century, serving in their community, on the battleground, and in the nation's courts of law.
The Library has also collaborated with the David M. Rubenstein Rare Book & Manuscript Library on an exhibit to complement the NLM display. "From the Rubenstein Collections: Henkel Family Physicians" features rare books and manuscripts along with materials from the History of Medicine Collections. It includes letters written by the Henkels, books and broadsides published by the Henkel Press, and 19th century medical instruments and artifacts.
The NLM Exhibit will be on display through August 24th on Level 3 of the Medical Center Library & Archives. The Medical Center Library and Rubenstein collaboration will be available through October on Level 1.
To learn more about the Henkel family and 19th century medicine, visit NLM's digital companion to the exhibit. To learn more about the Rubenstein Library and its collections, visit their Website.
Are You Optimized for Your Mobile Device?
Brandi Tuttle, Research & Education
According to a 2013 Pew Research Center survey on Smartphone Ownership, "91% of the adult population [in America] now owns some kind of cell phone" with 56% of those being a smartphone. If you are part of the Duke community carrying around a smartphone in your pocket, do you feel like you are effectively using it to help you communicate, access information, and be productive?
The Library offers a myriad of tools and classes to help you use your device well. Read on for a few helpful resources to check out.
Mobile Devices Guide - Library resource highlighting some useful medical and productivity apps by platform, including those mentioned below.
UpToDate [Apple | Android] - Evidence-based point-of-care resource for your clinical questions. Note: Once you create your UpToDate username/password and download the app, you'll need to log into the app every 30 days from the Duke network to prove your continued Duke affiliation.
Lexicomp [Apple | Android] - Clinical drug database licensed by Duke to give clinicians access to drug information, calculators, pill ID, I.V. compatibility, patient education, and toxicology resources. Note: Off-campus use requires the Duke VPN. Use the Duke supported Cisco AnyConnect for Apple or choose an Android VPN app (currently not Duke supported).
Epocrates [Apple | Android] - Free clinical drug reference tool for medicines, drug interaction checks, and pill identification. Note: The disease reference tool is only available with a paid subscription.
AppStart for iPad – Free app to help you discover relevant apps for specific tasks you must accomplish (i.e. checking email, browsing the Web, writing and presenting, and more).
iMedicalApps – One of the best places to read reviews of medical and healthcare apps by physicians. Search by app, specialty, platform, or by the specific information you need.
And finally, check out our classes! While we just had a "Medical Apps and Productivity Tools" session in July, we will offer another in the Fall, along with many other classes. See the class schedule or request an individual consult or group session from a librarian.
Staff News
Jolie Braun, Archives Assistant Director and Archives Librarian for Research, Outreach, and Education, Medical Center Archives, began a two-year appointment in July on the Rare Books & Manuscripts Section (RBMS) of the Association of College and Research Libraries (ACRL) Publications and Communications Committee and a two-year appointment on the ACRL/RBMS Task Force to Review Competencies.  Jolie also attended the Rare Book School Course at the University of Virginia, June 17-21.
Emily Mazure, Biomedical Research Liaison Librarian, and Kristine Alpi (Veterinary Medicine Library, NCSU), won second place for the research paper, Librarian Readiness for Research Partnerships, presented in May at the Annual Meeting of the Medical Library Association (MLA) in Boston, MA.
Honorable Mention was also given at the MLA Annual Meeting for the poster, The Effect of E-book Availability on the Usage of Print Monograph Titles, by Karen Grigg, Collection Development Services; Elizabeth Berney, Access Services; Emma Cryer, Electronic Resources; Barbara Dietsch, Electronic Resources & Collection Services; Adrianne Leonardelli, Research & Education; Richard Peterson, Deputy Director; and Patricia Thibodeau, Associate Dean.
Congratulations to the following staff members who received Duke University Career Service Awards for 2013
(l. to r.) Vanessa Sellars - 25 years; Geana Mitchell - 10 years; Rusty Koonts - 10 years; Leila Ledbetter - 5 years; Pat Thibodeau - 20 years; Emma Cryer - 5 years; Beverly Murphy - 30 years; Derrick Vines – 20 years 
Improve Your Library Research Skills!
Publication Schedule & Staff
Duke University Medical Center Library & Archives News is published bimonthly.
Pat Thibodeau, Associate Dean
Beverly Murphy, Editor
Editorial Board:
Jolie Braun
Barbara Dietsch
Adrianne Leonardelli
Megan von Isenburg
Subscribe to our newsletter and be notified when a new issue is published!