NIH Data Management & Sharing Policy Update
Posted by Lesley Skalla - Friday, May 20, 2022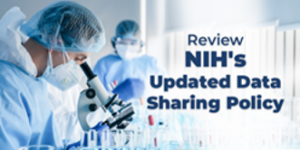 New NIH Data Management & Sharing Website
The NIH recently introduced its new Scientific Data Sharing Website to help you navigate the new NIH Data Management & Sharing (DMS) Policy that goes into effect on January 25, 2023. The new NIH Website serves as a central portal for all NIH data sharing policies both NIH-wide, and those particular to specific NIH institutes and centers. This is also a great place to start when you are looking for guidance on how to find the best scientific data repository for your work. In addition to providing information on how to share your data, the Website also provides information on how to find data from NIH-affiliated repositories, for your research.
If you are not sure what policies apply to your research, you can start at the sharing tool that will walk you through finding which policies apply to your research.
Sharing.nih.gov will be updated regularly and should be your one-shop stop for all things related to NIH data sharing.
2. New NIH guidance on data sharing and informed consent
The new DMS policy requires that investigators submit a data management and sharing plan in their grant application. And though sharing data is not required by NIH, it is strongly encouraged. This will in turn affect disclosures in informed consent documents, specifically, addressing how to communicate to prospective participants how their data will be shared. To help researchers with informed consent, NIH has recently released a document called Informed Consent for Research with Data and Biospecimens: Points to Consider and Sample Language for Future Use and/or Sharing. This resource provides sample language to researchers and IRBs when developing consent for secondary use of data or biospecimens.
NIH also released a request for public comment for a draft guidance on protecting the privacy of research participants when data is shared. Comments are due by June 27, 2022.
3.NIH Planning webinar series on the new DMS policy
NIH will be hosting a two-part webinar this summer on implementation of the new data management and sharing policy. You can sign up to receive an alert when registration opens.
Additional Sources of Information
As you look ahead to this new requirement, we can help develop efficient and supportive services before the policy takes effect. Please address any concerns and questions to lesley.skalla@duke.edu.