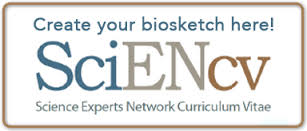 Science Experts Network Curriculum Vitae (SciENcv) is a system for creating and updating your NIH biosketch with the new format or NSF biosketch (required as of May 25, 2015).
Duke is strongly encouraging the use of this system since it will save you time now and in the future due to its automated features.
•    Pulls in profile information if you already have a profile in eRA Commons
•    Uploads your publications from My NCBI's My Bibliography or through an ORCID account
•    Allows you to create several different versions of your profile by reusing information previously entered

Why create more than one profile?  You may want to change your biosketch to reflect special expertise or knowledge that you bring to a specific award.  You can change your general profile statement or your contributions to science, showing how your expertise and experiences meet the aims of the new awards proposal.

To use the online biosketch, you will need to have a My NCBI account! If you have not set one up, but you have an NIH/eRA Commons account, please select that option when registering.

You can access SciENcv through My NCBI
•    My NCBI home page – select the link on the bottom on the right
•    My Bibliography - select the link on the top bar
You may also go directly to the SciENcv Website
•    Sign in directly using your My NCBI account (top right hand corner)
•    Tutorials and FAQs available
Don't have a My NCBI or NIH account?  No problem!  Anyone can use SciENcv.  To login with your Duke NetID and password, select "See more 3rd party options," scroll down to select Duke, and then sign-in.