F1000 Is Now Sciwheel
Posted by Beverly Murphy - Tuesday, September 22, 2020
The F1000 family of products (F1000Workspace, F1000Prime and F1000Research) has evolved as a way to discover, read, annotate, write, and share scientific research and is now known as Sciwheel. This change was effective in April 2020 and does have some implications for our users.
Sciwheel is available for free to all Duke University faculty, staff, and students. However, it does require a user to log in from the campus network every 60 days to verify institutional affiliation. If you are experiencing difficulties doing this because you are working remotely, here are the steps you can take to restore your free institutional account.
Once logged in, check your subscription status by navigating to "account," then "subscription.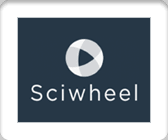 If your status is marked with "Sciwheel Institutional Subscription" you are all set!
2. If you do not get this confirmation, you will need to contact Sciwheel support directly so they can manually refresh your access.
Email Sciwheel or use the internal blue and white chat button at the bottom right corner of your browser window (you may not see this if you are blocking ads or trackers)
Sciwheel support will be happy to help ensure that your institutional subscription is active. You will not lose access to your account or to any citations in your account. More information about Sciwheel can be found on the Reference Management: Sciwheel Libguide!