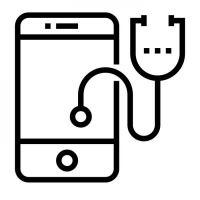 The Duke Medical Center Library & Archives provides access to many mobile apps that may be used to find drug information, guidelines, step-by-step medical procedures, and more in a snap. See the Mobile Apps LibGuide for download instructions and more detailed information.
The most popular point-of-care apps include UpToDate, ClinicalKey, and DynaMed Plus, which feature an impressive variety of medical calculators and clinical evidence. Lexicomp, Micromedex, and the Johns Hopkins ABX Guide are popular resources for drug information, including interactions, comparisons, and identification.
Other apps include Guideline Central, Lippincott Procedures for nursing, respiratory therapy, and physical therapy, and the Duke Mobile suite of apps for news, maps, courses, and more. If you would like to easily keep up with your favorite journals, you now have one tap access to full text articles via our institutional edition of the Read by QxMD app.
Many of the aforementioned apps may be downloaded for free via the App Store or Google Play. Mobile apps that you might consider purchasing include Diagnosaurus for looking up over 1,000 diagnoses by organ system, symptom or disease and EKGdroid, a simple arrhythmia guide where each component of the EKG is explained.