Employee Spotlight: Amanda Woodward
Posted by Beverly Murphy - Wednesday, July 25, 2018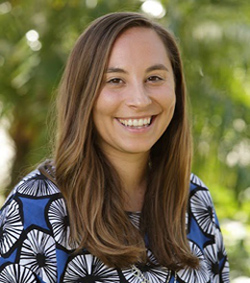 Amanda's Bio
Working at Duke University Medical Center Library & Archives since: November 2017
Education: MLIS, University of California, Los Angeles; BA in English from the University of California, Berkeley
Current position: Research & Education Librarian; Liaison to the School of Nursing
Q & A
1. Describe your current position & what you find most interesting about it.
I provide research support for Duke Medical Center students, faculty, and staff, specifically in the School of Nursing. This includes teaching literature search strategies and reference management practices in the classroom, during consultations, and through in-person and electronic reference services. I love partnering with people on their research projects – it makes me feel like a research coach, providing advice about the best search strategies, methodologies, and tools to make scholars' research goals a reality.

2. Describe yourself in three words. Empathetic, open-minded, and sincere.

3. What has been your biggest professional challenge?
Learning to be an effective teacher has been, and continues to be, my biggest professional challenge. I remember giving a mock instruction session during my first library interview and feeling completely overwhelmed by the difficulty of teaching the research process in less than an hour! Since then, I have practiced teaching in many more instruction sessions, semester long classes, and individual consultations. I try to be reflective in my practice and experiment with new teaching methods and strategies.
4. What do you think is the most interesting issue in libraries & archives today?
Libraries are deeply invested in lifelong learning and literacy, and I think that this mission is particularly relevant today. As the amount and type of information that people are exposed to grows exponentially, libraries are facing the challenge of supporting new literacies including digital literacy, data literacy, visual literacy, media literacy and more. I think it is fascinating to see the innovative services and resources that libraries of all types are creating to foster the development of these new literacies.

5. Whom do you admire?
I admire people who deal with chronic illness including my mother-in-law who has had over 16 surgeries including open-heart surgery. I am amazed at how much pain people can withstand and still maintain a positive outlook on life.

6. What organizations are you involved in?
I am involved in the Association of College & Research Libraries (ACRL), and I am looking forward to getting more involved with the Medical Library Association (MLA), specifically at the Chapter level. I am also the Community Service Chair and Orientation Co-Chair for the Partners organization at the Fuqua School of Business. Finally, I volunteer with Don't Waste Durham, a local non-profit dedicated to reducing waste.

7. Is there anything about you that others might be surprised to know?
I absolutely love Halloween! During October, I love to spend the whole month watching scary movies and going to Halloween events. In Los Angeles, I went to the Haunted Hayride at Griffith Park every year. I also love doing gory costume make-up. At my previous job, I dressed as a zombie librarian and got quite a few shocked looks while sitting at the reference desk.

8. What do you do for exercise? For relaxation?
I love practicing yoga! It is the perfect combination of exercise and meditation. In Durham, I love to go to Hot Asana, a hot yoga studio near the Southpoint Mall. I also love to take long walks in the woods with my dog.

9. What are you most proud of?
My marriage! My husband Jonathan and I met when we were 19 years old, and we have now been together for over a decade. I am proud of the ways we have learned to grow together and support each other through all of life's changes. We recently celebrated our three-year wedding anniversary on May 16th.

10. What is your favorite Website or blog?
I don't read very many blogs, but I am completely obsessed with podcasts. I listen to them while I am doing chores around the house, walking my dog, and getting ready in the morning. Some of my favorite shows are Call Your Girlfriend, Reply All, Science Vs, and On the Media.