Welcome to Sarah Cantrell!
Posted by Beverly Murphy - Monday, February 12, 2018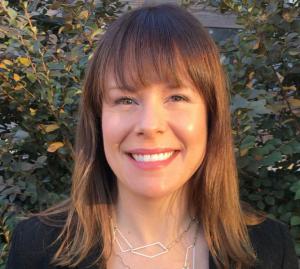 Sarah Cantrell joined the Duke Medical Library & Archives staff on December 1, 2017, bringing a new set of skills to our library — clinical librarianship. In addtion to leading the Research & Education team, she will also serve as a Co-Director of the national Teaching and Leading EBM Workshop beginning in 2019. Sarah comes to us from Walter Reed National Military Medical Center in Bethesda, MD, where she developed and led a clinical librarian program and, among other things, rounded with in-patient teams in Internal Medicine and other units. Prior to that, she was an academic health sciences librarian at Georgetown University Medical Center. With these experiences, she will work to expand our liaison role with Graduate Medical Education (GME) to include more evidence-based medicine teaching and explore avenues for integrating library services more closely at the point-of-care and in other clinically relevant forums.
What is your role here at Duke Medical Center Library & Archives?

I have the privilege of serving as the Associate Director for Research & Education and as the liaison to the Graduate Medical Education programs. I am responsible for planning, developing, implementing, and evaluating the Library's research and education programs, which include instruction, reference, consultations, and systematic review searching. I look forward to leading a team of outstanding and highly motivated medical librarians in their efforts to support research initiatives and improve educational standards among health professionals, students, and faculty across Duke University and Duke Health.

What made you decide to come to Duke?
The people, the reputation, and the opportunities to accomplish great things. I thrive in fast-paced environments that allow me to develop strong relationships with colleagues and constituents through education, outreach, and liaison services. The Medical Center Library & Archives has been a leader in so many areas of health sciences librarianship, particularly in Evidence-Based Practice. I'm extraordinarily excited by the prospect of contributing to and building upon the many successes of my predecessors and the fine contributions of my colleagues!
How do you hope to become actively engaged with GME and the broader Duke Health community?
While the direct paths remain to be seen, I have a number of hopes and dreams coming into this position. At the heart of it, I hope to connect, to partner, and to get involved. Joining key committees and working groups will be a good start, but there is much more to be done! Naturally, I plan to reach out to key stakeholders such as the heads of Graduate Medical Education as well as residency and fellowship program directors across GME. I also want to connect with Chief Residents. Essentially, it is important for me to get a feel for what the constituents love about the Library and our services, and what else they might need or hope to improve. I want to hear from everyone, whether that's a department head or a brand new intern. I also want to plant ideas for new services and get everyone thinking outside of the box when it comes to libraries and library services. We have so many fantastic existing services and resources, too; I will ensure that these are promoted.
What has been your biggest professional challenge?

I tend to focus on a challenge as an opportunity to grow. In my previous position at Walter Reed National Military Medical Center, I was tasked with establishing and growing a dynamic clinical librarian program with embedded services — including joining daily teaching rounds, conducting point-of-care literature searching, and actively participating in journal clubs. While this was daunting, I found everyone to be highly receptive and encouraging. I spent time getting to know the programs and the specific needs of residents. I love the health sciences and learning about medical topics; so, in an effort to increase my knowledge and prepare for daily rounds, I found myself reading more medical journals, blogs, and resources on understanding things like lab values and diagnostic tools, as well as re-watching all episodes of Grey's Anatomy. Being present on rounds had a tremendous impact on me, the residents and physicians, as well as the patients. It was extraordinarily meaningful work. Facilitating resident journal clubs also allowed me to deepen my understanding of study designs, statistics, and critical appraisal. Many folks find statistics to be difficult, myself included! So it is a joy when you can promote understanding in this area.

What would you want faculty, staff, and students to know about you?
Librarians love many things, but namely, we really love helping you and partnering with you. Reach out. I am eager to connect with you!