We are Getting New Carpet!
Posted by Megan von Isenburg - Tuesday, January 23, 2018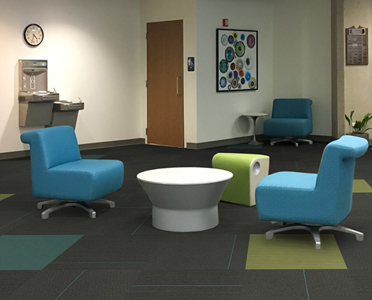 The Library is replacing the carpet in most areas on Level 1 and Level 2R. Work will begin January 24th and take about a month. We are sorry for the mess and any disruption that this causes you!
Here are our tentative plans:

January 24 – February 9: New carpet on Level 2R
This is the hub of the Library and we recognize that the services on this floor are all very important. Our Service Desk will remain the primary point of contact for most of these two weeks. Check in with staff at the Desk for help navigating the Library during the carpet installation.
Computers will be temporarily relocated to Rm 212E. We will offer free printing in Rm 212E during the project.
PIN stations will be temporarily relocated to Rm 320 on Level 3.
Group and individual study rooms on Levels 1 and 3 will remain available.
Some furniture from Level 2R will be relocated to the Level 1 lobby for temporary use.
All events scheduled in 212C Conference Rm have been canceled for this period.
February 16 – 20: New carpet on the stairs
We expect minimal disruption while the stairs are being re-carpeted. We will be available to help you find alternate routes around the building.

February 19 – 23: New carpet on Level 1
The Reading Room (Rm 102), the Richmond House Room, and study rooms 102A and 102B will be unavailable for part of the week while carpeting is being installed. Staff will be available to retrieve books form our book collections.

We will update this post with new information as plans evolve. If you have any questions or concerns, please contact Megan von Isenburg.