ClinicalKey for Nursing Has Replaced Nursing Consult
Posted by Beverly Murphy - Monday, January 4, 2016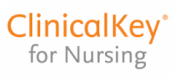 ClinicalKey for Nursing has replaced Mosby's Nursing Consult effective Jan. 1, 2016. Mosby's content can now be accessed through ClinicalKey for Nursing.
ClinicalKey for Nursing offers evidence-based content adapted to a nurse's workflow, schedule and needs, with features designed to support better decisions at the point of care. The Smart Search function recognizes relevant clinical concepts as you type, and offers shortcuts to critical answers by highlighting connections between medical concepts and pointing to related disease and drug content. If you need to further refine your search results, you can use ClinicalKey's filters to sort by source type (e.g. clinical skills, procedures, videos, e-books), specialty, and date.
Mosby's Evidence-Based Nursing Monographs offer quick access to assessment, analysis, planning, implementation, discharge and evaluation information, while drug monographs provide information on indications and dosage, drug interactions, adverse reactions, and more.
For more information or for help in using ClinicalKey for Nursing, feel free to Ask a Librarian!