SmartSearch is Here!
Posted by Beverly Murphy - Friday, October 9, 2015
Beginning this month, BioMedSearcher will be replaced with a new metasearch engine called SmartSearch. BioMedSearcher will still be available until Dec. 31, 2015.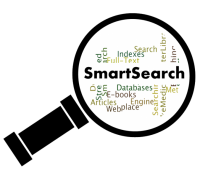 SmartSearch fully indexes content from top biomedical journals and databases, providing a fast, streamlined search through a single search box. It utilizes the specialized subject indexes from numerous sources such as PubMed, CINAHL, PsycINFO and Web of Science. Searches can be limited by peer-reviewed content, full-text only, resources available in the Duke libraries, and many other facets. Databases that do not include full-text article level content, such as UpToDate and Lexicomp, will be searchable as separate options within SmartSearch.
Later this month, SmartSearch will include a separate search engine for all full-text biomedical e-books subscribed to at Duke, regardless of publisher and platform.