Going Back to School? Working on a BSN or Other Degree?
Posted by Patricia Thibodeau - Thursday, July 23, 2015
Duke employees who are pursuing further education can tap into a wealth of resources to support their instruction. While the institution offering the courses may provide resources, Duke employees can also use print and electronic books, journals, and databases available through the University. The Duke Libraries – Perkins & Bostock, Divinity, Law, Business, and our Medical Library – all provide online resources and most of them are easily accessible to all Duke users. (Note: Some specialized law and business resources are restricted.)
You can borrow books from other Duke library collections, and journal articles that are available can be scanned and delivered to your desktop. Use our Document Delivery/Interlibrary Loan Services to make requests or to retrieve items not available from Duke (some fees do apply).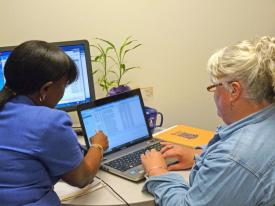 We have online tutorials, tipsheets and guides to help you find and use our resources.
Not sure how to get started with doing research for your paper or project or using the resources? Make an appointment with one of our librarians! Call 919.660.1100 or send an email to medical-librarian@duke.edu. You can also Ask a Librarian for help through our Website chat service.