Duke Intercom Now Online
Posted by Jolie Braun - Thursday, April 9, 2015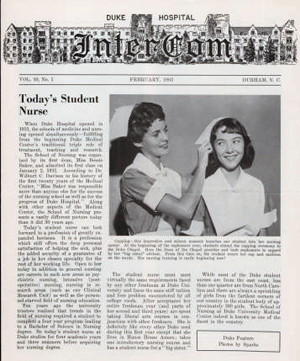 Duke Medicine's primary news publication from 1953 to 1986, the Intercom, is now available online. It features information about campus construction and events, faculty and staff news, facts and figures, and articles about medical research and innovations at Duke.
The Archives collaborated with the North Carolina Digital Heritage Center on this project, who digitized the first 25 years of the publication, making more than 500 issues available online. They can be accessed via MEDSpace, the Duke Medicine digital repository, or through DigitalNC.
The digitized issues have been organized by year, allowing users to browse or quickly search several issues at once. In addition to viewing issues online, users may also download the issues as PDFs or jpegs.
The Intercom provides a valuable window into the daily functions and development the Medical Center, and we are excited to provide increased access to this important publication.