Biosketch Format Impacts Public Access Policy
Posted by Patricia Thibodeau - Sunday, March 15, 2015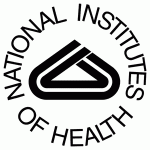 NIH has rolled out a new format for its biographical sketches, also known as "Biosketches." While this new format is required for due dates for NIH and AHRQ grants on or after May 15, 2015 (Notice NOT-OD-15-032), it's a good idea to start using it now to familiarize yourself with the new requirement. Forms and instructions have been posted on the NIH Website.
The Library also strongly recommends considering the use of the new Science Experts Network Curriculum Vitae (SciENcv) that lets you easily build and change your biosketch as well as update and modify future biosketches. It can also be used when submitting proposals to other federal agencies such as DOD, DOE, EPA, NIH, NSF and USDA.
Highlights of Biosketch Changes
Page limit extends to five (5) pages
Allows description of up to five (5) most significant contributions with historical background to frame the research
Accompanied by listing of up to four (4) peer-reviewed publications or other research products, such as patents, databases, curricular materials, equipment, etc.
Outline central findings of prior work and influence on investigators in field
Specific role(s) in Team Science
Allowed to link to a FULL LIST of published work in My Bibliography or SciENcv
If some sections are underlined and bolded, they may have compliance issues with the NIH Public Access Policy! Older publications, funded by NIH and accepted for publication on or after April 7 2008, must be compliant if you want to add them to My Bibliography or SciENcv and include them in your Biosketch.
Sometimes submitting these older publications can be difficult. The Library can assist you in contacting the publisher and requesting that they submit a copy of the manuscript, identifying if an article is not covered by the policies (review of the literature, editorial, letter, not funded by a grant current as of FY20008, etc.), and determining if there is a problem with the status of the manuscript (some get stuck in the system).
Have an older publication that needs to be compliant? Please contact the Library at 919.660.1100 or via email or chat. We can also generate lists for you of outstanding issues.