Richmond House Room and Other Spaces
Posted by Patricia Thibodeau - Friday, December 13, 2013
As we
announced in October, additional changes will be happening in the Library.
The Richmond House Room will become the new name for the Trent Room, which housed our historical collections for over 50 years! The name change will become official in January, but in the interim we will have a special display outside the room, as well as information within the room that traces its history and moves across the Duke Medicine campus. To read more about the history of this beautiful and important room and its connections to Mary Duke Biddle Trent Semans and her family, visit our October Newsletter article and our Medical History and Secial Collections guide.
The soon to be Richmond House Room is now a group study room! It still displays medical artifacts but has a table for small group study and comfortable chairs for quiet reading. We have also refreshed the interior so the room is brighter and more inviting, with a lovely garden mural behind the false windows.
Now available off the Reading Room on Level 1 are two group study rooms (Rooms 102A and 102B) providing quiet study spaces for small groups. The tables in 102A can be rearranged to accommodate more than one person.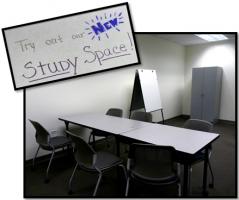 Room 212E is now available just behind the Service Desk on our main level (Level 2) to accommodate small groups for meetings or studies. The Library is also exploring the feasibility of creating a smaller, mobile training space in this area as well.
More study carrels to arrive in January! Happy New Year!
Watch for two additional carrels to be added to the cluster on Level 2. Like the current carrels, these will hold about 4 people.
We will also be installing workstation clusters on Level 3, two of which will contain 3 individual workstations. This configuration will provide a sense of privacy, as well as an individual work space large enough to accomodate two people.