Getting to Know ClinicalKey
Posted by Brandi Tuttle - Friday, December 13, 2013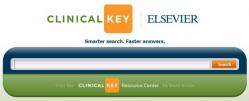 ClinicalKey has replaced our old favorite MD Consult. In addition to providing a much larger number of e-books, it brings together Procedures Consult, First Consult, surgical Vitals and other useful clinical information - all from one search!
This is some of the notable content you'll see when searching ClinicalKey!
E-books: 1,000+ electronic books in medicine and surgery
Procedures Consult: video, text and illustrations in 5 specialties along with 312 ACGME required procedures
First Consult: medicine point-of-care resource with over 750 clinical monographs in 37 specialties
Vitals: surgery point-of-care resource containing over 450 resources
Multimedia: 13,000 surgical and medical videos and over 5 million images
Trials: ClinicalTrials.gov database listings
Drugs: Over 2,500 drug monographs from Gold Standard
Guidelines: More than 4,000 practice guidelines
To get started, you can browse content using the the top blue bar or search all content. As you begin searching, the auto suggest saves you time by suggesting content on relevant disease information, e-books, procedures, images, etc. Once you have results, you can easily filter to the type of information you need by selecting "Content Type" or "Specialty" on the left. To save time, use the preview panel (hover over a particular result to view and click on the >> icon) to determine relevance before clicking.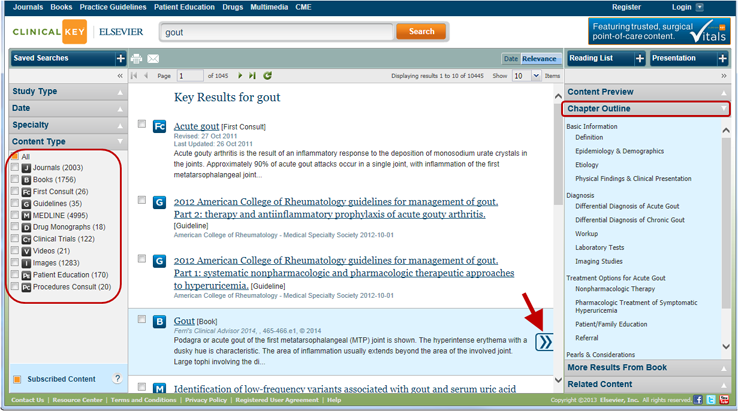 NOTE: We do not recommend relying on either the "Journals" or "MEDLINE" content types. The journals are restricted to those owned by Elsevier (but there are thousands more journals that Duke subscribes to), and the MEDLINE results are generally older and vague (and very incomplete!).
If you need to find articles on a particular topic, use PubMed to access the journal literature! Ask a Librarian if you need more help finding the evidence.
In order to use some of the neat ClinicalKey features, you will need to register for a personal account. (If you had an MD Consult login, you will still need to register for a new account.) Once you login to your personal account, you can add items to your reading list, save searches, use the First Consult app (only available for iPhone/iPad), and add images to the Presentation Maker to download to PowerPoint.
We hope you find that this expanded access to e-books and other clinical resources supports your work and learning at Duke! As always, we would love to hear your thoughts or come talk to your group about ClinicalKey and other resources available from the Library.