UpToDate Anywhere Mobile App
Posted by Brandi Tuttle - Tuesday, June 25, 2013
We know life doesn't happen only on Duke campus. Now UpToDate is available for off-campus mobile use through the UpToDate Anywhere Mobile App. Answer your point-of-care or research questions anywhere and anytime. What's even better is that while you search UpToDate via the app (or while logged in via a personal computer), you'll earn CME credit. Ready to get started?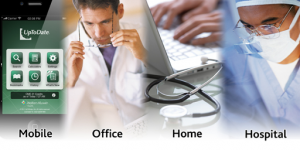 Go to UpToDate and click on "Register" in the top right corner while on Duke campus/VPN
Register and create a username/password
From your mobile device, download the UpToDate app
Open the app & login with your UpToDate username/password
Use anywhere via wifi or 3G
Please note: Physicians who are using Maestro Care should register for UpToDate Anywhere through Maestro Care. Otherwise the two accounts will not be linked.
For more information, see Frequently Asked Questions about UpToDate Access.
NOTE: In order to maintain off-campus access to UpToDate via the app, you will need to log in from the Duke wireless network every 90 days to prove your continued Duke affiliation. UpToDate Mobile Complete (a full content download to your device) is currently not available for the Duke institutional license but is available to individual subscribers for an additional fee.